A Holiday Gift Guide for the Whole Family!
Here at Anchored Women, we're about doing less of the not-so-important things, so that we can do more of the things that matter to us.
We think that applies to Christmas, too. So to help us all get a little more focused on what matters and embrace a simple, meaningful Christmas, I've put together this gift guide for the whole family. Each section offers a few suggestions for gifts that are fun, useful, and meaningful – things that the whole family will love!
Our hope is that a simple Christmas really helps us all focus on what matters most – the gift of Christ, sent for us.
I hope this simple gift guide helps inspire you as you prepare to shop for presents this Christmas! Make sure to read all the way to the end – I've got a freebie you're going to love as you plan, shop, and wrap!

AN INTENTIONAL HOLIDAY GIFT GUIDE FOR THE WHOLE FAMILY!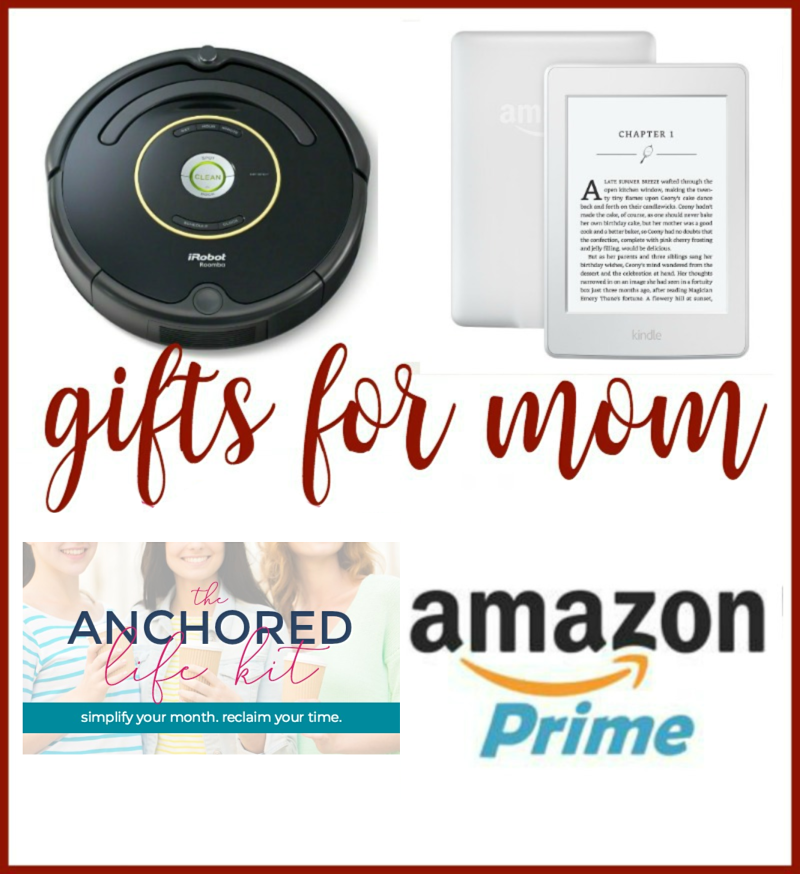 Gifts For Moms:
1. Roomba – This is the best present Jon ever got me. I kid you not. I press a button and it vacuums for me. Hear that ladies – I NO LONGER HAVE TO VACCUM! And it works very well. We've had ours for almost 5 years now and it's still awesome. Men, if you love your wife, you will buy this for her ASAP.
2. Kindle Paperwhite with Kindle Unlimited – As a mom, this is my favorite way to read on-the-go. I can keep my Paperwhite with me, and read it in pick up line, or at the gym, or whatever. And with Kindle Unlimited, you get access to a TON of books for free.
3. The Anchored Life Kit – Uniquely designed to help you make progress on the things that you keep putting off, this monthly subscription is a MUST-HAVE for moms, and the best present you could give them (or yourself!), since it lasts all year long!
4. Amazon Prime Subscription – This is another one where I will say MEN, YOUR WIVES NEED THIS! Free two-day delivery, plus access to Amazon Now, which is a grocery delivery service that has saved my life on more than one occasion – this is a must-have for busy mommas!
---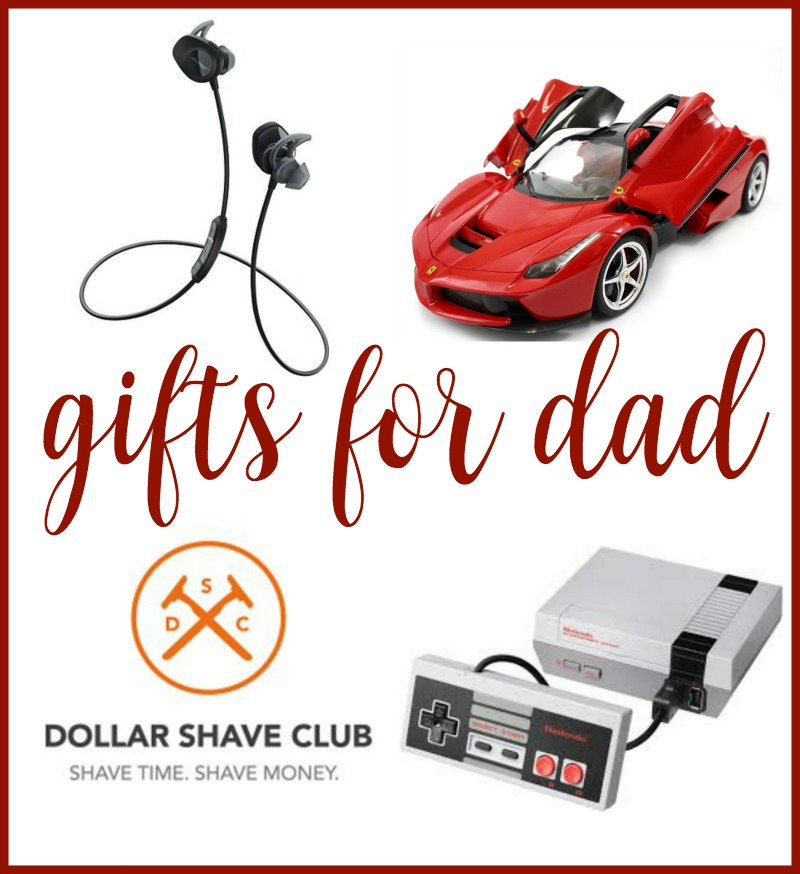 Gifts For Dads:
1. Bose Wireless Headphones – Jon loves his wireless headphones and uses them for everything, especially running. These are a huge win in our house!
2. Nintendo Classic – If your hubby grew up in the 80's and 90's, he will love you forever if you get him this classic Nintendo for Christmas. Talk about a blast to the past! I was in line at a restaurant the other day, and the guy behind me was looking this up on his phone and telling his wife, "Okay, I can get a Nintendo on eBay for this much… or I can get it on Amazon for this much… which one do you think I should get?", while the wife just rolled her eyes. But the point is, he wanted one, and I'm guessing your guy will too.
3. Remote Control Car – All guys love remote control cars. You know how I know? Nathan got one for his birthday and I already have to replace the batteries in it because Jon was playing with it for too long. Yep, JON. Not Nathan. And it was so much fun watching him play with it. Grab this Ferrari for your hubby, and enjoy how much he laughs while he plays with it. But also, get extra batteries, mmmkay? Just a thought.
4. Dollar Shave Club – I got this for Jon for Christmas two years ago, and he loves it. He gets a new package of razor blades every month for super cheap, and every now and then he throws in something else, like shave lotion or hair gel. Their products are all high quality and come in hilarious packaging. This is a cheap gift that he will keep getting every month!
---

Gifts For the Kids:
1. Owlegories – These DVDs are quickly becoming a favorite in our home. Faith-based, adorable, and so much fun – this is the perfect gift for your little ones. You can get one DVD or the complete set of 4! (They even have a Christmas one!)
2. Wedgits & Design Cards – This is another gift that both Nathan and Jon love! Not gonna lie, I love them too. They are so fun! These blocks fit together in lots of different ways, and with the design cards, your kiddos will be occupied for hours, using their critical thinking skills to make the designs on the cards. These are AWESOME!
3. Mosaic Sticker Art – If your kids like stickers, they are going to LOVE these. I always keep a few packs around for times when I need the kids to play quietly and independently. Each pack comes with everything you need – it's a no mess craft that is super fun.
4. Kindle Fire for Kids – Amazon is having a huge sale on these right now, so I just ordered two for the kids! A pink one and a blue one. What I love about these is that they are kid-safe, and come with awesome parental controls. Plus, you get a year of FreeTime (their kid-safe access to books and games) AND a two year warranty that includes a complete replacement if your kid breaks it. And they are seriously on sale right now!
---

Gifts For Teens:
1. Amazon Gift Card – I feel like this is self-explanatory. It's the next best thing to cash. Get one of these for your teen and they will think you are the coolest ever.
2. Coloring book & pencils – This is probably more for your teen girl, but she'll love it. Fun sayings and clever designs, paired with some awesome colored pencils.
3. Cool Wireless Headphones – These wireless headphones come in all sorts of fun colors, and are sure to be a big hit!
4. Kindle Fire – This Kindle comes in fun colors too, and looks a little more grown up than the kid version, but still has great parental controls. And these are way cheaper than an iPad, but do most of the same things. I call this a win.
---

Gifts For Everyone:
1. Ticket To Ride – This is our very favorite board game, and our whole family plays as often as we can! In fact, we'll probably play a few times over Thanksgiving. It's competitive and so much fun for the adults, and it's got trains, so the kids love it too!
2. Chronicles of Narnia Audio Set – My kids are really into Narnia right now, so we've just started using this Audio Set that I bought last Christmas. This is SUCH a great audio recording – it sounds like everything is happening in real life! If you love C.S. Lewis and the Chronicles of Narnia, this is a must-buy. (And it's on sale for half the price I paid for it!)
3. The Story Bible – We love this Bible so very much. This is our family Bible, and each story comes with gorgeous illustrations, questions, a prayer, and an activity. It includes MANY more Bible stories than most story Bibles do, and it's very theoogically sound. If you don't already have this Bible, it would be a perfect Christmas gift!
4. Disney Dreams Puzzles – We are puzzle people, and these are our absolute favorites. Grown-up puzzles based on scenes from our favorite Disney movies? YES. PLEASE! Our current favorites are Beauty and the Beast & Cinderella, but we've got a ton of them!
---

Gifts For Planners:
1. The S.O.S. Planner – If you've got a friend who loves to plan, and has been looking for the planner that finally puts everything in one place, you're gonna want to send her The SOS Planner. Or maybe, you know, just get one for yourself!
2. PowerSheets – PowerSheets are my very favorite goal setting worksheets, and they pair perfectly with The S.O.S. Planner. Grab the yearly workbook, or one of the undated six-month workbooks, and be totally ready for the new year!
3. Papermate Flair Pens or Bic Atlantis Exact Pens – These are just my favorite pens in the whole world hands down. I use the Flairs for any color coding, and the Exacts for any basic writing. Your planner friends will love these too!
4. Happy Stripe Stickers – These stickers from Emily Ley are the best quality I've found, and the most beautiful colors. I buy all my planning stickers from her store!
---

Gifts For Your Faith:
1. Journaling Bible – This journaling Bible is a wonderful gift for anyone who spends time in the Word. It's a beautiful Bible, with plenty of room in the margins for notes or artwork. These come in many different cover options, if this one isn't your favorite! (You can read how I use mine here.)
2. The Simple Start Journals – I use my Simple Start Journal every morning during my quiet time. It's the perfect space to write out Scripture, and then journal your prayers for the day, PLUS set your priorities today and complete a short workout! They are my staple for a simple morning routine, and I could not love these more!
3. None Like Him – This is one of the best books I've read lately on faith. It talks about who God is, and how He is different from us – and why that's a good thing. In a culture where we're often told how great we can be, it's so very good to find a book that points us to Christ instead of ourselves. This is a fantastic read.
4. Frixion No-Bleed Markers – These ERASEABLE markers are amazing, and I use them pretty exclusively for highlighting in my Bible. They come in a pack of every color you need, and they don't bleed through the pages of my journaling Bible. I love them!
---
I hope this list proves to be helpful as you get ready to shop for the holidays! In fact, to help you out even more, I created a simple tool you can use as you plan your Christmas season!
Download this free 2018 Holiday Planner!
Get your free 2019 Holiday Planner!
Everything you need to keep the peace and joy in your holidays this year! You'll get an entire workbook of printable planning sheets + instructions to simplify your holiday season!
You'll also receive our weekly newsletter, providing you with encouragement and resources to help you make time for what matters most.
You're also agreeing to our privacy policy.
The kit includes a TON of Christmas planning printables, PLUS two printables to help you plan the gifts you'd like to get for your family and friends – one basic list, and one based on our four-present strategy. It also includes a set of printable gift tags to top your gifts! And it's all yours for free!
Happy shopping, friends!
---
Pin It!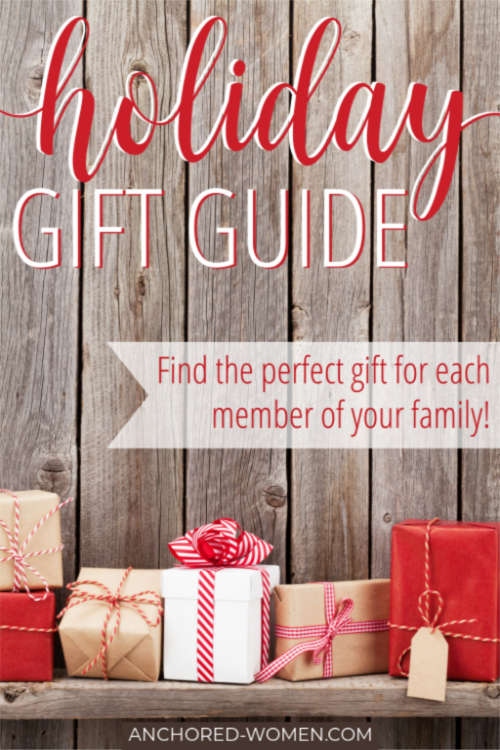 Get your free 2019 Holiday Planner!
Everything you need to keep the peace and joy in your holidays this year! You'll get an entire workbook of printable planning sheets + instructions to simplify your holiday season!
You'll also receive our weekly newsletter, providing you with encouragement and resources to help you make time for what matters most.
You're also agreeing to our privacy policy.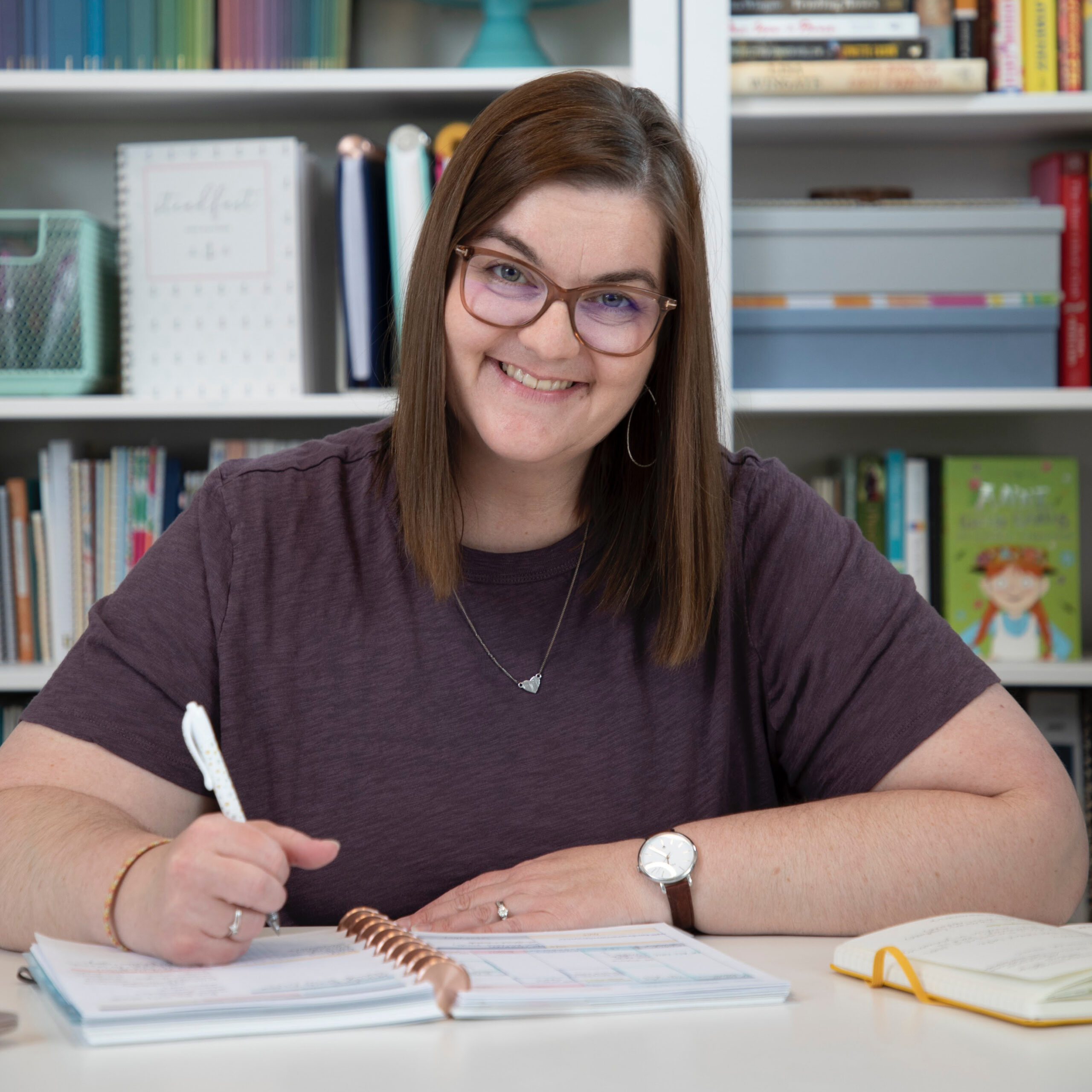 Kayse Pratt serves Christian women as a writer + designer, creating home + life management resources that help those women plan their days around what matters most. She's created the most unique planner on the market, helped over 400 women create custom home management plans, and works with hundreds of women each month inside her membership, teaching them how to plan their days around what matters most. When she's not designing printables or writing essays, you'll find Kayse homeschooling her kids, reading a cheesy novel with a giant cup of tea in hand, or watching an old show from the 90's with her husband, who is her very best friend.