Every Saturday morning, growing up, I'd wake up to the smell of sourdough bread frying on the stovetop.
I'd hurry myself to the kitchen, where my mom would be standing over the stove, in her robe, cooking us the most delicious french toast you've ever tasted in your life. It was her specialty, and it was the first recipe she ever taught me to make. I still make it to this day, for my own kids, and when I do, I feel like I'm back in my parents' kitchen, and my mom is still here.
I've got other sweet memories like that, too. My grandma making fried chicken, mashed potatoes and gravy every Thanksgiving. My mom's famous Pumpkin Dump Cake. The cookies she'd bake from scratch every time my friends came over.
After my mom died, one of the first things I did was collect her recipes. They were strewn all over the kitchen, some in a recipe box, some tucked into cookbooks, some kept in ziploc bags in the pantry. I found each one and collected them into a safe place. Did I do that because they were delicious recipes? No.
I gathered those recipes because they were a part of her. A tangible connection to the women I'd lost, the woman I wanted to be. As silly as it might sound, those recipes mean something to me. Those dishes mean something to me.
I've been on the lookout for a way to compile them all together, to rescue those memories from my momma and keep them safe in a place where I can share them with my own daughter one day.
And friends, I found it. And I have to share it with you, because I've never seen ANYTHING quite like it.
I'd love to introduce you to the Keepsake Kitchen Diary.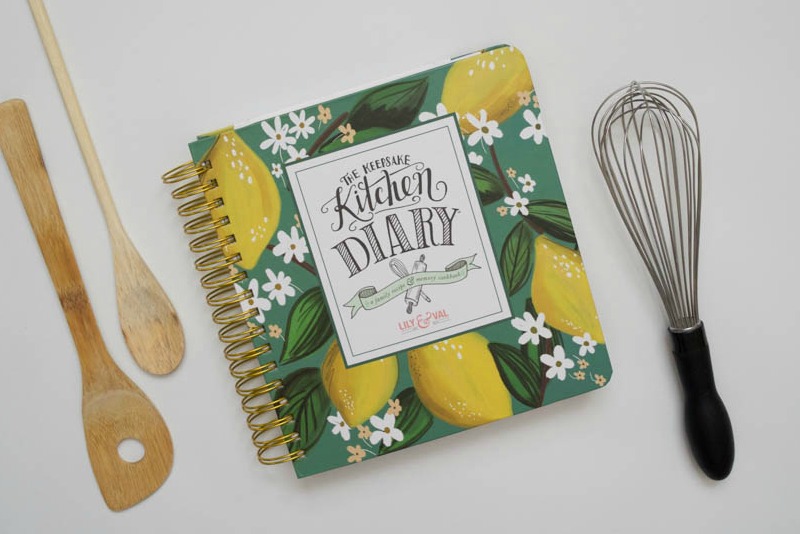 The Keepsake Kitchen Diary is a recipe book where you can ALSO record special memories from the times you've made that recipe.
Every two-page spread offers you a full page for the recipe & all the notes that go along with it. And on the opposite page, a space to record your memories from making that recipe. You can record multiple memories for each recipe, and date each one.
I love what Val, the creator of the Kitchen Diary, has to say about it:
Every recipe stirs up a memory. ? We truly believe this, which is why every recipe spread in the Keepsake Kitchen Diary includes a memories journaling page opposite of it! Record the stories and occasions when the dish was enjoyed. These small moments matter."  – @keepsakekitchendiary on instagram
It's beautiful, and brilliant, and I can't think of anything more special to keep for my own daughter one day. Do you know how much I wish I had my mom's recipes, all written out in one place, in her own handwriting? So. Much.
I don't have that, but my daughter will.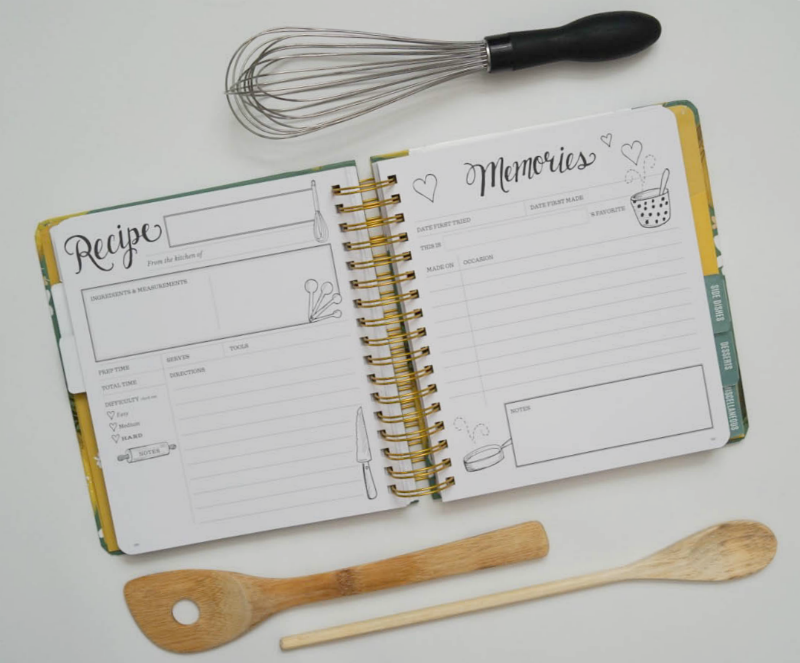 It's so easy for us to live fast paced & frantic, driving through Chick Fil A on our way to baseball practice, or just cooking up some noodles and butter on a night when we're exhausted and we don't want to fight about what to eat with our kids. Those days are going to happen, and I get that.
But there's something to savor about the slow process of cooking a meal in your home. Of choosing recipes you'll use as intentional anchors throughout your week. Of teaching your children the value of a home-cooked meal and good conversation around the dinner table.
It's these things our children will remember – this is part of the legacy we are leaving. 
So friends, as we head into Thanksgiving, and then Christmas, I want to encourage you to consider the recipes you're making, and the memories that come along with them. Are you writing those things down? Do you have a place to keep those tangible connections for your children, for long after you're gone?
I can't recommend the Keepsake Kitchen Diary highly enough. Not only is it a functional recipe book, beautifully designed & available in two gorgeous covers, it's also a space for you to record those memories for your children. In fact, you can even use it WITH your children.
It's possible that I have two, one to pass on to each child when they marry & start their own families. And I can't wait to gift these beautiful books to my kids.
To shop for your own Keepsake Kitchen Diary, click HERE: Get my Kitchen Keepsake Diary!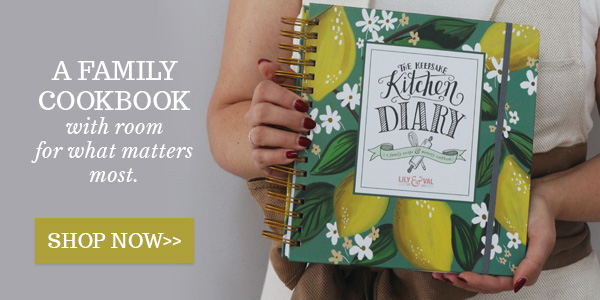 And enter below for a chance to win!
a Rafflecopter giveaway
Need a little help getting organized?
Join us for this 4-part mini course on organizing every aspect of your life, including tons of free resources AND immediate access to our printable Organization Kit!
You'll also receive our weekly newsletter, providing you with encouragement and resources to help you make time for what matters most.
*By subscribing, you're agreeing to our privacy policy.
Kayse is a wife, mom, and founder of the Anchored Women community. She writes to help women fight busy, find rest, and build a life that's anchored in Christ. Kayse is also the creator of the S.O.S. Planner, the Anchored Life Kit, and other practical resources that equip women to manage their homes and families in confidence. You can find her writing and her resources at anchored-women.com!