How many goals should you choose each year?
Last week we talked about the first of my two simplified goal-setting strategies: Dividing your goals into Project Goals and Habit Goals!
Today we get to talk about that second strategy! It's truly been the game changer for me, and it's so simple you're going to wonder if I'm being serious…but I am.
I only set 2 goals per quarter. That's it. One project goal, and one habit goal, every 90 days.
Does that seem TOO simplistic? I get it – especially for you high achievers, it might seem like that's not enough! But I can assure you, it is.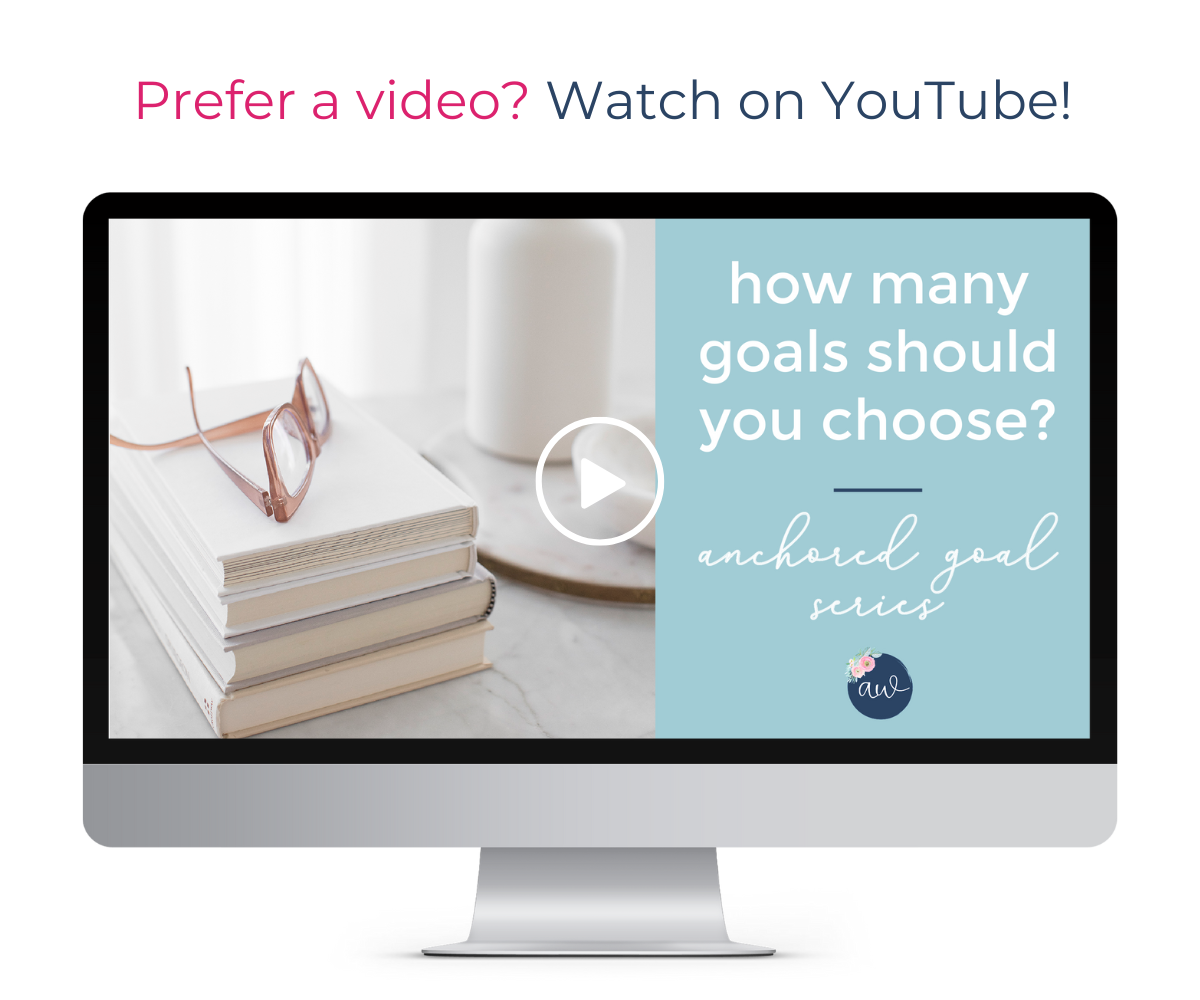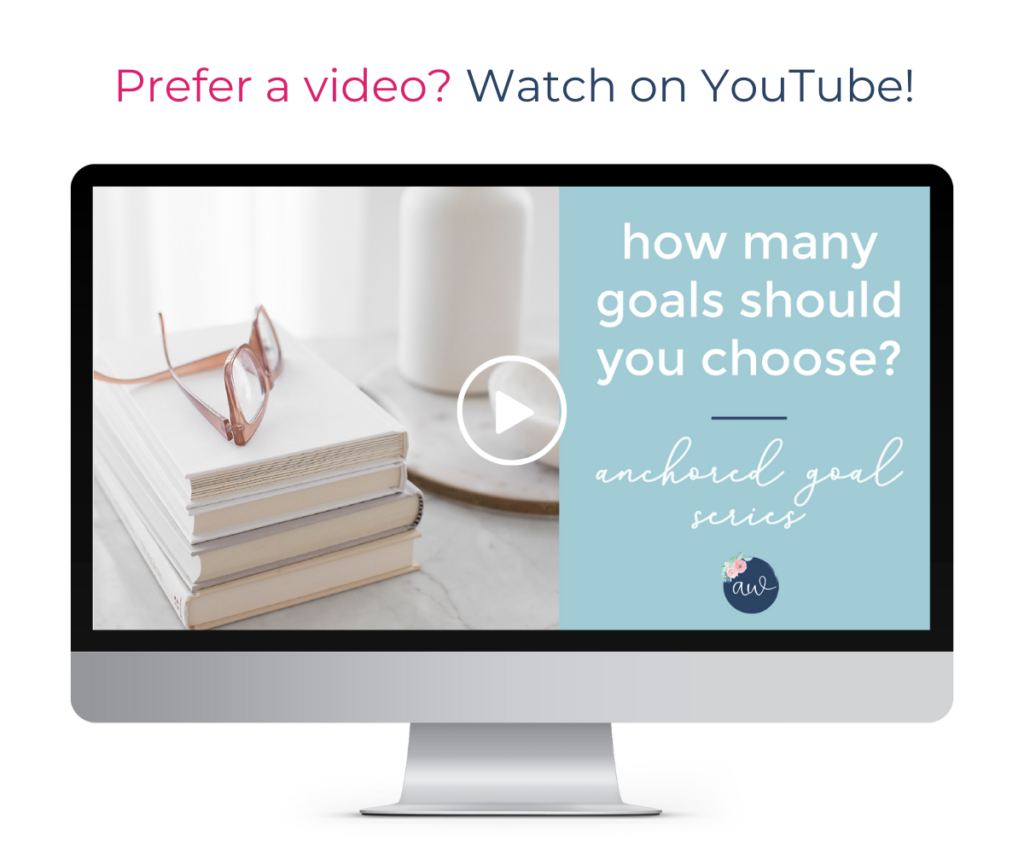 Setting less goals (+ why it works)
Listen, if you're like me, you might be prone to biting off more than you can chew, in the excitement of a new year. But we are old and wise now, and we are not going to do that! The truth is that when we try to do too much, too fast, we often end up either failing at all of it, our burning ourselves out to pure exhaustion.
Neither of those things are good end points for goal setting.
Instead, let's set fewer goals and throw all that excited energy in ONE DIRECTION, instead of spreading it thin across 15 different goals.
2 goals. That's it.
I've realized there's a sweet spot in 2 goals per quarter – one habit goal and one project goal.
Why just one habit goal? It's said that a habit goal takes at least 30 days to set in, but in my experience it takes more like 60-90 days to truly become a part of your life. That's what I want – a long-lasting goal that can become a part of my life.
Additionally, have you ever tried to set more than one habit goal at a time before? It does not work. You cannot possibly remember to start that new Bible study, go on your daily walk, get to bed before 9pm, and drink 60 ounces of water a day while you're managing all the other regular things that come at you on a daily basis! Believe me, it's hard enough to just make ONE new habit at a time stick. Forget about juggling more than one.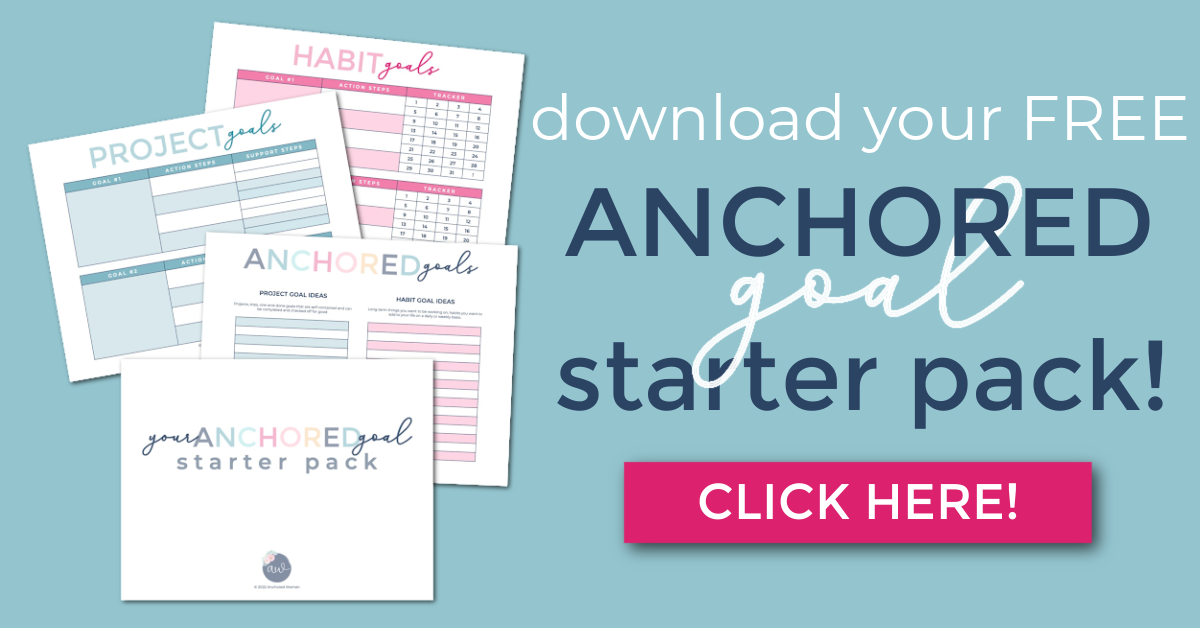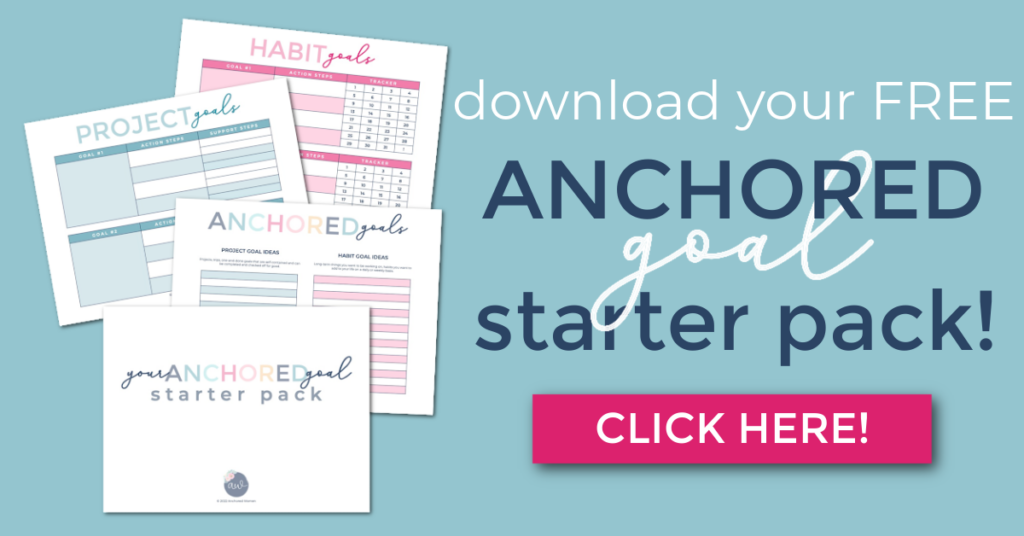 When we choose just ONE habit goal for our entire quarter, we give ourselves the gift of 90 days to focus on just one thing. The mental energy ALONE that's freed up when we do this is well worth the slower pace.
Why just one project goal? Well, friend, have you ever had a goal of starting the baby book for your second-born and…just never, ever got around to it?
Yeah, me too.
Project goals can easily get lost in our busy daily lives, and never actually happen. If that's true about ONE project goal, it's certainly true about many all at once!
When we can focus on just one project goal a quarter, we give ourselves 90 full days to schedule it out and get it done. Maybe you're going to clean out one shelf of that closet each week until the whole thing is clean. Maybe you're going to read one chapter of that book each day until it's done. You're again giving yourself the gift of time – worth far more than speed and stress when it comes to getting that project done.
I DO recommend scheduling out your single project goal at the beginning of the quarter, so you actually DO get it done! But when you have 90 days to work with, that's automatically much more doable.
Plus, if you finish that project goal within the first week, but have a choice! You can either take the rest of the quarter off, or you can start a new project goal – since the last one is fully complete!
Not a race
I want you to remember – the point of goal-setting is not to GET MORE DONE or RACE TO FIT IT ALL IN. Instead, the point of setting goals is to align your daily life with your deeply-held values, so you know you're spending your time on the things that truly matter most. When you look at it like that, doesn't it make sense to only add in two new things a quarter?
It's not a race. You're not competing with anyone, and there are no goal-police coming to make sure you're checking off all the boxes. So let's embrace slowing down, only focusing on the most important things, and creating a plan that gives us the freedom to move forward in confidence!
Next week I'll be talking about how to make that plan – everything you need to know about breaking down your goals – both project goals and habit goals – into manageable action steps that you can actually accomplish without overwhelm! Be sure to tune in for that next Monday!
---
In the meantime, if you want to get started on your own goals for this new year, I have a freebie you'll love! Our Anchored Goal Starter Pack is now available, and it gives you the space to brain dump all your goal ideas, and then choose a few to break down and make a strategic plan you can use to move forward! I hope you love it!
Click here to download that Starter Pack!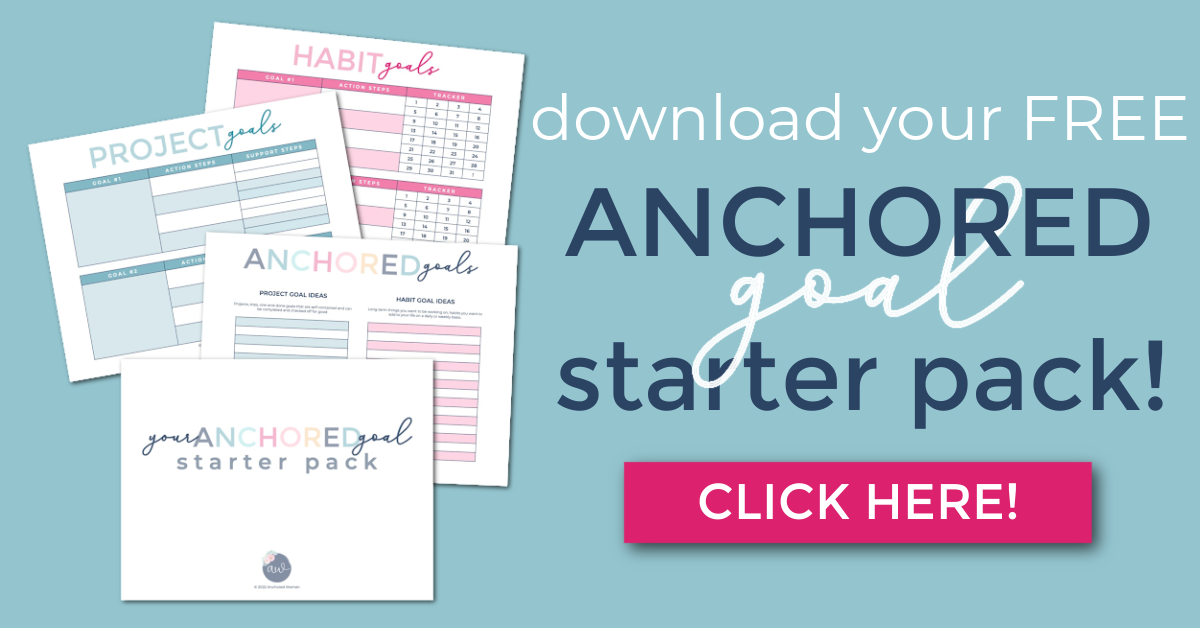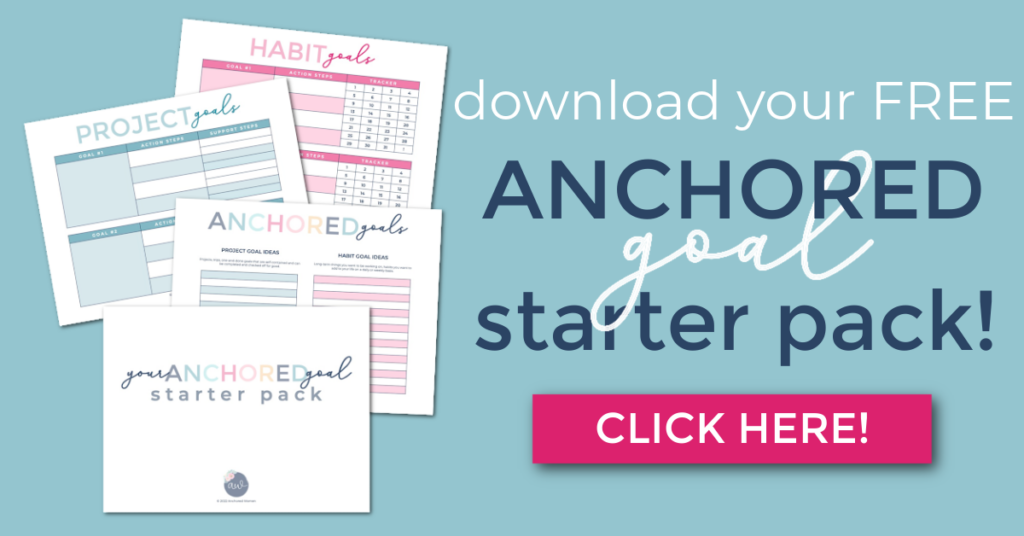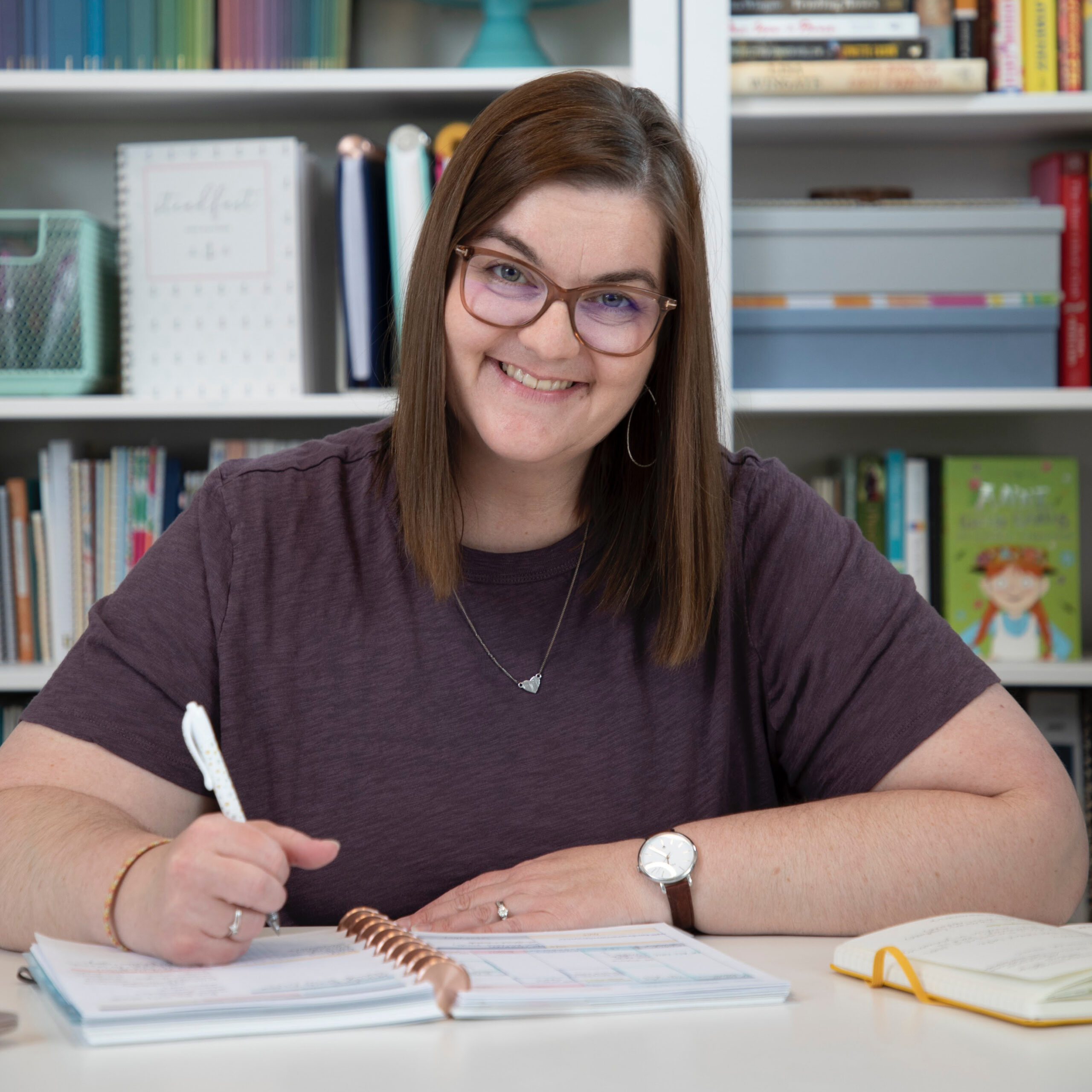 Kayse Pratt serves Christian women as a writer + designer, creating home + life management resources that help those women plan their days around what matters most. She's created the most unique planner on the market, helped over 400 women create custom home management plans, and works with hundreds of women each month inside her membership, teaching them how to plan their days around what matters most. When she's not designing printables or writing essays, you'll find Kayse homeschooling her kids, reading a cheesy novel with a giant cup of tea in hand, or watching an old show from the 90's with her husband, who is her very best friend.