How to break your goals down into action steps
Goal-setting is fun. Goal-planning is fun! But getting started on the actual process of working on those goals?
Well, that can feel overwhelming.
I've heard it said that overwhelm is simply not knowing where to start, and I think that's especially true for goal setting. Maybe you've got your one project goal and one habit goal for the quarter (not sure what I'm talking about? Head back to the last two posts to read about that here + here), and you feel all set except…
Where do you start?!
That's where breaking down goals comes in as a handy and essential skill! Let's chat today about how to break down a project goal and a habit goal (yes, they are different!) and send you on over to our freebie where we have TWO worksheets that will help you do exactly that!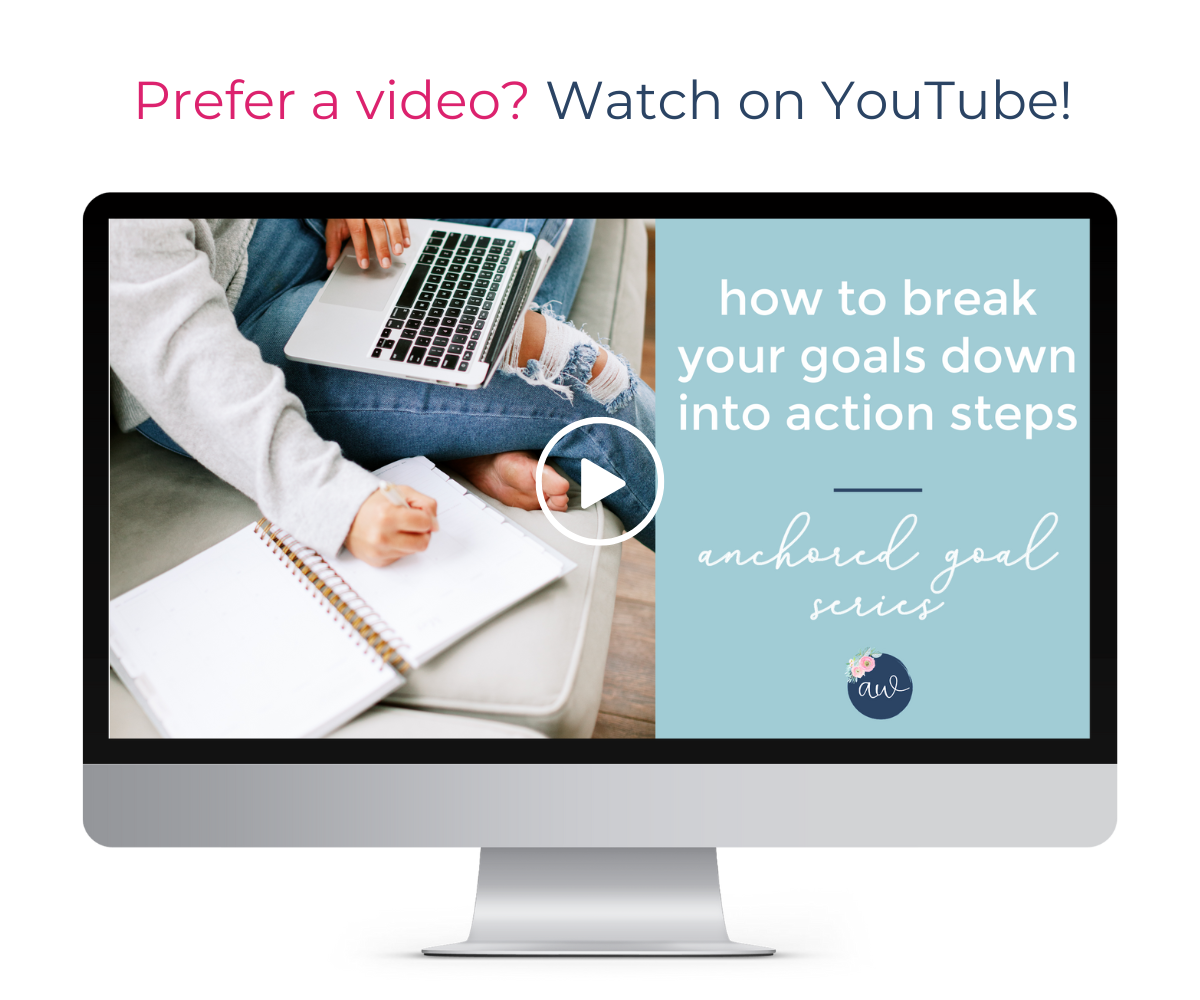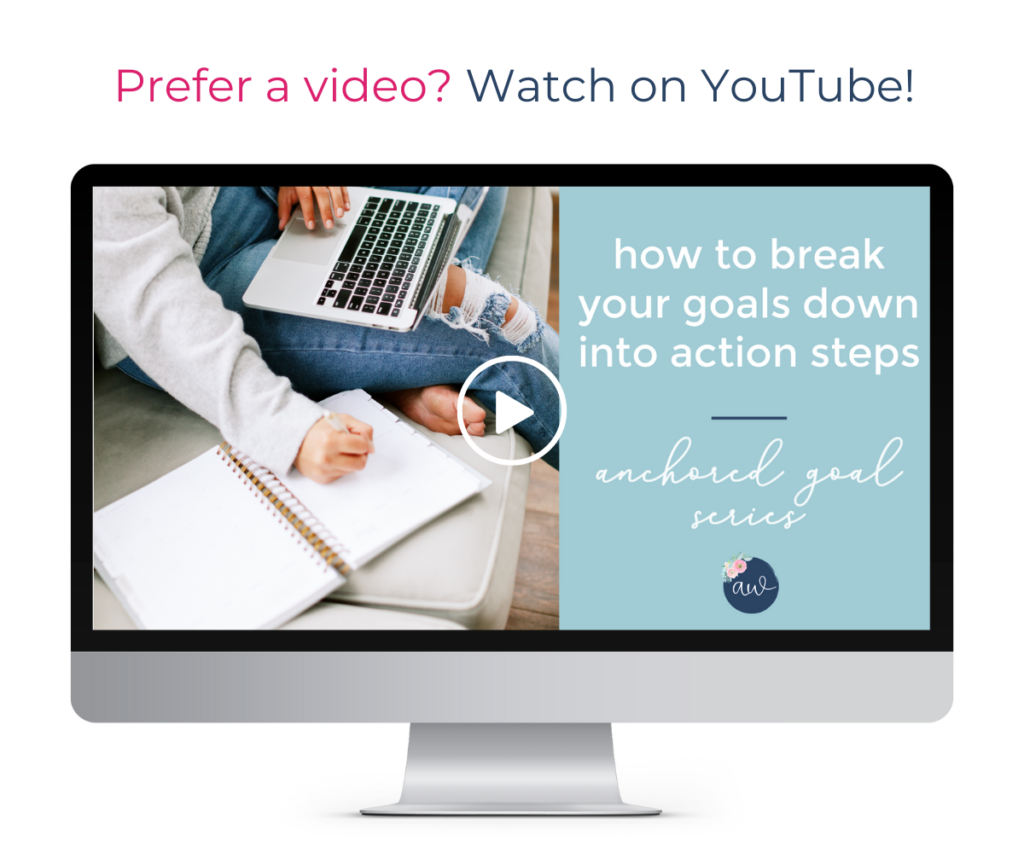 Breaking down a Project Goal
A project goal, as you already know, is a self contained goal with a clear beginning and end point. When we break this goal down, we want to break it down into pieces that are ALSO self contained!
Picture this: We've got one big project goal, broken down into 4-6 action steps, with each action step broken down into 2 support steps.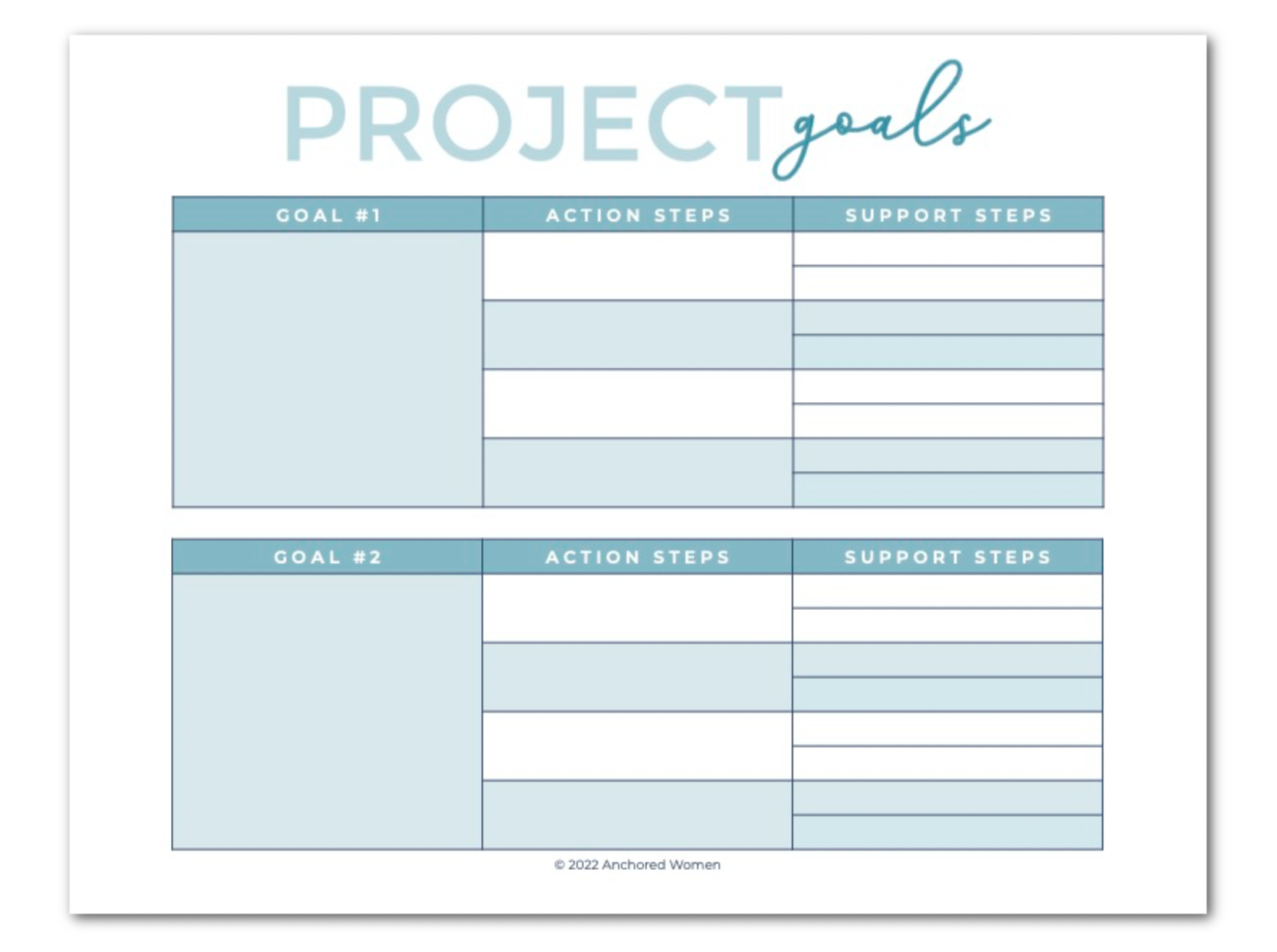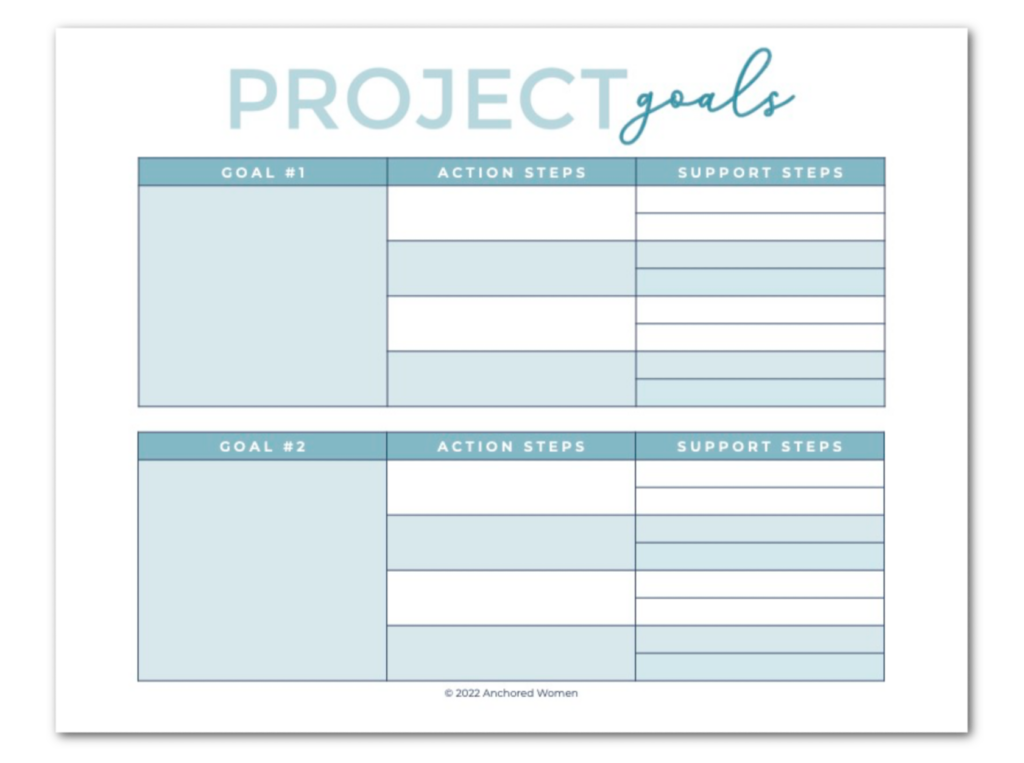 That's where we're going. And we've got some guidelines along the way.
Let's start with those 4-6 action steps. Each action step should:
Have a clear starting and ending point
Last no more than a day. (Honestly, I'd like it to take no longer than 2 hours, ideally.)
Feel challenging, but in a good way – NOT overwhelming.
Then we've got those support steps! The support steps are a way to break down those action steps even further. Each support steps should:
Have a clear starting and ending point
Last no more than an hour. (My preference is 15 minutes, ideally. I want a support step to fit into the nooks and crannies of your day!)
Feel simple – almost more than you think it should.
Let's use "Cleaning our Master Bedroom" as an example for this.
BIG PROJECT GOAL: Cleaning our Master Bedroom
ACTION STEPS (In this case, we're using 4 areas + follow-up cleaning):
Floor
Dresser
Nightstands
Bookshelves
Vacuum
Dust
SUPPORT STEPS (breaking each action step down into EASY, short tasks):
Floor

Pick everything up
Sort it into piles – where SHOULD it go?
Return everything to it's rightful place (the donation bag is a great, rightful place)

Dresser

Clear everything off
Sort it into piles
Return everything to it's rightful place

Nightstands

Clear everything off
Sort it into piles
Return everything to it's rightful place

Bookshelves

Remove anything that's not books
Sort it into piles
Return everything to it's rightful place

Vacuum

Move necessary furniture
Vacuum floor

Dust

Clear off surfaces
Dust
Return only essentials to surfaces
Do you see how this works? If I look at "The Floor" as simply one action step, I can still feel like that's going to be a challenge. But if I schedule one day for that action step, I can take 15 minutes to pick everything up off the floor after I get up in the morning, sort it into piles after lunch, and return everything to it's rightful place before bed! Those 3 action steps make the tasks feel DOABLE, instead of overwhelming.
And when we feel like we actually CAN do something, we are much more likely to start and finish it!
Breaking down a Habit Goal
Breaking down a habit goal looks a little different than breaking down a project goal, since it's not a one-and-done concept, but a new daily practice. Instead, we break it down by answering 5 questions.
What time of day is best for this new habit?
Think about if there's a specific time of day that will work best for your new habit. Should it be first thing in the morning? Before bed? During quiet time? Do you need to be alone? With your family? Consider the best timing – this will set you up for success.
What can I anchor this new habit to?
Sticky habits are the ones that aren't just thrown into our schedule willy nilly. Instead, they stick onto something we're already doing – an anchor in our day. Is there something you already do daily – like showering, eating meals, going to bed at a certain time, etc.? Consider a daily habit that you can hook your new habit to.
When will I start this new habit?
Pick a start date! Nail this down so you know exactly when your new habit will begin. Tip: Give yourself a day or two to get your supplies ready before you start.
What supplies do I need for this new habit?
Do you need to purchase anything for this new habit? Maybe collect some things from around the house? Get all your supplies together and put them in the location you'll be doing this habit in. For example, if you're going to study your Bible, maybe get a small basket from around your house and put your Bible, notebook, and pens in it, then set it right next to the place you'll be doing your study each day!
When will I reassess whether or not this habit is working?
This is an IMPORTANT part of developing a new habit – putting a time on the calendar to reassess how that habit is going, and then make any needed changes. We talk a lot about this in our Prioritized Planning Method – you can watch the video on that here!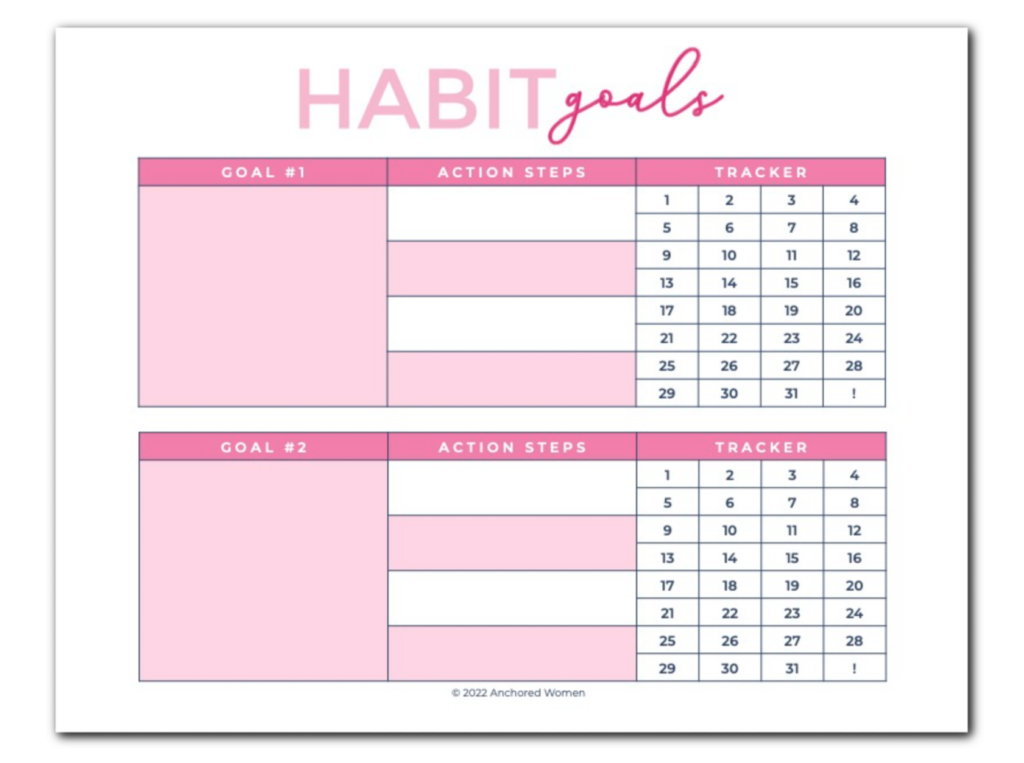 Then, and only then, can we use our Goal Breakdown worksheets to jot down our action steps AND track the habit as we make progress throughout the month!
Next steps
Once your goals are broken down, you can easily see how much more DOABLE they actually are! And that's the whole point – we break down our goals into pieces we can actually accomplish, which builds our confidence AND our motivation!
Next up? Tracking our goals! We'll talk next week all about how to track our goals through each week, month, quarter, and year. See you then!
P.S. Don't forget – if you want to get started brainstorming your 2023 goals, I have a freebie you'll love! Our Anchored Goal Starter Pack is now available, and it gives you the space to brain dump both types of goals, and then choose a few to break down and make a strategic plan you can use to move forward! I hope you love it!
Click here to download that Starter Pack!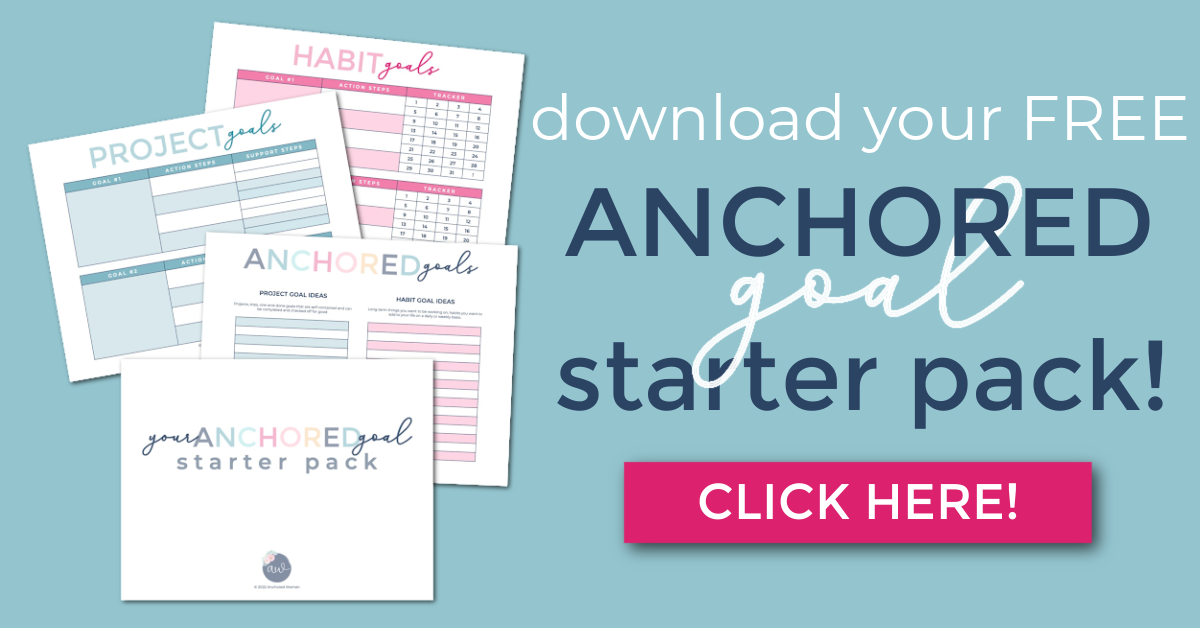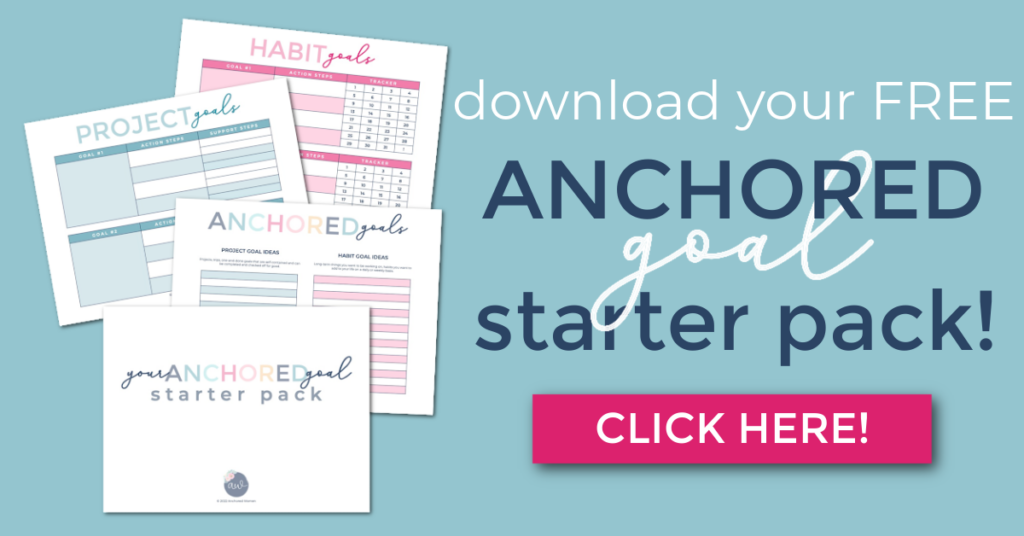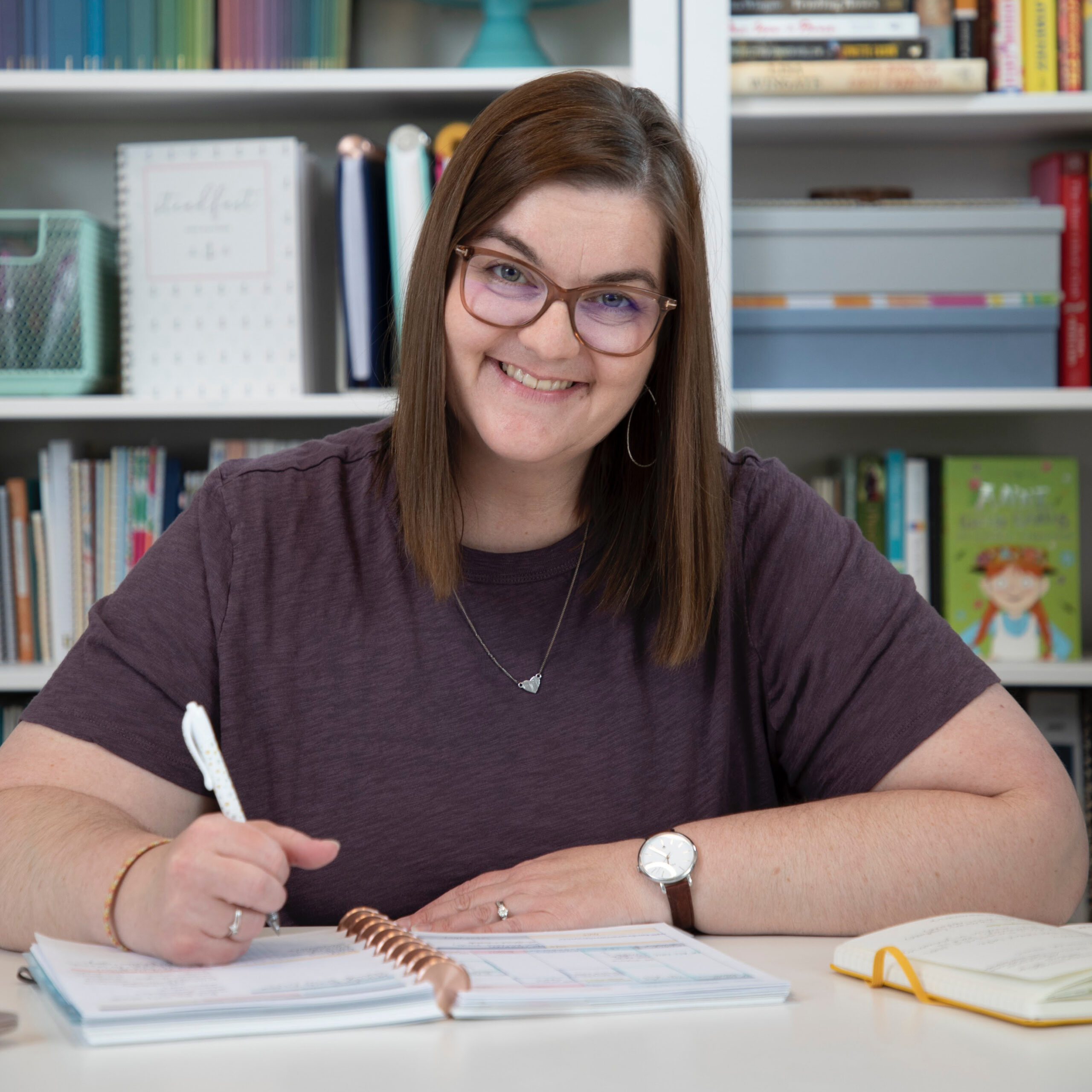 Kayse Pratt serves Christian women as a writer + designer, creating home + life management resources that help those women plan their days around what matters most. She's created the most unique planner on the market, helped over 400 women create custom home management plans, and works with hundreds of women each month inside her membership, teaching them how to plan their days around what matters most. When she's not designing printables or writing essays, you'll find Kayse homeschooling her kids, reading a cheesy novel with a giant cup of tea in hand, or watching an old show from the 90's with her husband, who is her very best friend.