How to create a weekly planning habit
Hey friends! Welcome to our Planning With Purpose series! Each day we'll talk about a planning strategy that will help you feel more organized and ready to take on the day – even when your days look the same and we're all stuck at home!
In addition to these daily posts, we're also hosting a live Facebook chat about these topics each day! Click here to RSVP to today's live chat – don't miss it!
And now, onto today's focus:
How to Create a Weekly Planning Habit!
The way I approach planning is slightly different. I know a lot of people plan out exactly what they are doing each day, and try to follow it to the letter, but I haven't found that to work really well.
Instead, I plan out a basic structure, and then define a focus. From there, I can make decisions easily, through the filter of what really matters to me and my family.
Here's what that looks like in my daily life!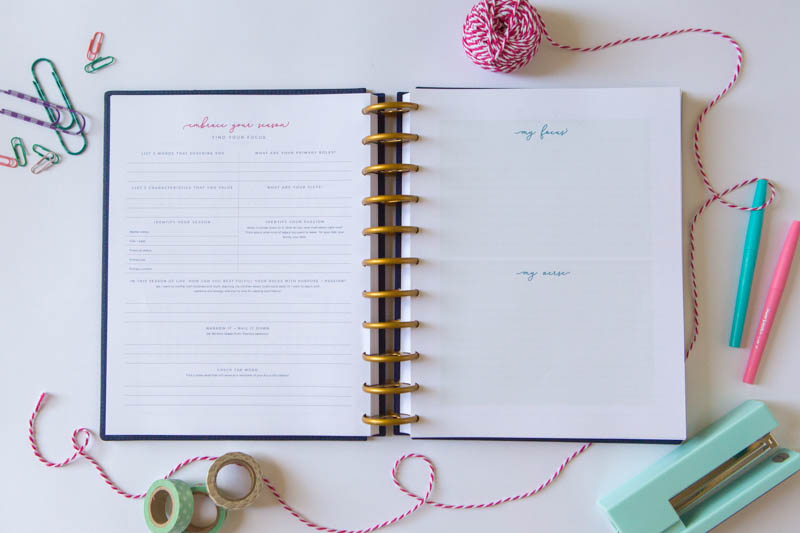 Starting with the BIG Picture
Before we talk about our weekly planning habit, we have to talk about our YEARLY planning time. Once a year, I look back on the past 365 days and ask myself what went well, and what didn't go well. I also take some time to look ahead at the year in front of me and figure out what might be possible – realistically.
I start by really taking an honest look at the season that I'm in. Has life been incredibly busy, and I need to build in some time for rest this year? Or, has this been a year of rest, and now I'm ready to dive into life with a little more energy? What big things are on the calendar? How is my family doing? What kinds of things has God made me to do, and am I doing them right now?
All of these questions help me shape a realistic view of the year ahead of me. By walking through my yearly prep, I have a better understanding of the big picture, and can choose just a few things to focus on for the year. This is when I set goals, sometimes choose a word of the year, and make a bucket list of things I'd like to do this year.
How does this affect my weekly planning habit? I'll get there!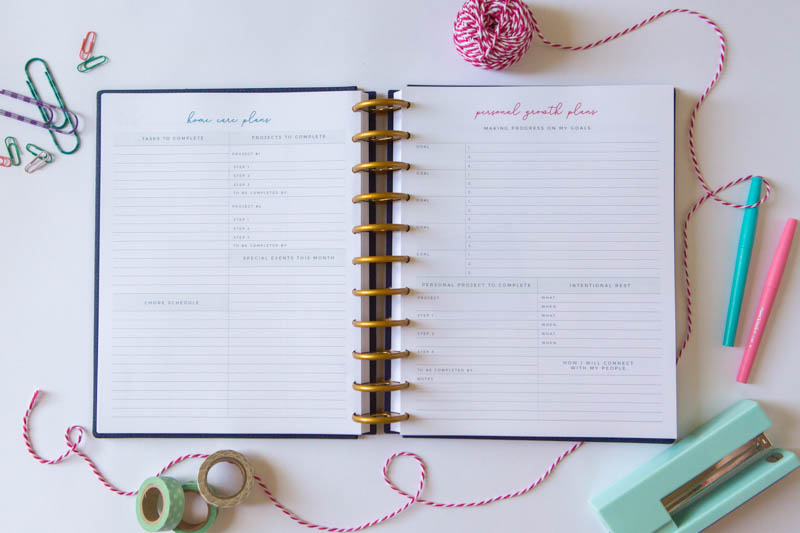 Narrowing In
Once my big picture view is pretty well established, and my goals have been decided on, I can move into my monthly prep.
At the beginning of each month, I reflect on that yearly prep and make a narrower plan for the month ahead. I choose just a few goals to focus on (no more than 4, usually more like 2), look at what's on the calendar, and filter out the things that don't matter. I also build in some margin around the things that do matter, so I'm able to give them my full attention! And lastly, I'll take a look at that bucket list for the year, and see if there's anything I can actually schedule for that month.
All of this gives me a focus for the month. I'm making a little progress on my bucket list, moving forward on my goals (we'll talk a lot more about this later on in the week!), and I have a flexible plan for my schedule.
Then, monthly, I also take care of some of the administrative stuff of life – writing out meal ideas for the month, making plans to care for my home & listing out projects that need to be done, and narrowing in on the work tasks that are most important right then.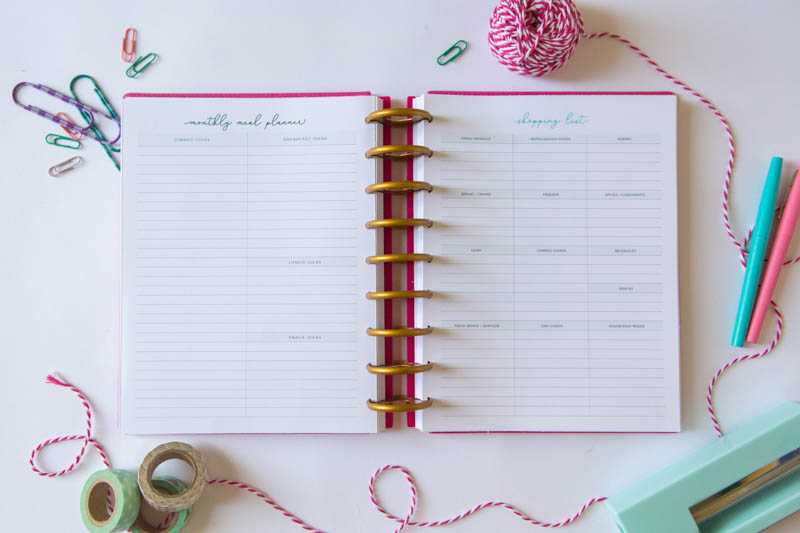 Making Weekly Planning EASY!
Honestly, once I have the yearly and monthly planning as a foundation, weekly planning is a breeze – something I look forward to every week!
Each Sunday, I sit down in the afternoon and do our planning for the week. The simple act of thinking through our week gives me such a solid overview as I walk into Monday – without it, I'm winging it, and we all know that doesn't work well for long!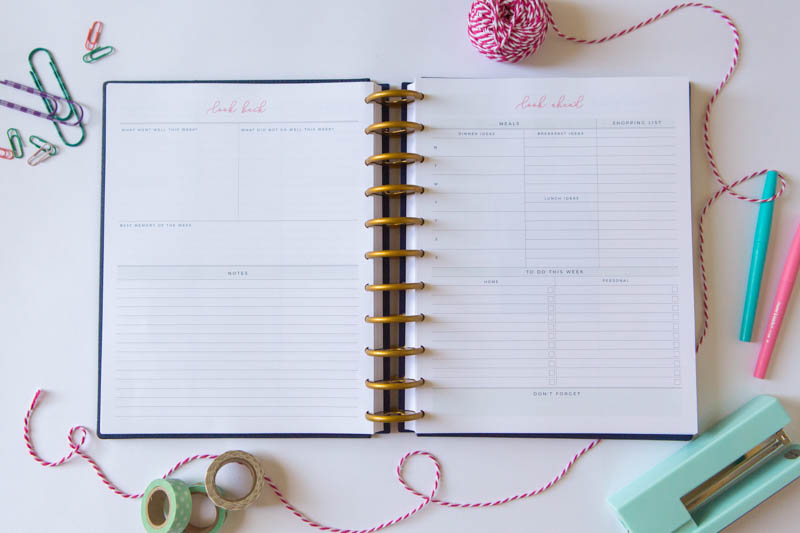 Here's what I cover on Sunday afternoons:
Our Calendars – I copy our appointments and events (or zoom calls right now!) from Google calendar into my paper planner. This helps me see what's going on over the entire week, as far as the things we've already committed to.
Our Meals – I pull a handful of meal ideas from my monthly meal ideas list, and schedule them out for the week. This goes super quickly, since I've already thought through meals I could make for the month! I'll schedule around 4-5 meals, and include a night or two for leftovers, and a night for eating out.
My Tasks – I spend a little time looking at what I did last week, and what tasks need to be taken care of this week. Then, I make two lists – one for home tasks and one for work tasks. I prioritize these and figure out what is most important for the week. Sometimes it's a home project, sometimes it's a work task. THIS gives me my focus for the week, and I write it down right there in my planner!
My Prayers – I also spend a little time thinking through what I need to focus on in my prayer life. How is my family doing? Are there sick or ailing people in my community that I can serve in prayer? Is there something on my mind that God wants me to bring before him? I write these out in my planner too, so that they are always in my line of sight, all week long!
It seems very simple, right? Schedule, meals, tasks, and prayers. It is simple! But even taking just a few minutes every weekend to prepare well for the week gives me such peace of mind as I start the week ahead.
I'm able to anticipate the needs of my family more, knowing what's coming up and how taxing our current schedule might be on their lives and emotions.
I'm able to schedule in margin where it's needed, so no one burns out or explodes. (Especially me!)
I can prioritize those things that I already decided really matter to me and my family – our goals, bucket list items, and even my focus for the year.
All of these things give me AND my family a leg up before we even start the week!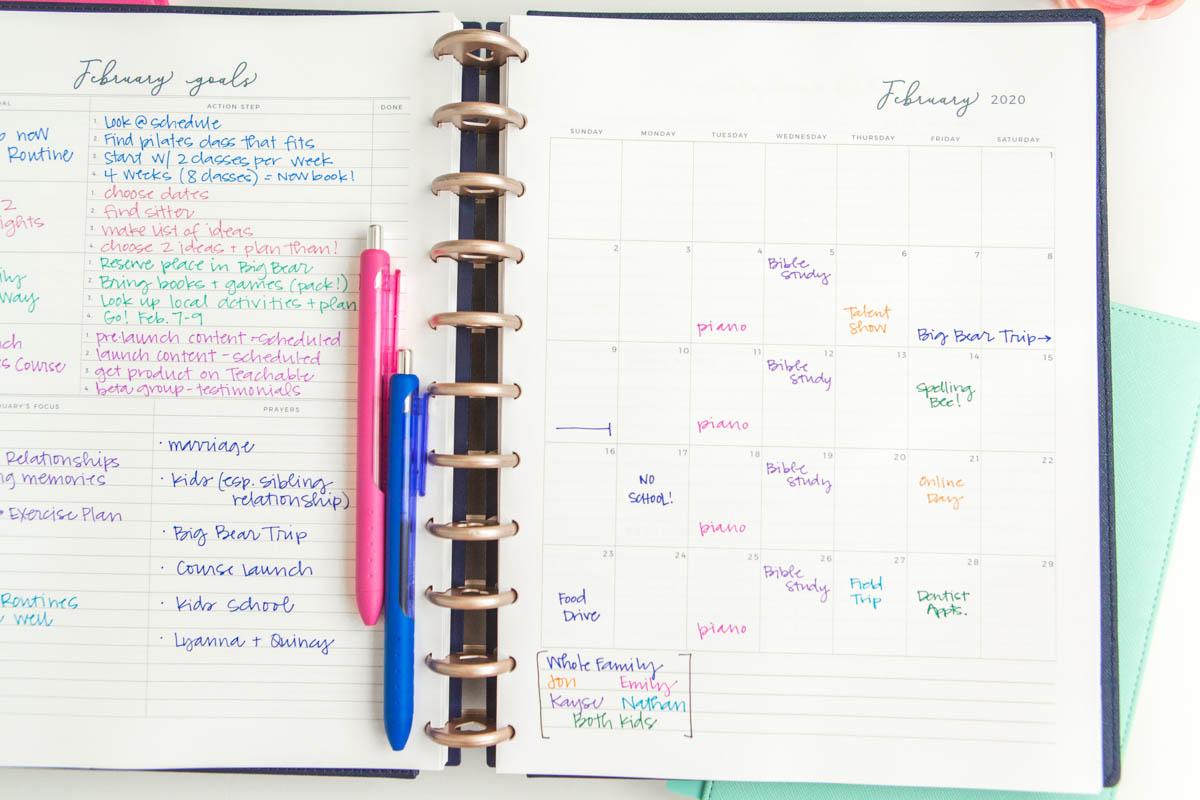 Your Turn!
So, how do we create a weekly planning habit that works for YOU? I've got you covered!! My own planning process isn't going to work for everyone, but it might be a good place to start! Let's talk through the things you need to decide on.
Pick A Planning Day // First, what day makes sense for you to do you weekly planning? Sunday works best for me, but maybe your Monday is really Wednesday, and you'd like to plan on Tuesdays! Or maybe you truly rest on Sundays, so you want to plan on Saturdays. There is no right day to plan! Just figure out your own best day, and carve out some time to plan this week.
Do Your Prep Work // Before that day comes, try and take about 30 minutes or so to do some weekly and monthly prep work. Even though it's MAY, you can still think about how you want the rest of the year to go! In fact, chances are, your plans for 2020 have already created and burned, and you might need a new focus. That's okay! If you have our S.O.S. Planners, you can use our yearly prep pages for this, starting with the page that's titled "Evaluate Your Season"!
Attack Your Week // Once you've done this background prep, and you're able to sit down for the week, work through your big 4 – your schedule, your meals, your tasks, and your prayers!
Daily Check-Ins // Then, each day, check in with your planner and make a simple, flexible plan for the day! Keep your focus in sight, and fill in your tasks around your schedule.
Once you've done this for a few weeks, you might start to look forward to it! If you're anything like me, you will get super excited for your planning time each week! It truly helps me avoid distraction, make progress on my goals, and protect the margin that my family and I so desperately need.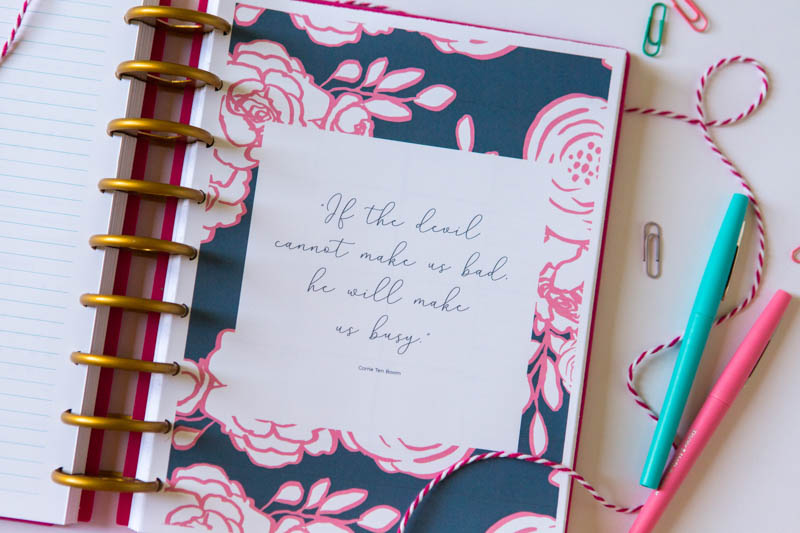 ---
Looking for a planner that will work for you? Don't miss our brand new 2020-2021 S.O.S. Planners!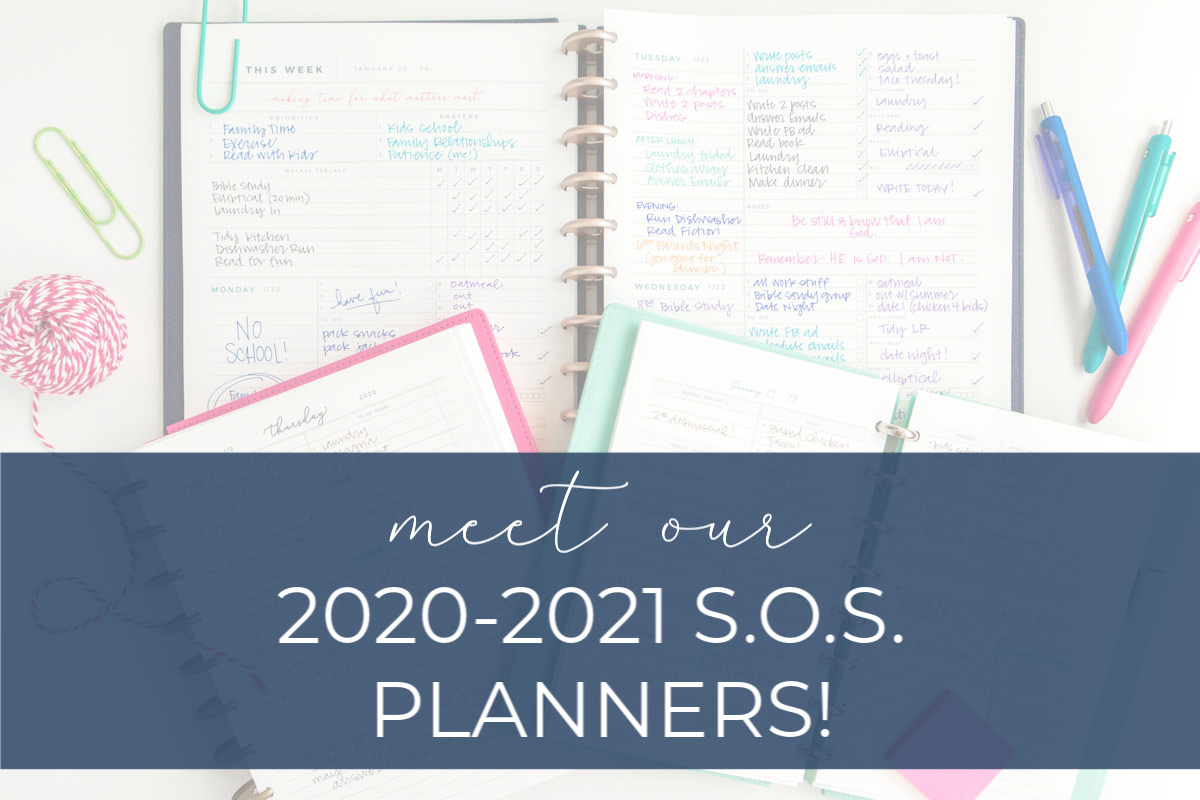 We're still in the middle of launch week, which means right now you can get an incredible discount AND over $55 in bonuses with your planner!
---
How about you? Do you think you might incorporate a weekly planning habit in your life? How might it help you?
P.S. We'll be talking even more about this topic today during our Facebook Live! Make sure you bring your questions and we'll get them answered! Join us on Facebook today at 9am Pacific Time (12pm Eastern)! Click here to RSVP, and then click here to join us at 9am!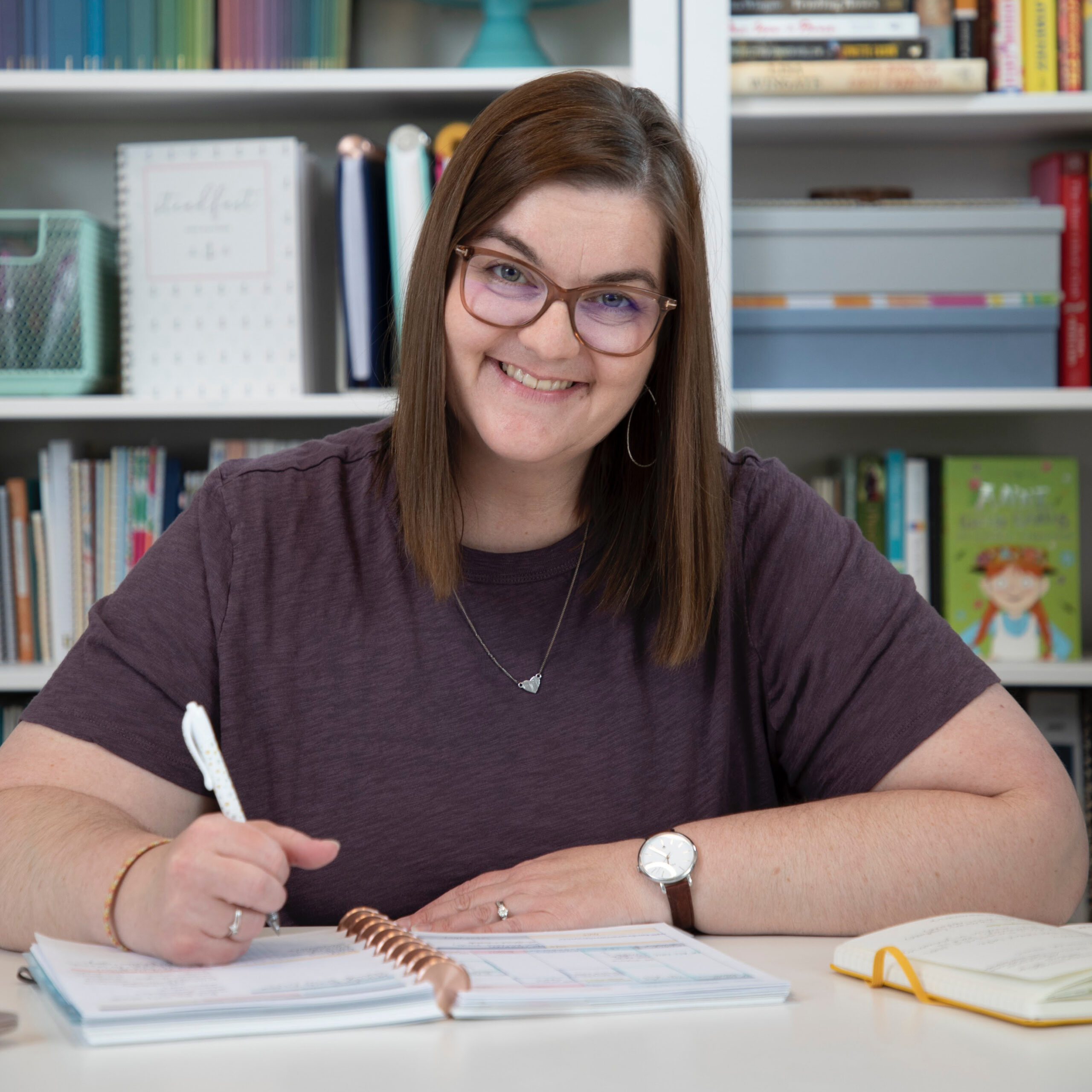 Kayse Pratt serves Christian women as a writer + designer, creating home + life management resources that help those women plan their days around what matters most. She's created the most unique planner on the market, helped over 400 women create custom home management plans, and works with hundreds of women each month inside her membership, teaching them how to plan their days around what matters most. When she's not designing printables or writing essays, you'll find Kayse homeschooling her kids, reading a cheesy novel with a giant cup of tea in hand, or watching an old show from the 90's with her husband, who is her very best friend.