Meet our Spring Planner Collection!!
During this whole pandemic, I've seen this meme floating around (and maybe you have, too)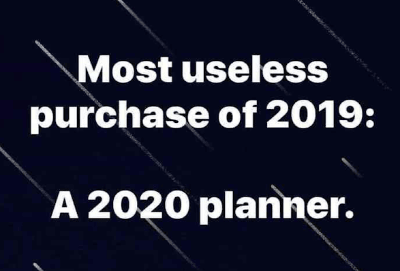 And it's funny, really. Because I think we'd all agree that 2020 has been a bit of a dumpster fire so far, if we're talking about sticking to our plans & schedules.
But, in my opinion, this sentiment is also fundamentally false. Planning is not just about appointments and schedules and writing down all the things we have to do so we don't miss anything. Is that part of it? Sure. But if that's the only reason why we bought a planner in the first place, I think there's a lot we're missing out on.
For me, planning is about getting everything out of my head and onto paper. Making sense of the day in a way that does feel productive, but also ensures that I protect the important things, like faith, margin, and rest.
And honestly, I don't know if there's ever been a time when I needed this MORE!
I'd argue that during this season, using a planner is actually one of the BEST things you can do.
All this time at home has forced me into creating new routines, sketching out our days in new ways on the pages of my planner. Every Sunday afternoon, when I sit down to plan out the week ahead, I have to focus in on the priorities of that week alone – for the kids & their schoolwork, for my own work, for Jon's work, for our move.
Even though there's not as many outside activities to write down, I've been surprised by how many MORE activities and appointments I've had to juggle inside our own house! Zoom calls and staff meetings and Sunday school online. Progress on house projects (like our upcoming out-of-state move), chore lists for myself and the kids, and even just the seemingly simple task of how I want to (or need to) USE this time at home.
Add in the mental load of carrying everyone's needs and balancing their new at-home schedules and somehow also making sure that the home we're stuck in is a livable place with clean clothes – and let's be honest, it's a LOT.
We need space to sort it all out, and while traditional planners might not give you room to do that, our S.O.S. Planners definitely do.
This is why our planners are different.
This is why we make space for all of us to look at the week ahead and decide what's important.
This is why we give you room to write out everything that's on your mind, and make sense of it on paper.
This is why we provide you with flexible layouts that you can change up depending on what your week looks like.
This is why we offer a product that can be printed at home OR used digitally on an iPad or tablet – fitting your specific needs and style.
And this is why I am so excited to tell you that TODAY IS LAUNCH DAY FOR OUR SPRING PLANNING COLLECTION!!!!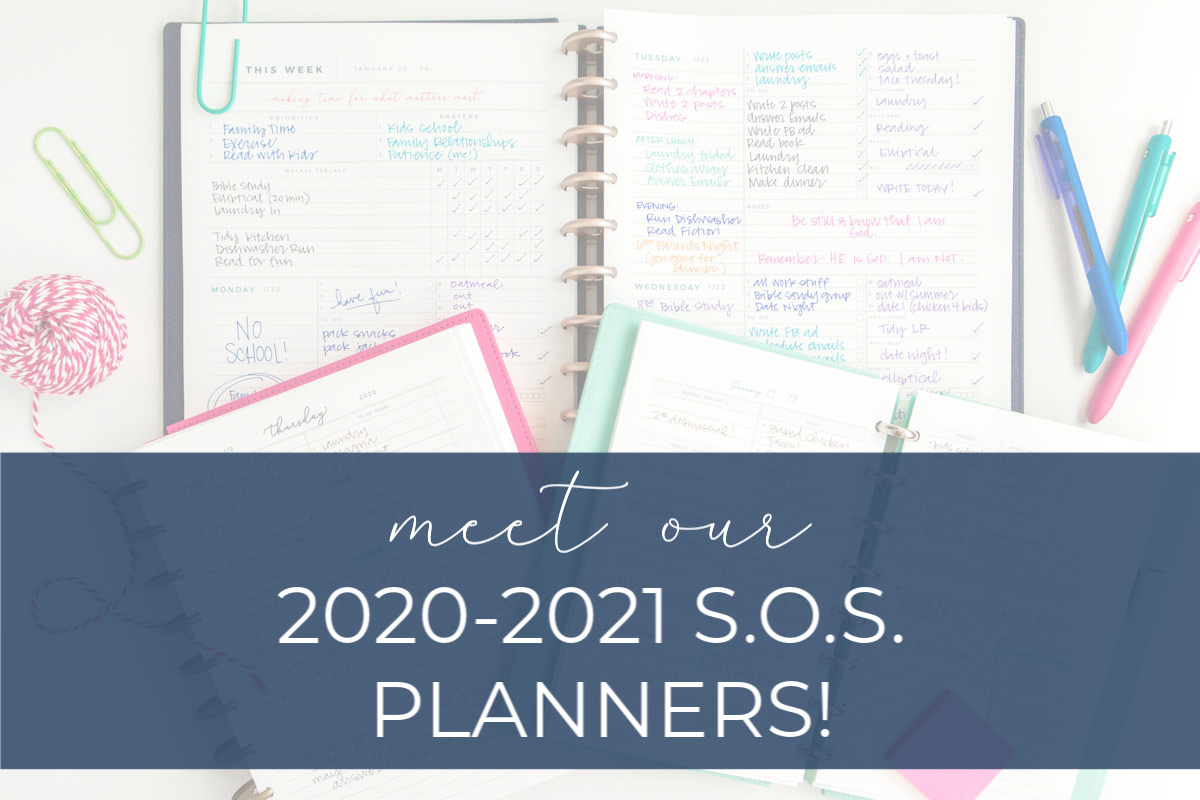 Our brand-new 2020-2021 S.O.S. Planners are here and ready for you, and so is our brand new Anchored Women Recipe Organizer!! Practical tools that you can use in ANY season, to help you organize your life and feel confident about the way you spend your days. I can't WAIT for you to get these in your hands and start planning away!!
(But before I get into the details – I want you to know you're invited to our Launch Party today!!! Join us LIVE on Facebook at 9am Pacific Time as we celebrate the launch of our Spring Collection! We'll have some fun giveaways, go over all the launch week bonuses, and more! You'll only be able to win LIVE, so make sure you're there! Click here to RSVP!)
---
Already know you want a planner + need to go straight to checkout? You got it!
? Go straight to the checkout page for the 2020-2021 S.O.S. Planner here: Get the planner only!
? Go straight to the checkout page for the new Anchored Women Recipe Organizer here: Get the recipe organizer only!
?+? Go straight to the checkout page for the Exclusive Launch Week Bundle (planner & recipe organize!) here: Get the bundle with BOTH!
---
Or click here or scroll down to read everything you need to know!

Want to hear more? Here are all the details!
Your 2020-2021 S.O.S. Planner comes with…
ALL SIX NEW LAYOUTS!! You have access to ALL layouts in one purchase, so you can print and assemble YOUR perfect planner! Use one layout, or a combination of a few! This includes our two new combo layouts!
ALL THREE SIZES!! Full-size, Mid-size, and Half-size – woohoo!!
Future logs for 2020 & 2021
Yearly prep work to help you begin your year with purpose
Seasonal prep work to help you focus and prioritize your goals every three months
Monthly prep work to help you break down the big picture into actionable steps every month
Dated calendars and weekly or daily spreads (depending on your layout choice) that give you space to write out everything you're keeping track of in your head
Tons of notes space – on both lined and dot grid pages
Planner bootcamp – videos to help you make the most of your planner
Access to TONS of support and inspiration in our SOS Planner Facebook Group!
Click here to see the insides of every one of our planners!
(P.S. when you buy one planner, you get them all!)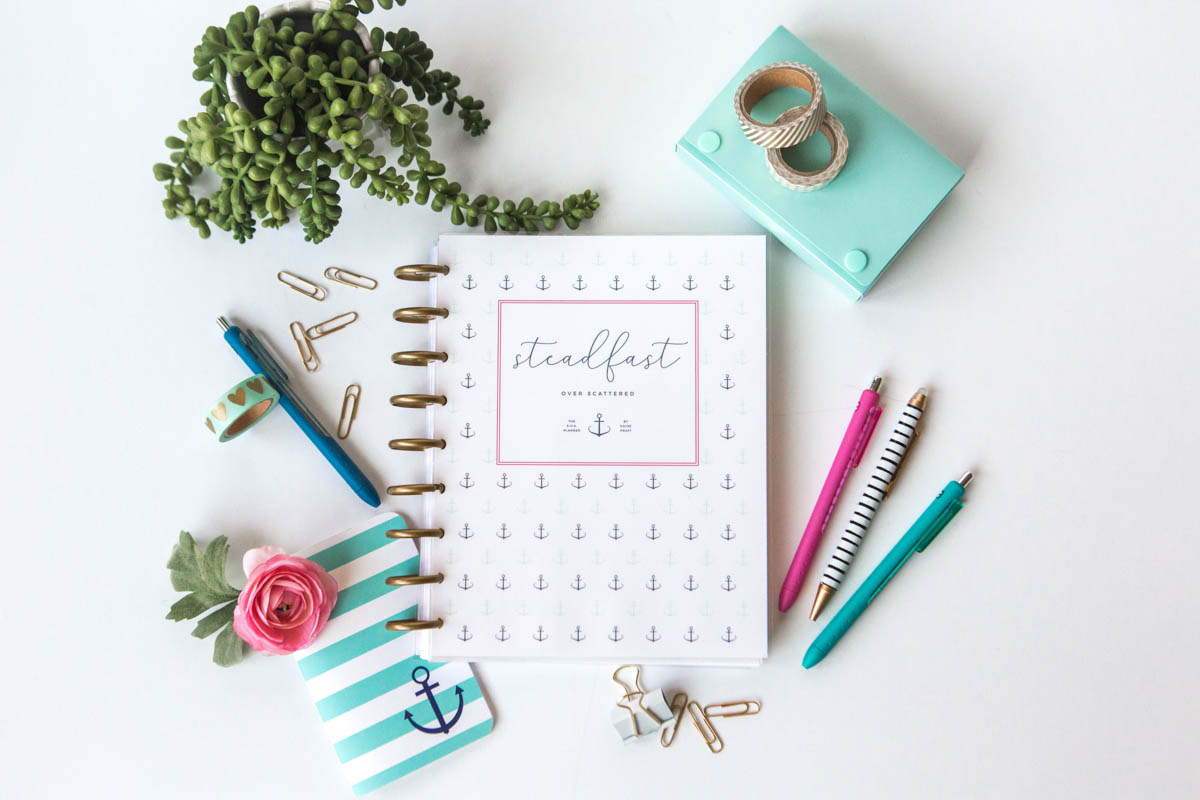 And we've got some really exciting new things for you – an updated design (with a bit more color inside), and TWO new combo layouts you've been asking for!
LAUNCH WEEK SPECIAL!!
When you buy a planner THIS WEEK during Launch Week, we're throwing in some bonuses!! You'll also get:
The BEST prices on our planner: A special discount for launch week only!
Planner Bootcamp ($25 value): Video support and training tutorials to help you learn how to use your planner in a way that fits YOUR life and goals!
The 2020 Booster Pack ($10 value): The S.O.S. Planner in all layouts for May-June 2020 so that you can start planning right away!
The Essentials Printable Pack ($10 value): A collection of printables to add to your planner to keep track of all the essentials! Topics cover budgeting, health & fitness, and more!
The Time-Blocking Workbook for Busy Women ($10 value): You've heard how time-blocking works in the business world – here's how to make it work for YOU, as a busy woman!
Access to the S.O.S. Planner Facebook Group (Priceless!): Live support, quick answers to your questions, and a community of fellow planner girls, all sharing tips, tricks, and inspiration!
Plus, you'll have an opportunity to get ONE MONTH FREE of our monthly membership! (New members only.)
Ready to get the BEST deal?!
This week only, we are bundling the new 2020 S.O.S. Planner AND our brand new Anchored Women Recipe Organizer for just $49! (Regularly $6) When you purchase the bundle, you'll get both of those products AND all the launch week bonuses!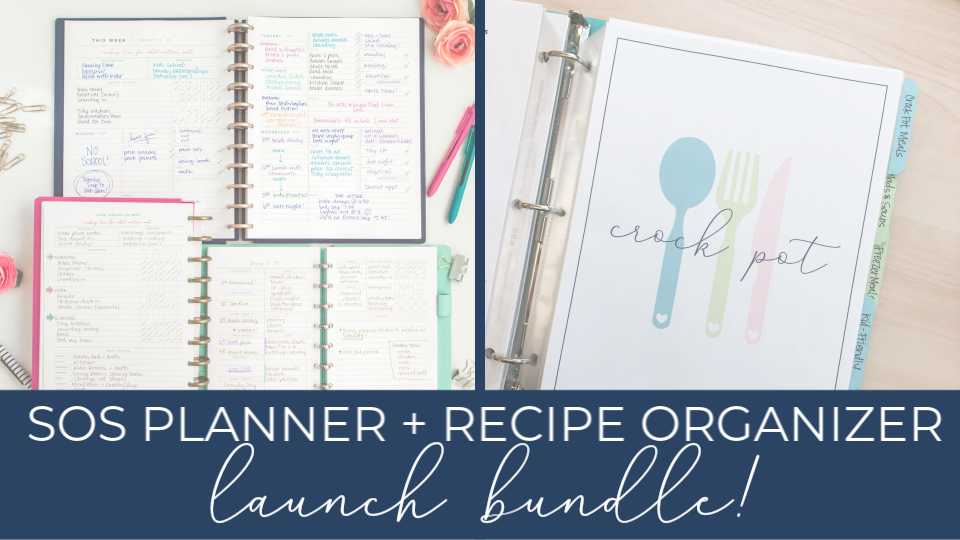 Wondering what's in the Recipe Organizer? It's a beautiful system to help you collect and document your favorite family recipes. It's got a variety of sections for you to choose from, along with worksheets to help you record your favorite meals – by season, and by month!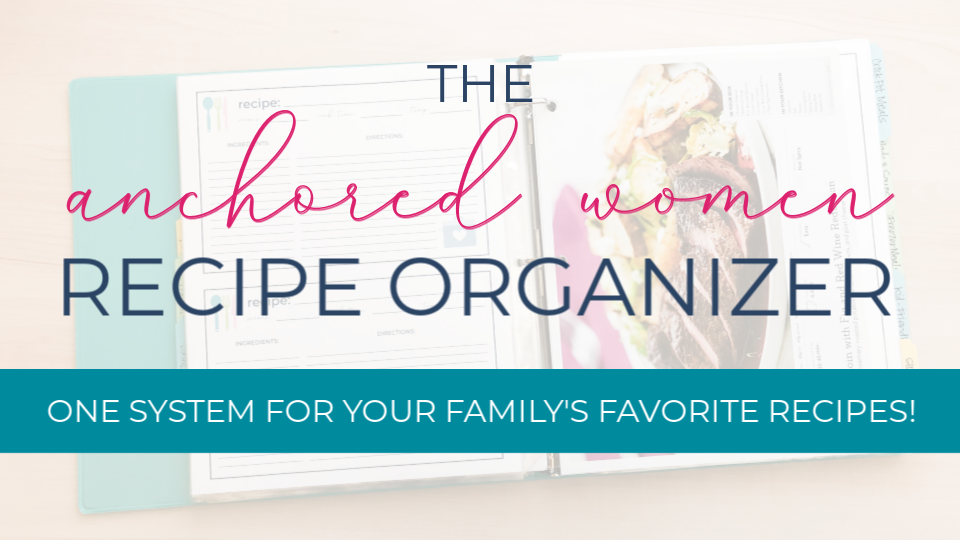 You'll have everything you need to compile your favorite and most-used recipes, all in one organized place!
This bundle is the BEST DEAL on the planner & the routines course, and only available this week! Shop now!
Friends, I've sunk my heart and soul into this planner, making it the VERY BEST resource for those of us who need to get everything out of our head and onto paper. It's built to give you time to plan the week ahead of you, reflect on the week behind you, and make the most of the day you're in.

It might be the most useful thing you buy all year. Besides hand sanitizer, of course.
I know you'll love it!!
"I have searched for the 'perfect planner' for over 10+ years! I wanted one that was cute, compact, had a place for weekly checklists, daily checklists, a slot for hourly breakdown and of course a monthly calendar. I got not only that, but a place for menu planning as well. This planner has it all!" – Allison S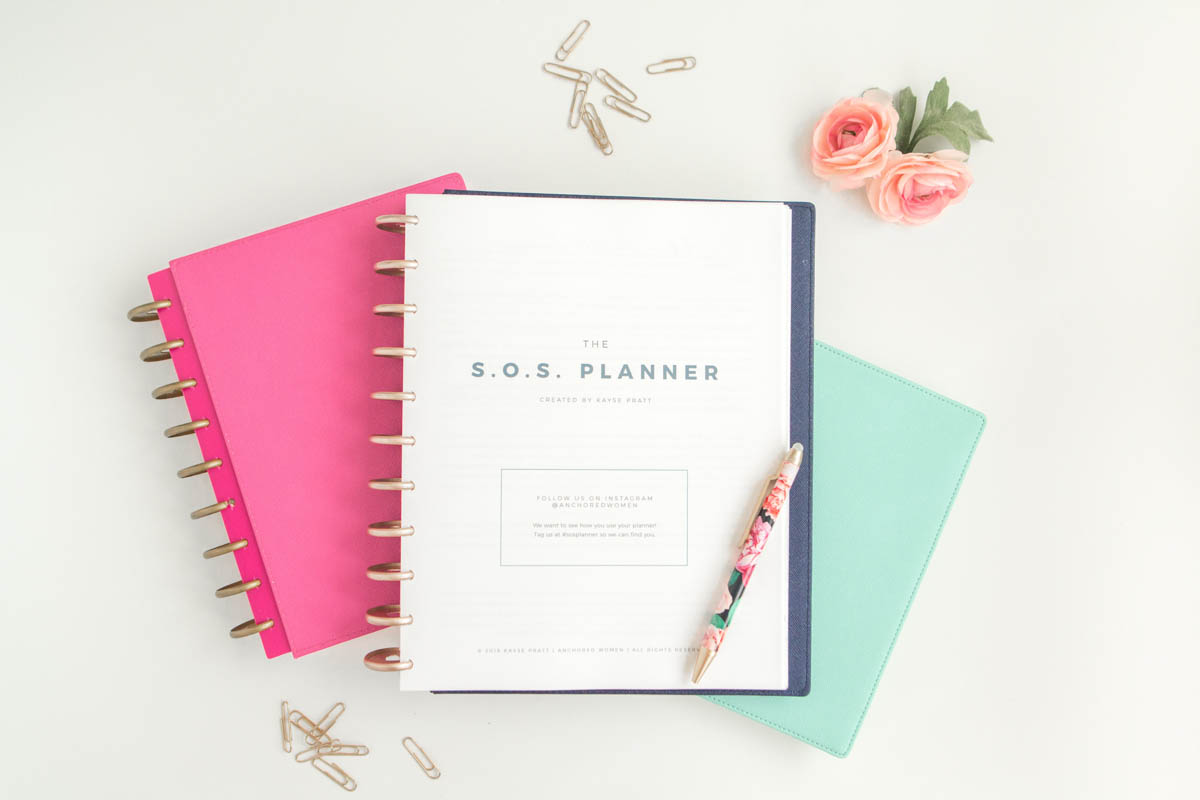 I can't wait to help you get organized!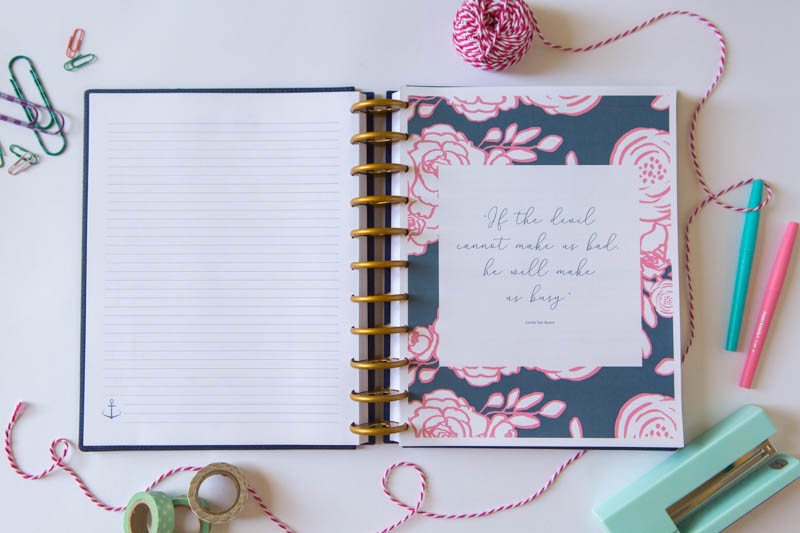 We're having a PARTY today!!! Join us LIVE on Facebook at 9am Pacific Time (12 noon Eastern) as we celebrate the launch of our 2020-2021 SOS Planners! We'll have some fun giveaways, go over all the launch week bonuses, and more! You'll only be able to win LIVE, so make sure you're there! Click here to RSVP!
P.S. Not interested in a new planner, but want to make sure you get in on the Anchored Women Recipe Organizer? You can get the special launch price directly through this link!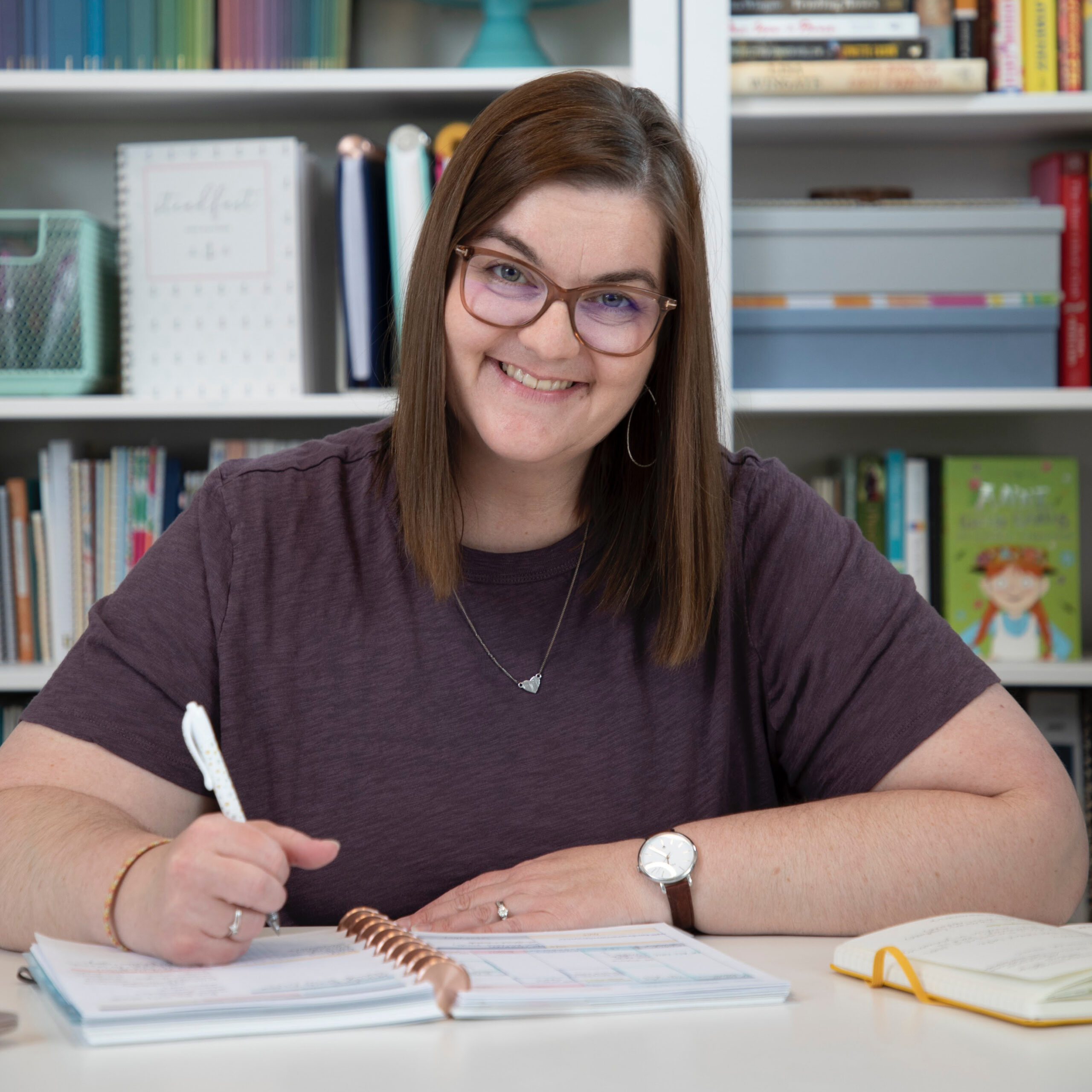 Kayse Pratt serves Christian women as a writer + designer, creating home + life management resources that help those women plan their days around what matters most. She's created the most unique planner on the market, helped over 400 women create custom home management plans, and works with hundreds of women each month inside her membership, teaching them how to plan their days around what matters most. When she's not designing printables or writing essays, you'll find Kayse homeschooling her kids, reading a cheesy novel with a giant cup of tea in hand, or watching an old show from the 90's with her husband, who is her very best friend.