How to Keep the Romance Alive When You're Raising Little Ones
This post isn't for the kids, my friends! And Dad, I love that you read my blog every day, but this post isn't for you either, so go read something else pretty please. 
---
Valentine's Day is coming up, and I'd guess that if we asked you and your spouse what you'd most like as a gift, we'd hear a pretty similar response across the genders.
Women: "A nap. A day at the spa. A nap. Quiet for 5 minutes. Did I mention a nap?"
Men: "Sex. Steak might be cool too. But definitely sex."
At least that's the answer at our house.
This season of raising littles is hard, hard work. Jon works very long hours, often between 12-14 hours a day, juggling 3 jobs. I'm home with the kids for 24 hours a day, trying to keep a semi-clean house, keep the kids dressed and fed, and put out any fires along the way. And there are many fires.
We just hit our 30's, and we're trying hard to pay off debt, build a business, and save for a house, all while attempting to raise our family well. It is HARD.
Jon is exhausted. I am exhausted. Basically every day. And with all of those demands we're trying to juggle, it's easy to drop the ball on romance. And those times when we do attempt to make something happen? Well, let's just say that those kids of ours aren't respecters of romance.
So let's talk about this honestly for a minute, shall we? How do we keep the romance alive when we've got little ones running underfoot?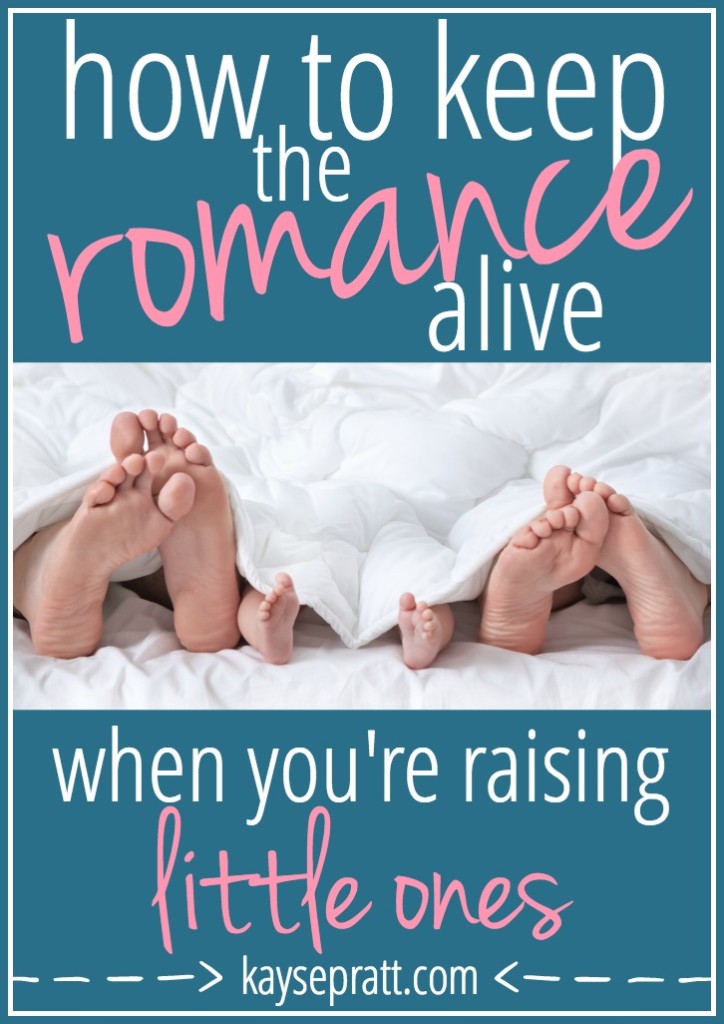 [Tweet "How do we keep the romance alive when we've got little ones running underfoot?"]
The fact of the matter is, our marriages need maintaining. We don't want to end up just becoming roommates with our husbands – I think it's safe to say that we'd all love marriages where we feel deeply in love with the person we're doing life with.
And to have that, we must, among many other things, keep romance a priority. I'm pretty sure God agrees – Song of Solomon doesn't exactly beat around the bush.
I'd guess you agree with that too, but I think we all get stuck on the HOW?!, right?
How do we love our husbands well when we are so exhausted?
How do we get excited about sex when all we want is to take a nap?
How does our marriage survive this season?
I don't have all the answers (clearly), but I want to share just a few practical things that Jon and I have figured out works for us.
4 Practical Ways To Keep The Romance Alive When You're Raising Little Kids:

1. Understand that men and women think about sex differently, and let that be okay. The truth is, that many men prioritize sex so far above everything else on their list of love languages, that it doesn't matter if they are exhausted, they're ready to go.
I do not understand this. In this season of life, I fantasize about sleep, not sex.
But I know that Jon thinks differently, and I know that God has wired my husband this way, so I'm trying my best to love him as he is, instead of changing his perspective to match mine. Trying to change him doesn't work anyway, so it's a waste of energy and frustration.
The sooner we accept our husbands' sex drive for what it is (a God-given gift that, when directed appropriately, serves to bring the two of you closer together), the more attractive that time can be.


2. Schedule it. I know it doesn't seem that romantic, but it can be. Talk with your hubby about a frequency and schedule that you can both feel comfortable with (chances are, you'll both have to compromise a bit), and try it for a couple of weeks. And stick to it!
For busy moms, having a schedule that you can count on is sometimes a bit of a relief because you're able to anticipate it, and plan your day accordingly. If you know that it's going to be a romantic night after the kids go to bed, use their naptime to take a nap yourself, instead of get one more load of laundry done. I guarantee your hubby won't care about the laundry when he sees that you're actually ready and excited to be with him.
And for husbands who can often feel neglected as we wives focus most of our energy on the kids, scheduling sex can be exciting because they can count on it too. They know they sex with you is actually going to happen, instead of hoping for it, only to be disappointed when you're too tired.
Give scheduling a try. You might really like it! (We do!)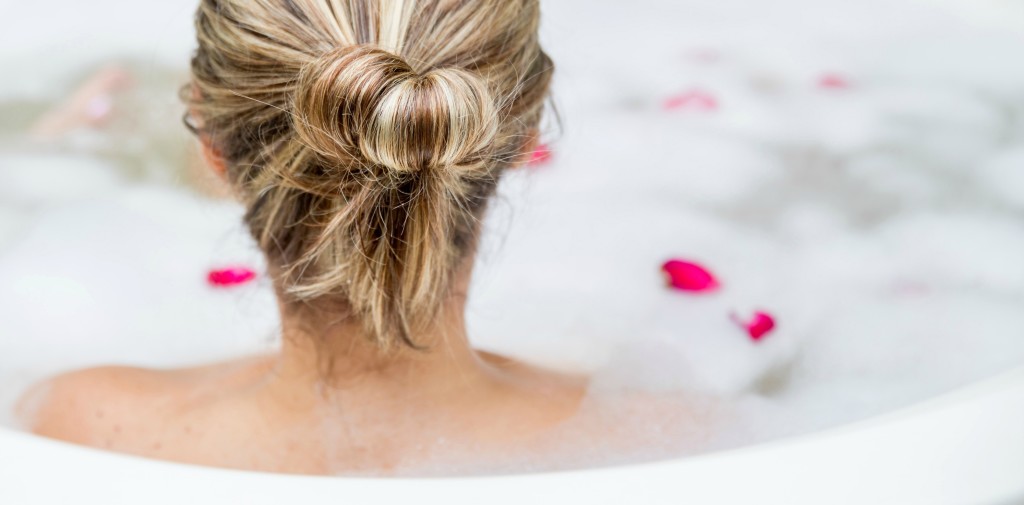 3. Take some alone time first. Moms, this is a big one that has changed a lot for us. We basically live in a state of exhaustion right now, but some days are worse than others. On those days, I'm tempted to ask Jon to forget about the schedule and just go to sleep. But I know that sex is the primary way my husband feels loved, so abandoning sex isn't the best thing for our relationship.
Instead, I just let him know where I'm at – that it's been an extra long day, the kids were rough, things didn't go right, and I have nothing left to give. I let him know that I still want to be together with him that night, but that I'd really appreciate a little time to myself first, so I can rest & relax and get my mind off of how badly the day went. If this is the case, he'll put both kids to bed (on a normal night, we'd each take one, or I'd do both if he worked late), and I'll retreat to our room to pray, read, take a bath, or listen to music.
This is NOT time to get an extra job done – it's time to pray, to get my head in the right place, and to remember why I love my husband and why I do want to be with him. It's time to remember that exhaustion doesn't rule my life, and that being with my husband is something that we both highly value. Generally, after 30 minutes to an hour, I'm not so stressed or irritable, and I'm happy to spend some time with Jon. This has worked SUPER well for both of us.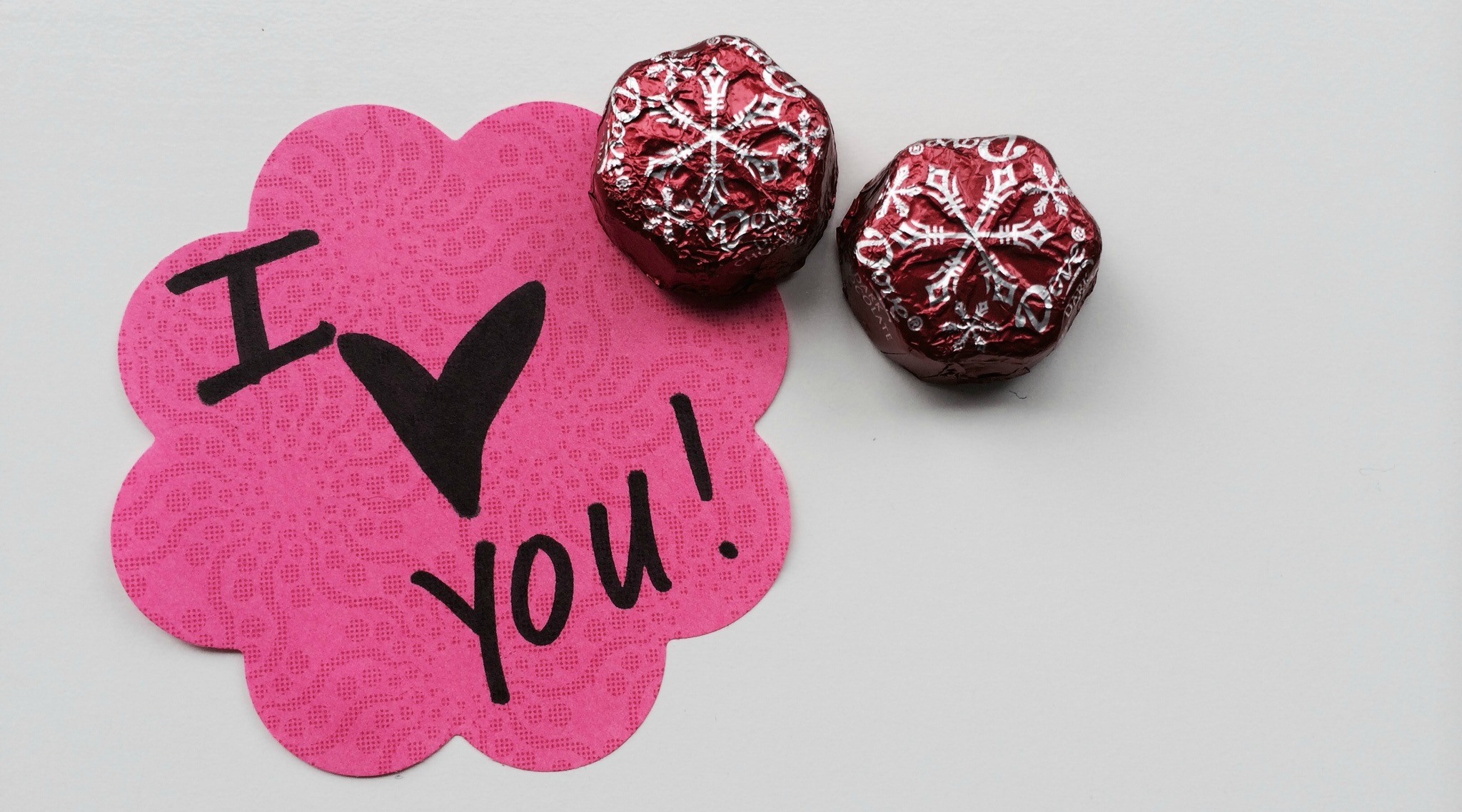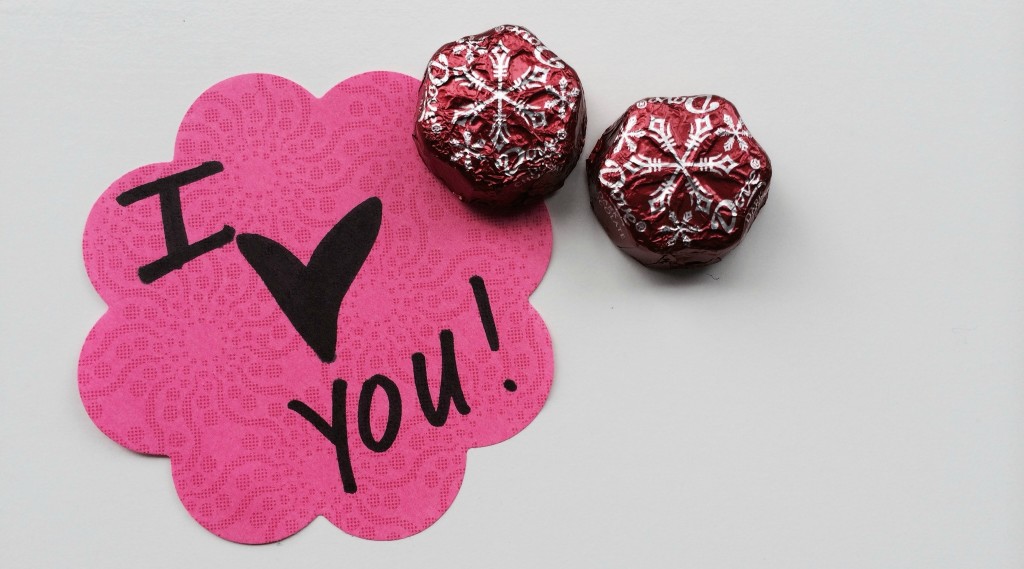 4. Express your love in other ways. Please note that I'm advising this in addition to sex, not instead of it. Sex is kind of irreplaceable. But loving each other in other ways really does turn the romance up and makes sex a whole lot more exciting, especially for a tired mom.
Sending each other simple texts to say "I love you" or "I miss you" throughout the day reminds us that we really do love being around each other. Doing little things that the other person appreciates (I appreciate help with the dishes or laundry, Jon appreciates clean counters and healthy meals) go a long way in communicating love. Walking your husband to the door as he leaves, or meeting him at the door when he gets home are little things that you can do that mean a whole lot.
Romance is often found in the little things we do to draw closer to each other. Figure out (ask him!) a few things your husband really appreciates, and make it a point to show him love in those ways this week! And don't just expect him to know what things you appreciate. Be generous and let him know. We've gotta remember that they aren't mind readers either!
---
If you want more practical tips on this topic (and more), I'd love to invite you to join the Encourage Your Husband Challenge!
It's a free 2-week challenge that comes with everything you need to build up your marriage, gain confidence in your role as a wife, and learn how to depend on the Lord for the changes you're praying for in your marriage. Sign up below to join us!
---
This is a hard season of trying to keep our marriages growing as we are raising little ones who are often interrupting or, at the very least, killing the mood.
But we've gotta remember that our marriages were ordained by the Lord, and their purpose is to mirror the relationship between Christ and the church. Our example of love for each other is the first and most lasting picture of love that our kids will see. We can't let it slide just because we are tired. 
Let's renew our perspectives today, and give ourselves and our husbands grace as we struggle through and try to find our new normal as tired parents who are still very much in love.
What do YOU do to keep the romance alive as you're raising little kids? Share your ideas in the comments below!
For more on this topic, check out my eBook, Worth the Fight: Lessons Learned in a High Maintenance Marriage, on sale till the end of the week!
And don't forget to join us for the Encourage Your Husband Challenge, by signing up below!