Friday nights at our house are Family Fun Night. We usually pick a movie to watch and lay out some blankets on the ground where we all hang out and enjoy popcorn and hot chocolate. Sounds great, right?
Last week, like most Fridays, Jon got home later than I'd expected. Which meant that we were "late" getting dinner started, and "late" putting the movie on. (I say "late" because really, we weren't on anyone's time table but my own.) Then, once we sat down, no one was watching the movie. Emily kept talking, Jon wanted to discuss some business stuff, and the baby kept screeching at us. Popcorn spilled and messes were made, and nothing went the way I thought a family night should go. And I was grumpy about it.
I'm grumpy a lot.
The fact is, the things that went "wrong" didn't really go wrong. They just didn't go according to my plan. Why does it matter if Jon was 30 minutes late? It was a Friday night and we had nowhere to be the next day. Plus, he wasn't just killing time, He was working. Who cares if no one watched the movie? Shouldn't I be grateful that my family actually wants to talk to each other? Spilled popcorn and messes can easily be cleaned up, why flip out over those things?
(The screeching though…that is actually a problem. I'm going deaf, you guys.)
I really don't want to be a grumpy mom. I can count on one hand the number of times my mom was in a bad mood. But some days, I feel like that's my default! I find myself flipping out over the littlest of things, like every little thing that fails to go according to plan is just one more way my life isn't turning out the way I thought it would.
In the big scheme of things, I'm realizing that this is a heart condition that I am continually needing to take before the Lord. No matter how my days, or even my life, turns out, He is faithful. I'm praying daily right now for a heart of contentment, a heart that recognizes that God is in charge of my days, and is able to roll with the punches instead of yell at them. I want the knowledge of His sovereignty and love for me to be woven deep into my heart and mind. And I want to live THAT out for my kids and my husband.
In the smaller, daily scheme of things, I'm also realizing that there are a few things that I can do to combat this chronic grumpiness.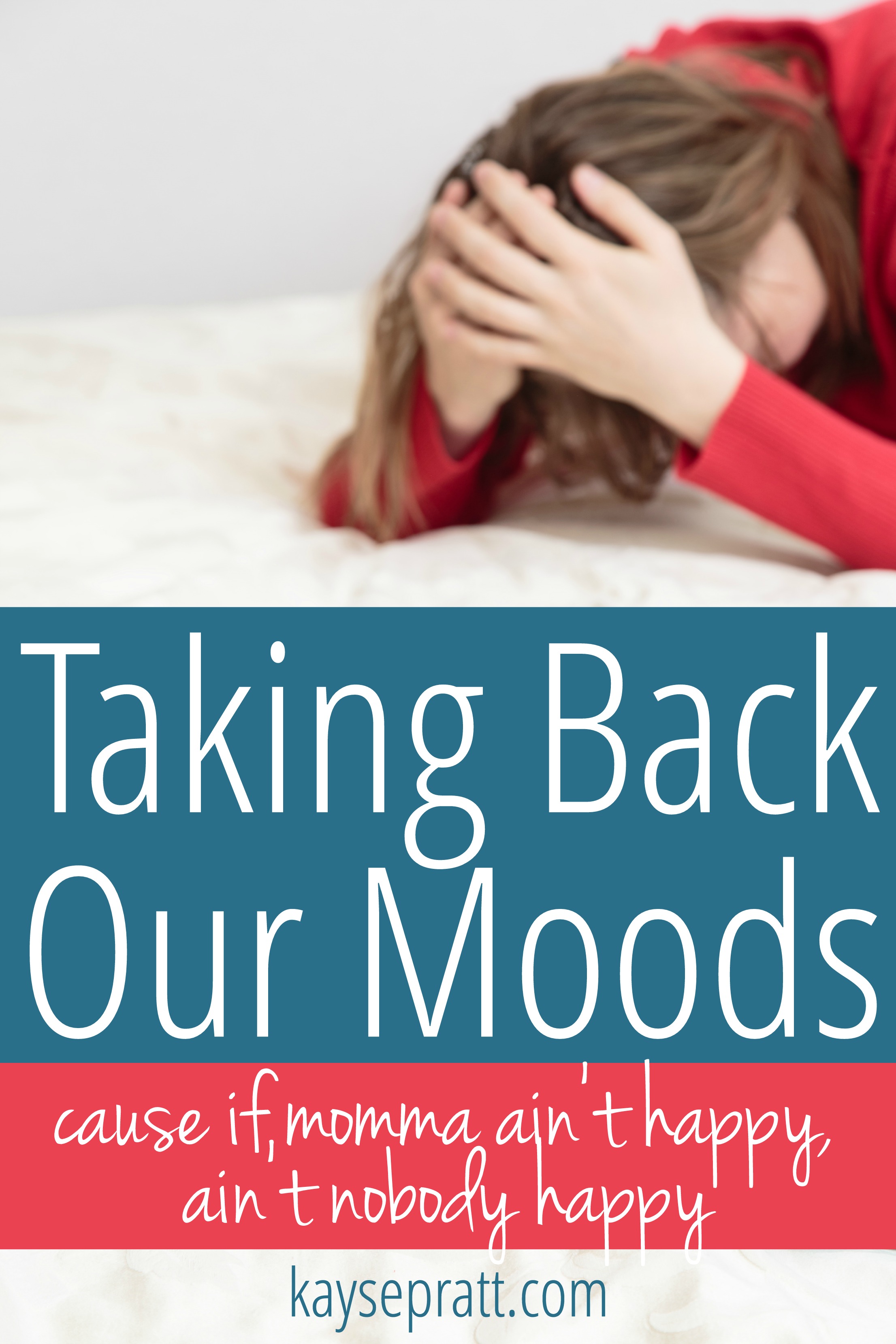 4 Ways We Can Take Back Our Moods:
1. Exercise :: I'm sure this is a no brainer for many of you, but it's literally been YEARS since I've enjoyed exercise, you guys. I loved being on swim team in high school, but since then, exercise has been a bit of a bad word for me. But last month, I joined KaiaFit, which is like a spin on CrossFit for women only, and I'm loving it. LOVING IT. I go 5 mornings a week, early-early-early!, and I've noticed a serious improvement in my mood and energy since I started. Honestly, making exercise the first part of my morning (along with my quiet time that I do in the car before class), has made such a difference in my daily moods. Plus, I lost 6 pounds already and that makes me happy too!
2. Eating Well :: Again, no brainer, right? But when I'm grumpy, all I want are comfort foods. Which, for me, are carbs and sugar. Lots of carbs and sugar. Lately, I've been trying to avoid those two things, and I have noticed that my mood swings aren't as dramatic. Little things don't set me off as easily. I'm sure there's lots of science behind that somewhere, but all I'm saying is that it's probably true. So long, sugar, you're simply not a true friend.
3. Self-Care :: This one is so hard for moms. When I think about taking time for myself, I have an equal mix of excitement and guilt. What? I could sit down and read a book? But there are dishes to be done and laundry to be folded, and… Oh, but sitting down to read? How nice would that be? I really shouldn't though… And so on. You know the drill. But I'm learning that if I give myself just half an hour during naptime, or half an hour before I go to bed, to do something that feeds me – like reading, or taking a bath, or listening to a book or music – I am a better wife and mom for it. We can't run on empty all the time. That's a surefire way to live grumpy. Our chores will always be there; it's not worth risking the condition of our hearts for the condition of our house.
4. Joyful Blend Essential Oil :: This oil is my FAVORITE. I use it often, especially during that fun time of the month. Joyful blend is a blend of essential oils that "combines the uplifting and euphoric floral scents of Lavandin, Lavender, Melissa, Ylang Ylang, and Osmanthus with Tangerine, Elemi, and Lemon Myrtle to create a unique blend that promotes a positive mood and energized mind and body." Sometimes, I diffuse it through the home (especially if EVERYONE needs a mood boost!), and I often apply it right to my wrists, like perfume. We call this one my "happy mommy" oil. And it is.
The Lord is using these four things, combined with a steady dose of His Word, to help change my heart in this area. I so long to be a mom whose default is love & laughter instead of grumpiness and annoyance. Don't you? I believe that when we keep our eyes on Him, instead of our situations, and we learn more about how our bodies actually work, we can truly take back our moods on a more consistent basis.
If you're looking for a couple of other resources on this topic, I highly suggest the eBook From Grouchy To Great: Finding Joy In The Journey Of Motherhood
. It's one that I go back to over and over – there's a lot of wisdom here!
We don't have to be grumpy moms. We can take back our moods!
What do you do to take back your mood on a grumpy day?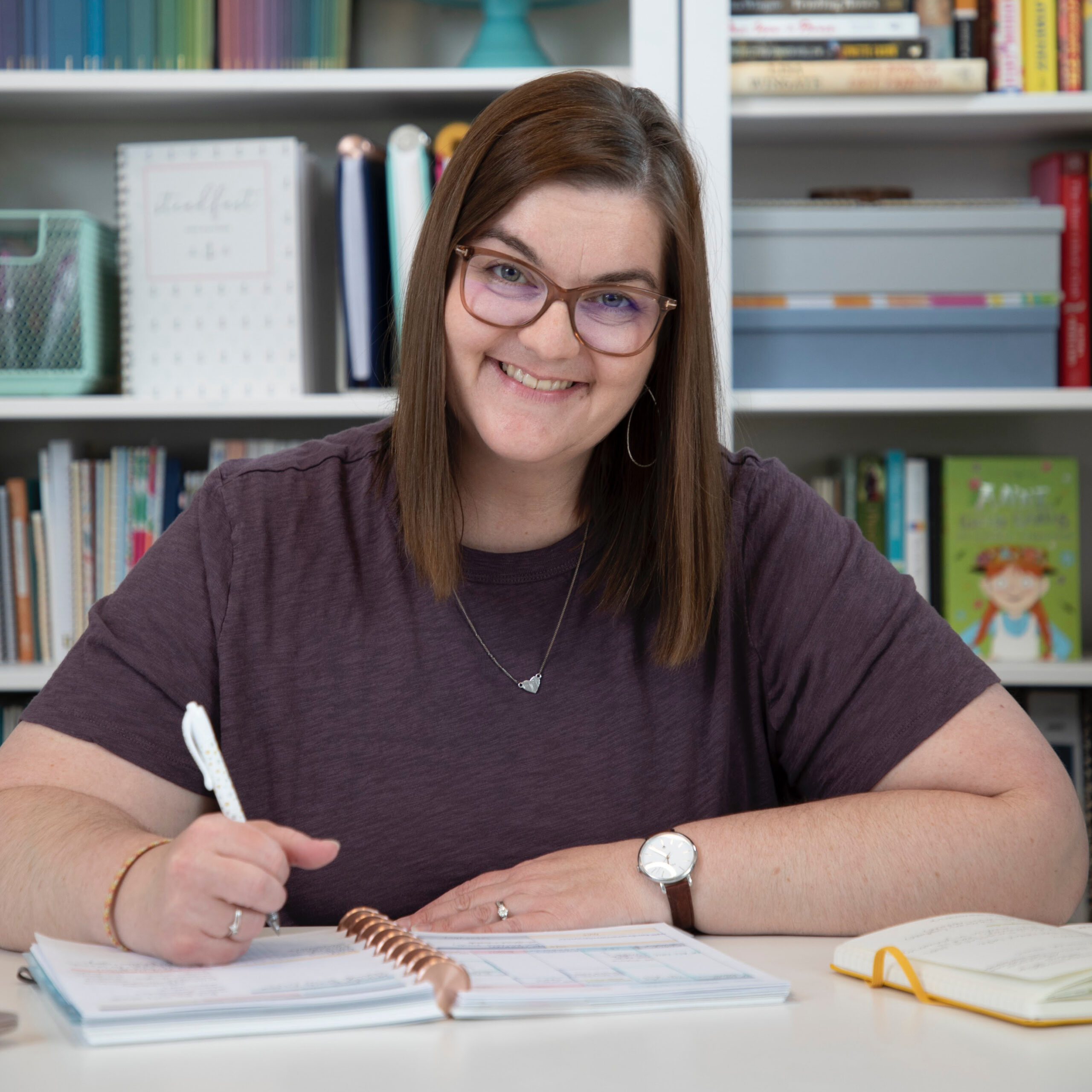 Kayse Pratt serves Christian women as a writer + designer, creating home + life management resources that help those women plan their days around what matters most. She's created the most unique planner on the market, helped over 400 women create custom home management plans, and works with hundreds of women each month inside her membership, teaching them how to plan their days around what matters most. When she's not designing printables or writing essays, you'll find Kayse homeschooling her kids, reading a cheesy novel with a giant cup of tea in hand, or watching an old show from the 90's with her husband, who is her very best friend.