3 Ways Moms Can Start Fresh Everyday
I'm so excited to welcome my friends Melinda Means and Kathy Helgemo today! They've just written a book on mothering that gives the freedom and encouragement that we all need. I can't rave about it (and them!) enough! And I'm excited to share their wisdom with you today – goodness knows we all need it!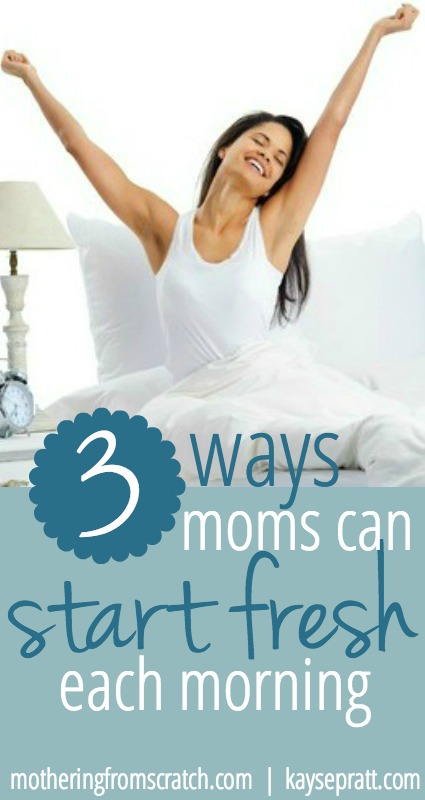 Moms always need a fresh start — to feel new again.
Why?
Quite frankly, because we are always messing up!
Constant reminders come from every direction that seem to remind us of our inadequacies and shortcomings.
We know this firsthand!
Over the years, we've demanded performance and discipline when we should have offered patience and instruction.
We've enabled when we should have equipped.
Lost our patience — again and again, and again. Oh, yeah, and again.
But if there's one thing we've learned over these past 20 plus years as moms, it's this: New motherhood can start today. This moment, even.
That's right. No matter how long we've been mothers — 20 minutes or 20 years — today is the first day of the rest of our mothering journey.
Each day gives us the renewed opportunity to rewrite our mothering recipe. To add different, sometimes sweeter, ingredients and remove some of the bitter ones.
No matter where we are in our mothering journey or what mistakes we believe we've made, we can all start mothering from scratch.
Here are a few loving reminders for moms who need a fresh start:
1. Remember that tomorrow is another day. Yes, Scarlett O'Hara had it right. We have to remember this every, single day. This day, this time, this MISTAKE will end as sure as the sun rises and sets.
When the voices of guilt, defeat and condemnation come creeping in, we can choose to reject them. Condemnation paralyzes us and makes us feel hopeless. Instead, let's draw on the Holy Spirit's power and wisdom, so we can learn from our mistakes and take positive, God-driven action.
2. Put Mommy Guilt in its place. It's a tool of the enemy to keep us thinking that our past mistakes are the focus of our mothering. Satan tries hard to convince us that our failings have done damage to our kids that can't be reversed. God's Word tells us that "His mercies are new every morning" (Lamentations 3:23) and that He can "redeem the years the locusts have eaten." (Joel 2:25)
For some reason, our society and sometimes our faith culture teaches us that every other kind of sin is forgivable and forgettable — except for the ones we commit as a mom. Those are the ones that haunt women worse than just about anything else.
3. Choose to turnaround our negative feelings to a positive, proactive decision to do better. Isn't this what the Gospel really teaches us? Isn't this what Jesus meant when He said to the woman caught in adultery, "Go and sin no more"?
He didn't say, "Sit here and wallow in this place in your life for all of rest of your days and never, ever change. After all, there's no point. There's no way you can fix it. So, just let this time, this sin in your life define who you are. Get used to feeling this lousy about yourself. You deserve it. Sorry, sister."
As ridiculous as that sounds, it's not surprising that so many of us play a similar tape in our minds, over and over.
It's time to claim victory in our mothering. It's time to start fresh. New motherhood can start today.
He said, "My grace is all you need. My power works best in weakness." So now I am glad to boast about my weaknesses, so that the power of Christ can work through me. 2 Corinthians 12:9 
---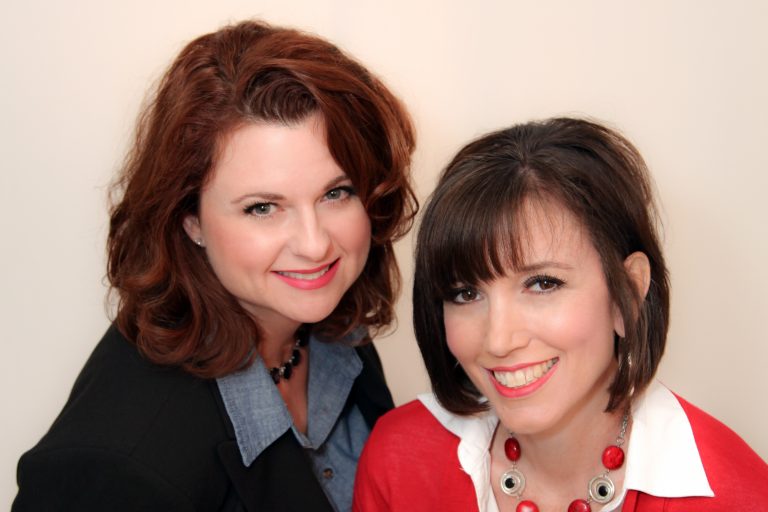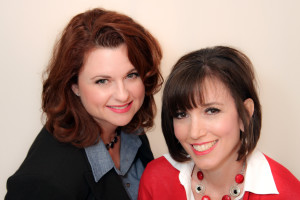 Melinda Means and Kathy Helgemo blog together over at Mothering From Scratch where their mission is to encourage and support mothers to find their unique mothering style. They both live in Southwest Florida with their husbands and kids. Melinda's two and Kathy's four have provided much humility in motherhood for both of them. Thankfully, they both depend on Jesus to carry them through the journey.
Their book Mothering From Scratch: Finding the Best Parenting Style that Works for You and Your Family is available NOW from Amazon, Barnes and Noble and Christian Book Distributors, as well as bookstores nationwide.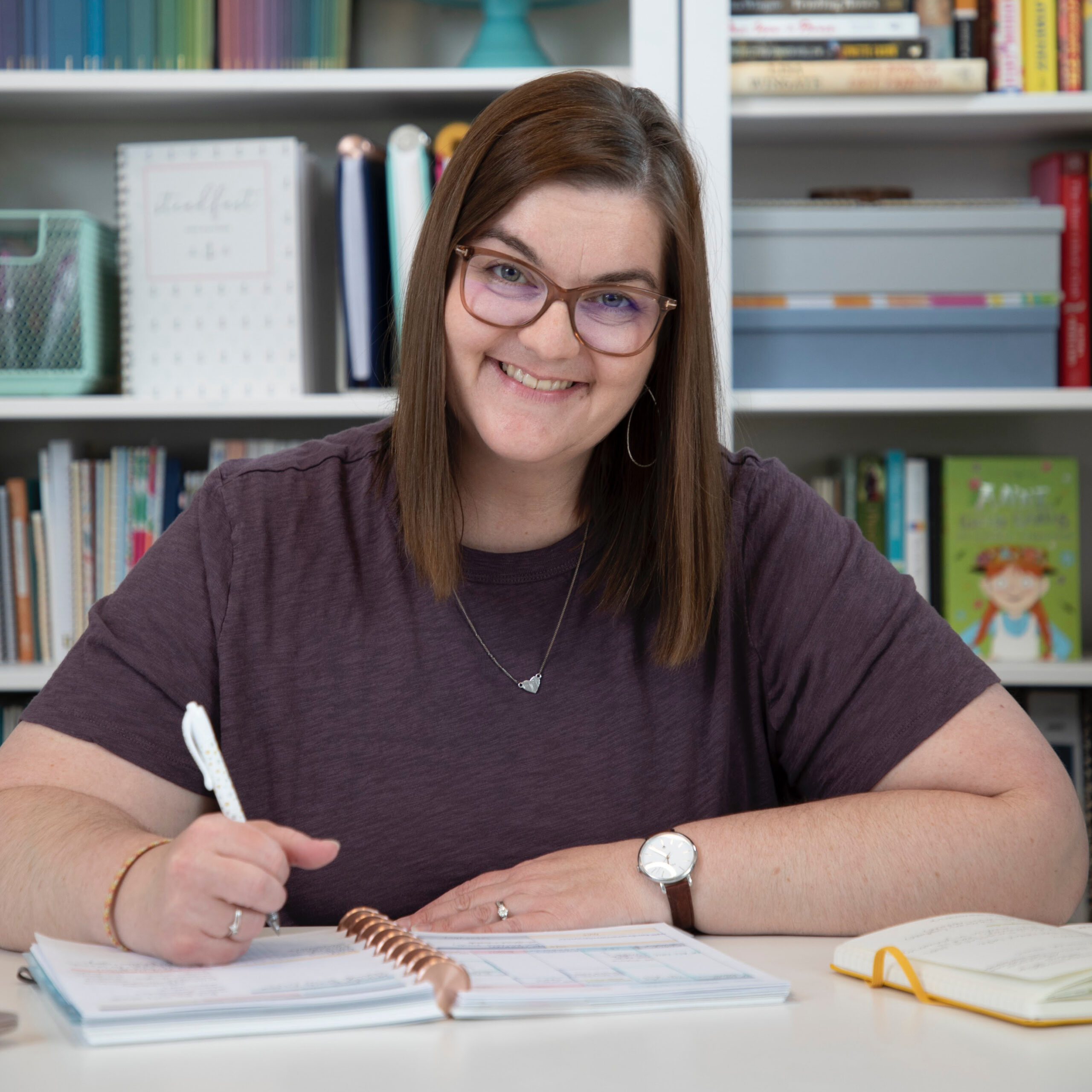 Kayse Pratt serves Christian women as a writer + designer, creating home + life management resources that help those women plan their days around what matters most. She's created the most unique planner on the market, helped over 400 women create custom home management plans, and works with hundreds of women each month inside her membership, teaching them how to plan their days around what matters most. When she's not designing printables or writing essays, you'll find Kayse homeschooling her kids, reading a cheesy novel with a giant cup of tea in hand, or watching an old show from the 90's with her husband, who is her very best friend.