How to keep your home tidy in 2 simple steps
I've spent the first three weeks of the year focused on one thing: cleaning my house.
Anyone else?
I know it's said that there is nothing magical about January 1st, but sometimes it feels like there is! I had zero interest in purging everything in my house on December 1st, but by January 1st, I was ready to get rid of everything!
I'm mostly kidding – some things have to stay. Its just that the need to clear out spaces and clean our homes is very real, especially this time of year!
But here's the issue that a lot of us face: We WANT clean spaces, but when we look around at ALL THE CLUTTER, we can't see how we'll ever get there. Instead of attacking it all, we get overwhelmed and just give up right away.
Have you ever felt that way? I know I have! So I've developed a simple two-step system to deal with everything in my home that needs to be cleaned and cleared out. And today, I'm sharing it with you! Ready?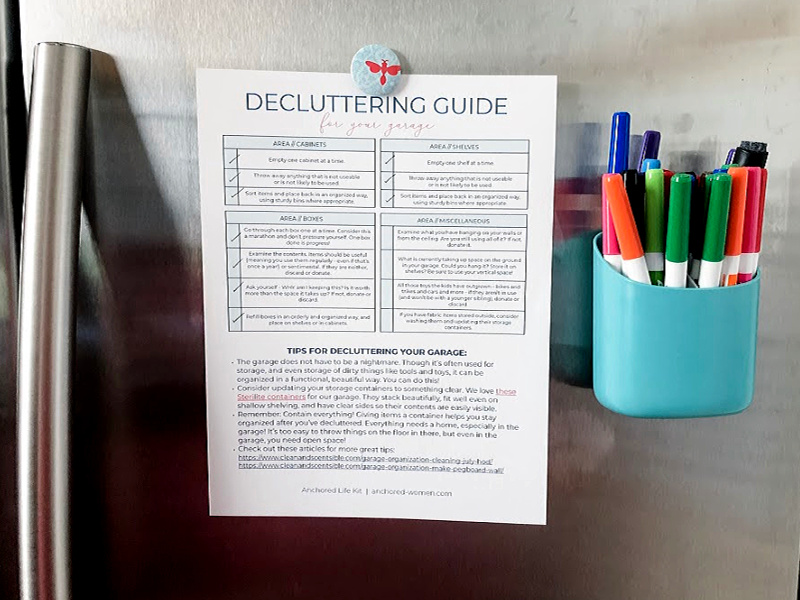 Step 1 | Declutter Everything
I'm serious. Declutter EVERYTHING. This week, my dad called and told me I should probably start packing up our house (we are moving this summer), but I told him no way. FIRST, I must declutter. I'm not packing stuff I don't actually want!
The same goes for organizing our homes. We should not be organizing things we don't want to keep!! That's a waste of time AND space! So first, we start with decluttering.
How do we declutter? It's a lot more simple than you'd think.
Start with one small space. I like to start with a bathroom.
Take everything OUT of the space. Lay it out on the floor or on a folding table.
Put back in the space ONLY what you want to keep in that space. Seriously. Just what you want in there. Nothing else. Fill the drawers and cabinets with only what would really be helpful and practical to have in there. Do NOT think about the rest of the stuff at this point!
Stand back and look around your newly organized space. Sigh in contentment. Remember this feeling.
Go through the rest of the stuff and divide it into 3 piles: Trash, Donate, Find a new home. Then do those things. Take out the trash, put the donation box in your car, and move the other things to their new home.
Rinse and repeat in every area of your home.
I think decluttering is such a VITAL part of cleaning and organizing your home, that we have created a set of decluttering guides for every room in your house, as part of our Anchored Life Kit! Every month we focus on just one room, and declutter it top to bottom. It's so helpful to have these guides to systematically work through every room in the house!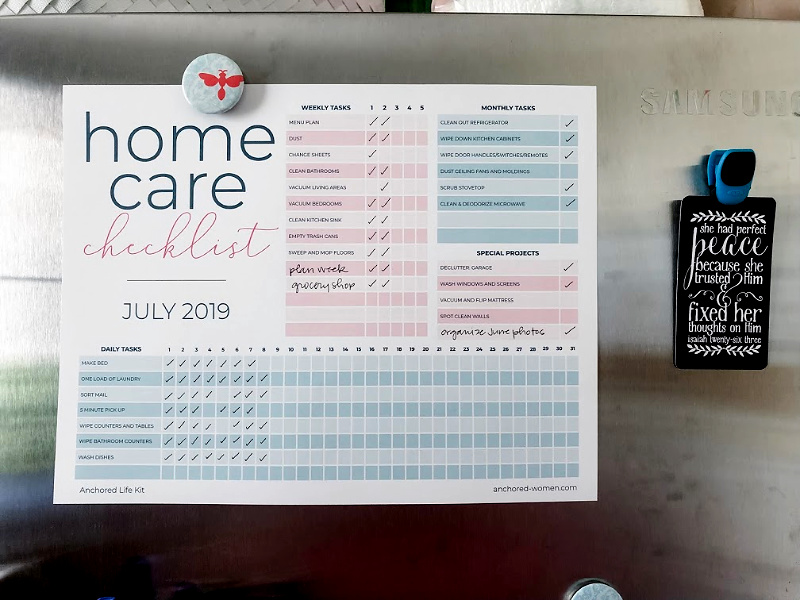 Step 2 | Use A Cleaning Calendar
Anyone else hate cleaning?! I'll be the first to raise my hand.
I have a hard enough time with just the day-to-day stuff, I really struggle to remember all of the things you're supposed to do a few times a year! Changing the filters, deep cleaning the gross stuff, rotating the mattresses. Honestly, I don't pay attention to any of that unless I have something in front of my face telling me what to do.
So, I created a Home Care Checklist for myself! I've got one for every month, giving me an idea of what tasks really should be done daily, weekly, and monthly. The monthly ones change up, so that by the end of the year, I've really cleaned my house from top to bottom. The best part? When I stick to the checklist, nothing gets forgotten. I stick it up on my fridge each month, and check off the tasks as I complete them.
You can totally do this for yourself, too!
Start by listing out all the things that need to be done on a daily basis in your home. Laundry, dishes, etc. Those will be your DAILY tasks!
Then think about those things you only clean once a week – those are your WEEKLY tasks!
Finally, think through the things that only need to be done 1-4 times a year. Things like changing those air filters, washing the baseboards, scrubbing out the inside of your oven. Choose a month that makes the most sense to place those items, and create a monthly calendar for the whole year! (For example, you might change your air filters in March and September – write that down!)
Having that cleaning calendar is a super helpful way to feel on top of your home on a daily basis. You know exactly what needs to be done, and either you can do it, or you can delegate it to someone in your family!
Want a place to start with that cleaning calendar? You can find a blank template inside of our Organized Home Binder, in the cleaning section! Or you can access our completed Home Care Checklists, already filled out for you, if you're a member of our Anchored Life Kit. (The ALK is currently closed to new members, but you can join the waitlist to be notified as soon we we open our doors again!)
---
Once you have a simple plan for decluttering, you can easily declutter a room in record time! And then? It's so much easier to keep those spaces clean as you work through your cleaning calendar!
I will always remind you of this – your physical space also affects your mental space. Keeping our homes clean and tidy does not need to be something that we dread – instead, it can be a way we can actually bless ourselves and our families! Clear spaces promote clear thinking, and we all want that!
And as usual, I will also remind you of this – there is so much grace here. Your home is important, but it's not everything. YOUR well-being comes first, and if you're in a season of raising babies, struggling with illness, working crazy hours, or caring for another, maybe cleaning is just not a priority right now. And that's okay. You focus first on your time with the Lord, the responsibilities in front of your face, and your rest. Everything else can wait.
But if you're in a season where you CAN focus on your home, I hope these tips are helpful!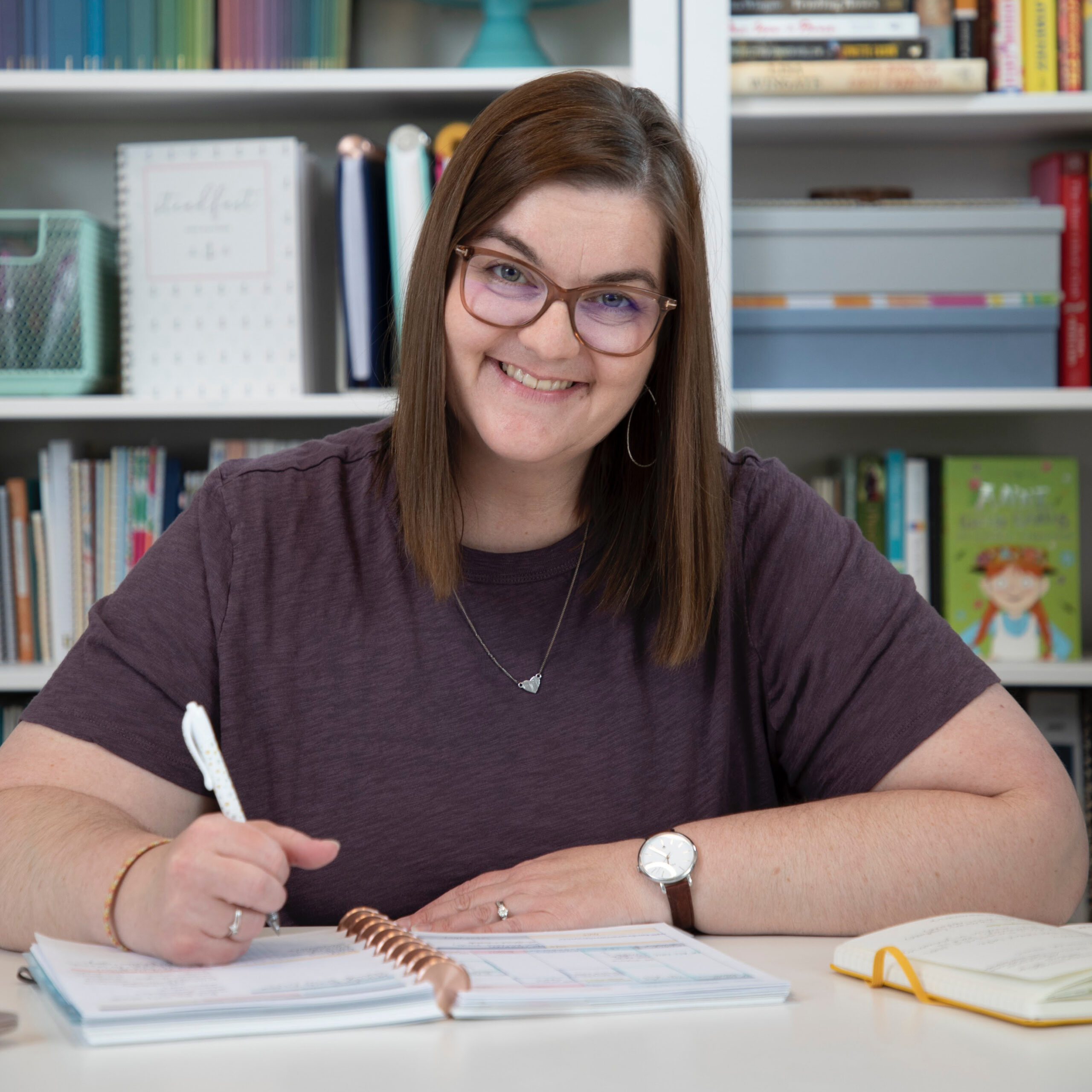 Kayse Pratt serves Christian women as a writer + designer, creating home + life management resources that help those women plan their days around what matters most. She's created the most unique planner on the market, helped over 400 women create custom home management plans, and works with hundreds of women each month inside her membership, teaching them how to plan their days around what matters most. When she's not designing printables or writing essays, you'll find Kayse homeschooling her kids, reading a cheesy novel with a giant cup of tea in hand, or watching an old show from the 90's with her husband, who is her very best friend.