How to save time & money with simple meal planning!
Meal planning is maybe the thing I get asked about the most. It's why we include new meal plans in our membership each month, and it's probably what I talk about the most on Instagram stories.
Why? Cause we all have to eat dinner every night, which means we have to MAKE dinner every night, and sometimes that's exhausting.
It doesn't have to be, though. In fact, meal planning (and even cooking!) for your family can actually be a lot of fun! Today I've got 3 simple ways to meal plan that will make your life easier AND save you money!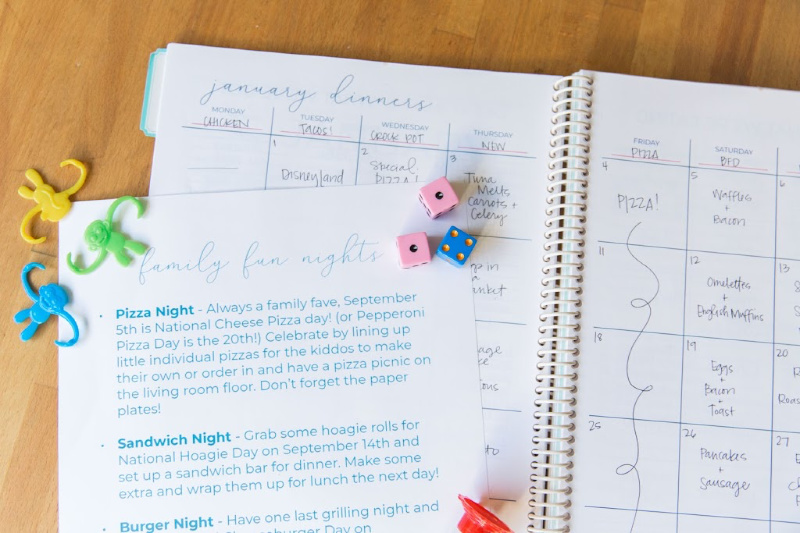 Meal Planning Strategy #1: Theme Days
Creating theme days for your meal plan each week makes the planning aspect so much faster. I simply choose a "theme" for each day of the week, and stick to meals within that theme. Here are our themes:
Monday: Chicken + Veggies Night

Options: baked chicken, grape + shallot chicken, BBQ chicken sandwiches, etc. and always roasted veggies

Tuesday: Taco Night

Options: tacos, burritos, burrito bowls, enchiladas, enchilada casserole, nachos

Wednesday: Slow Cooker Night

Options: meatballs, meatball subs, cream cheese salsa chicken, pot roast, soup

Thursday: Breakfast for Dinner

Options: pancakes, waffles, french toast, omelettes, plus always bacon or sausage + fruit

Friday: Pizza Night

Always take-out from the pizza joint down the road, and a family movie. Fridays are non-negotiable!

Saturday: Grill Night

Options: burgers and hot dogs, kabobs, steak, potatoes and/or roasted veggies

Sunday: Pasta Night

Options: spaghetti, pasta bake, pesto pasta, stuffed shells, and always salad + bread
How it saves TIME: By giving every night a theme, it's WAY easier for me to choose meals each week! I know what our family loves within those categories, and I can easily pull from cookbooks or the Life Kit meal plans and grab a new chicken recipe, or pasta dish, or slow cooker meal.
How it saves MONEY: When I'm cooking similar things each week, there's a lot I can buy in bulk – pasta, frozen meat, pancake + waffle mix, rice for tacos, etc. If I shop in bulk, I can keep prices down, AND if I know I've got these staples on hand, I'm much less likely to say "Forget it, let's eat out!"
Meal Planning Strategy #2: Eat Whatcha Got
We almost always have a week of Eat Whatcha Got meals at the end of each month. It's fairly self-explanatory, but to do this I simply look at what we have in the pantry and the freezer, and meal plan based off those items. I still stick to our theme days as much as possible!! We do this toward the end of the month when our wallets aren't as full as we'd like them to be, and it always, always helps us get to the next month without regretting our financial decisions!
I did a whole video series on how I do this, which you can see right here in my Instagram story highlights. I talk about snack prep first, so to see JUST the pantry + freezer planning, click through to the first video where I'm wearing a white shirt.  (You can watch even if you don't have IG, just click this link on a computer and open in a browser window.)
How it saves TIME: Again, I don't have to spend hours pouring through cookbooks or scrolling through Pinterest. I'm literally planning with what's right in front of me. It takes five minutes. Max.
How it saves MONEY: I'm not shopping for new stuff, except the peripheral items that we might need (a veggie here, some dairy there, etc.). But the majority of the ingredients are coming from my pantry and freezer, so my shopping list (and bill!) is minimal.
Also worth noting: When I do need some new recipes, or ideas for what to make with the things I have in my pantry & freezer, I have a few favorite recipe sources that I always come back to.
Our Anchored Life Kit meal plans – Inside our membership, we provide family-friendly recipes divided into four categories: Quick & Easy, Crock Pot, Instant Pot, and Freezer Meals. Plus a list of Family Fun Night ideas (like National Pancake Day!). In that collection of recipes every month, I can always find something that is easy to make, healthy, and I know my family will love.
Pioneer Woman & Dashing Dish – These two recipe creators are total opposites, but I love their food equally. When I need something hearty and traditional, I open up my Pioneer Woman cookbooks. When I need something super healthy and clean, I open up my Dashing Dish cookbook. I have tried everything from this cookbook, and it's all been amazing (especially for being grain-free)!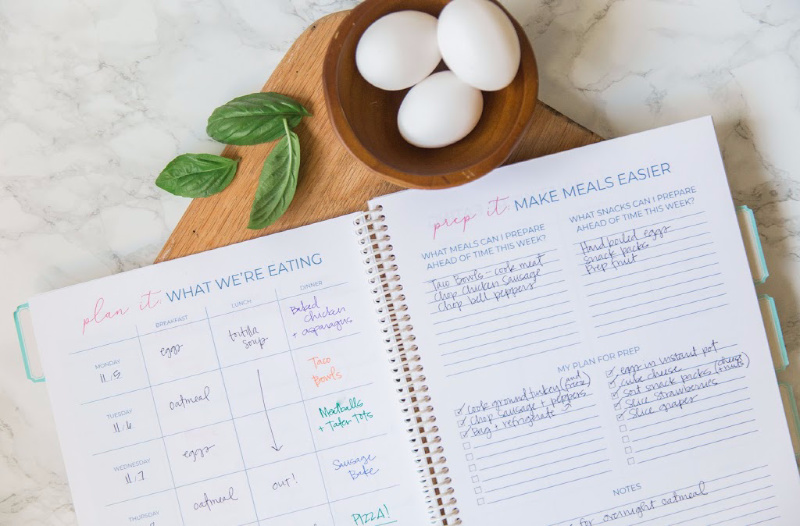 Meal Planning Strategy #3: Prepare just a few things
I actually don't mind cooking – in fact, I really like it. But what always trips me up is when I don't have specific things prepared that are crucial to that dinner. For example, all the times I forget to defrost the meat.
So, on Sundays I like to choose a few things to prepare to make the week easier, and to keep me on track with my meal plan. I do not spend HOURS each week, preparing everything that I could possibly prepare. Instead, I just prep a few things that I KNOW will save me stress throughout the week.
For example:
Forgetting to defrost the meat will ruin a dinner faster than anything else. So on Sundays, I take the meat for the next few nights, and put it in the fridge to slowly defrost.
Making kid lunches in the morning is too much of a time-crunch for us, so at the beginning of the week, I prep homemade lunchables and put them in the bottom drawer of our fridge. Then, in the morning, the kids can just grab and go!
My own lunch stresses me out! Lunchtime is the easiest time for me to eat junk, or eat out. So if I make a big batch of something delicious and healthy at the beginning of the week, I'm much more likely to stick with it all week long. This last week I made mediterranean couscous with chicken – so good!
How it saves TIME: Doing a little bit of prep at the beginning of your week (like on a slower Sunday) saves that time from the rest of the week (hectic weekdays).
How it saves MONEY: Having food already prepared, or ready to be cooked, helps you stick to your meal plan, which keeps you eating at home and saving that money that you would have spent driving through Chick Oil A or ordering pizza!
Want a simple way to bring these strategies together?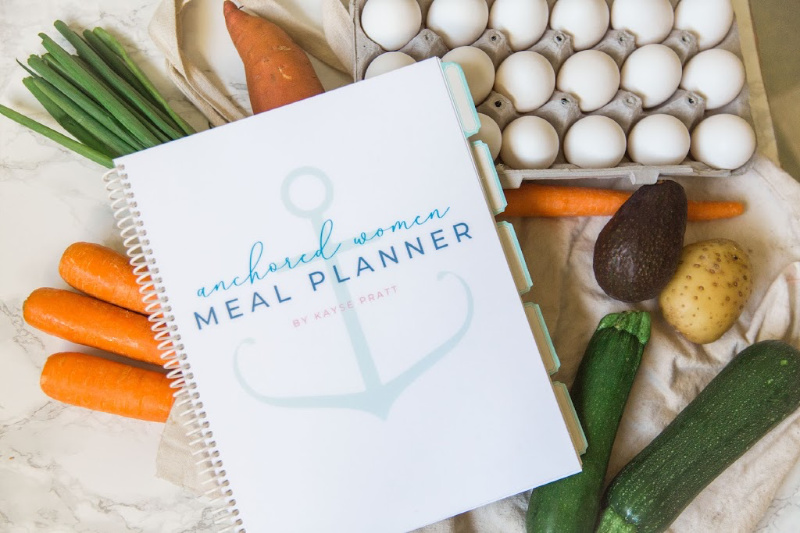 I've got you covered! Our Anchored Women Meal Planner gives you the framework you need to plan & prep your meals every week, based on what you already have! It helps you save both money and time – all year long!
And SURPRISE!! For the next week, our Meal Planner is on sale for just $12!!  (Normally $24!)
Come on over and grab our newest resource that's been flying off our virtual shelves. You guys are LOVING our meal planner, and we totally understand – we love it too! Grab an entire year of this meal planning system for just $12!
(Plus, it's undated so you can reuse it every year!)
I know meal planning can easily seem like just one more thing we have to do, and it IS a responsibility, but it doesn't have to be a chore. We can use meal planning to get creative, to nourish ourselves and our families, and to remember that food in the pantry and on the table is something we can always, always be grateful for.
Your turn! Do you think that one of these strategies would work well for you and your family this week? Tell me in the comments below!
Kayse is a wife, mom, and founder of the Anchored Women community. She writes to help women fight busy, find rest, and build a life that's anchored in Christ. Kayse is also the creator of the S.O.S. Planner, the Anchored Life Kit, and other practical resources that equip women to manage their homes and families in confidence. You can find her writing and her resources at anchored-women.com!