Mac & Cheese For Bacon Lovers
Tonight we're supposed to enter the storm of the century, or something like that. Currently, there are no winds & no rain, so I'm feeling mighty foolish about all of those water bottles and flash lights I stocked up on yesterday…
In any case, I thought it was the perfect night for some comfort food, so I texted my friend Stacy in hopes of snagging her recipe for Mac & Cheese that she brought to our friends Christmas party last weekend.
Stacy came to the rescue and we enjoyed the best mac & cheese we've ever had for the second time in one week! Stacy made a few tweaks to the original recipe, and I made a few tweaks based on what we had in our kitchen, and both Jon and I were big fans. So, I thought I'd share it with you – Mac & Cheese for Bacon Lovers (or, EVERYONE).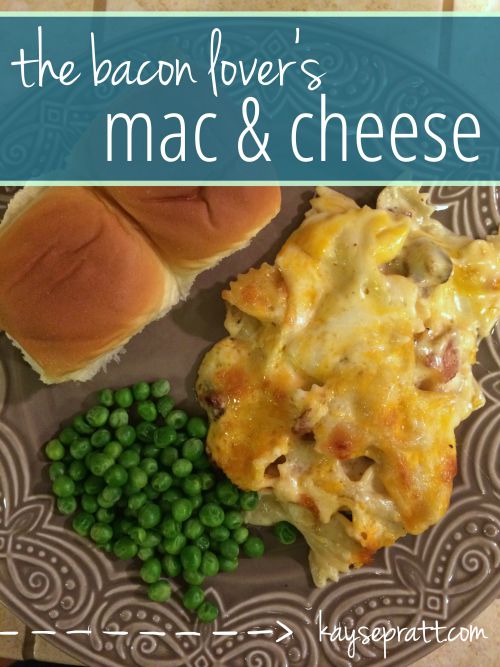 The Bacon Lover's Mac & Cheese
(adapted from this recipe)
Ingredients:
Butter or Olive Oil, for greasing dish

12 ounces Bowtie Pasta

2 cups Alfredo Sauce (I used Classico)

1 cup Heavy Cream

2 teaspoons all-purpose flour

1/2 teaspoon salt, plus more for pasta water

1/4 teaspoon freshly ground black pepper

3 cups Colby Jack, grated

1/4 cup finely grated Parmesan

2 cups Mozzarella, 

grated

1 cup

 cooked Bacon

, diced
Directions:
Preheat the oven to 425 degrees F. 

Grate ALL THE CHEESE. Use a food processor if you have one. If not, prepare for a heavy arm workout.

Butter or spray a 13 by 9-inch glass baking dish and set aside.

Cook the

pasta

 in a large pot of boiling salted water until tender but still firm to bite, stirring frequently, about 5 minutes. Drain well, but do not rinse.

Whisk the cream,

alfredo sauce

, flour, 1/2 teaspoon salt, and pepper in large bowl to blend.

Stir in 1 cup

of each cheese (except Parm)

, and bacon.

Add the

pasta

 and toss to coat.

Transfer the noodle mixture to the prepared baking dish.

Toss the remaining

cheese (except Parm)

 in a small bowl to blend. Sprinkle the cheese mixture over the noodle mixture.

Bake until the sauce bubbles and the cheese melts and begins to brown on top, about 20 minutes. Let stand for 10 minutes before serving.
And last, but not least, ENJOY!!! We served it with peas and hawaiian rolls, and let me tell you, it was AWESOME.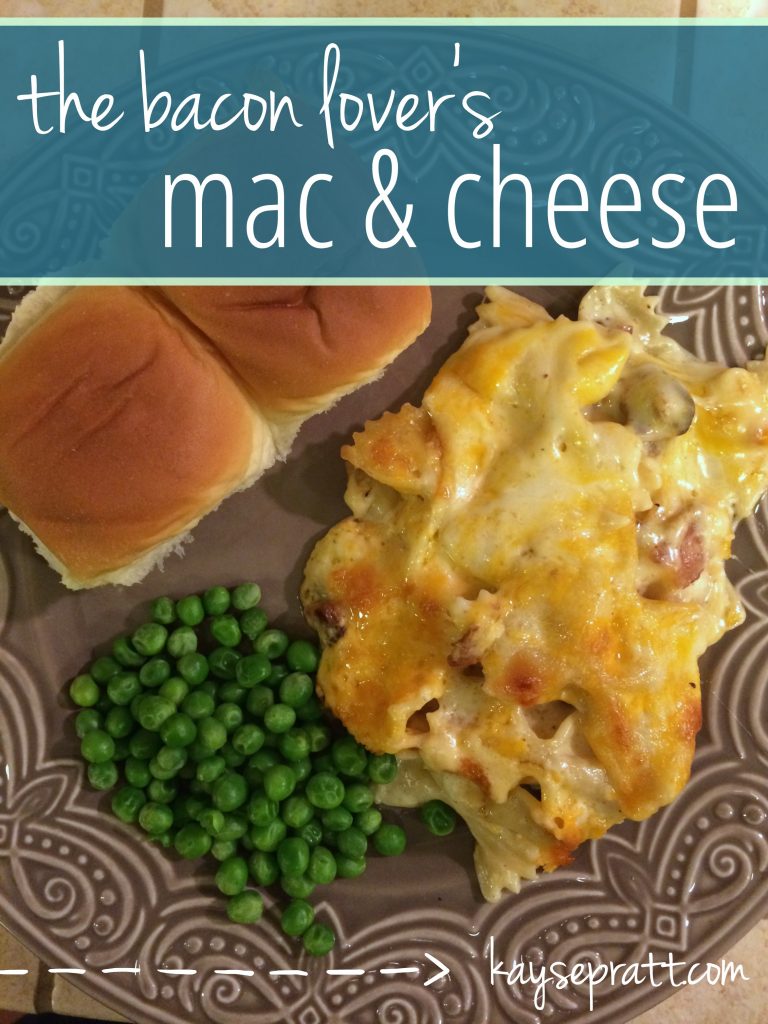 Thanks for the yummy recipe, Stacy! It's gonna be a staple in our house from now on!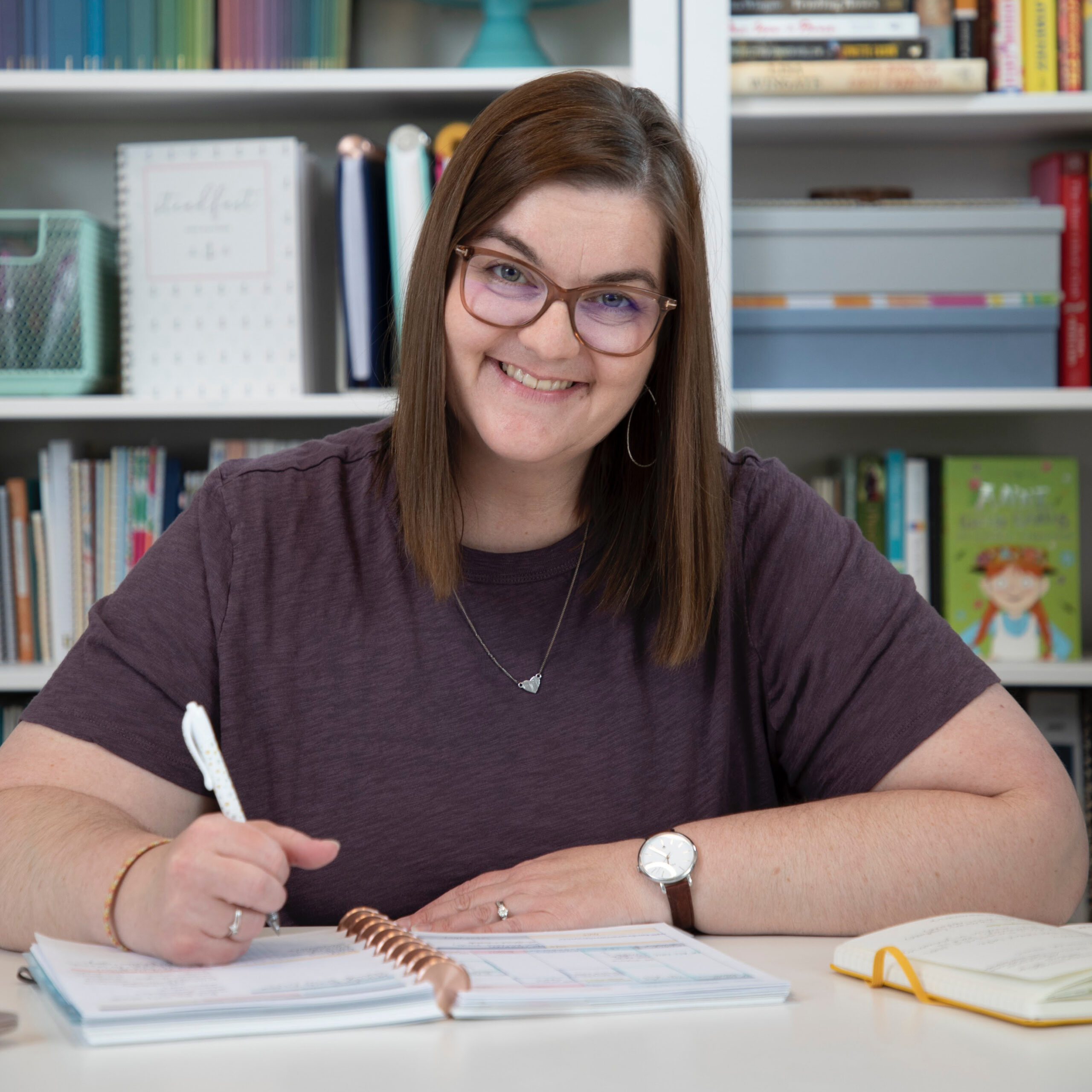 Kayse Pratt serves Christian women as a writer + designer, creating home + life management resources that help those women plan their days around what matters most. She's created the most unique planner on the market, helped over 400 women create custom home management plans, and works with hundreds of women each month inside her membership, teaching them how to plan their days around what matters most. When she's not designing printables or writing essays, you'll find Kayse homeschooling her kids, reading a cheesy novel with a giant cup of tea in hand, or watching an old show from the 90's with her husband, who is her very best friend.