Free Mealtime Prayer Cards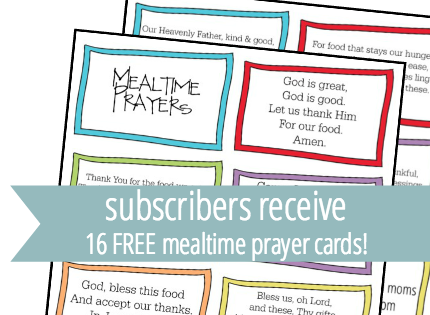 On a trip to my sister-in-law's house, I was inspired by just how many different prayers their kids recited at mealtime! They loved these little prayers, and were able to say them from memory. Their minds were focused on gratefulness, and their hearts were directed at the One who provides for all of us. I absolutely loved this practice.
Probably like you, I'm always on the hunt for resources that will make it simple to incorporate faith into our days in an authentic way. And to be honest, our mealtimes have been lacking any faith for a while! Despite my belief that family mealtime is important, we often eat on-the-go, or in front of the TV, or around the kitchen island while I scramble to catch the food before the baby throws it all on the floor.
I wanted this to change! And so, in an effort to bring some focus and faith to our mealtime, I found these common mealtime prayers* (thanks to my sister-in-law!), and put them into a printable that's colorful, fun, and easy to use.
Simply print off the cards, cut them out, and laminate them! Hole-punch the top left corner, and put them all on a keyring, or one of those metal rings that close like a binder. Keep the pack on your table, or your kitchen island, wherever YOU eat most of your meals, and, when you're ready to eat, let your kids pick which prayer they'd like to pray!
There's also an extra page with blank cards, for you to write any other prayers you find, or to have your kids write their own prayers!
My prayer for you is that these Mealtime Prayers are a blessing to your family. I hope you enjoy them as we have!
Subscribe below to receive your FREE prayer cards!
Pray With Your Kids
Stop scrambling at dinner time, and teach your kids how to pray using these fun prayer cards! Free for all subscribers.
Plus, subscribers get early access to new products, announcements, and more!
Kayse is a wife, mom, and founder of the Anchored Women community. She writes to help women fight busy, find rest, and build a life that's anchored in Christ. Kayse is also the creator of the S.O.S. Planner, the Anchored Life Kit, and other practical resources that equip women to manage their homes and families in confidence. You can find her writing and her resources at anchored-women.com!