Hi there, friend! I'm Kayse, wife to Jon (my favorite musician) and mom to Emily + Nathan. Our family is a little crazy (and loud), but we love each other a whole lot.
My husband works super long hours, so I manage our home, prep the meals (or drive to Chick Fil A), keep the kids alive, and run a business.
It doesn't sound so hard when you say it all quickly in one sentence like that, but you can believe me when I say I know what overwhelm is.
A few years ago, I looked at my life and realized that overwhelm had become my constant companion. I kept hearing that I could "have it all", but I was not finding this to be true. I always felt behind.
In theory, I desperately wanted to be a kind and gentle mom, a supportive wife, a faithful Christian, an organized homemaker, and a smart business-woman, but in reality, my days were spent stressed, impatient, and so. very. exhausted.
"Having it all" was for the birds. I just wanted to sleep, thankyouverymuch.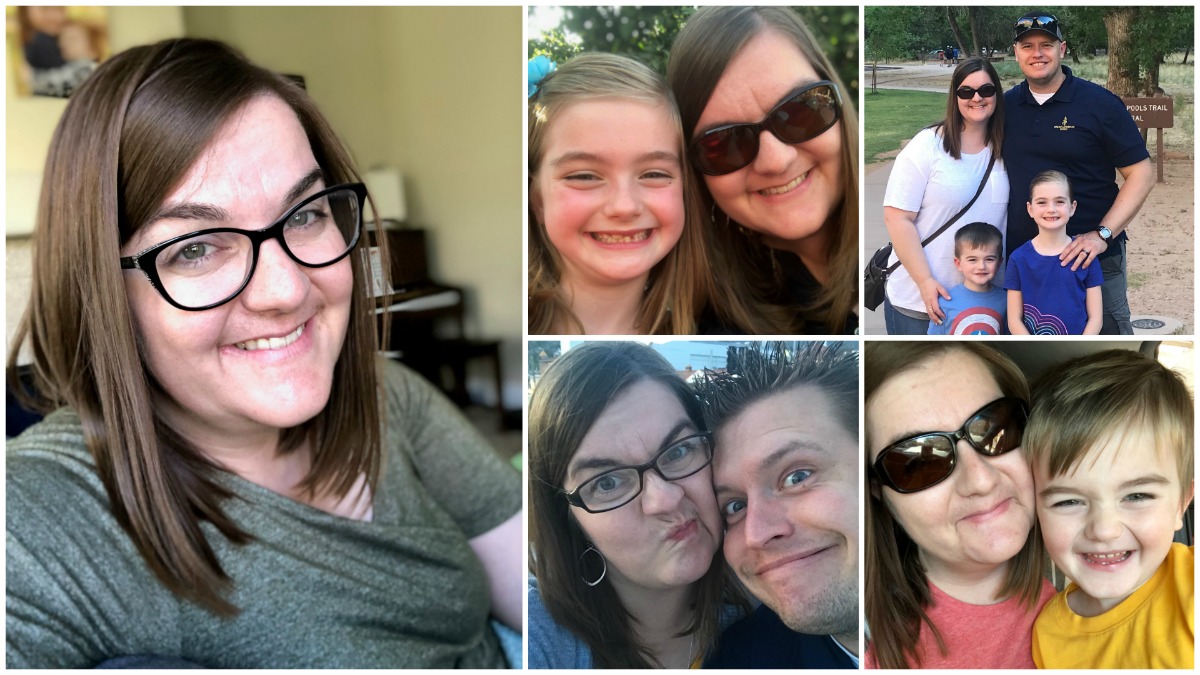 This is my family + me. They are my greatest joy. Also, they exhaust me. It's a both/and sort of situation. ? You get it.
Actually, what I really wanted was to quit everything. I was so burned out, so tired, that I actually found myself wondering what would happen if I got into a not-too-bad car accident that wouldn't actually hurt anyone, but maybe just give me one or two nights in the hospital. You know, so someone could take care of ME for a change. And so I could finally get some sleep.
Of course, rationally I knew that a car accident was not the answer. And also, I knew I couldn't quit everything.
So, instead, I committed to quit living overwhelmed.
I've spent the last few years learning how to manage my time, home, and family in a way that is simple and doable – and I'm still learning! But the most important thing I've found so far is that we need a solid balance of Biblical perspective and practical systems if we want to cultivate a heart and home anchored in what matters most.
And if we want to stop having car-accident fantasies. ?
My life isn't suddenly perfect, by any means, but today I can honestly say that I don't live in overwhelm anymore. I now have systems in place that keep my head on straight and our home running smoothly, even when life feels crazy.
And when overwhelm starts to creep back in, I know what to do to fend it off.
I'm here to share it all with you, friend. Life might be hard, but it doesn't have to be constantly overwhelming.

HERE'S WHAT YOU CAN EXPECT FROM ANCHORED WOMEN:
A balanced mix of Biblical truth + practical solutions for your day-to-day life. Everything I write here is anchored in Scripture, since it's the only thing that never changes.
A weekly newsletter where I often share an encouraging story, any posts I've written for you that week, and a few resources (or books!) I'm currently loving.
Products that help you put your faith in action and make tangible progress on your goals. I create and test all products in my own home first, and if I find them truly helpful, I pass them on to you! (If not, they get tossed!) I'm probably best known for our planner + our monthly membership!
An online community of like-minded women to cheer you on, inspire you, and pray for you along the journey. This is my favorite place on the internet!


Ready to dive in?
START WITH ONE OF OUR MOST POPULAR POSTS: