The simple solution to crazy mornings.
If I had my way, my kids would sleep in until 8am every day, and I'd be able to leisurely wake without an alarm clock and still get a nice quiet morning in before they come bounding out of their room.
This is not the reality in my house, though. My little energetic loves awake by 6am and they are ready to go, more mornings than not.
So, if I am to actually get in a little pre-kid quiet time, I have to set my alarm for early-o-clock, and silently sneak out of my room without actually moving the door that squeaks every time I open it.
And then? Then, I have to gather all my supplies without a sound and decide what I'm reading that morning. Once I crack open my Bible, I know the kids are going to hear the pages turning because they hear everything, so I rush through my quiet time so that at least I can finish it before they wake up.
If the children are miraculously still asleep, I break out my planner so I can take a look at my day. I make my to-do lists and immediately feel overwhelmed.
I have every intention of doing a video workout after that, but I quickly abandon that idea – either because I take a look at my lists and already feel behind, OR because the littles are awake and clamoring for cheerios.
So much for a productive morning, right?
Does this morning routine sound stressful to you? Because it felt stressful to me. And I don't know about you, but for me, the ENTIRE POINT of a quiet morning is to focus on the Lord and give HIM my stresses and worries for the day!
You guys. It wasn't working.
I needed something different. I needed simple.
A simple way to get in the Word every morning without debating which study I'd be using that day.
A simple way to focus on my priorities before the day began.
A simple way to make a little progress on my wellness journey each day, even if I didn't get in a full workout.
I wanted just one place where I could fit in all of these things, stay focused, and actually stick with a morning routine that gave me what I needed so that I could greet my family with joy each morning.
I thought you might want something like that, too. So, I'm excited to share something new with you!
The Simple Start Journal: A morning journal for busy women.
I'm so thrilled to share this journal with you, because I have used it and IT WORKS. Let's take a look!
What is it?
The Simple Start Journal is a morning journal for busy women. It's the simple, straightforward resource you need to be able to do the things that matter most each morning of the week.
The Simple Start Journal is meant to be used Monday through Friday, and this first one should last you for seven weeks on that schedule.
Every day, you'll find a section for:
Getting in the Word: You're given a specific passage of Scripture to read (with room for notes), a few key verses from that passage to write out right there in the journal, and a space to jot down your prayers. (This first journal takes us through Galatians and Ephesians.)
Getting focused on your priorities: You've given a question to answer & space to note your three most important tasks of the day.
Getting a short workout in: You're given a short, simple workout to complete each day. These workouts can be completed with no extra supplies – just your own body and a small space. There's a different workout for each weekday!
Instead of juggling a basketful of tools, The Simple Start Journal is one comprehensive resource that covers all areas of a simple morning routine: reading & writing Scripture, setting priorities, and completing a short workout, every single weekday!
PLUS, when you buy the SSJ, you'll get our entire course on How To Create A Morning Routine That Works, totally FREE!! ($24 value)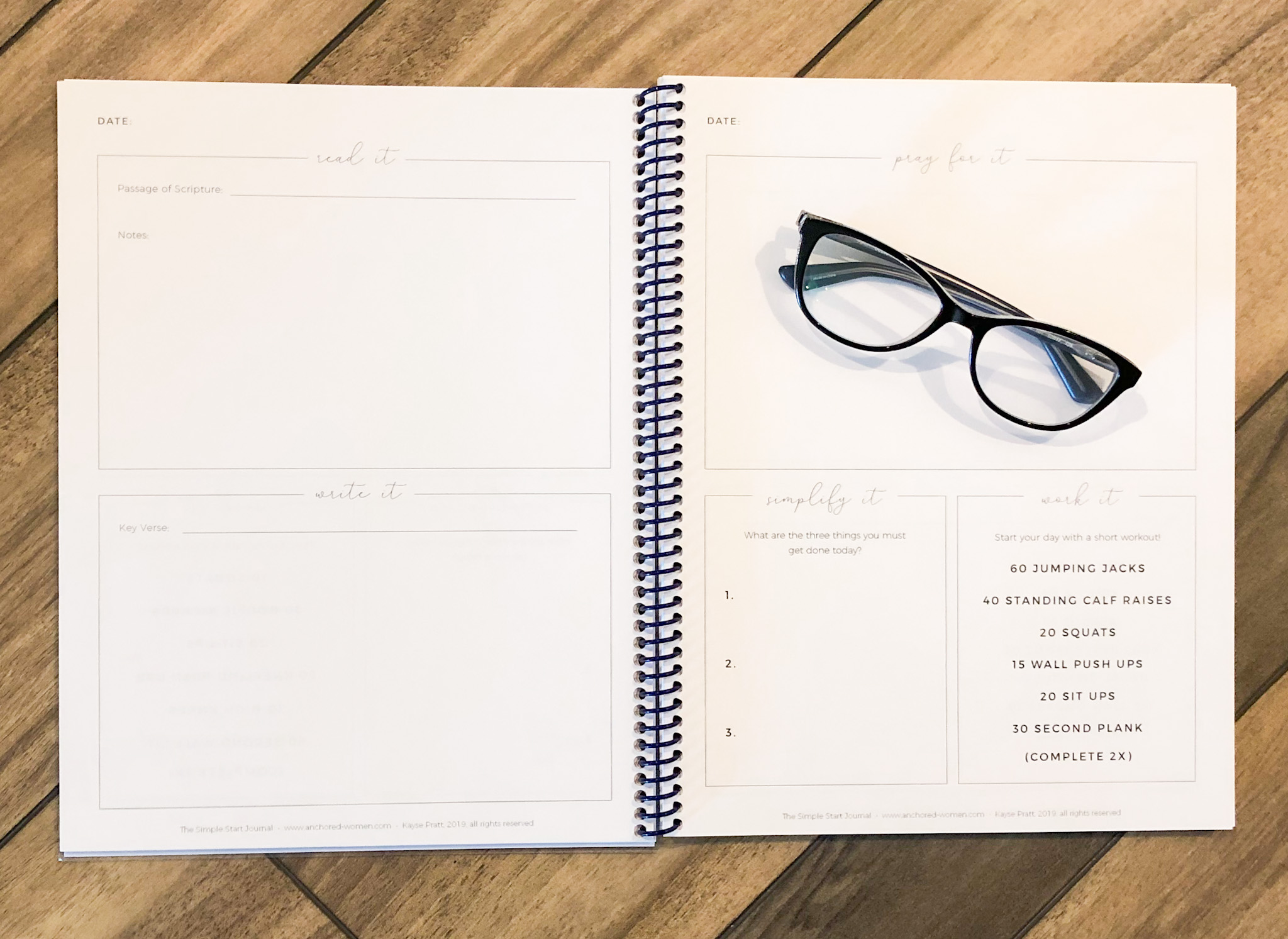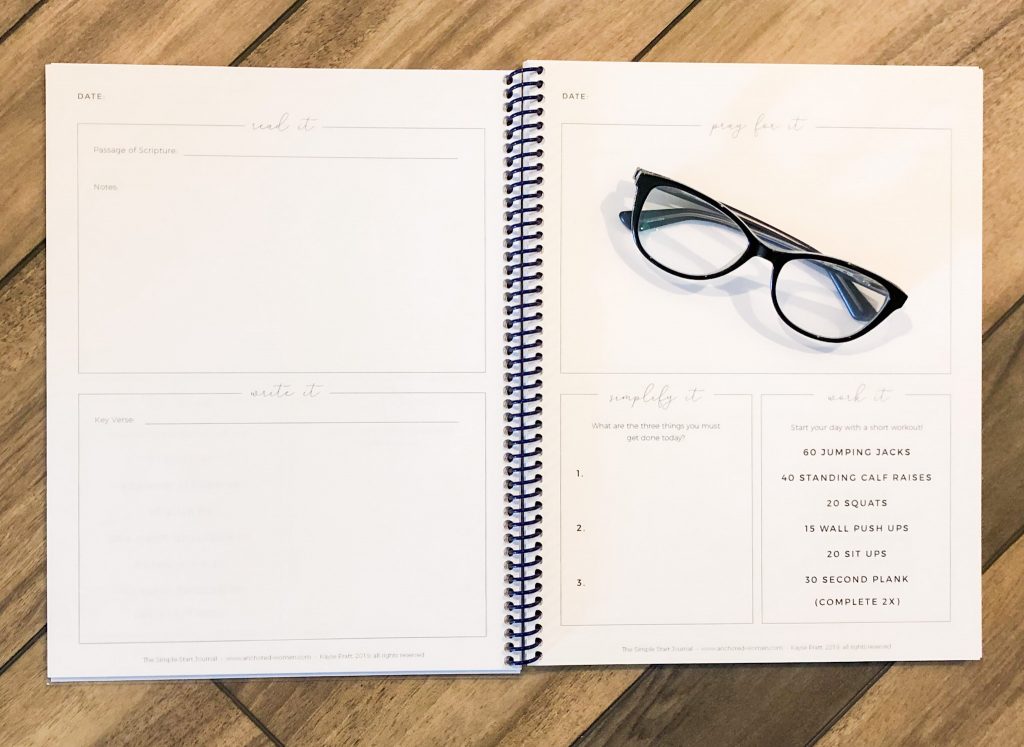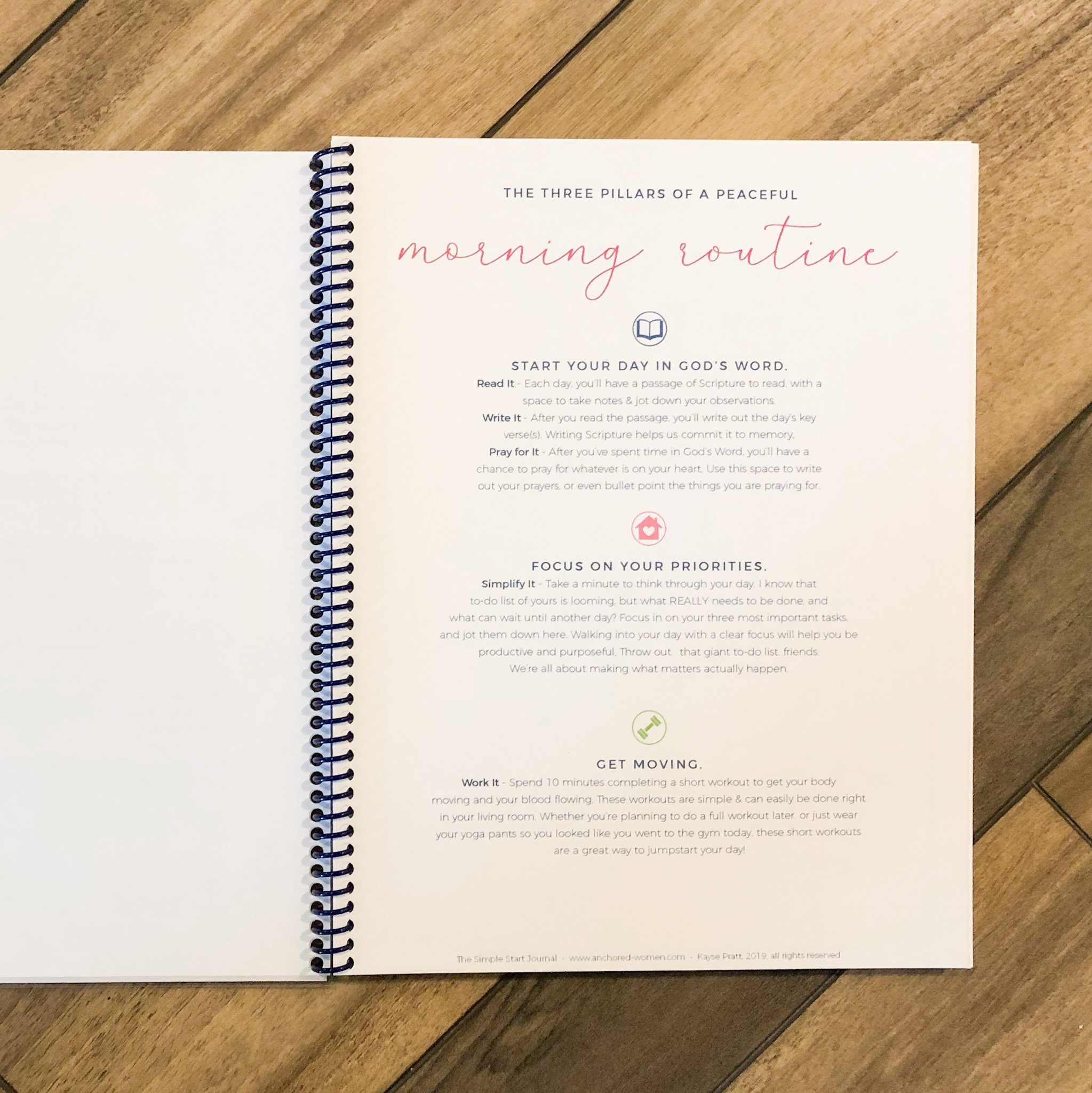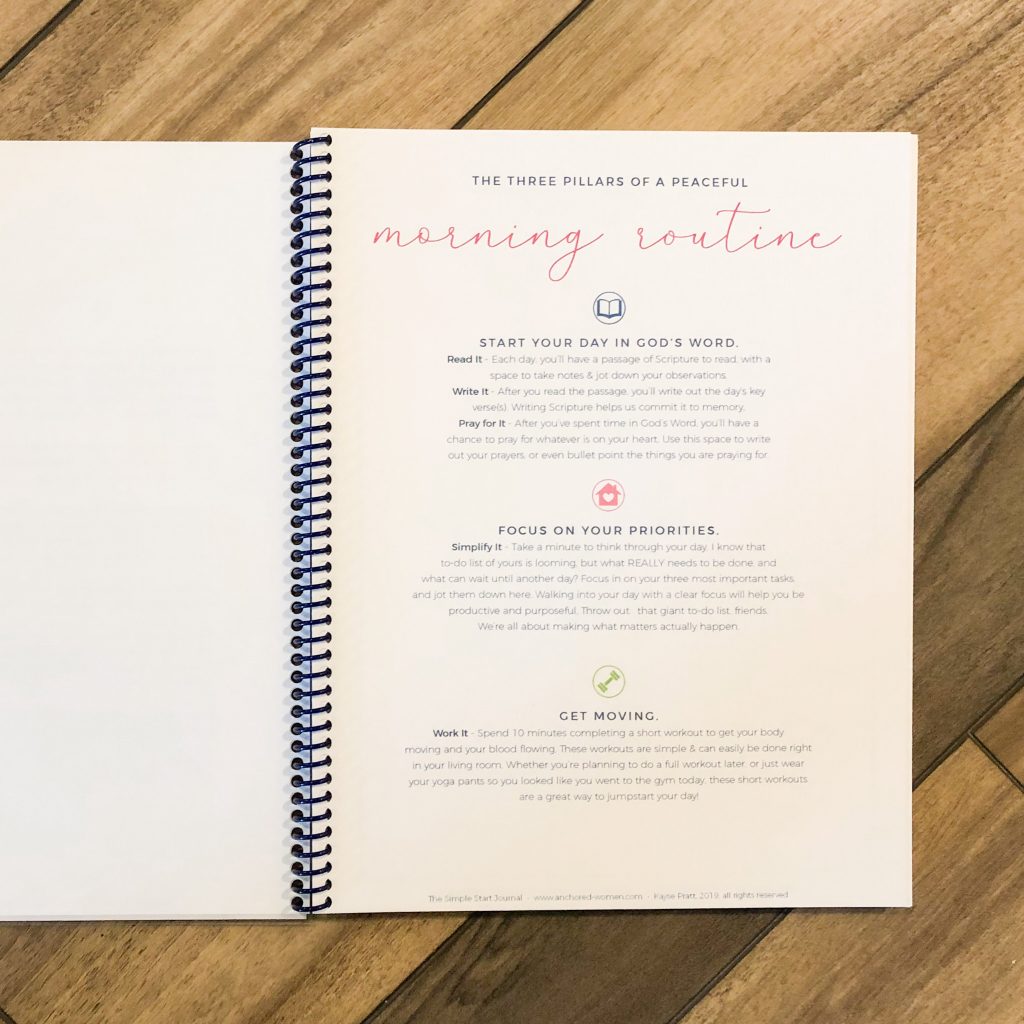 Friends, if you are in need of some consistency in your mornings, and some peace throughout your days, this journal is for you.
Starting your mornings off on the right foot makes ALL the difference! I hope this journal + our new accountability group make your morning routines simple, consistent, and peaceful!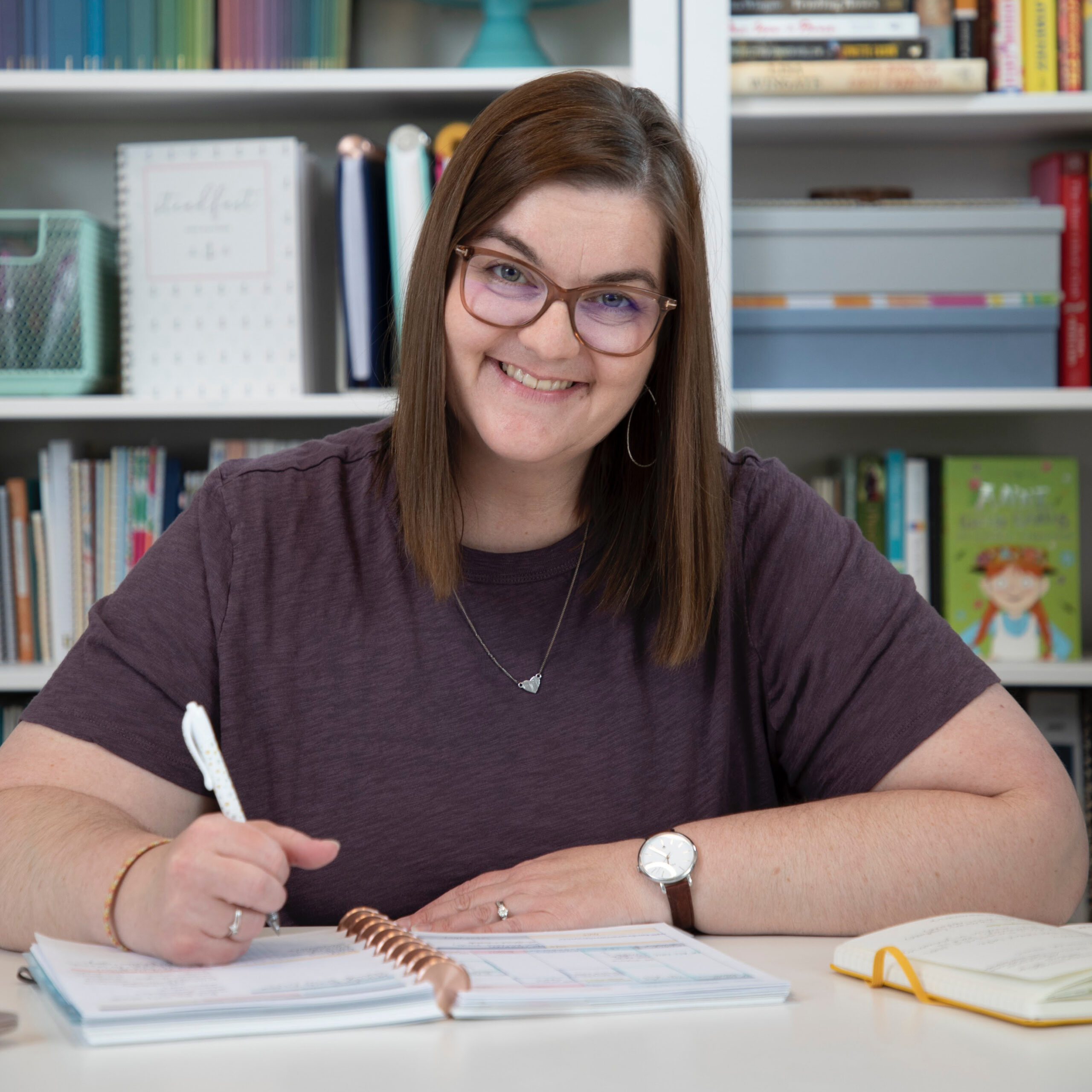 Kayse Pratt serves Christian women as a writer + designer, creating home + life management resources that help those women plan their days around what matters most. She's created the most unique planner on the market, helped over 400 women create custom home management plans, and works with hundreds of women each month inside her membership, teaching them how to plan their days around what matters most. When she's not designing printables or writing essays, you'll find Kayse homeschooling her kids, reading a cheesy novel with a giant cup of tea in hand, or watching an old show from the 90's with her husband, who is her very best friend.