The secret to surviving when life doesn't go your way.
Jon went back to work yesterday, and I basically had a complete meltdown over the weekend.
I'd hoped this summer would bring "rest", which, to me, looked a lot like crossing things off my to-do list just so I could get them out of my head. I thought that would solve my overwhelm, getting all caught up, you know?
But the summer wasn't restful, in any sense of the word. It was busy, but not in a productive way. Only in an exhausting way.
My plans for the summer had crashed and burned, and here we were, at the end, with nothing but exhaustion and stressed relationships to show for it.
I did not get my home projects finished.
I did not get my homeschool year planned.
I did not get ahead on blog posts or products.
I did not read the books I wanted to read.
I did not make as much meaningful time for my kids (or husband) as I wanted to.
I did not get the break I desperately needed.
And I felt very upset about that. I may have exploded a tiny little bit.
(I am very mature, and an exceptionally good grown-up, obviously.)
The truth is, I haven't been doing so well, and I'm just now realizing that this funk I'm in is not as temporary as I thought it was. I have been weary for a long time. A year, at least. And my weariness hit a tipping point when I realized that most of what I'd planned and hoped for the summer did not work out. At all.
Most of what I've planned and hoped for the last year has not worked out. At all.
That's a hard thing for a control-freak like me.
I am reading Elisabeth Elliot's Keep A Quiet Heart right now, and last night I read a sentence that stopped me in my tracks. In the midst of actual tears over some actually difficult things I'm dealing with, I read this…
The secret is Christ in me, not me in a different set of circumstances."
So many times, I wish for different circumstances. A bigger home with more space and a backyard for my kids. A marriage that requires less work, less sacrifice from me. Kids that behave. A body that craves broccoli instead of brownies.
I think, "If I could just get/do/be ___________, then life would be easier, and I would be happier."
But that's a lie, isn't it?
Because the secret doesn't lie in a new set of circumstances.
The secret, the MIRACLE, is Christ in me.
The secret is Jesus – come down from heaven to save my prideful, controlling, discontent, sinful heart. In the middle of my mess. At the height of my bad attitude. As I sacrifice the very rest He calls me to, in (utterly vain) hopes that I can control just one.more.thing.
He comes. And He saves me.
Not from my circumstances, but from myself.
He does the same for you.
That truth changes everything. My circumstances suddenly seem much smaller, in light of Christ's enormous sacrifice for me. I feel loved and cared for, instead of overlooked and unappreciated. I find that I am quieter. More thoughtful and patient instead of reactive and rage-y.
The secret is Christ in me.
I don't understand it. But I know I want more of it. More of Him.
And so, I set aside my to-do list, again. I battle the feeling of being unproductive, again.
I pick up my Bible, again.
And I read. I read of His love, I read how He saves me, I read how much I needed saving in the first place. I read of His greatness, His majesty, His grace.
I do not read about how to change my circumstances.
I read about Him, and He changes my heart.
A quiet heart is content with what God gives. It is enough. All is grace." – Elisabeth Elliot
---
If you are weary, as I have been, let me encourage you to get yourself into the Word, and rest. Let Him fill you with Christ, even in the midst of exhausting circumstances. If you need some help figuring out where to start, you can get our free Scripture study plans here, or grab our new Simple Start Morning Journal (which includes a daily Bible study) right here.
---
Create a simple morning routine that actually works.
Learn how to focus on the things that matter most each morning, so that you can roll with the punches throughout the rest of your crazy day.
Join us for this free email course that will help you design a simple morning routine that actually works! You'll be guided through creating your own morning routine, and given resources to help you make your most important things happen each day.
You'll also receive our weekly newsletter, providing you with encouragement and resources to help you make time for what matters most.
*By subscribing, you're agreeing to our privacy policy.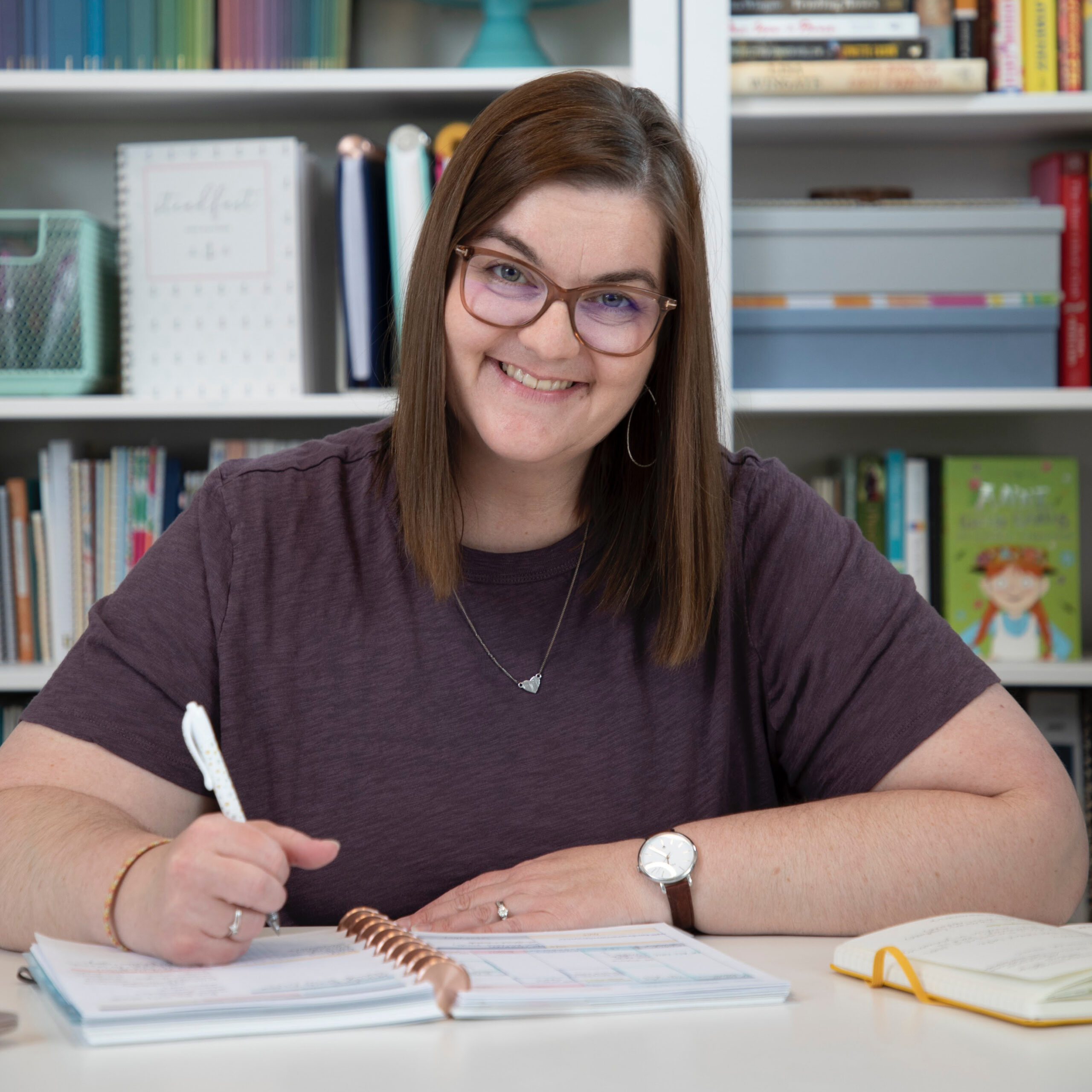 Kayse Pratt serves Christian women as a writer + designer, creating home + life management resources that help those women plan their days around what matters most. She's created the most unique planner on the market, helped over 400 women create custom home management plans, and works with hundreds of women each month inside her membership, teaching them how to plan their days around what matters most. When she's not designing printables or writing essays, you'll find Kayse homeschooling her kids, reading a cheesy novel with a giant cup of tea in hand, or watching an old show from the 90's with her husband, who is her very best friend.