For the Momma Who Takes On Too Much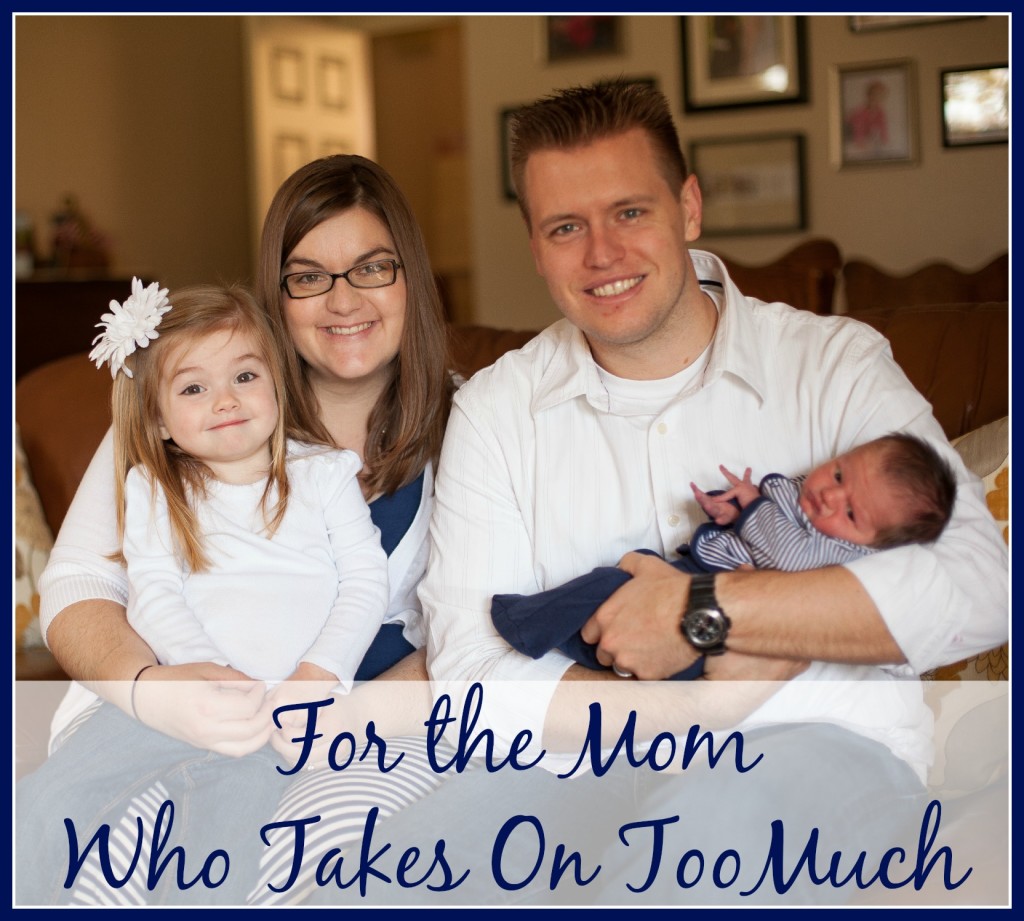 The momma who takes on too much? That's me.
Maybe it's you too.
I'm trying to focus on discipline this month, and that can easily turn into a list of things to do. There's a lot of areas where I can improve in the discipline category – devotion, exercise, eating right, parenting, blogging, writing, housekeeping, homeschooling, mail sorting…
That's a lot of areas to get better in. A lot of areas to work on. A lot of things to add to my to-do list.
Add on top of that the fact that next week is Jon's last week of grad school, which means all of his projects are due, including his capstone. You know, the project that determines whether or not you get that Master's degree you worked so hard for? So his every minute is either spent at work or spent on homework and that leaves me, well, spent.
I've been trying to do All The Things. And they are good things. But they are a lot. And they are just things.
And I am spent.
This two-kid game? It's a lot more work than play. And keeping up a house? Well, it actually takes a lot of time. And cooking dinner every night? The requires planning ahead and actually cooking.
And I've been trying to add in new things. Because my mind thinks I can handle more things than the hours allow. My mind speeds ahead and comes up with projects and ideas and jumps in full speed ahead. Because the bills need to be paid, and I think of ways to help with that. And I want this blog to be better, and I think of ways to make that happen. And homeschooling STILL hasn't really started here, so I develop better plans for that. And a new eBook, and essential oil stuff, and, and, and…
And then I'm spread so thin that I can't even think clearly enough to have a conversation.
Hi, my name is Kayse, and I compulsively take on too much. I'm sure there's a deeper issue there that I need to address, but to be honest, I'm too tired to think it through.
I wonder if you're in the same boat. I wonder if the mundane of home life sometimes feels like not enough. I wonder if you feel pressure to do more, to be more.
Maybe we all just sit down for a minute and take a deep breath. Maybe we put aside the "urgent" and get back to the important. Maybe we take a good hard look at what actually IS important, and pursue that.
Because the truth is, the mundane really is enough. It might feel mundane to us, but I don't think it feels mundane to our kids. Or to our husbands. The life we live at home, it matters. The kid-raising and the cleaning and the cooking, it might not be flashy, but it's glorious.
I've been thinking a lot about my mom lately, and what I remember most about her is that she was there. Whenever I needed anything, she was there. To kiss bruises and bandage knees, to make cookies and share a treat, to talk and work out life – my mom was there.
And that was more than enough. It was everything to me. It still is.
Maybe we mommas who take on too much need to lay it all down. Maybe we need to seek the Lord wholeheartedly before we pick anything back up, and see what He's got to say about it all. Maybe we don't pick anything back up, and we just breathe for a while.
Maybe it's just me. But I'm learning that the area I need the most discipline in is this one – learning how to let go of the pressure to do more than just this wife and mommy business.
This wife and mommy business is enough.
– – – – – – – – – – – – – – – – – – – – – – –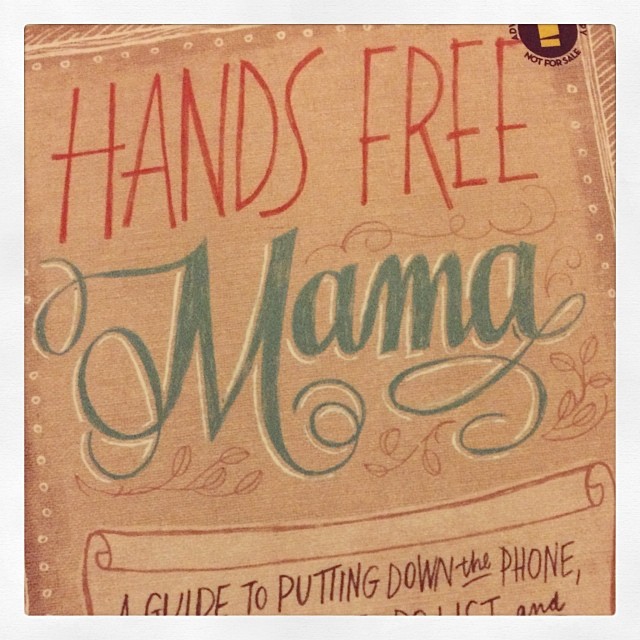 If you haven't already picked it up, I highly recommend the book Hands Free Mama. Rachel Macy Stafford is an inspirational and honest writer. More importantly, she's a mom who talks about focusing on what really matters. That's what I want to do as a parent. I know you do too. It's a great read for all that free time you have. 😉
Did this post encourage your heart? If so, would you consider sharing it with your friends? Just use one of the share buttons below. Thank you!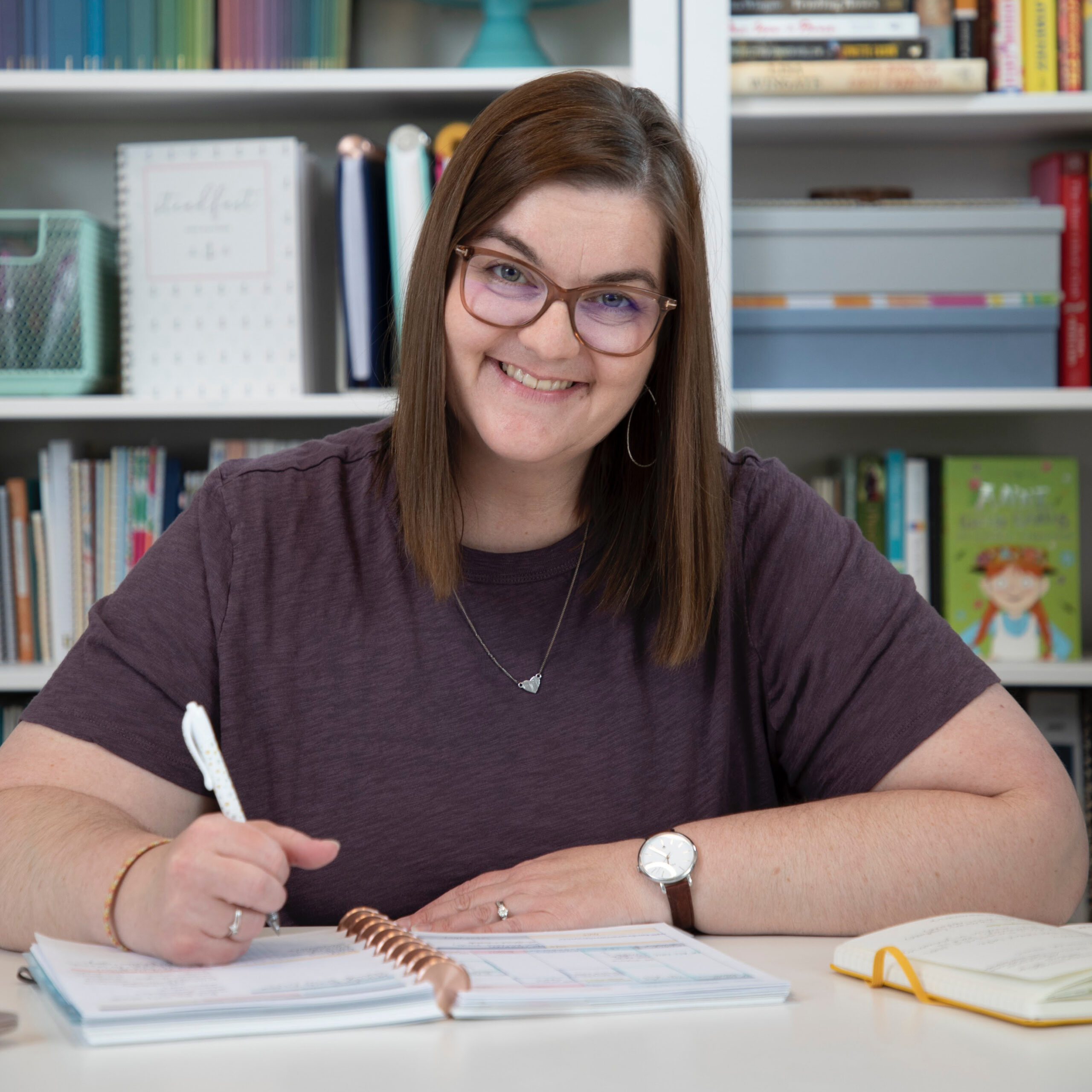 Kayse Pratt serves Christian women as a writer + designer, creating home + life management resources that help those women plan their days around what matters most. She's created the most unique planner on the market, helped over 400 women create custom home management plans, and works with hundreds of women each month inside her membership, teaching them how to plan their days around what matters most. When she's not designing printables or writing essays, you'll find Kayse homeschooling her kids, reading a cheesy novel with a giant cup of tea in hand, or watching an old show from the 90's with her husband, who is her very best friend.