My Personal Goals for 2022
Since I've been using January as Prep Month, my goals have come along more slowly than I'd planned on. But I think they are officially set now, so I'm ready to share them with you!
My Focus for 2022:
First, my verse for this year is Colossians 1:10-12:
"…walk in a manner worthy of the Lord, fully pleasing to Him; bearing fruit in every good work and increasing in the knowledge of God; being strengthened with all power according to His glorious might, for all endurance and patience with joy, giving thanks to the Father."
The last few years have taught me some really important lessons.
First, I've never been more convinced of my daily need for Christ. This year, I want to walk closer to Him, acknowledging that there is not a moment in my day where I don't need Him.
Second, in some ways I think I've seen myself as broken for a long time. I've walked through a bit of my own trauma in the last 15 years, and for many years, I've just been focused on surviving, on healing, on putting out the next fire. But I am a few years past the last thing that broke me, and at this point I feel like God is showing me that in Him, I can do things now that I didn't think I had the strength to do before. I feel so ready to focus on the things I CAN do, and serve my family and community however the Lord will use me.
For these reasons, I love the verses above, reminding me to walk in a way that is WORTHY of the Lord – our holy God – and grow in knowledge and strength and endurance, always giving thanks to Him. This is my focus for the year.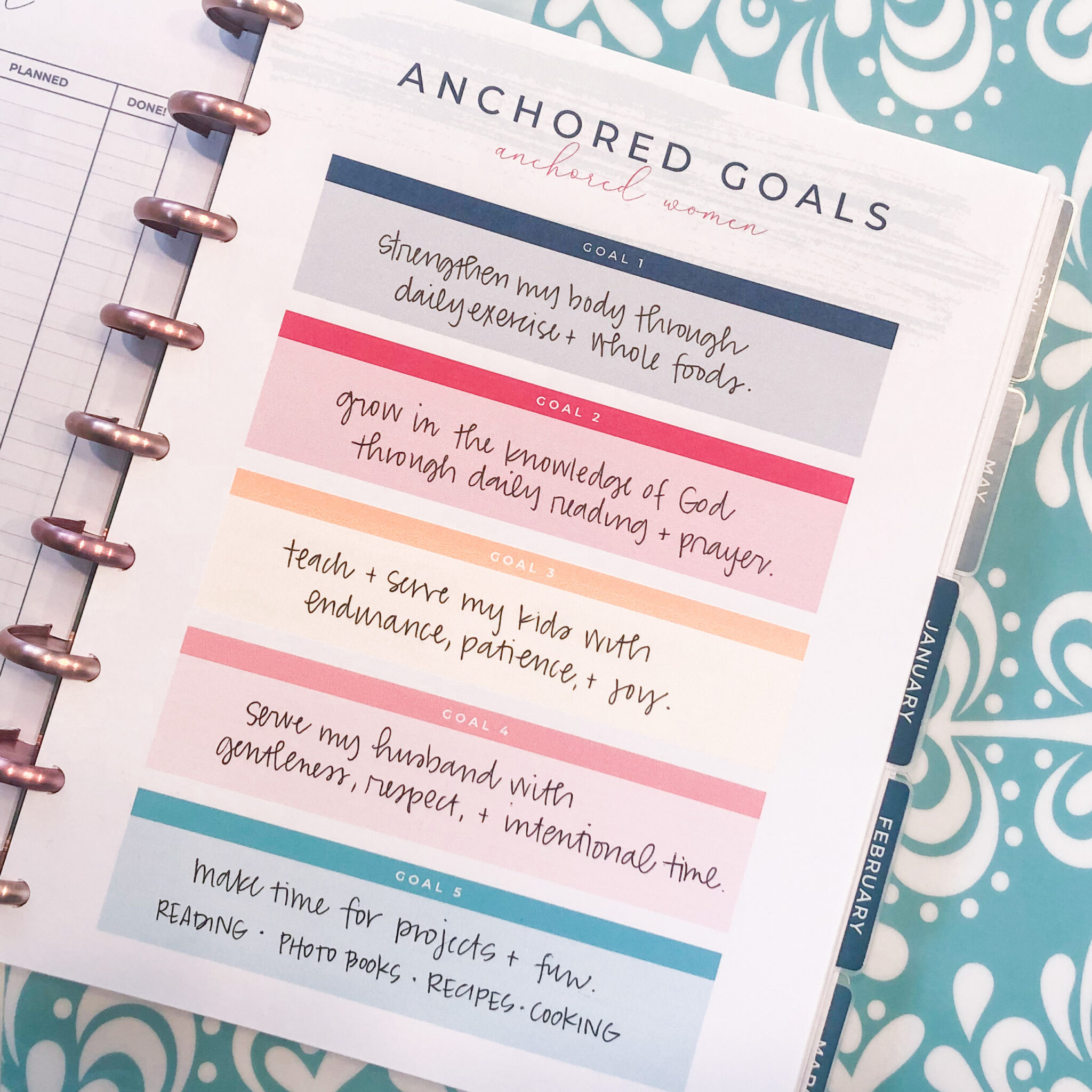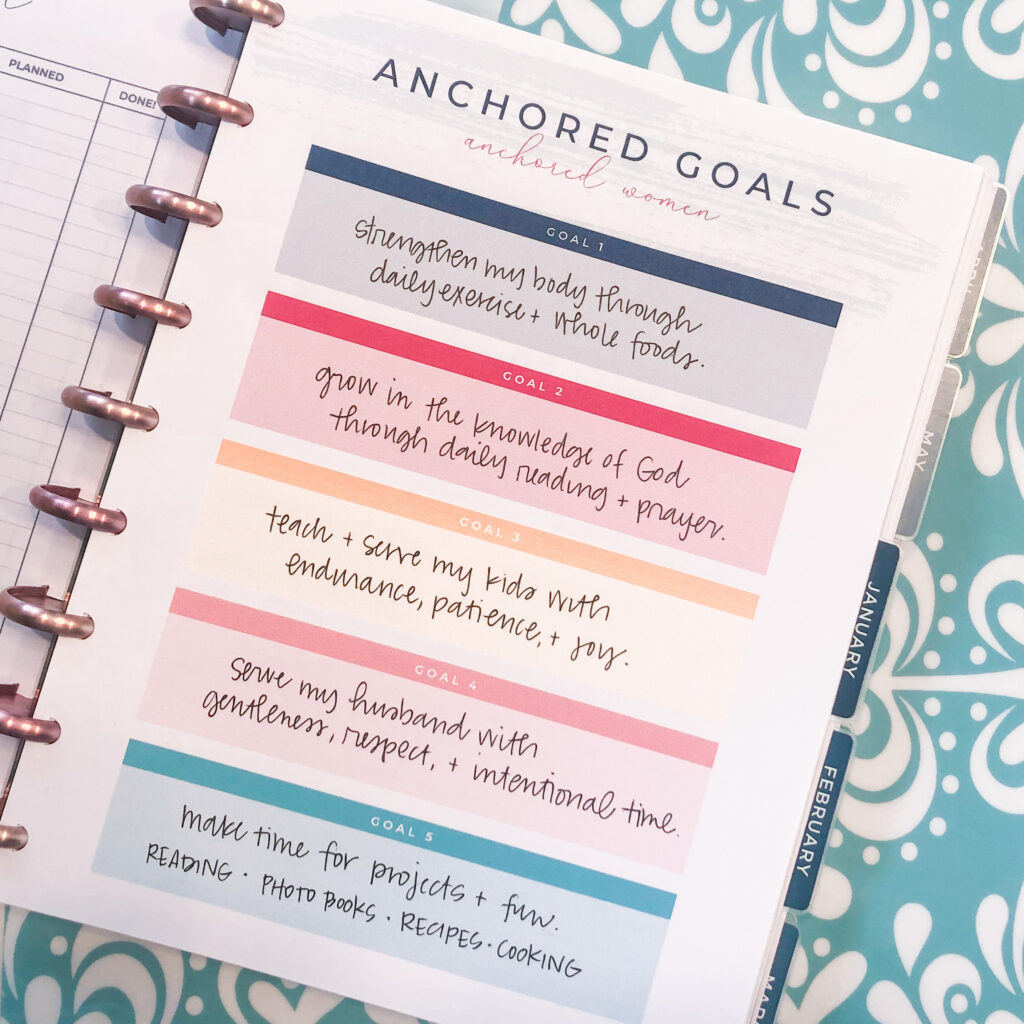 My Goals for 2022:
I've got 5 main goals this year. Some are new goals, some are old goals refreshed. I'll share each one, and the first action steps I'm taking to accomplish them!
---
GOAL #1: STRENGTHEN MY BODY THROUGH DAILY EXERCISE AND WHOLE FOODS.
This is certainly an area where I've felt broken, or like a failure in the past. This year I'm working on making it a focus again. I absolutely do need to lose weight, but if you notice, my goal is not about that. It's about the daily choices I make to strengthen my body. This is going to be my focus: strengthening the body God's given me. I'm going to alternate between walking, doing pilates, and using the FitBod app for strength training in the gym Jon set up in our garage.
My first step? I've been doing a sugar fast + am working to slowly eliminate processed food from my diet.
---
GOAL #2: GROW IN THE KNOWLEDGE OF GOD THROUGH DAILY READING + PRAYER.
I'm working through the Anchored Life Kit's One-Year Bible Reading Plan, but I'm going a little. more slowly. It might take me two years, but that's okay! I want to spend as much time as I need in each reading. Some days I just read half, and then then next day I read the other half, so it's taking me a little longer.
I'm also using the Prayer Journal from Val Marie Paper to add a bit of structure to my prayer life. This also helps me focus instead of my mind wandering all over the place!
My first step? This was choosing the reading plan and notebooks I would use each morning with my Bible. Now I'm just making sure I open the Word each day!
---
GOAL #3: TEACH AND SERVE MY KIDS WITH ENDURANCE, PATIENCE, AND JOY.
Homeschooling is my biggest job this year, and one of the reasons we brought our kids home is so that we could have a slower life together. My goal is not to just get all.the.things done, but to truly nurture my kids' interests, character, and growth. This requires more patience than I've been giving them – more patience than I even have when we're rushing from one place to the next all the time. So as I teach them this year, I'm focusing on these three qualities – endurance, patience, and JOY! We can't forget to infuse a little fun and silliness into our days!
My first step? Adjusting the schedule I already planned out to give us all a little more free time.
---
GOAL #4: SERVE MY HUSBAND WITH GENTLENESS, RESPECT, AND INTENTIONAL TIME.
I simply want to make my marriage more of a priority this year. Nothing is wrong right now, I've just felt like my relationship with Jon is of utmost importance, and I want to keep it that way. We are making monthly date nights a planned event, and I'm working on strengthening my gentleness + respect muscles, especially in the way I talk to him when I'm tired. 🤦🏼‍♀️
My first step? I've got 2 date nights on the calendar, and I'm planning to read a marriage book for our AW Book Club next month!
---
GOAL #5: MAKE TIME FOR PROJECTS + FUN.
I'm really good at keeping my head down and working my tail off, but that almost always ends in burnout for me. This year, I really want to build a life that I don't feel like I need a vacation from, and that means taking regular breaks and enjoying life with my people. I also have some projects I really want to work on this year: finishing my reading list (which I'll share with you next week!), putting photo books together, organizing my recipes again (I just finished this project!), and teaching the kids how to cook (currently working on this one!).
My first step? I spent the first week of January organizing my recipes, and this week I started teaching the kids some simple recipes of their own. I'm spending a little time each day reading, too! Now I just need to make some time to create those photo books…
---
And that's it! My goals aren't anything big or flashy – they are all simple, basic practices that I want to strengthen in my life this year. I believe that these all line up with the verse I've chosen for the year, and more than anything, I want to walk in a manner that is worthy of the Lord. Not pushing myself to prove all I can accomplish on my own, but taking each day as it comes, asking HIM what he wants me to accomplish, and finding peace that I kept the important things important.
If you want a resource that will really help you walk through the goal setting process one step at a time, you might love our Anchored Goal-Setting System! It's a short video series with an accompanying workbook that will help you set the right goals AND break them down into manageable pieces. Check it out here!​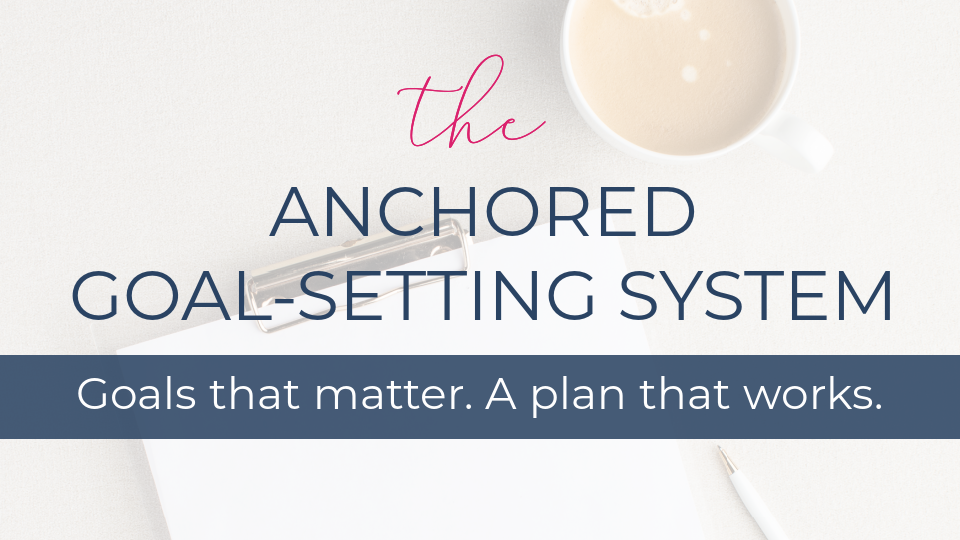 I'd love to hear YOUR goals for this year! Share them with us in the comments below!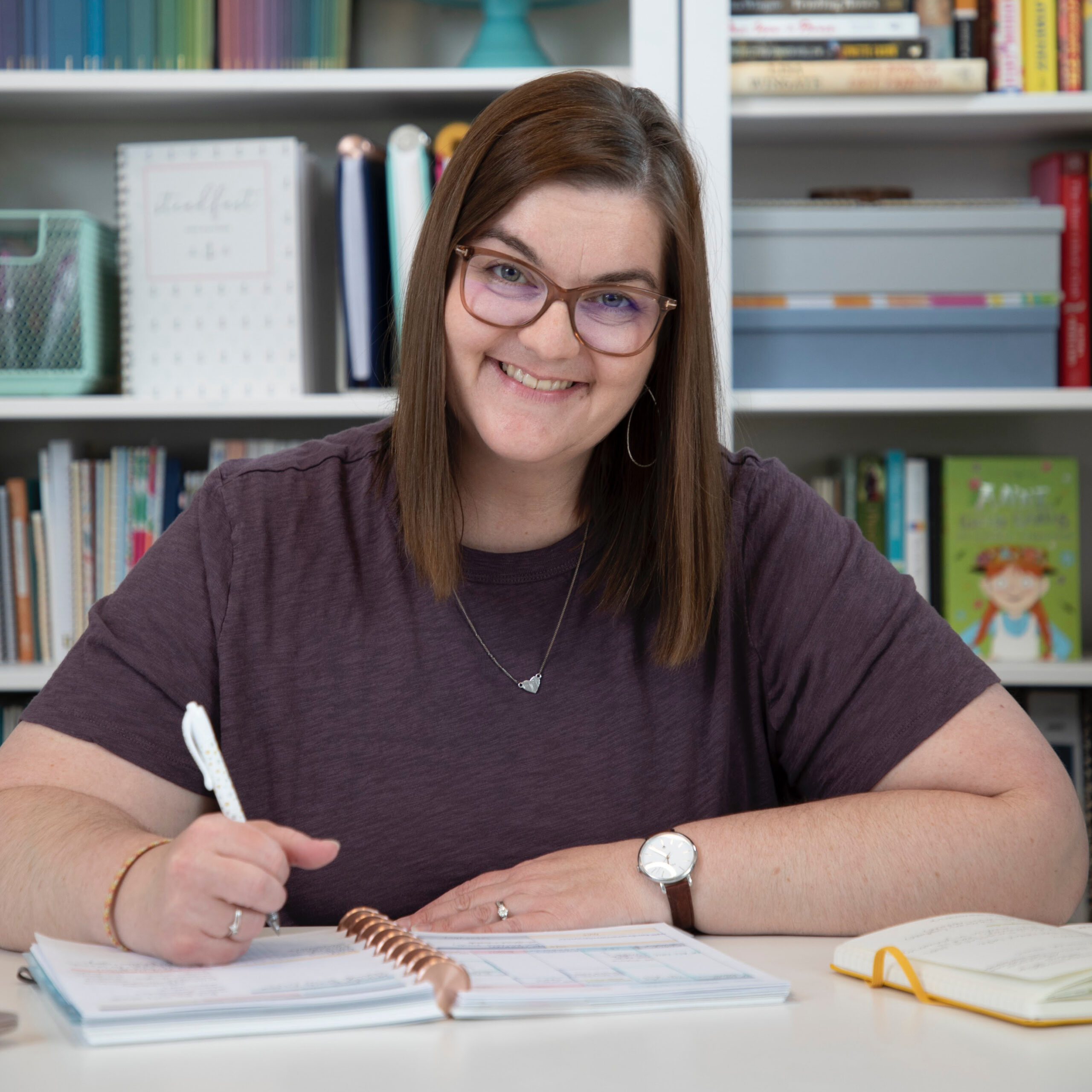 Kayse Pratt serves Christian women as a writer + designer, creating home + life management resources that help those women plan their days around what matters most. She's created the most unique planner on the market, helped over 400 women create custom home management plans, and works with hundreds of women each month inside her membership, teaching them how to plan their days around what matters most. When she's not designing printables or writing essays, you'll find Kayse homeschooling her kids, reading a cheesy novel with a giant cup of tea in hand, or watching an old show from the 90's with her husband, who is her very best friend.