A 2022 Update for Anchored Women
Hi friends. How are you?
I feel like it's been a while since I actually sat down to write – really write. Not just emails or how-to's, but writing the way I used to. Sharing our lives and my heart and what God's teaching me.
I'm going to do more of that this year. And I'll start here.
2021 felt like a doozy of a year for us. I don't know if it was the fact that I thought it would be different than 2020 (and it either wasn't, or in some ways was a lot harder), or that I was already worn out from 2020 and 2021 just seemed to throw my weariness back in my face. But whatever it was, this year just felt hard. And in all honesty, I don't know that I handled it all that well.
Let's ignore all the stuff that's going on in the world (though I will come back to address these things in another post soon), and I'll just fill you in on our family.
OUR FAMILY UPDATE:
We decided at the beginning of 2021 that we'd send the kids to the school Jon teaches at for the 2021-2022 school year. This was his last real opportunity to teach Emily in a classroom setting, and among other benefits, we wanted to see if it would be a good fit for the kids.
While we have appreciated a lot of things about sending them to school this year, it turns out it just was not a good fit. So, we brought the kids home and have embraced homeschooling as our actual plan from here on out.
If you've been here for any length of time you know this is not a new decision for us. Let's recap, shall we?
E in kindergarten: Started homeschooling, ended up in school because homeschooling in a dark, tiny, 3rd floor apartment, with a toddler in tow, without any community, was making us all crazy.
E in first grade: Started with homeschooling again because a couple situations at school had taken a toll on Emily's mental health, and we worked with a counselor weekly for the next few years. Ended up putting her back in school in February of first grade because we and the counselor agreed it was time and she was ready. Changed schools and it was a much better fit.
E in second grade, N in preschool: Both kids in school. I drove 4 hours a day to make this happen. Not exactly the "free time" I was promised. 🤣
E in third grade, N in kindergarten: Both kids in school till March. Covid hit. Everything fell apart. Then we moved to a new state.
E in fourth grade, N in first grade: Both kids homeschooling because of Covid. We thought we'd try school again when it became an option.
E in fifth grade, N in second grade: Started in school. Wasn't a great fit for our family. Finishing the year homeschooling.
And likely, finishing their education homeschooling. Public schools here are among the worst in the country, and there's really only one private school track – which we now know isn't a great fit for us. So, homeschooling it is!
Do I feel embarrassed about the number of times we've waffled back and forth on this? I absolutely do. I wish I could have just homeschooled them from the beginning and given them some stability. But the fact of the matter is this: we made the best decisions we could at the time. And I have to give myself a little grace for not knowing what the future would hold. My kids have enjoyed every year of school so far – no matter what kind of school it was – so I'm taking that as a win and letting the embarrassment go.
I'm excited – I loved so many things about homeschooling, and I'm ready for our lives to be our own again. I'm also nervous – I don't feel like I did a very good job with my kids education last year. Maybe because I thought of it as temporary? Maybe because I was so worried about work and making our finances work that homeschooling had to come second.
But this year, I'm focusing here first – excited to be with my kids, to teach them (I do have a teaching degree, so I'm leaning into that!), and just be able to have time for those experiences and conversations that traditional school really did not leave us time for. I'm looking forward to the kids being able to pursue their own interests and talents again, and grow into the people God has made them to be!
MY NEW APPROACH TO 2022:
With our lives changing again (going back to homeschooling is a big shift from what we've been doing), I've realized that I need to approach this year a new way.
If you're a business owner too, you know this: it is very hard to think about anything other than business-first all the time. You're the one "running the show", you're the one responsible for the income, you're the one making sure everyone gets what they need. And that's a lot of things to think about. So even when I'm cooking, or cleaning, or doing something else – my mind is often on work and what I could do to make it better.
I've justified this a lot in the past, because finances matter when you're raising a family, and I care deeply about encouraging women. But if I'm honest, I have obsessed over business details out of fear a lot of the time – fear that we won't be able to make ends meet, fear that it will all disappear overnight, fear that I'm not on the right path.
But if homeschooling is now my primary job, I cannot live that way anymore. I HAVE to be able to be fully present with my kids, making their education and training my priority. My first thing. And I'm excited about that, because keeping business first has worn me down this year.
I feel like this is a grace God is giving me – the absolute requirement for something else to go above work. In a lot of ways, I've made work more complicated than it has to be, and this year I'm not going to even have the choice to do that anymore. It's family first (and some health stuff I really need to work on), end of story.
Which leads us into our next topic:
WHAT YOU'LL FIND HERE IN 2022:
I love our Anchored Women community, and I'm determined to keep things simple this year. For me AND for you. I want this to be a place where you can come and be encouraged, knowing that what you'll find here is both practical AND grounded in Scripture. I'm going to try to do that better in 4 ways:
1. More Writing
I'm going to write more this year. Like this. Sharing what I'm learning from the Lord and homeschooling and life. I'd like to get back to the thing I loved most about blogging – actually writing. So that is a priority for me.
Don't worry that I'm saying MORE of this, when I'm trying to simplify. The writing is what gives me life, fires me up, and is, I believe, the thing God made me to do. So doing more of it – getting back to what I love about this business in the first place – feels like coming home.
2. Less Scrolling
I'm going to be on social media less. I don't know if you're aware, but we've moved our community off of Facebook and onto our own platform. It's private and encouraging and everything I hoped it would be – we'd love to have you join us! This gives me the ability to step away from traditional social media, as much as I can. On our new platform, you don't get lost in the scroll – you just get to actually engage with other like-minded women, and be encouraged by me and my incredible team. It's just us! The new community is where we're hosting book club, and probably a few other fun things this year! Be sure to join us over there.
3. Simple Guides
I know a lot of people who write about the things I do have turned their content into major courses, and I have considered that. But I think what our community would benefit from are some simple guides that are short, to the point, easy to consume, and super practical. We don't all need (or have time) to sit through another course on how to manage our lives better. That's different for everyone anyway. So one of my goals this year is to create some short but thorough guides that will help you find YOUR OWN way of managing different aspects of your life – things that work for you and your family, not the next instagram influencer.
I hope to create specific guides for topics like:
Planning your year, month, week, and day
Studying the Bible
Meal planning
Decluttering + organizing
Cleaning each room in your home (with checklists)
Managing your finances
Morning + evening routines
and more!
I hope these short guides will be incredibly helpful to you, and serve as a handbook of sorts, for all the things you might want to do to manage your home and family. Look for those releasing one at a time this year!
P.S. Have a topic you'd like me to write a guide on? Leave it in the comments below!
4. The AW Online Conference
We're also working on something I'm really excited about – our very first Anchored Women Online Conference. It's going to be a 2-day conference in March, all available online from the comfort of your home.
Our theme is "Simplifying routines for home + faith", and we're going to have one day of speakers talking about home routines, and one day of speakers talking about faith routines. I think it's going to be a lot of fun, and equip you with some great, grounded encouragement! It will be totally free to attend the conference, so I hope you'll sign up to join us! (If you know you're already interested, you can sign up for the waitlist here + we'll make sure you're the first to know!)
---
Friends, I'm so grateful that you're here, and that you let me into your inbox each week. Thank you for being a part of our community!
Here's to a great year in 2022!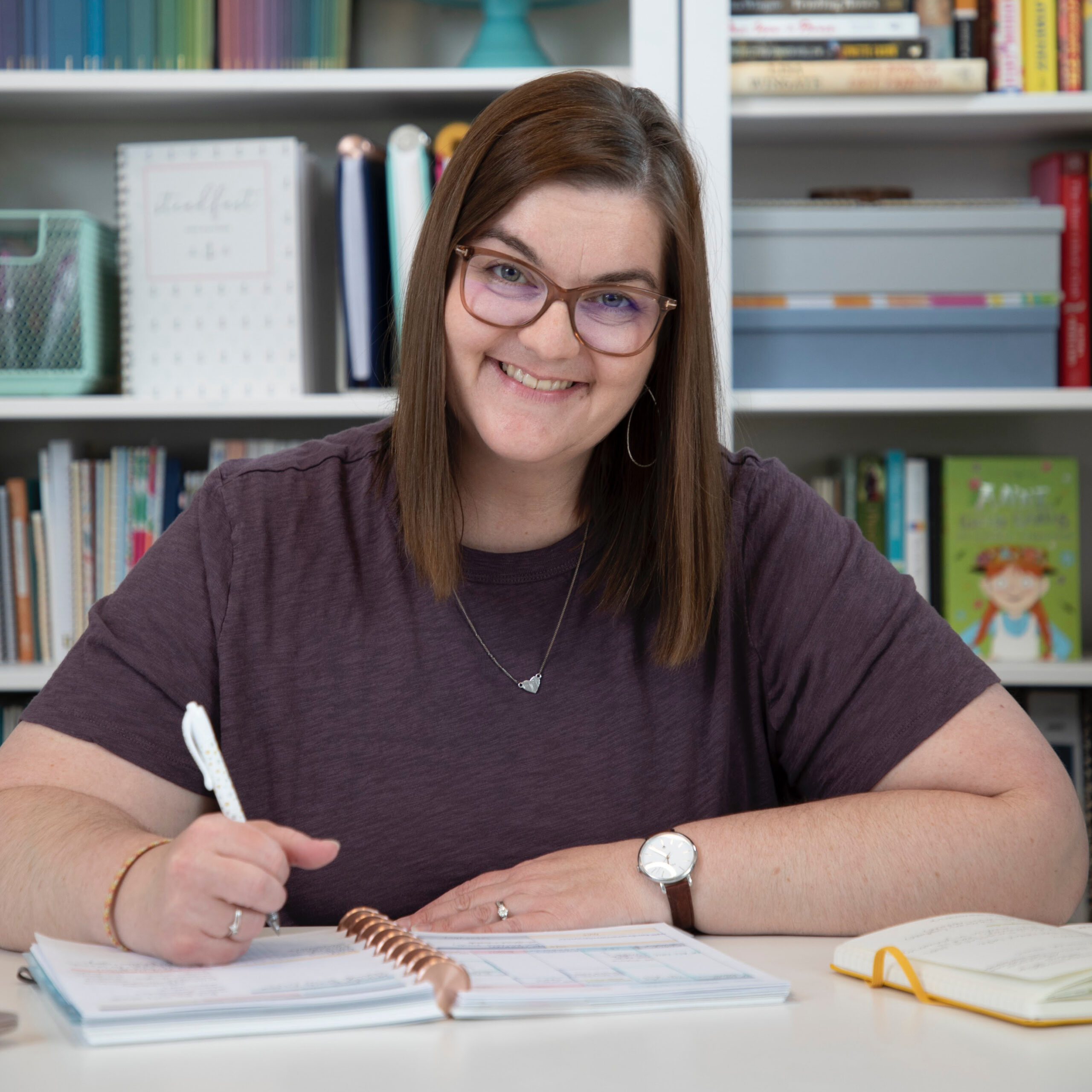 Kayse Pratt serves Christian women as a writer + designer, creating home + life management resources that help those women plan their days around what matters most. She's created the most unique planner on the market, helped over 400 women create custom home management plans, and works with hundreds of women each month inside her membership, teaching them how to plan their days around what matters most. When she's not designing printables or writing essays, you'll find Kayse homeschooling her kids, reading a cheesy novel with a giant cup of tea in hand, or watching an old show from the 90's with her husband, who is her very best friend.