I posted this picture on Instagram last week, with a little confession…
See, Jon and I are both strong-willed, opinionated people. But we like to do things very differently. These characteristics lend themselves to lots of arguing. LOTS of arguing. And when we argue, we usually go into our room, so the kids don't hear us.
(Like there's anywhere we could go in our 900 square foot apartment and not be heard. But still.)
We are working on our communication, and trying very hard not to yell at each other as often as we'd like. We are studying God's Word together and praying through our differences, and we are always, always, always working on our marriage.
So, when I saw this sign go up for sale a couple of weeks ago, I snagged it. I've been looking for pieces to decorate the walls in our bedroom, and I thought this was just perfect – a visual reminder for both of us when we start arguing.
WE LOVE BECAUSE HE FIRST LOVED US.
If Scripture can't stop us in our tracks, nothing can, right? (And Scripture can. I promise!)
Oh friends, marriage is HARD. There are so many times when it's absolutely wonderful, and I feel like, "Yes! This is it! This is what it was supposed to be like!" And then there are other times when I feel like, "Seriously? This is it? This is what it was supposed to be like?"
Jon would tell you the same.
We've got our issues. Like, generally, I think I'm right about most things. And generally he thinks he's right about most things. This is where those strong wills come in.
I am learning, ever-so-slowly, that I cannot change my husband. Don't get me wrong, he's pretty great in his own right, but every now and then there's one or two things I think he *might* be able to do differently. (And he thinks the same about me.)
I can't change him though. It doesn't work.
What I can change, however, is my own attitude. My response to him, the way I talk to him, the way I treat him, and how I act when things don't go my way. THOSE are the things I have control over. THOSE are the things I have a choice about.
THOSE are the things I need to be working on & praying through.
And in the meantime, there's one thing that I know would improve my marriage today. Do you know what that is?
Encouraging my husband.
Our men, they thrive on encouragement, whether they admit it or not. Reminding them that they are doing a good job, that they matter, and that we appreciate them – it all combines to embolden & strengthen them to be their very best.
And as we encourage our husbands, guess what? The way we see them changes as well. We begin to look for the good things, instead of the flaws. We are more grateful, more understanding.
And our marriages change for the better.
So let's encourage our husbands…together.

If you want to take a step forward and start working on your marriage TODAY, I'd love to invite you to join me for the Encourage Your Husband Challenge! I've put together a two-week challenge for us to build up our husbands through encouragement, service, and Scripture.
Each day, you'll get an email with a short challenge in it – something small but meaningful that you can do for your husband that day, along with a Scripture to encourage you as a wife. We'll come together each day afterwards in our private Facebook group, and share things we're learning, how our husbands are responding (if you feel comfortable), and just encourage one another as we encourage our husbands.
Plus, I've got a few fun freebies for you throughout the challenge. You're going to LOVE them!
You can sign up for this totally free challenge here, or by clicking the button below. That way, I'll know exactly where to send your challenge emails, and you'll be able to start immediately!

Friends, marriage is hard, but our God is big. I hope you join us for this challenge, as we focus on what He says about our marriages & how we can encourage our husbands. Who knows? It might just be a turning point for you.
I'm praying for you all! Don't forget to sign up HERE & get started today!

Are you in? Share the challenge with your friends!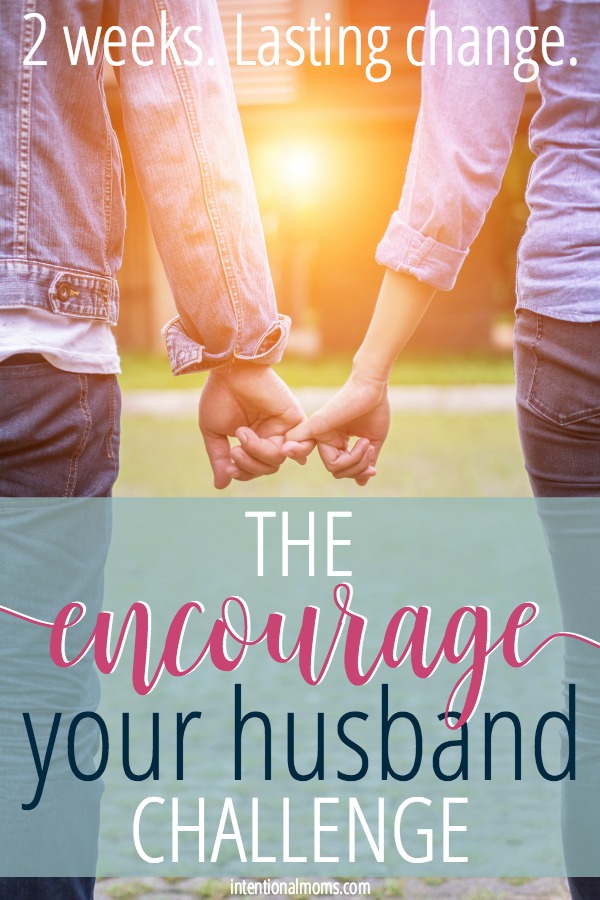 Kayse is a wife, mom, and founder of the Anchored Women community. She writes to help women fight busy, find rest, and build a life that's anchored in Christ. Kayse is also the creator of the S.O.S. Planner, the Anchored Life Kit, and other practical resources that equip women to manage their homes and families in confidence. You can find her writing and her resources at anchored-women.com!