The True Schedule of a Stay-At-Home Mom
I try to start Mondays all organized, but for the last few weeks I've been feeling like I just can't catch up. So, this morning, I got up early and started working on this week's schedule.
Jon joined me in the kitchen as I was finishing, and we both took a look at the schedule. Only a few things planned this week, mostly white space.
I sighed, and looked up at him. "If there's so much white space every week, how come I feel like I can't ever catch up?"
My husband, ever the hero, pointed to all of that white space and replied, "Because that white space isn't really white space. It's cleverly disguised Nathan and Emily time."
And I laughed, because he was right. Being a mom means there is no white space anymore. Not really. So, I give you the true schedule of this stay-at-home mom.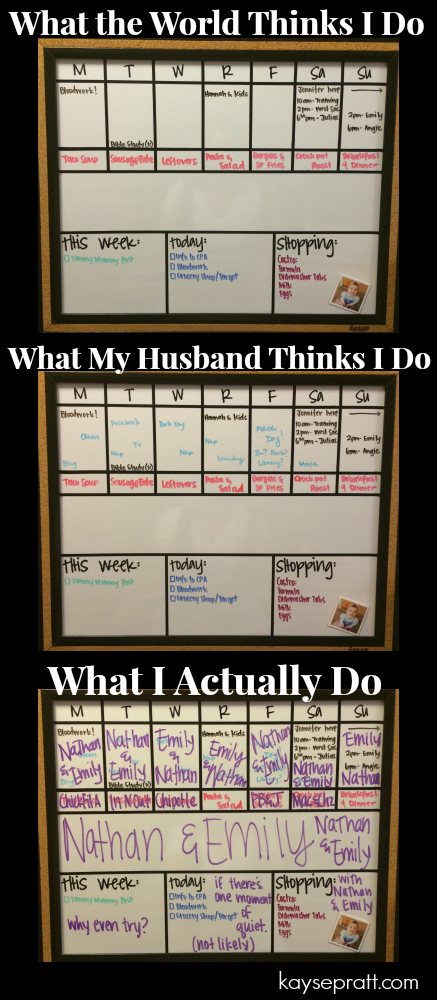 So, if you're a momma who, like me, started the week already feeling defeated, let me change your perspective a bit. You're a mom. Taking care of your kids, wiping bottoms, making sandwiches, reading stories, playing outside, squashing squabbles, training hearts, filling bellies, rocking babies – that's all more than enough to take up every second of your day.
If you get the chance to accomplish anything else, that's a victory, my friend. Home-cooked dinner? A victory. Playdate with friends? A victory. Doctor's appointment with your little ones? A handful of victories.
So, take heart. You're not defeated. You're devoting time and energy and patience and intentionality to the things that matter. The little, booger-eating people who matter very much.
Your work? It's more than a calendar can hold. 
It's a brand new week, momma. You can do this!
PIN IT!

Kayse is a wife, mom, and founder of the Anchored Women community. She writes to help women fight busy, find rest, and build a life that's anchored in Christ. Kayse is also the creator of the S.O.S. Planner, the Anchored Life Kit, and other practical resources that equip women to manage their homes and families in confidence. You can find her writing and her resources at anchored-women.com!