Spotlight 31 with Courtney DeFeo
I'm really excited to introduce a new series on the blog today – Spotlight 31!!
Over the last year (or few!), I've had the chance to get to know some pretty amazing women. These are everyday moms like you and me, moms who are trying to keep their families first and serve the Lord in the small things. They also have developed ministries, small businesses, or blogs that share their heart for the Lord and provide other moms with resources that simplify life, encourage hearts, or serve as tools for raising kids today.
I am so grateful to know these women, and I really wanted to find a way to connect you with them too. Not just on a product level (though I DO love their products!), but on a mom level. A regular woman level.
The thing I love about each of these women is how real they are. How dedicated to serving the Lord they are. And how fiercely they fight to keep their families first. They are inspirational to me, and I know they will be to you too!!
So, about once a month or so, I'll "spotlight" one of these women, and share an interview with them that will hopefully inspire and encourage you, both in your role as a wife and mom, and maybe in that dream that you're keeping quiet in a corner of your heart!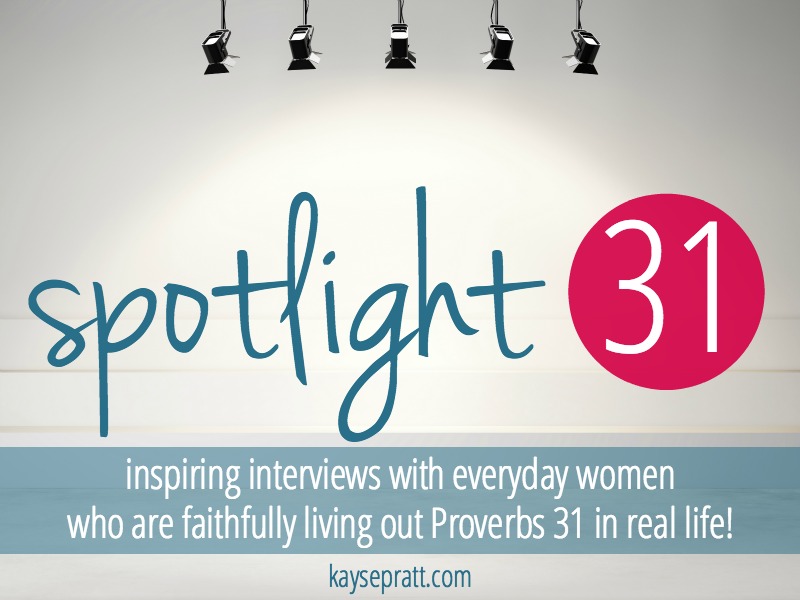 Today, we're starting with my friend Courtney DeFeo. I've shared Courtney's book and products before, because I love basically everything she does. But today, I want you to get to know HER.
She is an amazing momma, passionate about teaching gratitude and generosity to her kids, and making Jesus very real in her home. One of my favorite things about her is that she's not afraid to be totally real, and she will often share confessions and pictures on Facebook and Instagram that make you smile and say, "Thank goodness! Me too."
So, today I'm going to step back and let you hear from Courtney. I know her words and her heart will inspire and encourage you!!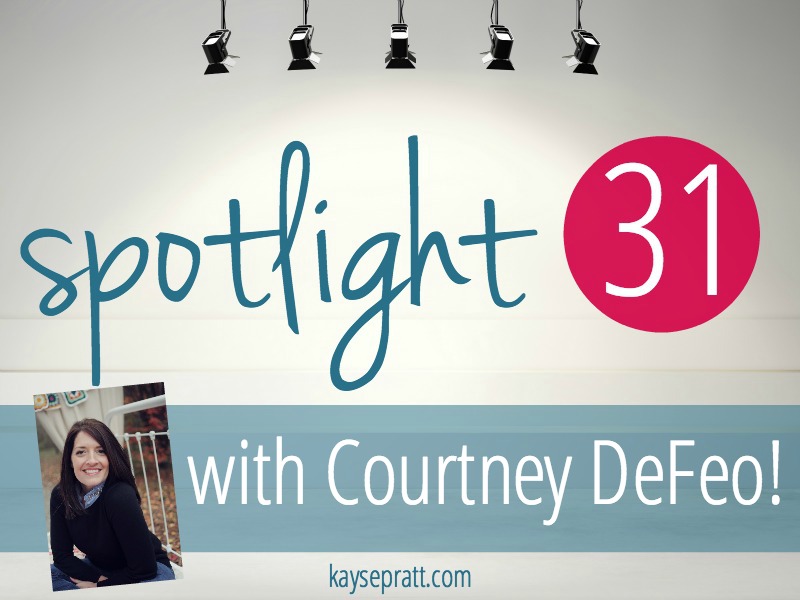 Hi Courtney! I know you, but my readers might not! Tell us about who you are, a little about your family, and what you do as a ministry.
My name is Courtney DeFeo and I am so proud to be the wife of Ron DeFeo. He's the best kept secret of our little home and the one in the best mood every day. I am by far the crankiest in the house. Our best creations are Larson and Ella – two girls that have wild imaginations like their mother and hilarious dance moves like their father.
We recently just moved from Orlando, FL to Dallas, TX and think it's just the loveliest place to raise a family. My ministry/business is Lil Light O' Mine and was created to empower moms and change little lives. I write, speak, create products and do anything it takes to make Jesus come alive to families. I believe our kids can light up the world. I've seen it. You should also know that I want to be a Rockette so bad and I'm almost 40, I embarrass my kids almost daily and I can teach you the "tush push."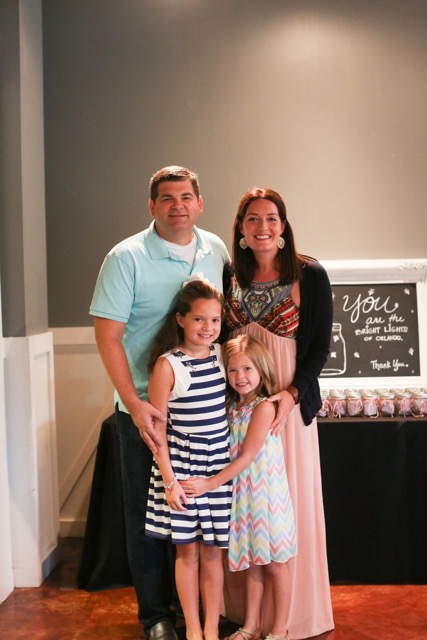 Think back to when you got started… What problem were you trying to solve?
My kids were smacking each other with Barbies and I didn't have the answers at the tip of my tongue. I was frustrated and wanted better tools in my home. I wanted something that could teach and decorate at the same time.
So, my first product, ABC Scripture Cards, was born out of direct need. I needed scripture in front of me every day – in a way that easy. And I found out I wasn't alone – thousands of moms like me needed it too!
My mission has always been to empower moms to change little lives through innovation in the home. My background in marketing from Chick-fil-A taught me that you can get to the heart of your customer in very creative ways. In thoughtful ways. In life-changing ways. If I could convince people to fall in love with chicken, surely this same wild brain could convince families to fall in love with Jesus. Throughout the years – as the product line has expanded, a book has launched and blog has evolved – my eye has never left the mission. Always your families. Always your kids and their relationship with Jesus.

What is is one thing that sets your products apart? How do you do things differently from other small business owners?
There are many decor items out there and even more toys out there – but there is not a category or line of gifts merging the two. I have always wanted to make parents lives and how we teach faith more efficient. And definitely more impactful. If we need to have great family dinners – why not shortcut it, let's put the meaningful questions right on our cups (and Conversation Cups were born). If we are going to talk about virtues – why not through a fun adventure instead of a boring lecture (so I wrote my book, In This House, We Will Giggle).
I love to put an innovative spin on timeless principles. All of my products are designed with the mom's style and child's heart in mind. Style actually does matter these days. If you don't like the look, it's going to be stuffed in your junk drawer or closet and you won't use it. So, it better look cute. Inspirational gifts can and should be relevant and up to date. The principles are timeless – the look doesn't have to be 1982. My goal isn't just to sell stuff – I'm interested in hearts changing.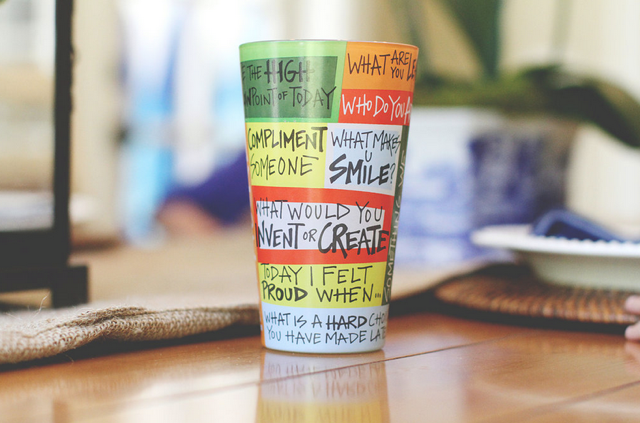 So many times, I hear women wondering how someone else "does it all". That's always an illusion though! No one does it all. So, let's break down your work week. How much time would you say you spend, on average, working each week? How do you make this happen? (Are your kids in school, do you bring on a nanny, does your husband help, etc.?)
Such a lie. No one does it all. I have two words for you. It's personal and seasonal. Each business woman I know has VERY personal decisions to make and manage. I have two kids and they are in school all day. I have four grandparents that fly in often to help. And, yes my husband is a major help. And, seasonally, I have changed it up with our family's needs in mind. If I feel they are beginning to lose – then I cheat the business. The family has to win.
My weeks are always different. Sometimes, I work 10 hours. And sometimes, 30 hours. During a book writing season, it's a lot of hours and sometimes weekend days away in a coffee shop and husband helping so much.
During this season, much of my business is working on auto-pilot by design. I have a company called Givingtons running my shop. I have a company called Magnolia Lane getting my products produced and into stores. If I was in it for the most profit – I would be handling all of that and getting as much of the money as possible. I am not. Ron and I made the decision long ago to put our family ahead of Lil Light O' Mine – so profits are low right now for me – but my girls are winning and getting more of me. My customers are still getting my products.
The struggle of balance is never going away. I don't always get it right – and my family is the first to let me know when we are off. I suggest you lean on your spouse and a trusted mentor to examine your goals and try to do less and focus more. I get WAY too excited with ideas too often. I get distracted with the good which, you know, is the enemy of great. Remember, there is time to grow your business. There is time for new ideas. We cannot go back and raise these kids.
For this very reason, I am taking this year off from blogging. It feels freeing to do the right thing for a season and not feel tied to what you "should" do to be successful in business. God can be trusted and will work it out. He's bigger than blogs.
Have you had to make any hard decisions in relation to pursuing your business/ministry? (Sacrificing something business-related for the sake of your family, following God's call for your life instead of what you wanted to do, etc.) Could you share that experience with us and how it's shaped you?
Oh yes, all of the time. I had to cancel a speaking engagement recently and felt awful. The people were so kind because I was truthful. Ron and I felt that month was too packed and our kids were going to suffer. Early in the business, I had to stop selling a product that I loved. I've "missed out" on some key conferences and moments because I knew my family needed me. Every time I have followed God's promptings to do that – it has paid off. Like many women, I waffle back in forth between trying to control my success and letting God control it. I wish I'd just let it go forever. He always does it better than me. And at the end of the day, it's all for Him anyway.

What's your favorite thing about what you do?
Encouraging moms through speaking. I LOVE it! What a privilege to stand in front of a room of my peers (other moms), whether its 20 of them or hundreds and tell them how much God truly loves them and made them for these kids. I love sharing SIMPLE, sweet stories that make them feel encouraged, not discouraged. I love watching their faces melt. I love watching them tear up – because they need the ideas and encouragement.
I am one of them. We need the affirmation. We need to be reminded that our kids are going to be ok. That our kids can be used for a purpose. That faith isn't that complicated for our little ones. They just need to be invited into the game and we can do that – in the midst of the chaos. As we go about the day – as we put them to bed – as we get mad – as we carpool – as we make breakfast. Deuteronomy 6:7 is my favorite way to parent. Oh, and I love to be silly and show them that you don't have to be so serious. Although eternity is serious business – we can be total goof balls along the journey.
Share with us one tip, trick, or tool that keeps you from going insane.
Music. By far. For everything. Cleaning the kitchen as a family – we've got it down to two songs. Car fights – we can distract them with a crazy song. Clean up time? Song. Mom in a horrific mood? Praise song. It changes our moods every time.
What advice would you give to someone who has a dream/talent/message they feel called to pursue, while also raising a family?
This is so hard for me – because I would honestly tell many young moms "DON'T DO IT!" I would never ever go against what God is calling someone to do. Ever. He will find a way to make it work. I just know how fast these years go by.
I also want to be sure folks know that our family dynamic is unique. This is not an income source for us and was never our pursuit. Many women do need to provide an income for their family and our looking for a way to do that while being at home. I totally get that. However, if a small business or blogging or products "looks fun" – I would strongly urge women to pray hard and consider waiting until the kids are older. I have found it be 10x more difficult than I ever imagined. From the marketing, to taxes, to customer emails to travel logistics – it just takes time to run a business. And suddenly you being to resent the very dream you begged God to give you. So, the best thing you can do is go slow. Seek wise counsel. Research all the costs and be sure you weigh the costs on your family before diving in. God will pave a way and work it out if He has called you. Do not let fear or the unknown hold you back.
So, on the flip side – I would also hug you tightly and say "go for it." Keep your main things front and center and be willing to change and get back up every time you fall. And be open to change – because most of what I am doing was never in my dreams, He has revealed piece by piece at a time. I would caution folks to remember the original calling. We are so skilled at adding to our plates in an effort to race ahead of the plan. And opportunities will come and comparison will come and suddenly, we are busy and overwhelmed with items on our plate – that we actually added, not God. I am guilty of that! So, remember what the original calling was and try not to skip too far ahead. He'll give you daily bread and guidance.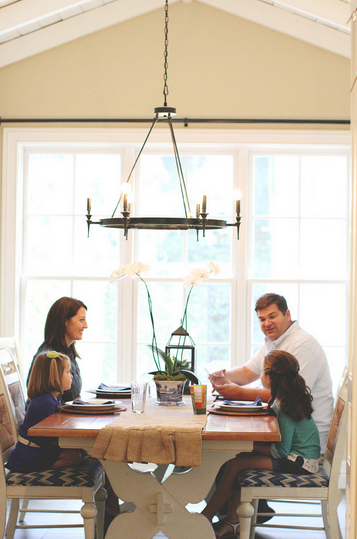 ---
WHAT DID I TELL YOU GUYS?? Courtney is such an encourager of moms. I am so grateful for her influence in my life, and I am so grateful that she took the time to share a little of herself here today!!
Courtney is also giving away a copy of her book and a set of her new Virtue Cards!! (I just ordered mine last week and they are sitting on my kitchen counter, beautiful and being used every day!) To enter the giveaway, use the rafflecopter widget below!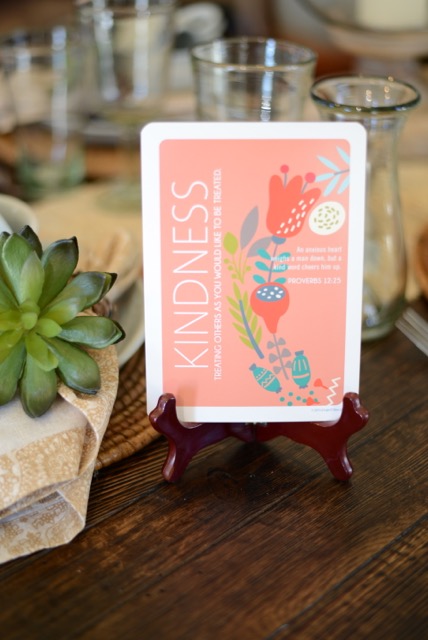 a Rafflecopter giveaway
---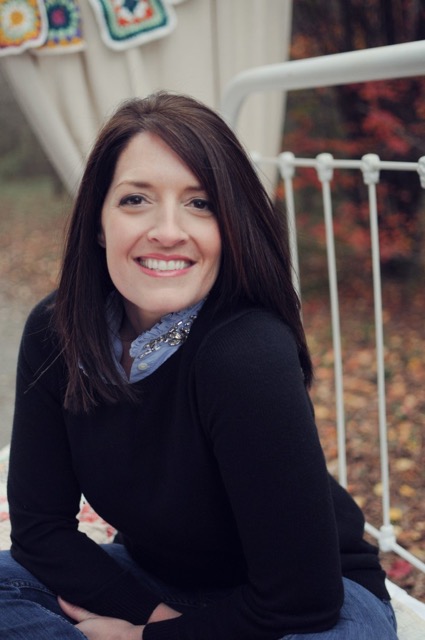 Courtney DeFeo believes our families can light up the world. As a former marketing professional, she lives in a constant brainstorm with herself and suspects it's the route of her migraines. She loves watching Jesus at work. She is the creator of Lil Light O' Mine – a small business that empowers moms and changes little lives through innovation in the home. Some of her most notable creations are Ella (age 9), Larson (age 6), ABC Scripture Cards, #LightEmUpActs and In This House, We Will Giggle. Her house is a wreck and she hates to cook. A graduate of Auburn University, she adores her hot, Georgia Bulldog husband. She posts entirely too many photos of her animated girls on Instagram. Connect with Courtney anytime at CourtneyDeFeo.com.
Pin it!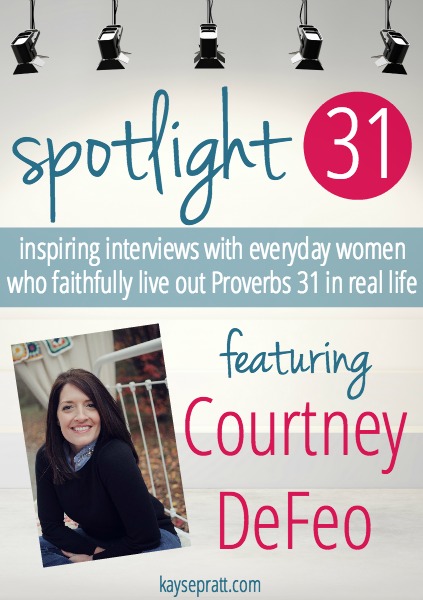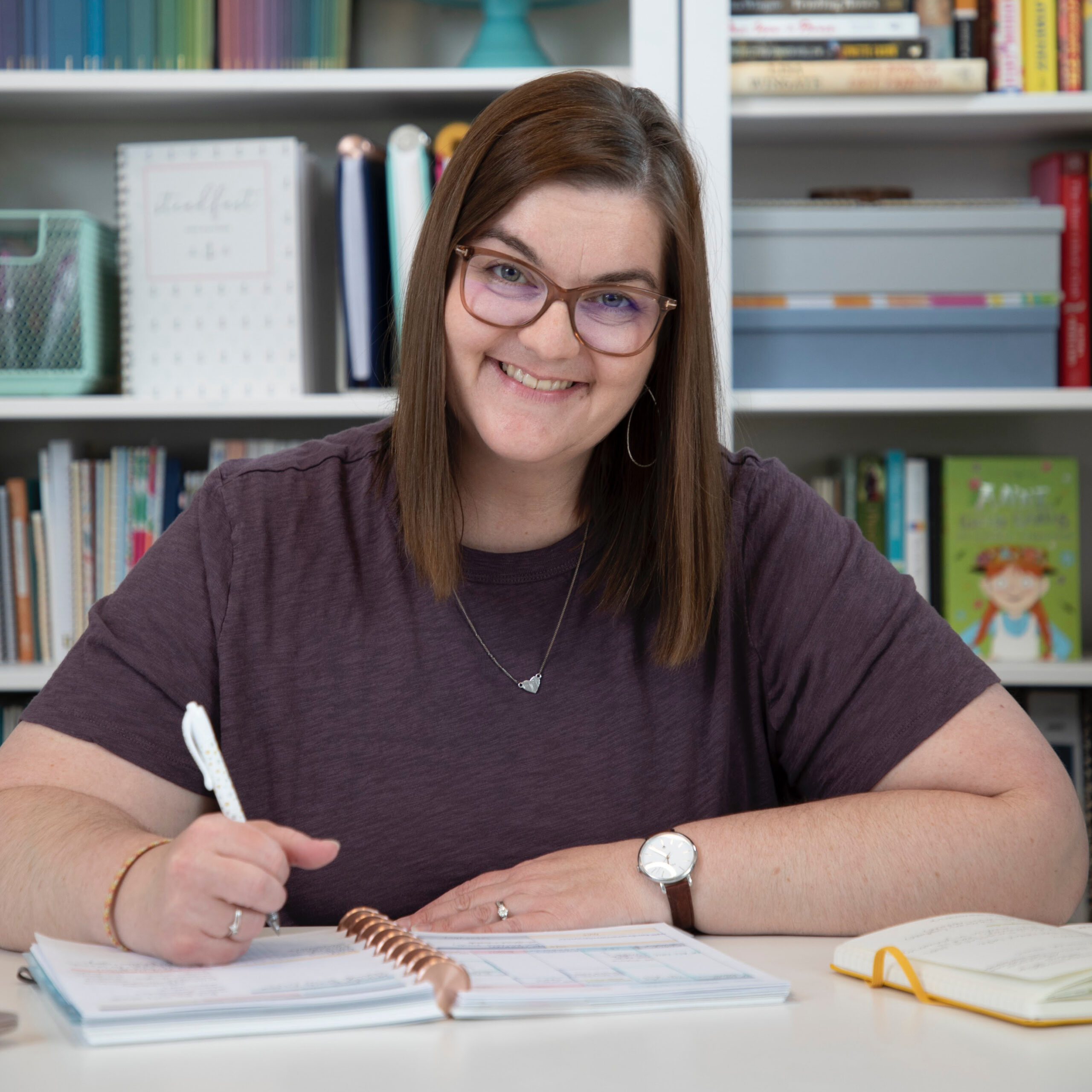 Kayse Pratt serves Christian women as a writer + designer, creating home + life management resources that help those women plan their days around what matters most. She's created the most unique planner on the market, helped over 400 women create custom home management plans, and works with hundreds of women each month inside her membership, teaching them how to plan their days around what matters most. When she's not designing printables or writing essays, you'll find Kayse homeschooling her kids, reading a cheesy novel with a giant cup of tea in hand, or watching an old show from the 90's with her husband, who is her very best friend.