Spring Cleaning Your Schedule
"You've only got 24 hours in the day, Kayse. Are you using them well?"
I called a mentor last week, because AGAIN, my plate was filled to the brim and overflowing. And not with food. No, I'd said yes to too many things and the ideals I had for this season just weren't lining up with reality.
Sometimes, I think my season changes without me realizing it. That's when I have to go back to the drawing board and start over. The schedule that was working well for us last month just isn't working this month.
And really, that's okay. That's LIFE. But when I sit down with my planner and a notebook and start to chart out all that I've committed to vs. the mission we have for our family, I'm grateful that I now have a process that will help me get back on the right path, and quickly.
I've been overwhelmed by life more times than I can count. (This may go down in history as the biggest understatement ever.) I've often felt like I knew what I wanted my life to look like, but I just couldn't figure out how to get there.
I lived like that for a long time, floundering at many things and always, always, always feeling behind.
And then, a couple of years ago, I made one simple change.
Instead of living overwhelmed, I sat down and actually looked at everything on my plate. I wrote it all out. I made lists, said yes to some things and a whole lot of no's to other things, and prayed desperately for direction. I got really intense about what mattered and what didn't, and cut the clutter so I could focus on the things that were truly important.
From there, I made a new plan. In just a few days, I'd cleared my previously overfilled plate to something I could now manage.
And it freed me up to actually enjoy my life in that season, instead of feeling like something didn't fit.
I've come back to this process time and time again when life gets overwhelming, and it's what I came back to this week. I needed a new game plan, a new routine for our days. Our season had changed, and my plans needed to change right along with it.
And while I sat and prayed and planned, I wondered if you might be in need of some changes too?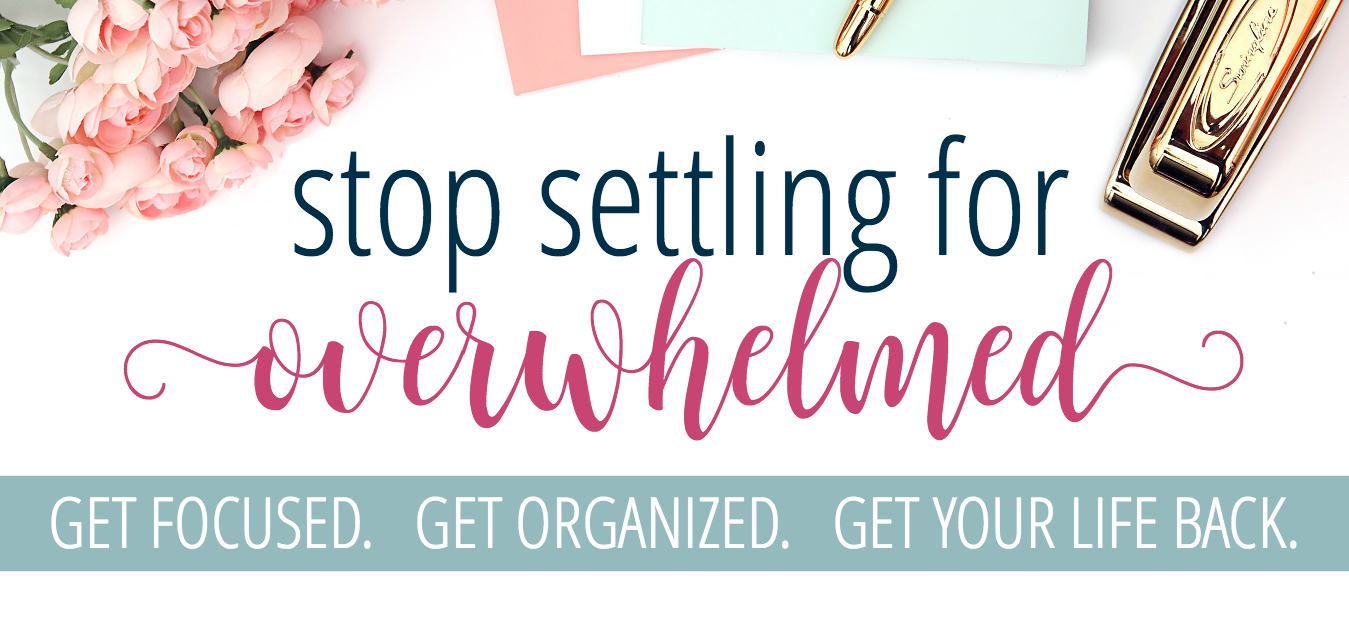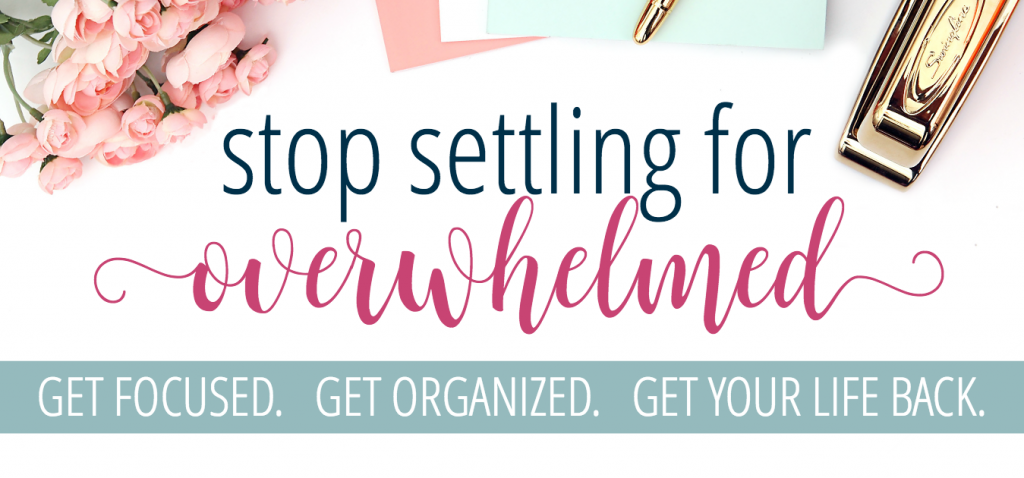 THIS is the exact process I use every time I need to get my schedule and my priorities on track again, and I know it will help you do the same!
What Would I Do In The Course?
Get honest about your season of life (and what you can and can't handle right now).

Set realistic priorities.

Find a focus for this season, through which you can filter future decisions.

Create a routine that actually works for your season, your priorities, and your family!

Set boundaries to protect your schedule and your family, and create margin where there hasn't been any.

Receive an exclusive course pack of printable worksheets to help you get your thoughts and plans on paper as you work through all of these steps!

AND get a ton of bonuses.
---
What Comes With The Course?
10 days of brand new content, delivered right to your inbox each day.

An exclusive course pack of printable worksheets to help you get your thoughts and plans on paper.

Access to a private community of others on the journey, to share ideas, ask questions, and be encouraged.

A beautiful printable for you to frame as a daily inspiration.

---
Who should take this course?
Women who feel overwhelmed by their season of life.

Anyone who is stuck in a rut and can't seem to find their way out.

Moms who want to live intentionally but also feel perpetually exhausted.

Women who are unsatisfied with their day-to-day living, and need some inspiration.

Anyone who is unsure of their purpose or passion in this season.

Moms who, in the midst of diapers and dishes and dinners, can't seem to remember who they are anymore.
The course is only offered at this huge discount once a quarter! So if you pass on it now, there won't be another opportunity until the summer!
---
What People Are Saying:

"I greatly appreciated Kayse's heart and wisdom throughout this course. I didn't realize how scattered my focus had become until stepping back to reevaluate my priorities and time. As a result of these helpful exercises, I was able to make some definitive decisions and changes in my life that are a relief. It is freeing to have permission to live my season." – Katie B.

"In this course, Kayse shares tried and true practices to making this crazy walk of motherhood a little less nuts! I loved that it was step-by-step and I could do it on my own schedule. Truly a blessing and I'm so thankful I did it." – Anonymous

"If your "to do" list is beginning to dwarf your "done" list and you're not sure where to even start – then this course is for you! Kayse does an amazing job covering every detail of the planning process. Everything is perfectly set-up to take you step-by-step from frazzled to fantastic! To top it all off, the course is covered in grace, encouraging you to live your best in the season of life you are currently living." – Liz M.

"I loved having to really focus and think my days and priorities through. It is so easy to just plug along without really knowing "why". This course makes you look closely and helps you make changes without feeling pressured." – Melissa R.

My prayer is that this course will be a stepping stone for you to prayerfully look at the things that are filling your time, to reevaluate how important they are, and to fully pursue the things God has actually called you to (and let go of everything else!).
If your schedule needs a spring cleaning, like mine did, I'd love to invite you to truly stop settling for living overwhelmed. You can do this!! And I'd love to help!!
---
PIN IT!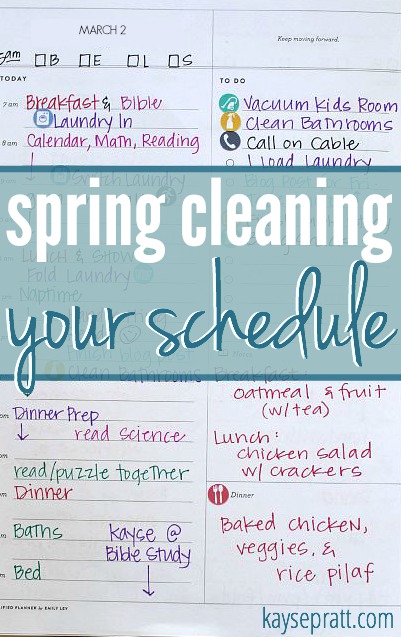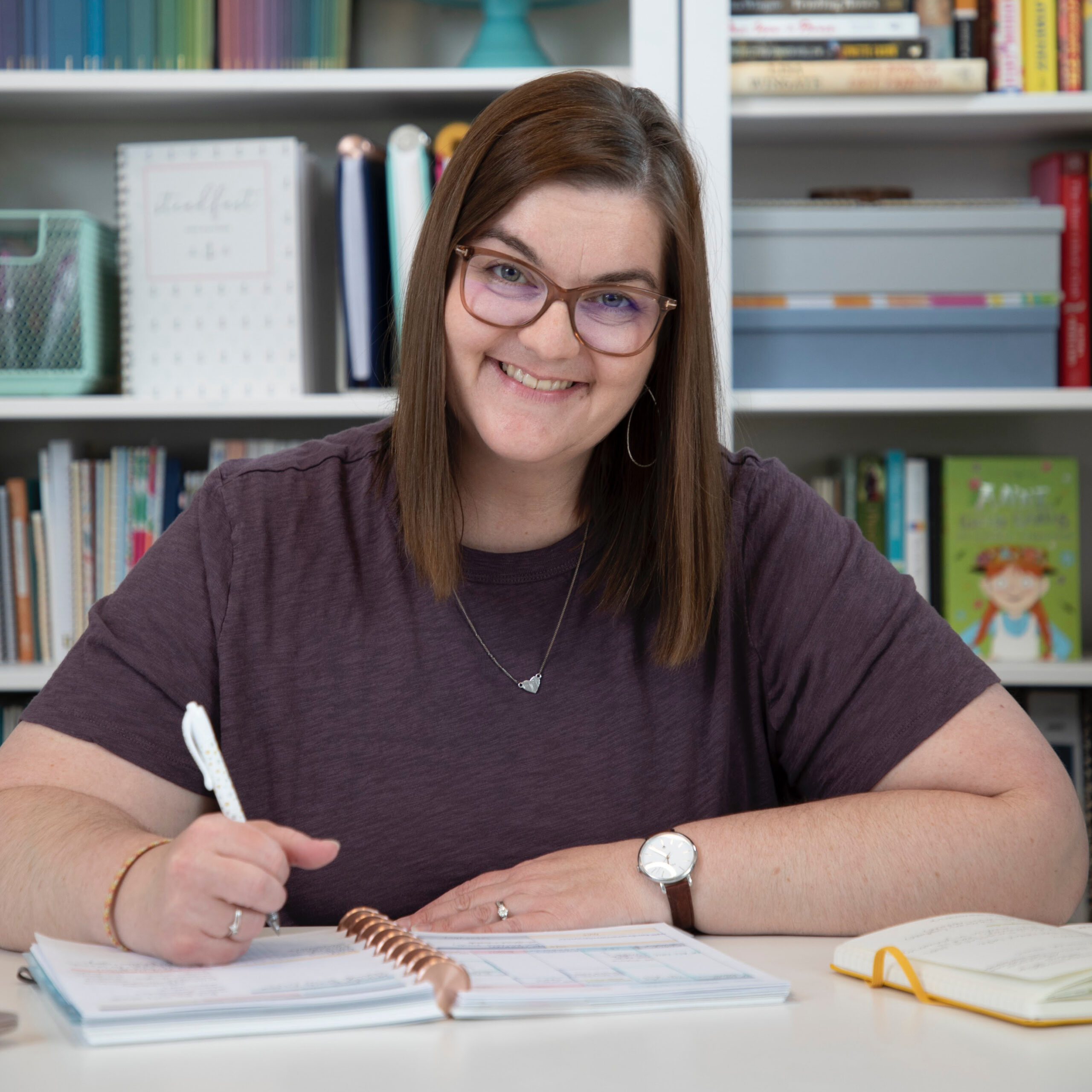 Kayse Pratt serves Christian women as a writer + designer, creating home + life management resources that help those women plan their days around what matters most. She's created the most unique planner on the market, helped over 400 women create custom home management plans, and works with hundreds of women each month inside her membership, teaching them how to plan their days around what matters most. When she's not designing printables or writing essays, you'll find Kayse homeschooling her kids, reading a cheesy novel with a giant cup of tea in hand, or watching an old show from the 90's with her husband, who is her very best friend.