That time I ugly cried in front of strangers. | Making Things Happen Conference Recap: Part 1
*I don't usually start my posts with a disclaimer, but I feel like maybe I need to, today. This post is really personal, and it talks a lot about money & financial stress. I just want you to know that up front in case you'd rather skip this kind of post. I totally understand that! I've been hesitant to write this, but I'm taking the leap today because I think there's a chance some of you are in the same boat – working your tail off and wondering if you're working for the right things or not. I truly hope my honesty in this post, and sharing the humbling lessons I've learned in the last few weeks encourages you, friend. You're not alone.
---
Two weeks ago, I woke up at 3am, hopped on a plane, and flew across the country to attend the Making Things Happen Conference. I was excited and nervous and all the things you are when you leave your family for a few days.
I was also on edge in every way. I'd spent the last month being super stressed out, working way too many hours, putting my family on the back burner, and living completely exhausted. And that's the ugly truth.
At the beginning of the year, we'd been hit with an unexpected bill that completely undid all the work we'd done for the past two years, trying to get out of debt. For the record, we don't live outside of our means, and we haven't in a very long time. We don't use credit cards, we log every purchase, and we live by a budget. But student loans and past mistakes are things we are still paying for.
I do not like being in debt. It stresses me out on a daily basis. We work very hard to pay our bills and put any extra toward debt, and we'd been making some great progress… until this bill came up. And, quite honestly, it sent my stress level through the roof.
I freaked out. Jon's income is pretty steady – mine's the one that fluctuates – so I started working more and more and more and trying to figure out any possible way I could bring in a little more money. I wasn't sleeping well, if at all. My eye started twitching. My pinky finger, too. I was snapping at my family, and I was angry. A lot. I was tired of feeling like no matter how hard we worked, we just couldn't get ahead.
I'm telling you this so that you understand a little bit of the mindset I had walking into the conference. I was almost completely preoccupied with the idea of making money – not to buy a new car, or indulge in new clothes, but literally just to pay off our debt. The debt felt suffocating, and I could not breathe.
That's how I walked into that conference.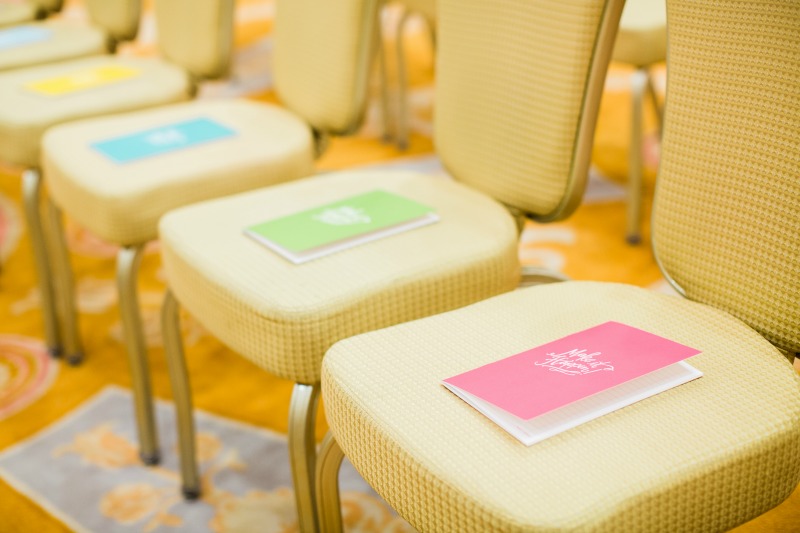 It's worth noting that I knew very little going into Making Things Happen. I'd googled it beforehand, hoping to get the scoop from people who had been in previous years, only to find…nothing.
Vague blog posts, short descriptions, few photos. Basically nothing for this detail-oriented girl. Even in the weeks leading up to the conference, when I received the conference schedule in my email, my "WOOHOO!" quickly turned into a "WHAT?!?!"
Because the schedule for the conference literally just said "10am-6pm: Conference"
I mean, that's IT. That's ALL it said.
Oh, just kidding. It did say one more thing. It said that during those conference hours, they'd be taking our phones away. 
Seriously.
Against every type-A bone in my body, I went to this conference anyway, knowing basically nothing except that I'd be across the country from my family, and wouldn't be able to answer Jon when he called to ask where Nathan had hidden his shoes. (Which I was both dreading and kinda relieved about.)
But I thoroughly trusted the amazing women who put it on. I've gotten to know Lara & Emily a little bit over the last year, and I'm constantly impressed by them, by how they love the Lord, serve their families, and balance their businesses. And if nothing else, I knew I wanted this chance to learn from them.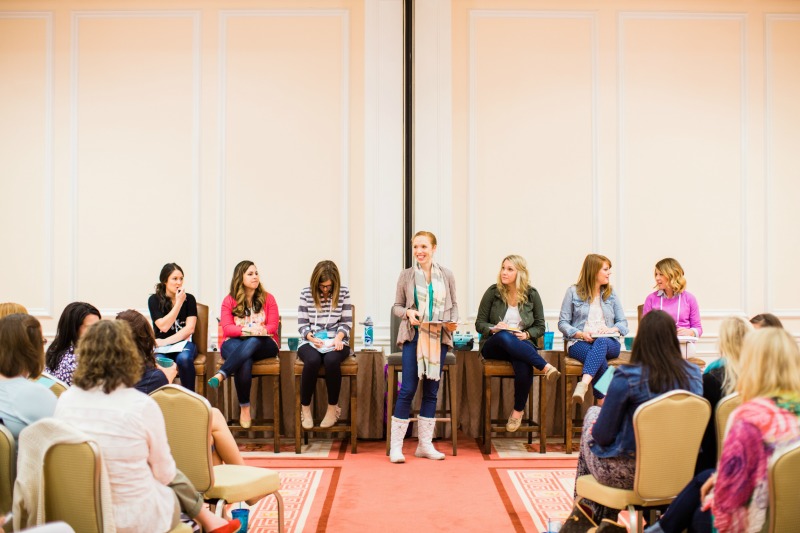 My desperate hope was to walk out of those two days with a solid plan for balancing business and family.
So, when I realized that the first day was personally focused instead of business focused, I was a little frustrated. I just wanted to get to the next day, when I could learn from the experts and figure out a better business plan. I knew that what I'd been doing wasn't working for my family, or my health, or even my business! I knew something needed to change, but I didn't know what, or how.
The first question Lara asked each of us was just this: "How are you?" She gave us a few minutes to write – to fill a page with honesty about how we were doing right then. So I started writing.
And then, I started crying. And I basically just cried all day long.
Because, you guys, I was in a bad place. I was. Here's what I wrote in my notebook that morning.
I'm stuck. Overwhelmed. Tired. SO TIRED. I know I'm worried about finances too much but I don't know how not to be. 

I'm so distracted as a mom, fairly empty spiritually, and struggling to love Jon well. I really want to have meaningful, deep, quality relationships, but I honestly feel like I just don't have the time for that. Or the energy. I always feel like I should be working.

There's constantly something in the back of my mind that I "should" be doing. The tension is ALWAYS here."
And I broke a little. twenty minutes into the conference. (There's a reason they put tissue boxes at the end of every row, you guys.) Because I saw my struggle written out on paper and I realized that, debt or not, this was not the person I wanted to be. And I knew that this – this stress and this obsessive need for control – was not what God had called me to.
Over the few days, I realized that so much of my stress was based in fear. I was afraid to rest because I felt like our future hinged on my productivity. I was afraid to trust God with our finances because I worshiped safety and comfort and control.
It was sobering.
I had to repent. Seriously, on my knees repent. Because God's been putting Matthew 6 in front of me over and over again for the last six months, and I just brushed it off and justified my new workaholic personality because we were "paying off debt", and that was a noble and righteous thing. Or something like that.
No one can serve two masters, for either he will hate the one and love the other, or he will be devoted to the one and despise the other. You cannot serve God and money."     

– Matthew 6:24
I was serving the wrong master. I was working very, very hard for the wrong things. And I saw it for what it was, in those two days. I saw who I'd become over the last month – empty, stressed, disconnected, and exhausted.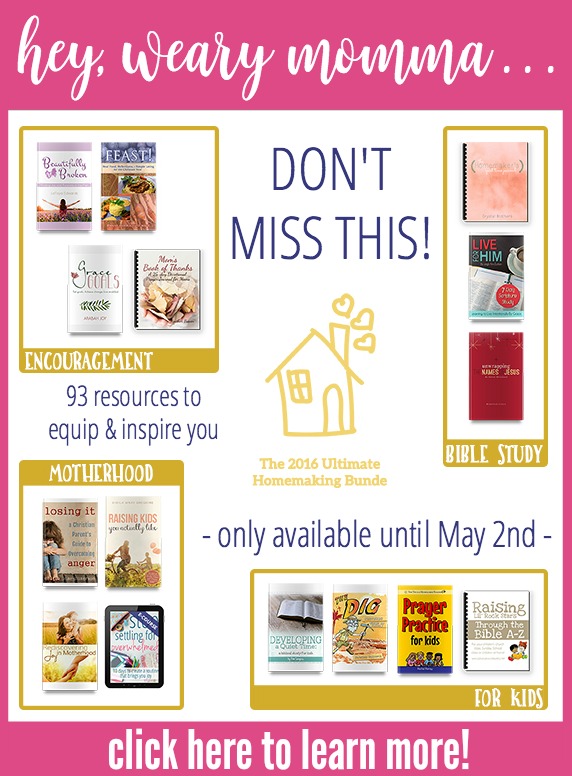 I'm grateful that the Lord intervened. Had I continued to go down that road, I would have worked my way into losing a lot of the things that mattered to me. Instead, God forgave me, and gave me a new perspective. And rest. Such rest.
Earlier in Matthew 6, Jesus instructs us to pray and ask God to give us just what we need for that day. "Give us today our daily bread…" Bread – sustenance – enough just for that day! Later on in the chapter, He warns us against worrying about tomorrow.
Maybe you've read this before, but please don't skip over this part. Read it again. It's God's Word, and it's living and active – relevant to you today.
Therefore I tell you, do not be anxious about your life, what you will eat or what you will drink, nor about your body, what you will put on. Is not life more than food, and the body more than clothing? Look at the birds of the air: they neither sow nor reap nor gather into barns, and yet your heavenly Father feeds them. Are you not of more value than they? 

And which of you by being anxious can add a single hour to his span of life? And why are you anxious about clothing? Consider the lilies of the field, how they grow: they neither toil nor spin, yet I tell you, even Solomon in all his glory was not arrayed like one of these. But if God so clothes the grass of the field, which today is alive and tomorrow is thrown into the oven, will he not much more clothe you, O you of little faith? Therefore do not be anxious, saying, 'What shall we eat?' or 'What shall we drink?' or 'What shall we wear?' For the Gentiles seek after all these things, and your heavenly Father knows that you need them all. But seek first the kingdom of God and his righteousness, and all these things will be added to you.

Therefore do not be anxious about tomorrow, for tomorrow will be anxious for itself. Sufficient for the day is its own trouble."


– Matthew 6:25-34
I don't think it's a coincidence that these verses fall directly after Jesus's warning against serving money. I think it's very, very intentional. Because our anxieties about tomorrow and how we'll be provided for are often directly related to how we approach money.
When we are stressed about these things, when we focus our time & our thoughts on provision and safety and comfort, we are effectively saying that we don't trust God to provide. We don't trust Him to know what we need, or give us what we need.
Or we're scared that what He thinks we need and what we think we need don't match up.
We want what we want, when we want it.
But look back at the words of Jesus. GOD WILL PROVIDE. He knows exactly what we need, and He is a generous and good Father. We are told not to worry about tomorrow, because He's got it. And also? Worrying about it does absolutely no good! No matter how much we stress, worry, or grasp at controlling our own lives, it's pointless. There are things we can never really have control over, when it comes right down to it. The Lord is in control, and He is faithful.
Now, I'm not saying we should all go blow our money because God will still provide what we need, and nothing will ever go wrong for us. I think we can all agree that's a little ridiculous.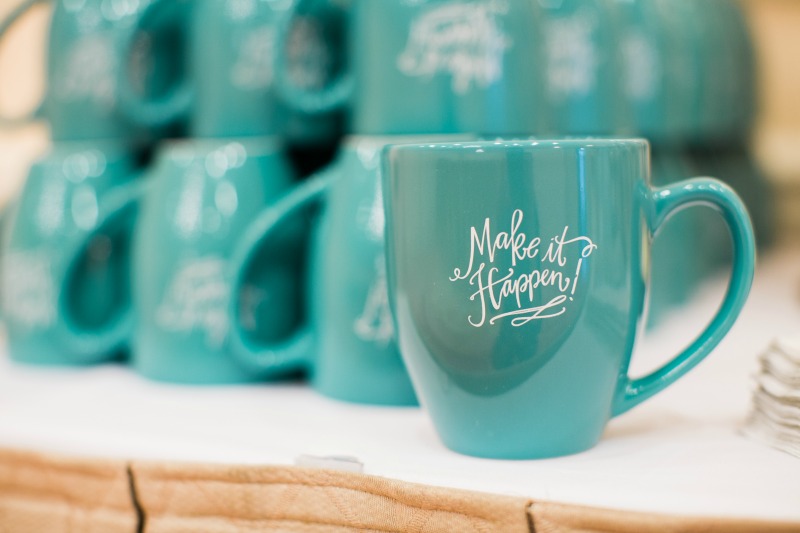 What I'm saying is that we need to understand our place.
We're not God, and we can't ever be. Instead of working our tails off to make sure life happens exactly the way we want it to, we're to live within our means, and I don't just mean financially. I mean that we need to understand that we're just one person, that we have limits, and that we can't do everything. We need to pray and ask the Lord what our priorities should be, what we should be focused on, and then pursue those things in obedience and rest.
We do what we can do today, making sure the Gospel and Christ crucified is at the center of it all. And then, we trust our Heavenly Father with tomorrow.
This is what I'm learning, ever so slowly, but deeply. This is the truth God's been weaving in my heart for months, and it's finally making it's home there. He is trustworthy. I'm safe with Him. My job is not to make everything happen right this second – it's to be faithful & obedient today with what I've been given, and trust Him with the rest.
So I don't know if this resonates with you or not, but I just wanted to encourage you with this today. Whatever you're stressing out about – money, health, jobs, family – whatever it is, I want you to know with all your heart that God loves you like a perfect Father, and He is faithful to provide what you need for today.
All the stress and the worry in the world won't change a single thing. But trusting Him to be who He says He is? That will change YOU.
He promises to never leave us or forsake us, He promises that He clothes the flowers of the field and loves you so much more than those, and He promises that even though we'll have trouble here on earth, He's already overcome it. Financial trouble, cancer, car accidents, persecution, death – we'll encounter all of that here on earth. But eternity waits, and salvation is ours, thanks to Jesus. When we remember that, and truly place our trust in Him, the worries of today just don't seem so big.
Our debt will get paid off. Maybe not according to my timeline, but it will. We're faithfully making baby steps each day, and even though we've had a setback, we're still plugging along. It's just that this time, instead of living stressed and frazzled and angry, pushing everyone to the back burner in order to focus on making money and paying off debt, I'm trying to live obedient. Doing what I can with what I have each day, trusting in the Lord to provide, and working on restoring the deep, meaningful relationships that God's given me.
He's got this. More than that, He's got me. He's got you, too. He saved us, not because of anything we've done, but always and only because of His mercy. 
He will provide. He already has.
---
And that's the huge lesson I learned at the Making Things Happen Conference. I ugly cried in front of a bunch of women I'd never met, and I started taking deep breaths again. I was reminded of the TRUTH, and rest came soon after it.
It has very little to do with business plans and balancing work and family, but there are more important things than work. And I remembered that (again), and started making some changes, right there.
(I'll share more on those changes tomorrow, and how I'm re-evaluating my goals for the year. I think it's safe to say that this post is already long enough!)
When you're stressed about something big, what's your first response? Do you take it to the Lord, or try to figure out your own plan?
*All photos taken by the amazing Robin VanDyke!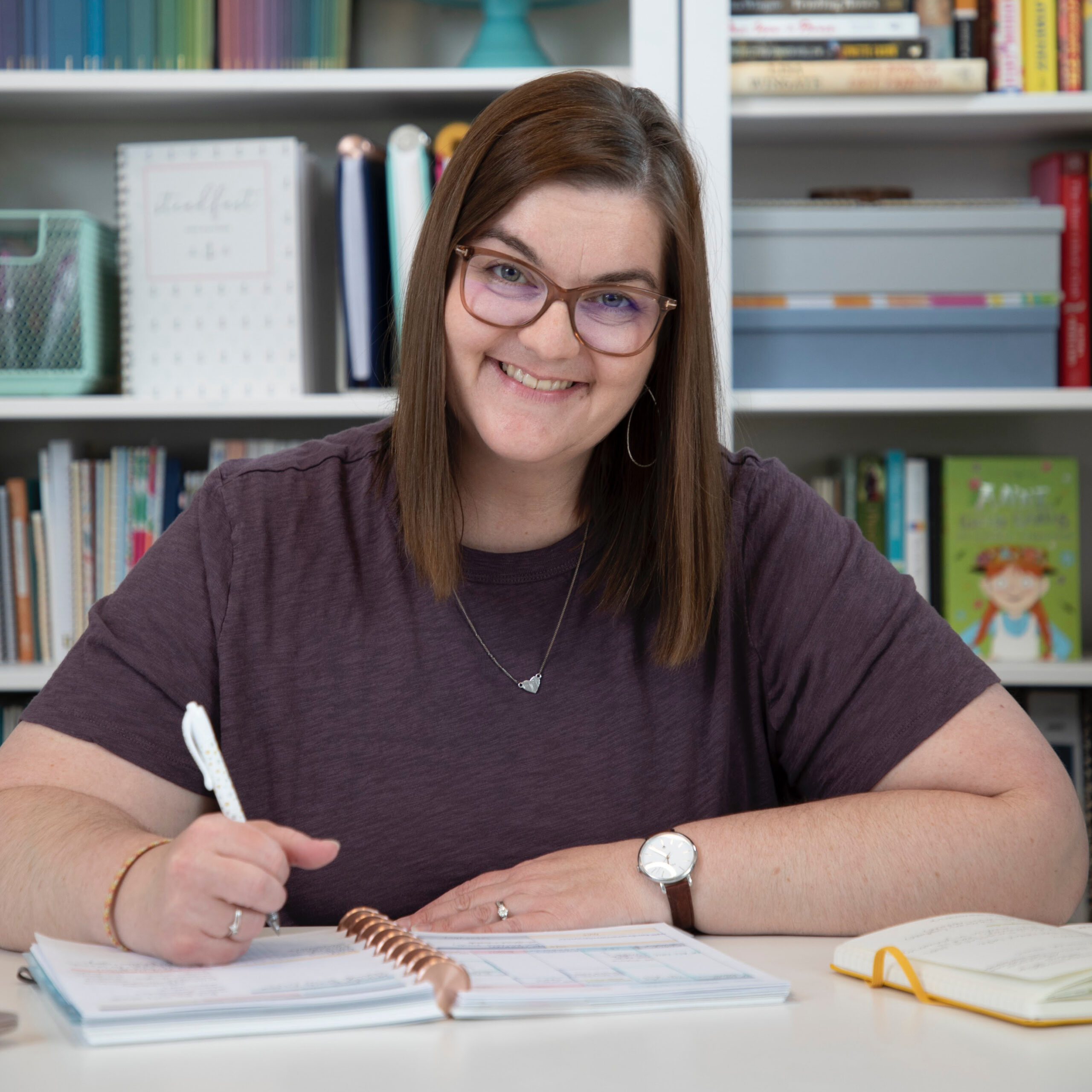 Kayse Pratt serves Christian women as a writer + designer, creating home + life management resources that help those women plan their days around what matters most. She's created the most unique planner on the market, helped over 400 women create custom home management plans, and works with hundreds of women each month inside her membership, teaching them how to plan their days around what matters most. When she's not designing printables or writing essays, you'll find Kayse homeschooling her kids, reading a cheesy novel with a giant cup of tea in hand, or watching an old show from the 90's with her husband, who is her very best friend.