The 2023 Anchored Women Book Club!
WOOHOO, it's time to reveal our 2023 Book Club picks!!
The AW Book Club started as a way for me to get back to reading – which was one of my very favorite pastimes before motherhood consumed every minute of the day. As my kids got older, I realized I had some time to start reading again, but I didn't know where to begin.
So, we decided to read together!
Now, the AW Book Club is a thriving group of women who love to read, and we'd love to have you join us! We chat about our books each month inside our community group, and in our monthly LIVE chats, too!
Ready to see what's on our list for the new year?⁠
THE ANCHORED WOMEN BOOK CLUB PICKS for 2023!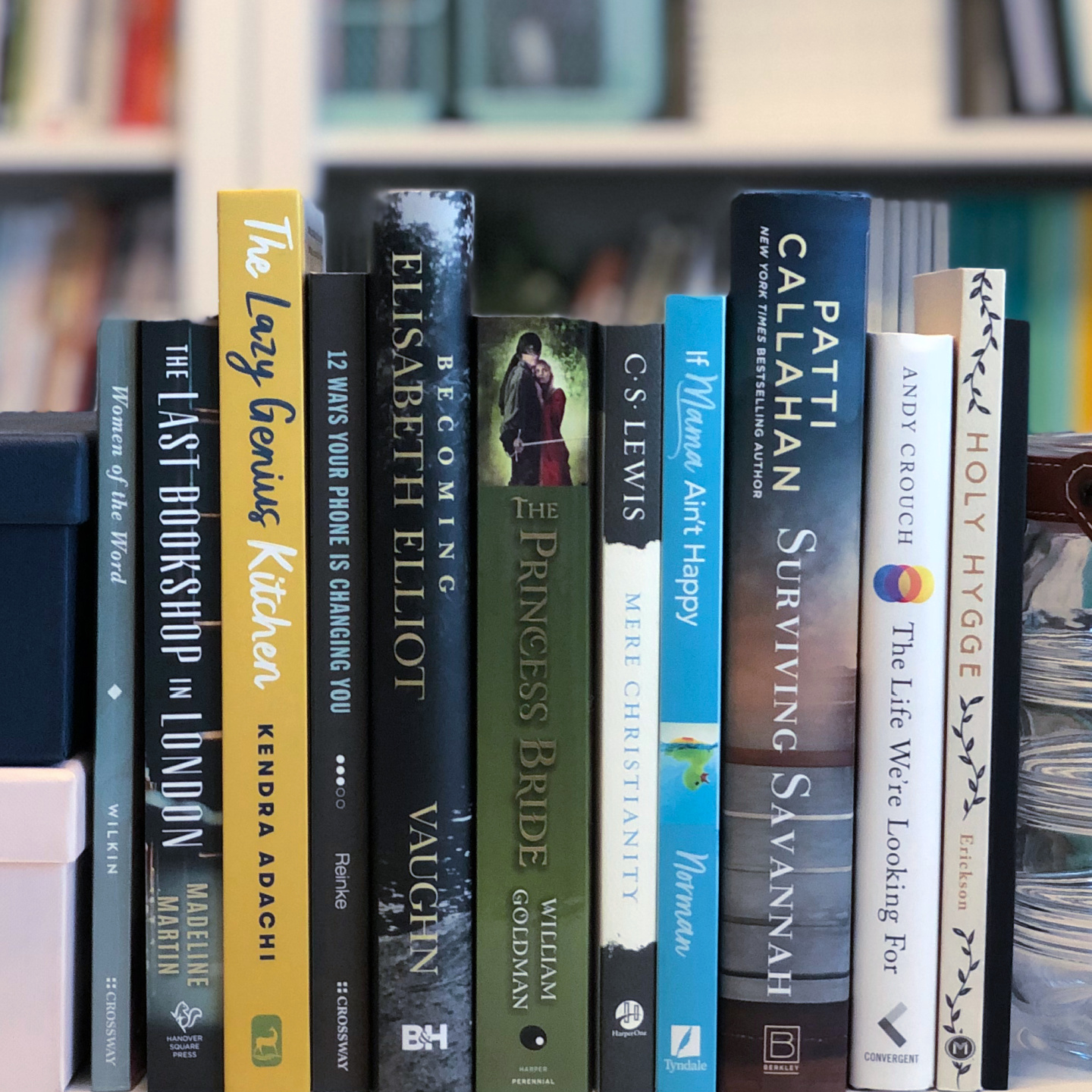 I'm thrilled about these books, because they are an incredible combination of faith, fiction, home, personal growth, and even a biography!
I cannot wait to dive into these with you! Sign up below to join us!
What will we be reading?
I'm so glad you asked!! Here are the books we've chosen for 2023. They are GOOD STUFF!! I haven't read all of them yet, but I can honestly say I'm excited to read every single one. I hope you are, too!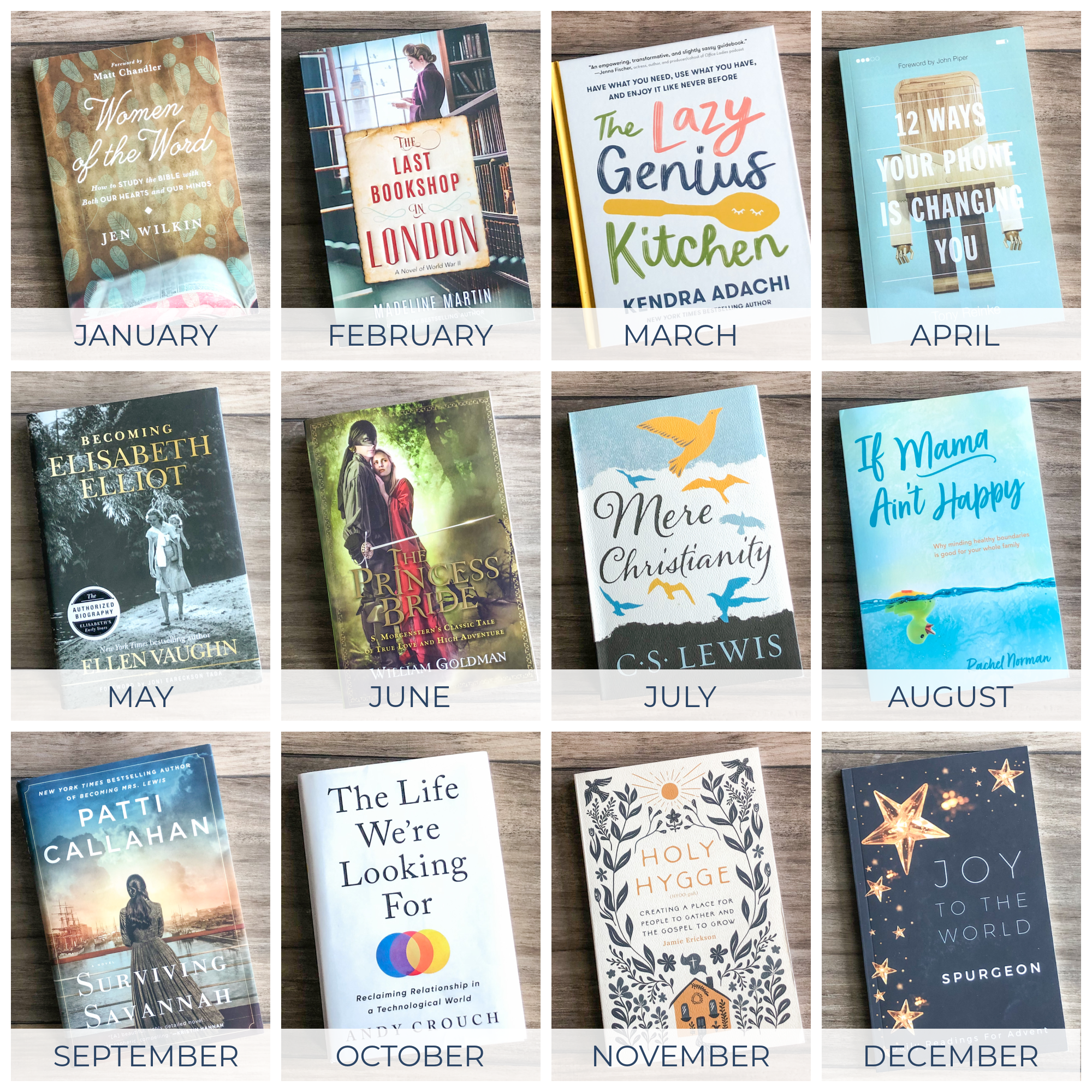 January: Women of the Word, Jen Wilkin
February: The Last Bookshop in London, Madeline Martin
March: The Lazy Genius Kitchen, Kendra Adachi
April: 12 Ways Your Phone is Changing You, Tony Reinke
May: Becoming Elisabeth Elliot, by Ellen Vaughn
June: The Princess Bride, by William Goldman
July: Mere Christianity, by C.S. Lewis
August: If Mama Ain't Happy, Rachel Norman
September: Surviving Savannah, Patti Callahan
October: The Life We're Looking For, Andy Crouch
November: Holy Hygge, Jamie Erickson
December: Joy to the World, Charles Spurgeon
How it works!
We're going to keep this SIMPLE. I've chosen one book for each month, which we will all read and then share our thoughts through the monthly social media post!
Sign up for the AW Book Club here. You'll get the reading guide, schedule, + checklists sent straight to your inbox so you're all ready to go!
Check out the book list & buy the books you want to read ahead of time! (As always, I'm so grateful when you use the affiliate links above!)
Join The Anchored Women Community so we can chat throughout the month about what we're reading! We'll post a photo with discussion questions at the beginning of the month, and you can chime in all month long!
As you read the books each month, share photos of yourself reading, or quotes that you're loving, and use the hashtag #anchoredwomenread so we can find each other!
You can join in for the whole year, or just one or two books that look good to you. It's totally up to you! Make sure you still sign up for the monthly emails so you don't miss what we're reading each month!
I can't wait to read these books with you this year! Make sure you sign up for the book club, and then join us over in our Community Group (this is NOT on Facebook, and every Anchored Woman is welcome!)!
Kayse is a wife, mom, and founder of the Anchored Women community. She writes to help women fight busy, find rest, and build a life that's anchored in Christ. Kayse is also the creator of the S.O.S. Planner, the Anchored Life Kit, and other practical resources that equip women to manage their homes and families in confidence. You can find her writing and her resources at anchored-women.com!