The REAL problem with planning.
One of the first exciting things I did as a blogger was…review planners.
Yep.
Most people probably wouldn't find that too exciting, but you're my people, so you get it, right?
I'd order a bunch of different planners (with my own money, hello "write-offs"!) and spend many, MANY hours filling them out, taking highly unprofessional photos, and reviewing each one.
Every time I looked through a new planner, I'd think, "THIS IT IS!! I found the perfect planner for me!!"
My life fit perfectly into all the boxes, I had space for what I needed, and it genuinely felt like a pretty perfect planner.
Until it didn't.
Without fail, something in my life would change – my schedule, my commitments, my priorities – and then the planner just simply wouldn't work anymore.
So, I'd head to Target and pick up a new planner, confident that THIS TIME, I'd find one that worked.
Rinse and repeat, every. single. year.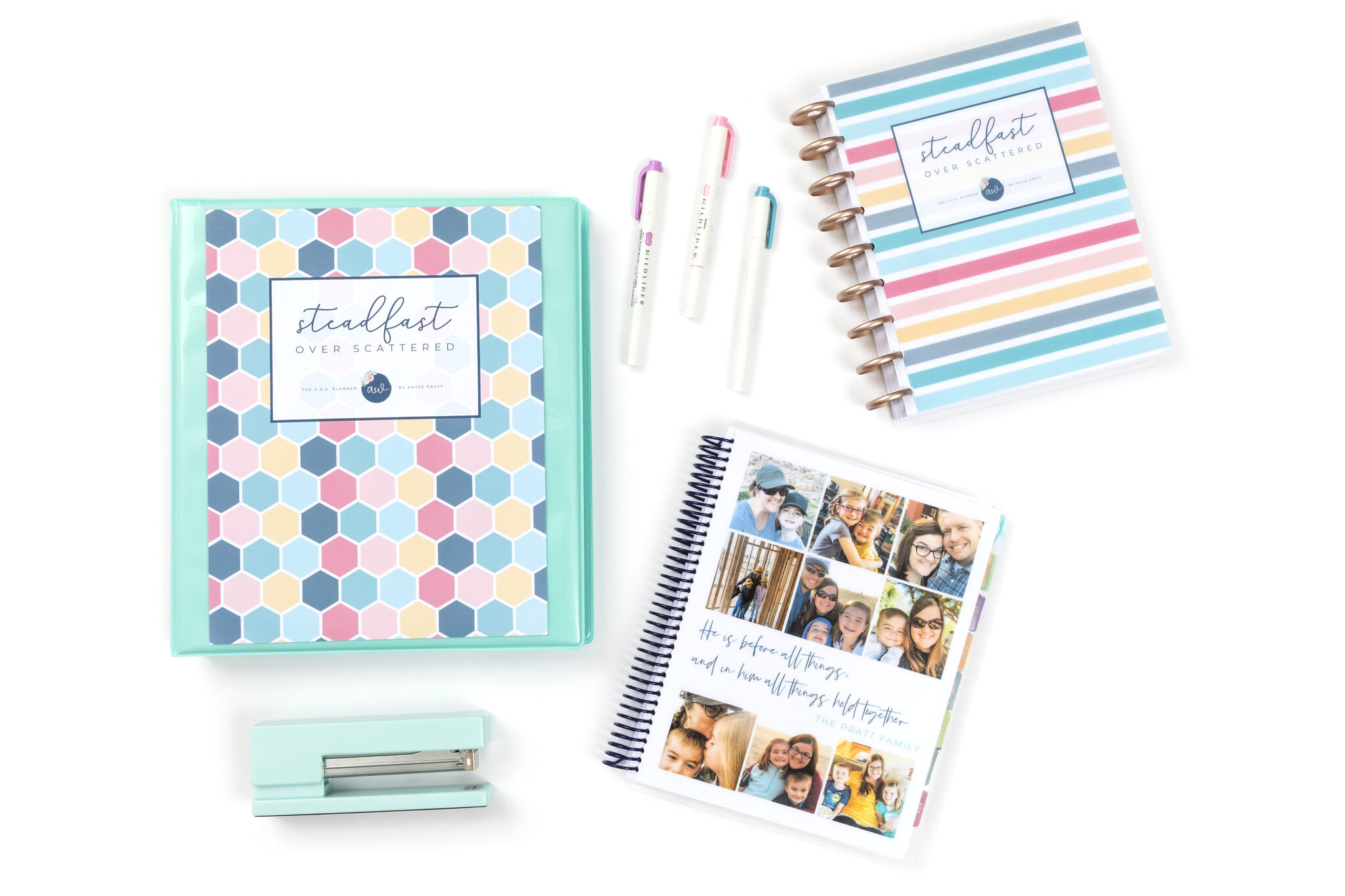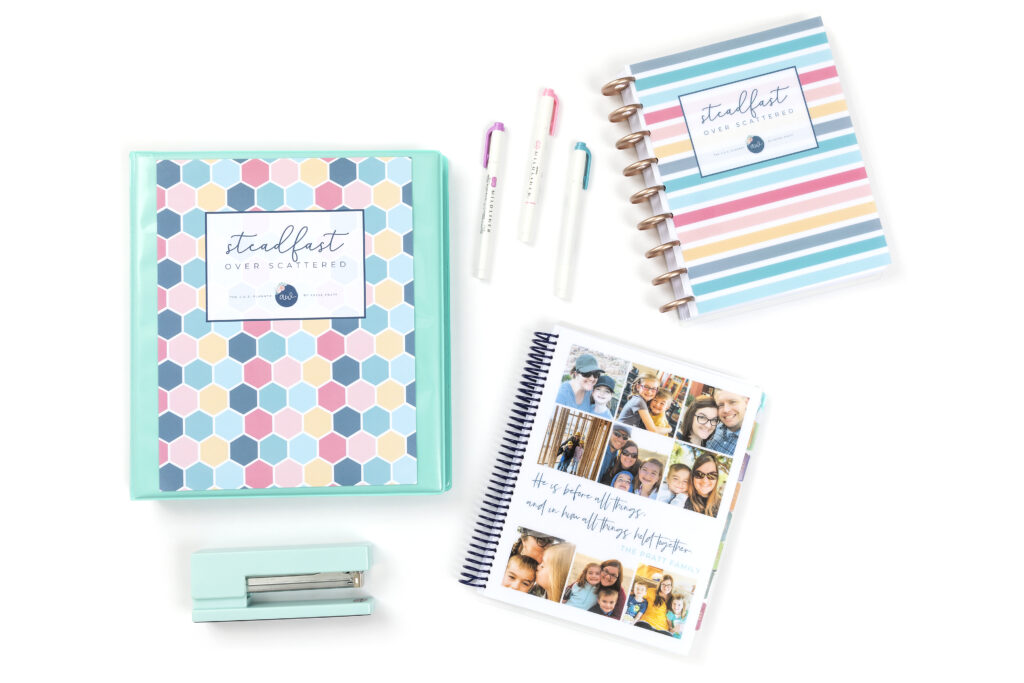 Did planning just NOT work for me?!
After spending no less than a billion dollars on a billion different planners (those are exact numbers, I'm sure), I felt fairly defeated.
Nothing worked long term.
Was it the planners? Was it me? Was I just bad at planning?
Being the stubborn girl I am, I dug into these questions, because I really LOVED planning. Spending time thinking about what I needed, what my family needed, and how to best go about meeting those needs in an orderly fashion?
Well… it kinda gave me life. 
I KNEW that when I planned out my days, I got a lot more done than the days I just flew by the seat of my pants.
So I had to figure this out – what was the real problem??
Here's what I learned:
Most planners are designed for one type of person, in one season of life.​ A planner that contains a single layout is designed for a person whose life fits into the boxes of that layout. It will work for that person as long as her life keeps fitting into those boxes, and doesn't change.
But…life changes.​ Therein lies the problem. LIFE CHANGES! What fit into perfect boxes 3 months ago no longer fits into those boxes today. And that's not my fault or the planner's fault – it's just the way life is.
Reality Check: I could not afford to keep buying new planners when life changed.​ Listen, most of us are on a pretty fixed budget, and we cannot go around buying those billions of planners. It's just not feasible long term. WE NEED TO EAT, PEOPLE. All our money can't be spent on planners.
So, what's a planner-girl to do?
At the time, my only solution was a unicorn idea – a flexible planner that would somehow change WITH my life.
A tool that could shift as my seasons did, without the need to completely start over.
Practically, that meant I needed a planner with a variety of layouts that I could mix in when my planning style needed to change.
And that planner? Well, it didn't exist quite yet.
Believe me – I'd bought them all…
So, I made one myself.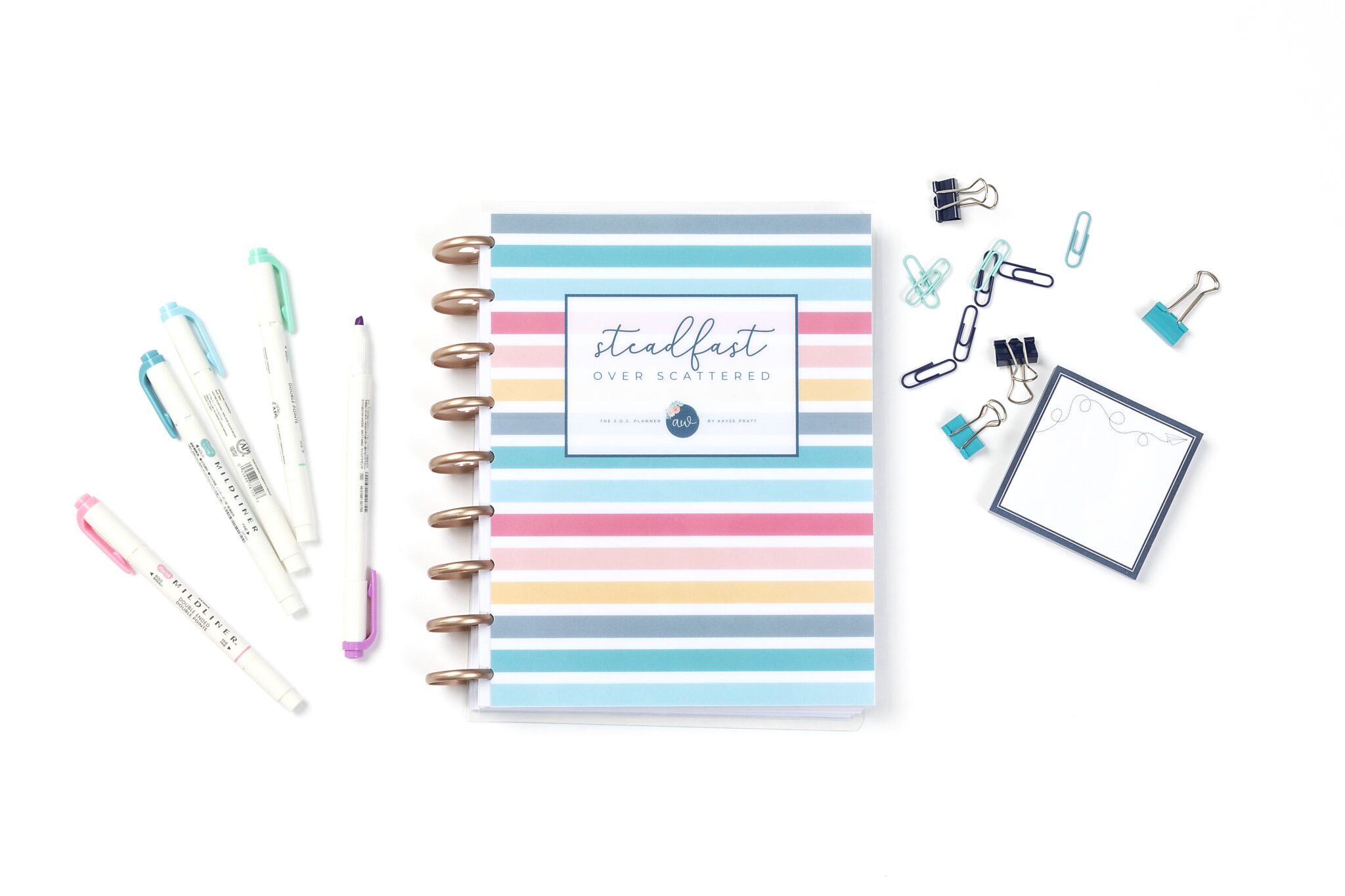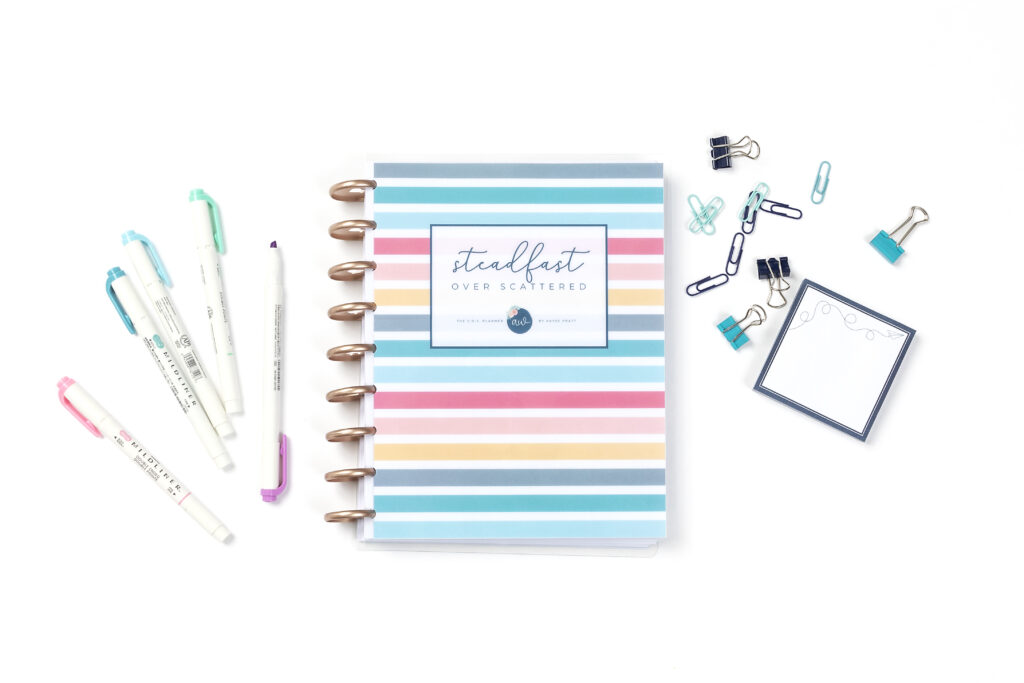 Of all the things I've made in my life, besides my two precious children, The S.O.S. Planner is pretty high up on the list of things I'm proud of. It's been an incredible tool in my own life, and the only planner I've stuck with for years on end – through every type of season.
It's also done w o n d e r s to curb my planner budget. 🤣
The S.O.S. Planner is designed to be completely customizable – giving you everything you need to create the planner that is right for YOU, in YOUR season of life.
That's right – it's got multiple layouts that you can change as your heart desires, AND it's printable, so you can bind it however you'd like! (More on that coming soon!)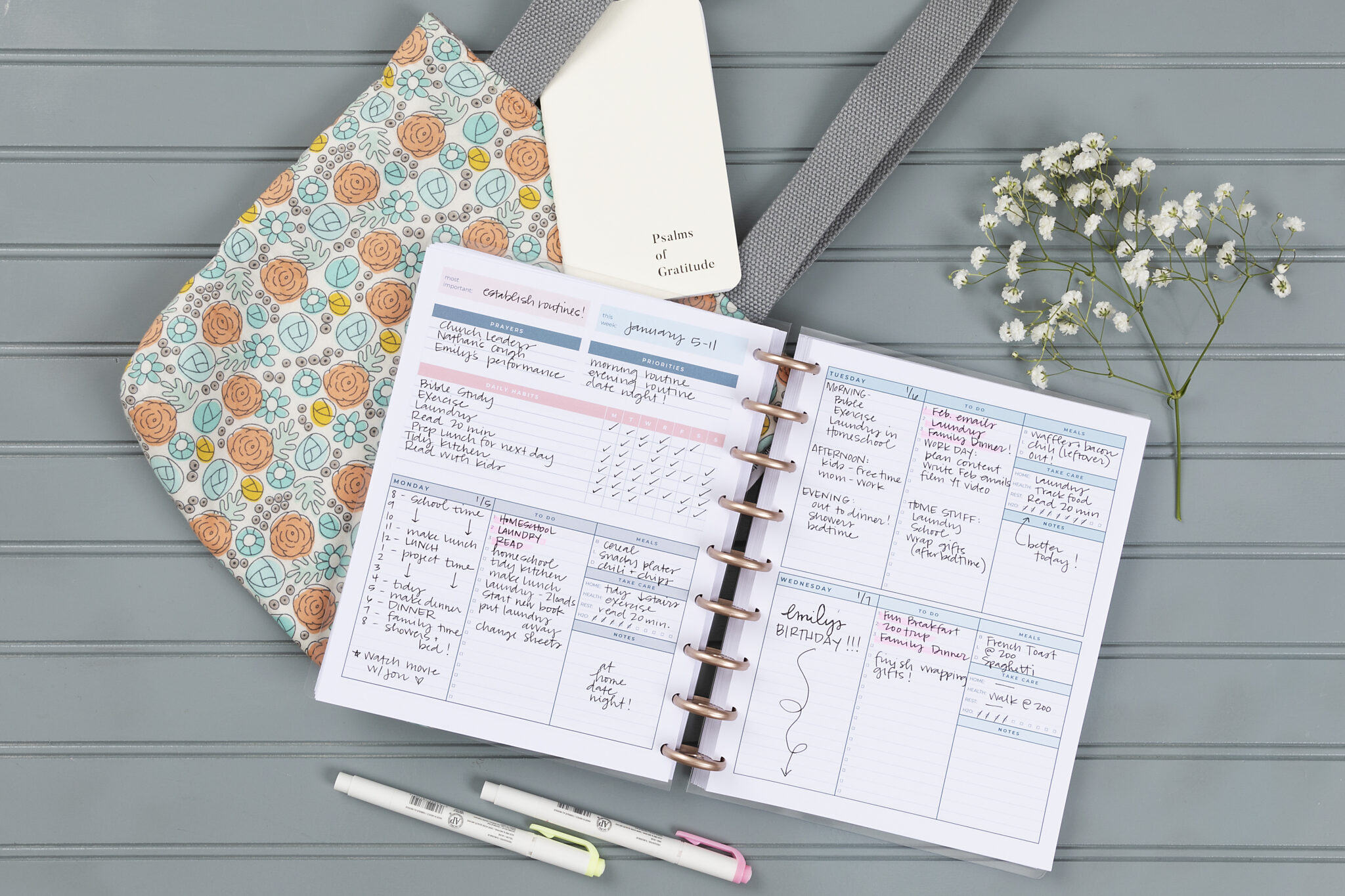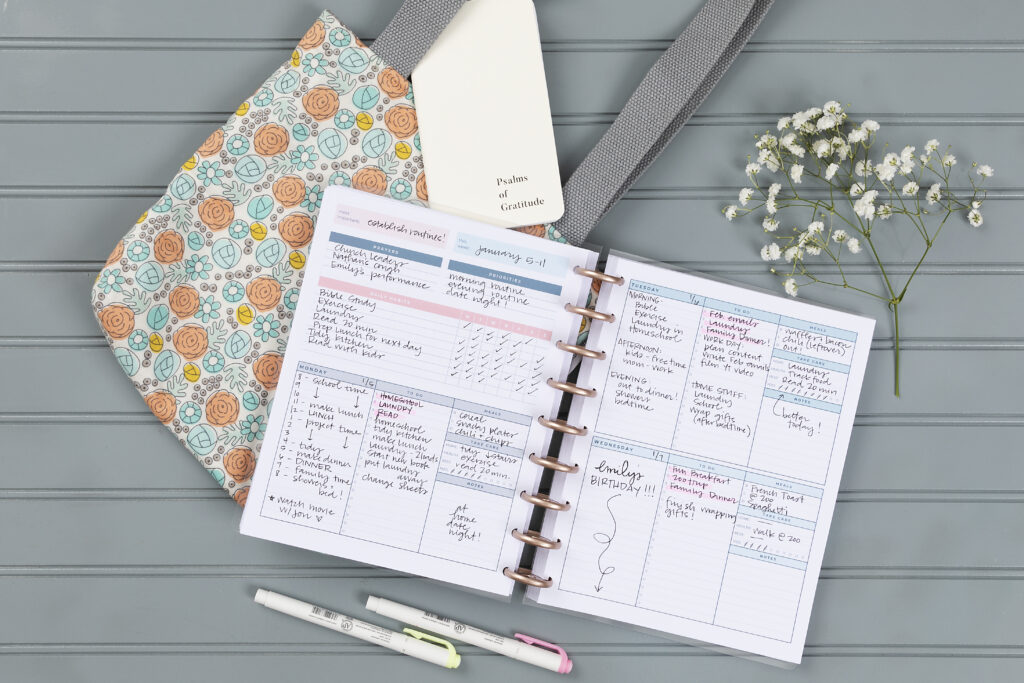 Friend, if you're ready for a planner that has the ability to change when you need it to, I've got GREAT news for you:
Our new 2023-2024 S.O.S. Planners are launching on May 9th!
I cannot WAIT to get these flexible, customizable planners into your hands – so you can drop that constantly-buying-planners-guilt for good, and give yourself the gift of effective, flexible planning.
Psst…This might just be the last planner you EVER need to buy!
So mark those calendars for our Spring Launch Day on May 9th, but ALSO make sure to put the 8th on your calendar, too!
Why? Because we're throwing a huge PLANNER PARTY!!!!!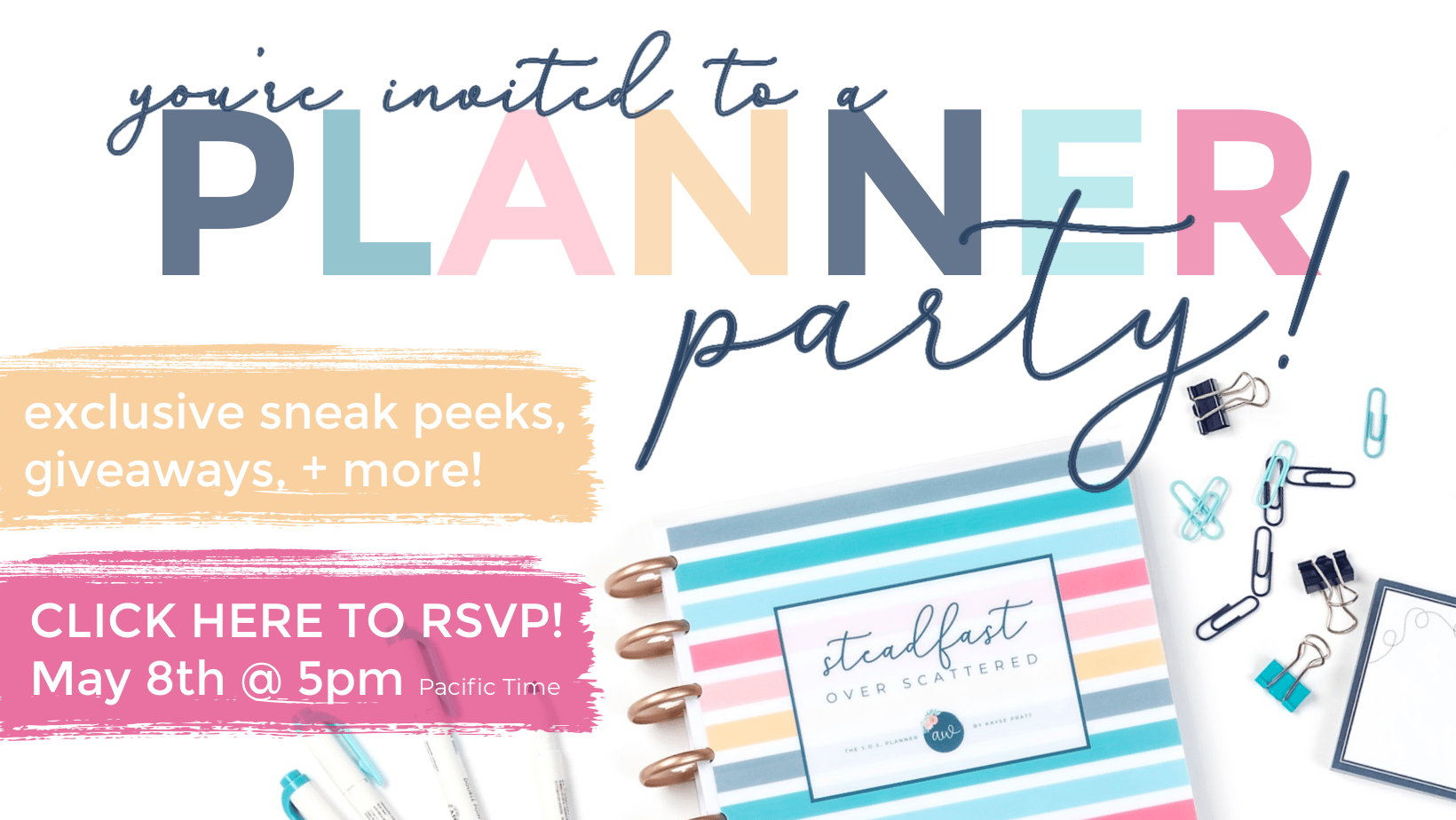 JOIN US ON MAY 8TH FOR OUR PLANNER PARTY!!
We'll hang out on zoom, share exclusive sneak peeks of our Spring Collection, and host a few incredible giveaways! PLUS, there will be a special SURPRISE for anyone who shows up live!!
👉🏼 RSVP here to save your seat: https://anchored-women.com/plannerparty
I've got your planner-loving back, friends! I can't wait to share these new planners with you!!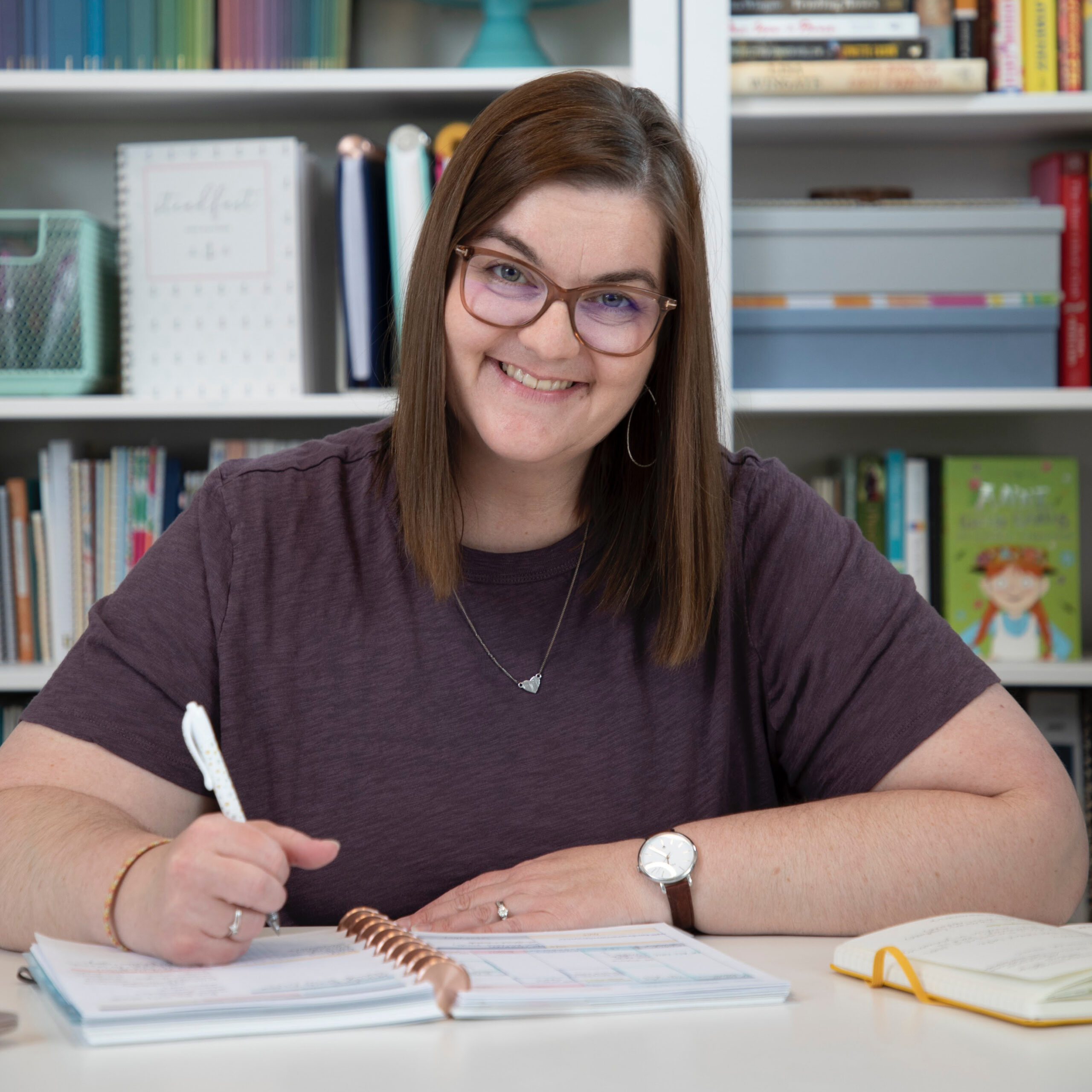 Kayse Pratt serves Christian women as a writer + designer, creating home + life management resources that help those women plan their days around what matters most. She's created the most unique planner on the market, helped over 400 women create custom home management plans, and works with hundreds of women each month inside her membership, teaching them how to plan their days around what matters most. When she's not designing printables or writing essays, you'll find Kayse homeschooling her kids, reading a cheesy novel with a giant cup of tea in hand, or watching an old show from the 90's with her husband, who is her very best friend.