It's our favorite resource of the year!! The Ultimate Homemaking Bundle is HERE!
I'm doing the happy dance today because IT'S HERE AGAIN!!! My very favorite resource of the entire year is available right this second!!!!
I want to shout from the rooftops to mommas everywhere: If you invest in yourself at all this year, invest in THIS.
(AKA: "Kayse's Most Favorite Deal Of The Year")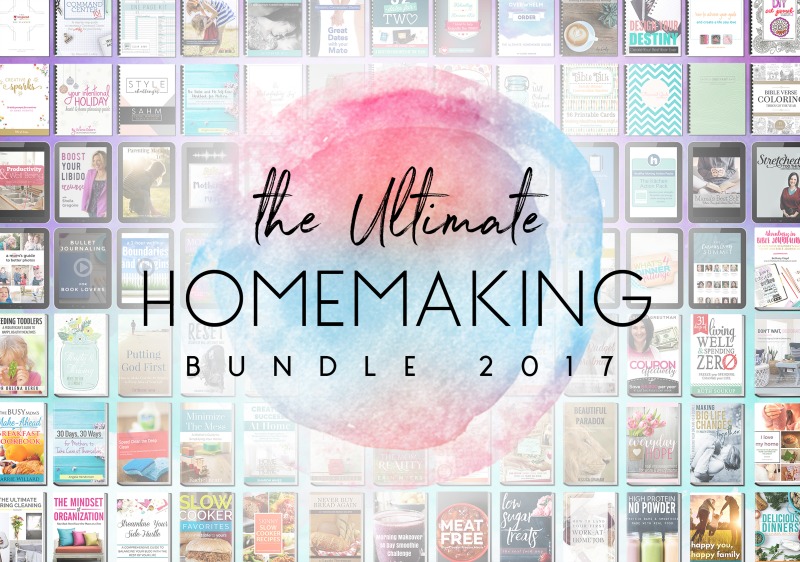 In case you haven't heard of it before, The Ultimate Homemaking Bundle is a collection of resources designed to make your life as a wife, mom, & homemaker just a little bit easier.
And honestly? It does exactly that!
We've gathered the best homemaking resources from around the internet and brought them together, here, for you! These top-quality resources cover everything you need to make homemaking and mothering feel less stressful… quick & healthy recipes, homemaking printables, cleaning tips, sizzling date night ideas, parenting helps, and so much more.
These resources are FOR YOU, MOMMA, to bolster you in the work you're doing, because every awesome, hard-working mom deserves a little help sometimes.
True story: I come away from the Homemaking Bundle every year with new tips, new recipes, and new homemaking hacks that I actually use in my daily life. Like, every day. Plus, it's packed full of encouragement that I really need as a weary mom.
Ready for the details? This bundle is one of the BEST I've seen in all the years I've been a part of this. I love it so much. All the heart-eyed emoji for this bundle!!!!  ???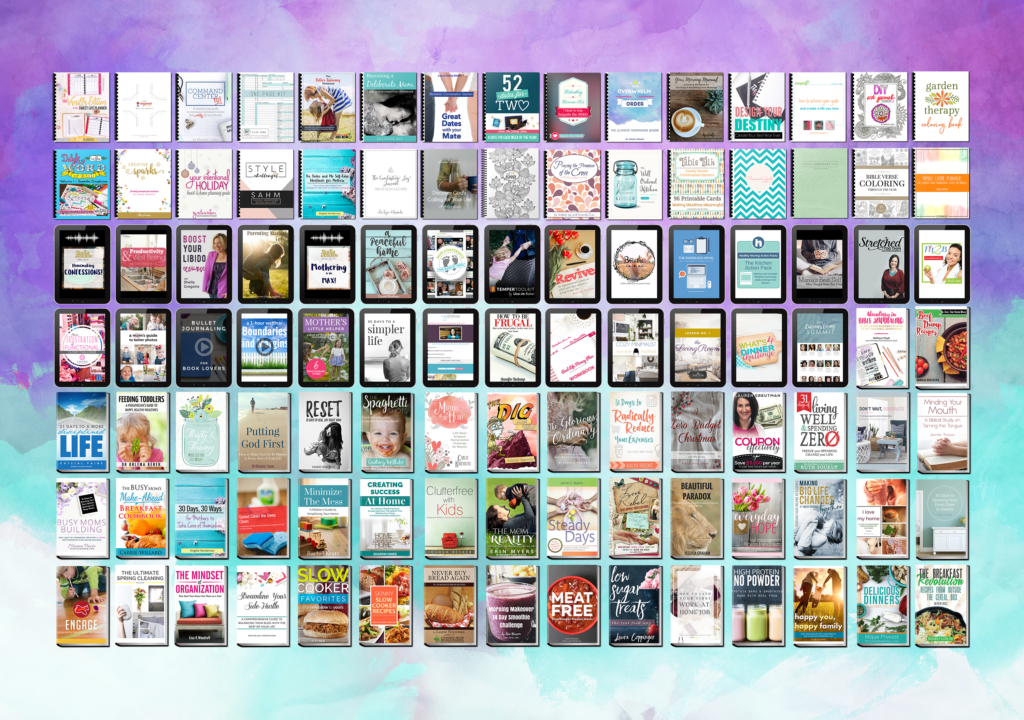 What's In The Bundle?
For less than the cost of a meal out (and you won't need to be rescued by drive-thru after this!), you'll get a complete library to help you:
Cook up wholesome recipes for your family
Build stronger relationships with your kids (even your teens)
Discover speedy cleaning routines for the toughest messes
Rekindle the romance in your marriage
Put self-care back into your life
and finally enjoy homemaking.
Plus, it comes with over $290 worth of bonus offers from companies you'll love (this is one of my favorite parts – I'll talk about those more a little later!).
You sort of need to see it to believe it, but the package includes 106 digital products and it's worth over $1980!
Already know you want it? Click below to get yours right now!
Still unsure? Read on!

What Are The BEST Parts Of The Bundle?
Well, I'm so glad you asked!! (I know, you didn't, but I couldn't wait to share my favorites with you!!!) I'm over-the-moon excited about the following resources. Together, these resources alone are worth so much more than the price of the bundle. Check these out!
A Mom's Guide to Better Photos: A Beginning Photography Class for Moms With Any Type of Camera by Meg Calton – I have a camera…and I don't really know how to use it. I'm STOKED to take this class and start learning how to take better pictures of my kids!
Bible Verse Coloring Through the Year by Carisa Hinson – We love coloring in our house, and this is something I can do with Emmy. We are loving it already!
Table Talk: Family Dinner Conversation Starters by Sarah Avila – I could always use a few more ideas for conversation around the dinner table!
52 Date Cards by The Dating Divas – I'm always trying to figure out new date night ideas. These cards should get us through the next year!
Cozy Minimalist Decorating Course – I'm SO excited to get started on this course! It's from The Nester, and she teaches you how to use the things you've already got to make your home a beautiful, functional space.
The Temper Toolkit: How to Take Control of Your Temper Before You Lose it! by Lisa-Jo Baker – I've actually had access to this one for a while (I bought it myself a month or two ago), and it's INCREDIBLE. If you're a momma who struggles with anger, you're gonna want to take this course.
Skinny Slow Cooker Recipes by Martha McKinnon – Healthy, easy recipes? Yes, please!
Stretched Too Thin: 10 Days to Overcoming the Hustle and Thriving as a Working Mom by Jessica Turner – Even though I'm a work-at-home mom, the material in this course is super helpful for me as I continue figuring out how to balance work and family every day! I know you'll find it helpful too!
What about those bonuses you were talking about?


There are over $290 in bonuses (physical products, you guys!), but my favorites are:
$15 store credit from Cultivate What Matters <— HELLO!!!! Can we talk about how amazing this is?!?!?! CWM is my FAVORITE!!
Free 1 month subscription from Kiwi Crate, $20 value ($15 off $50 shop purchase for existing customers) <— LOVE KiwiCrate for my kiddos! I've already ordered my free box and it's on it's way!
Free 1 month subscription from Bookroo, $18 value (box of past favorites for existing customers) <— You guys, this is a subscription box of books for kids. I am in heaven. Absolute heaven.
Digital download of the 2017 Hope Ink Calendar, $20+ value -or- $15 credit + 3 art prints from Hope Ink, $99 value <— Hope Ink is the bonus that I always look forward to with the Homemaking Bundle. Her prints are absolutely beautiful, and are framed throughout my home. 
There are plenty more bonuses included, these are just my favorites. You can see the full list HERE!
Are YOU offering any bonuses just for Intentional Mom readers?
You bet I am!
When you purchase the bundle through any link on this page, you'll also get complete, EARLY access to our Intentional Summer Challenge! It's everything you need to plan a summer that will keep your kids entertained, connected (to the family, not their phones!), and growing.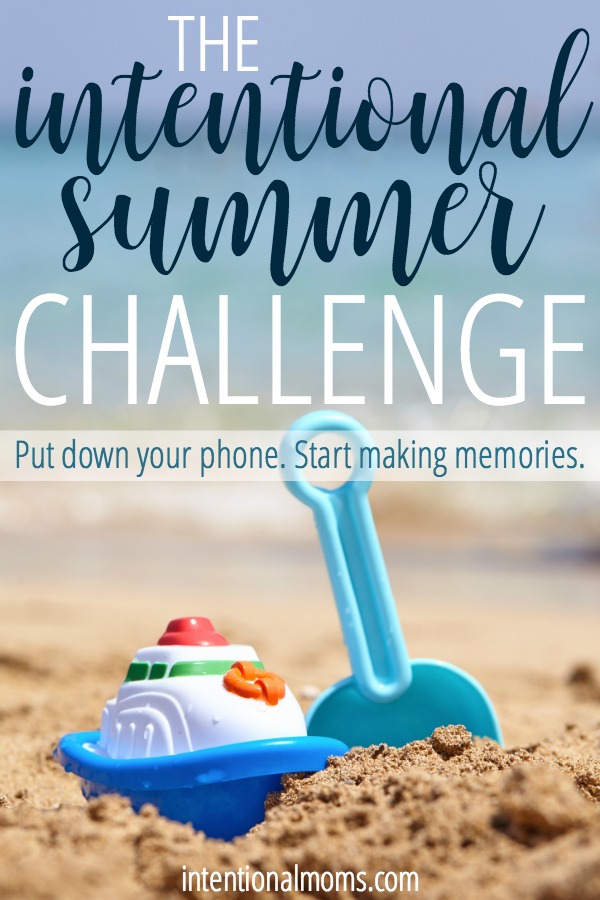 What's the Intentional Summer Challenge?
The Intentional Summer Challenge is a summer-long challenge for moms who want to connect with their kids, strengthen their families, and make memories during the summer months.
What does the Intentional Summer Challenge include?
A massive summer resource pack to provide you with a wealth of ideas for your kids on those long summer days.

Book lists for all ages
The best board games that are fun for the kids AND for you
Recommended outdoor toys for every budget
Frugal (and free!) ideas for fun summer activities
And more!

A how-to guide (+ printable posters!) for setting up thematic days each week to give your summer a little structure & routine.
A printable 4-month calendar to help you create a loose plan for the summer.
A Family Summer Bible Reading Plan with journaling pages for both kids and adults.
Weekly emails for moms including ideas on creative ways to connect with your kids every single week.
When you purchase the Homemaking Bundle through IntentionalMoms.com, you'll get everything you need to connect with your kids (without losing your mind!) all summer long!
Just grab your bundle here, and then FILL OUT YOUR BONUS CLAIM FORM HERE!!
*Seriously. BE SURE to fill out this form! No form, no bonus. Don't forget!!!!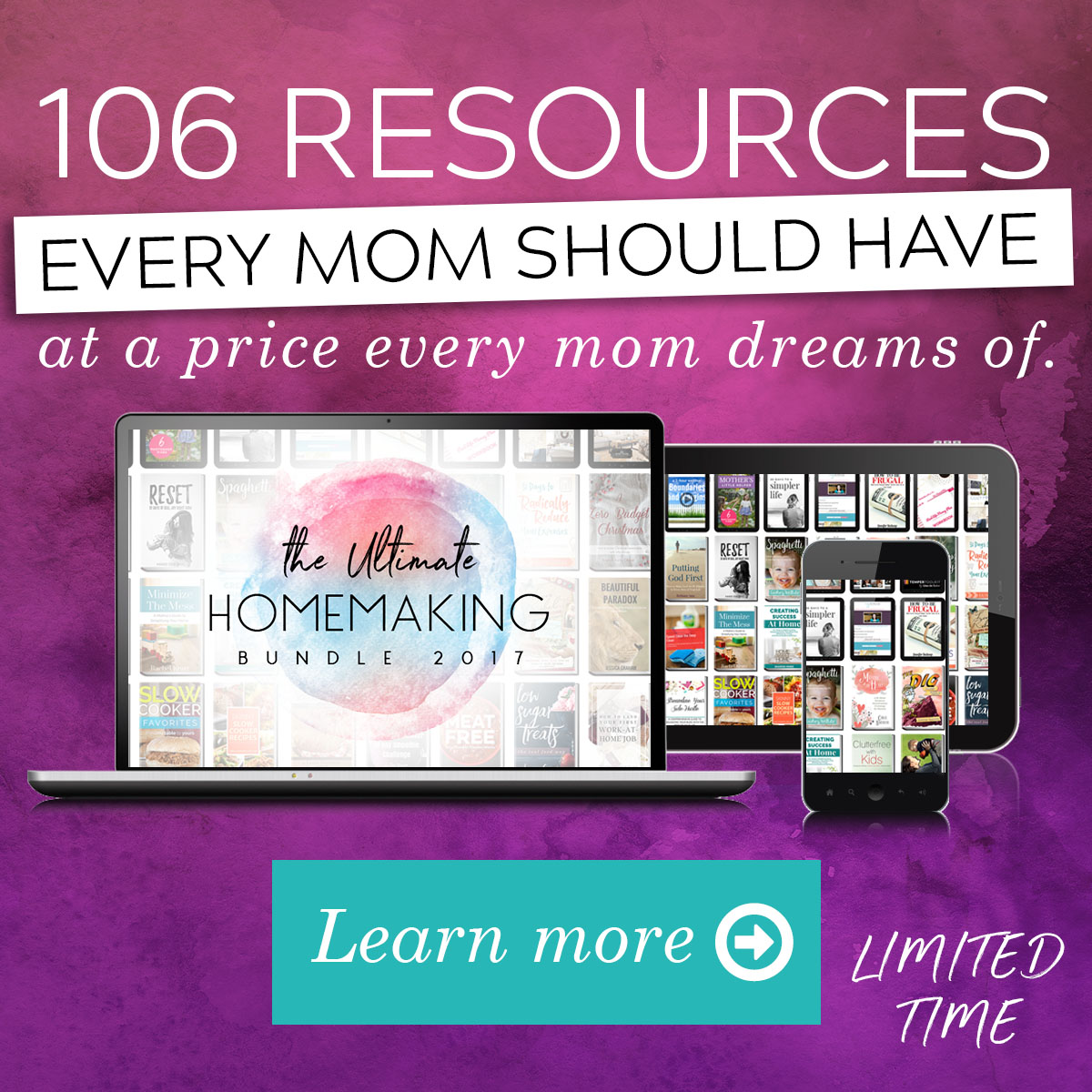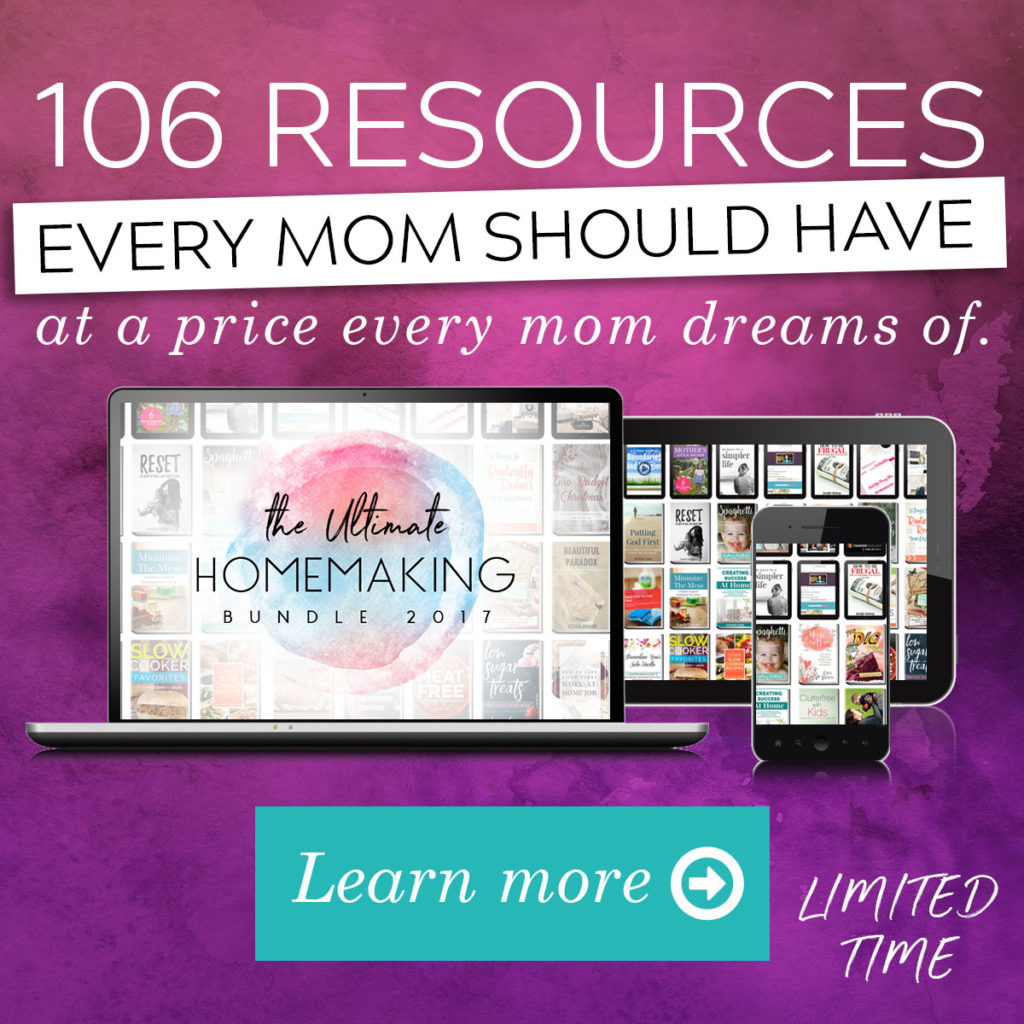 When Can I Get It?
RIGHT NOW!!! It's available for just 6 days – from now until Monday, May 1st, 2017 at 11:59pm EST. (That's why the Ultimate Bundles team can offer so much, because they only have permission to sell it for such a short period of time.)
Here's how it works:
Visit their website, take a quick look at all the goodness that comes in this package, then click the "Get my copy now!" button to go through their simple and secure 3-step checkout process.
You'll receive an email with a login to their online access portal, where you'll begin downloading your eBooks, signing up for your eCourses, and redeeming your free bonus offers.
Use their Getting Started Guide to pick the topic you want to tackle first and start your stress-less homemaking journey!
Fill out this form to claim your EXCLUSIVE BONUS from me!!
Wait. How Much Is It?
The total value is an astonishing $1980+ (plus over $290 in bonuses), but you get it for just $29.97.
That's 97% off what it would cost to buy everything individually!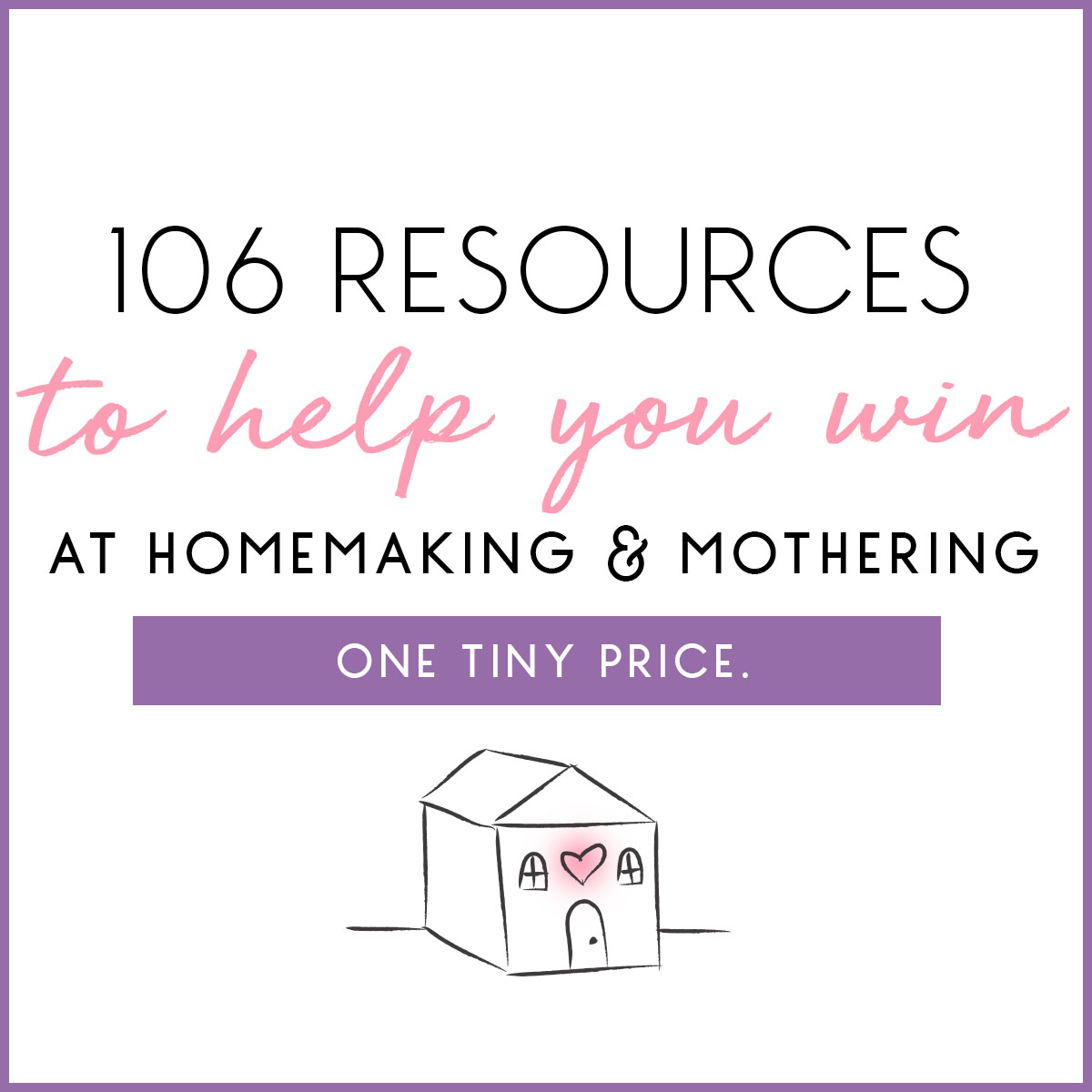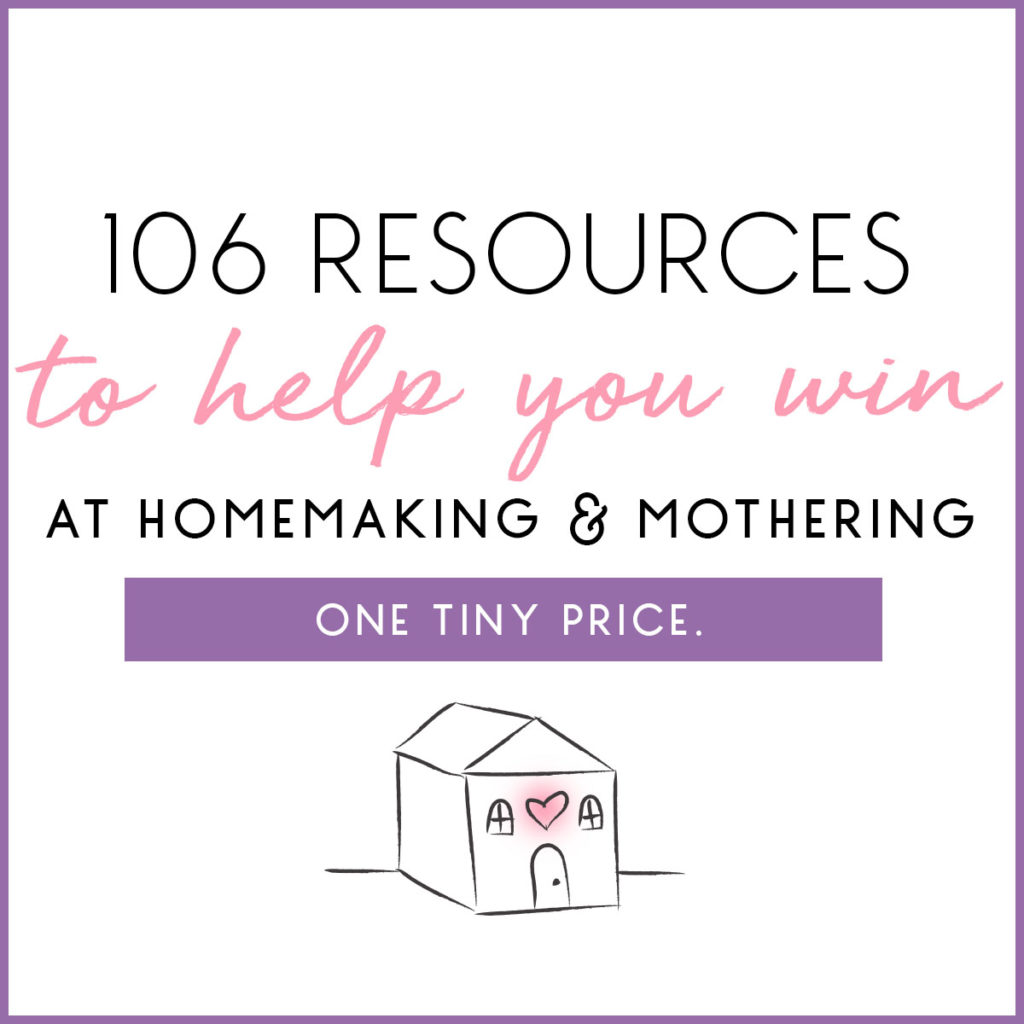 Learn more or get your bundle now!

If you think getting all those homemaking & mothering helps for less than $30 sounds like a steal (and you'd be right), then make sure to go HERE to see exactly what it includes and grab yours before this deal ends!
See what I mean? The Homemaking Bundle is my favorite FOR A REASON.
Very rarely do I find a practical resource to share with you that's both affordable and relevant in a variety of areas. THIS BUNDLE IS ALL THAT AND A BAG OF CHIPS. That was totally cheesy, but it's true. (Also, remember the 90's when that phrase was cool?)
No one should have to feel overwhelmed by homemaking because it costs too much or because they can't get the help they need.
The Homemaking Bundle has a little something for everyone – stay at home moms, working moms, work at home moms, homemakers who aren't moms yet, moms of littles, moms of teens, grandmas – everyone is covered! That's what makes it so special.
I know you'll love it just as much as I do!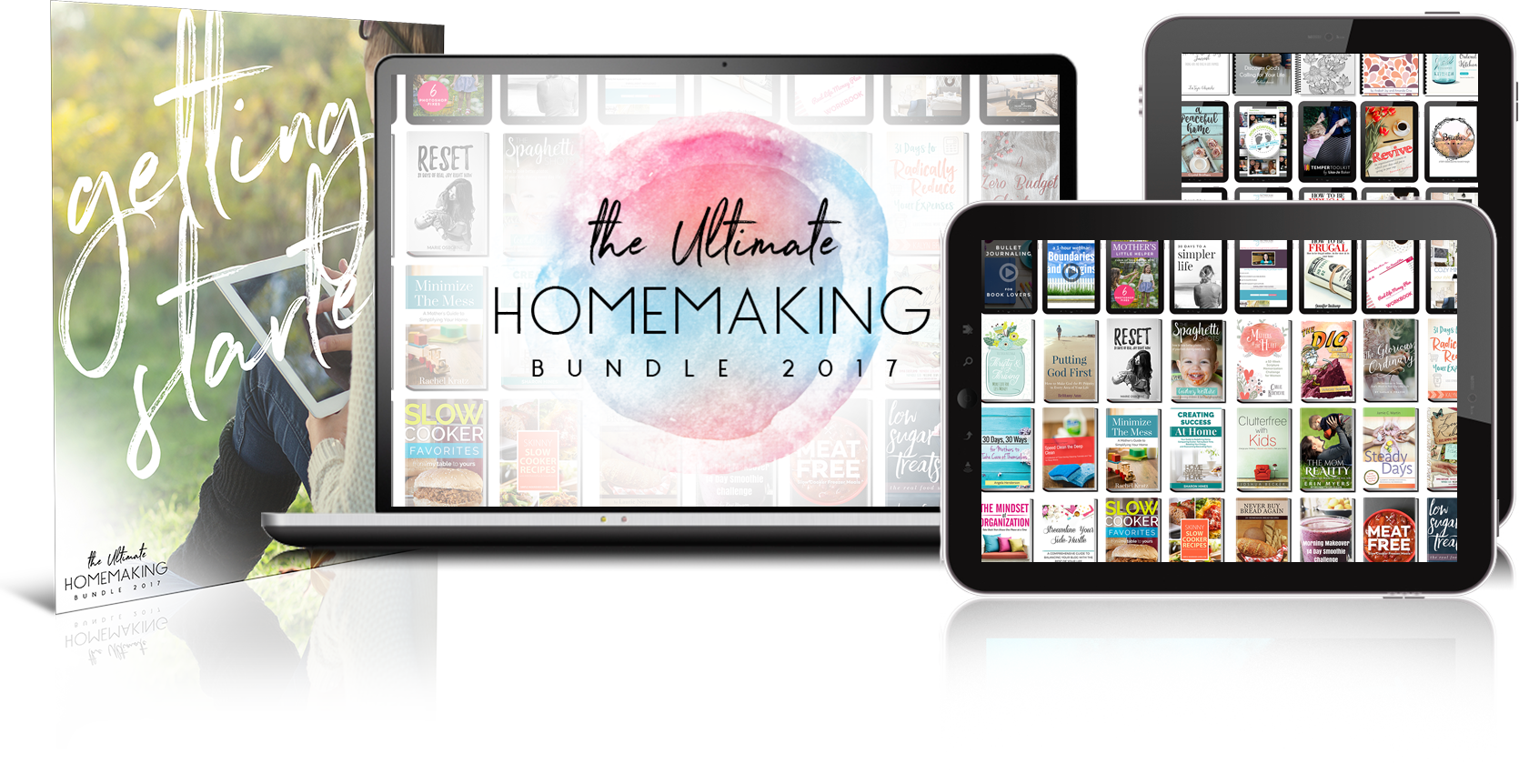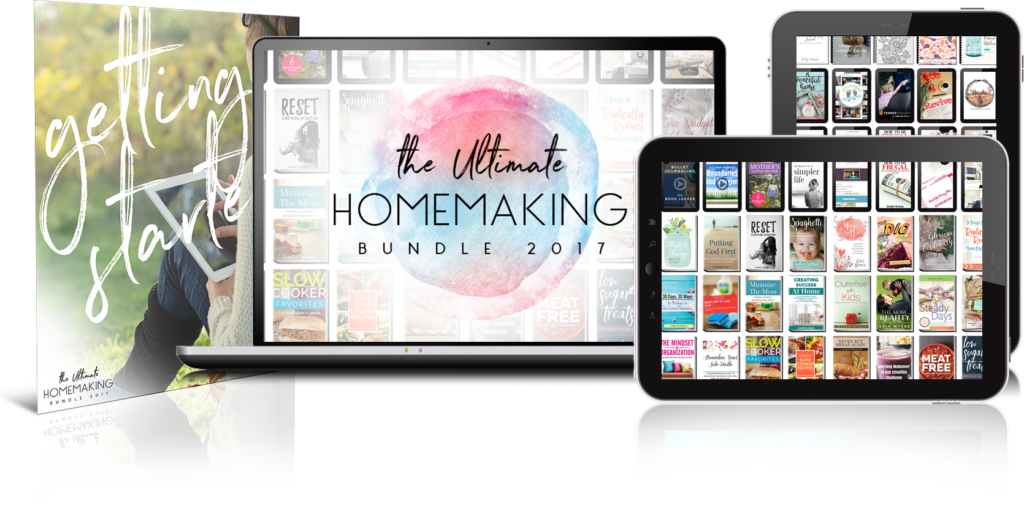 And don't forget!! Once you've purchased your bundle, come on back and fill out this form, so I can send you EVERYTHING you need for the Intentional Summer Challenge!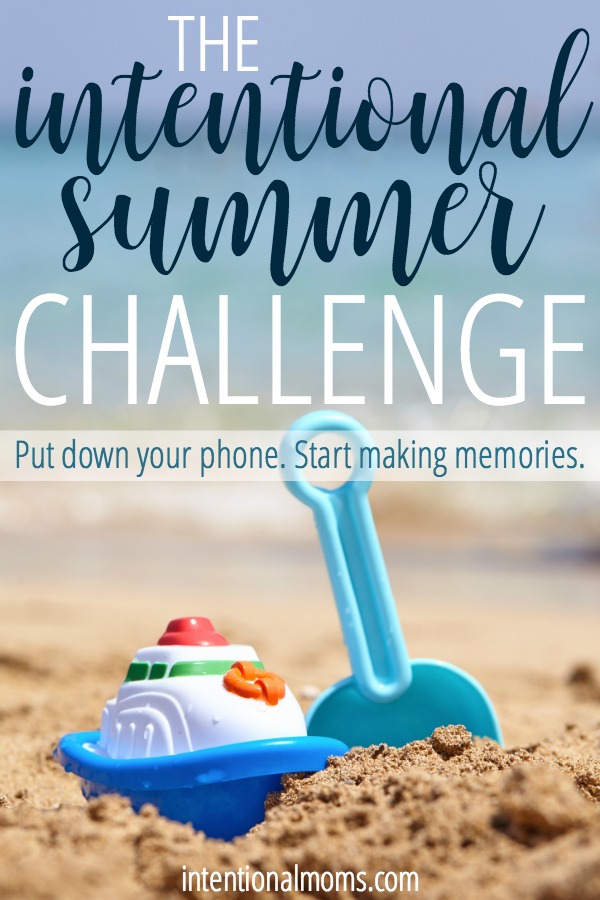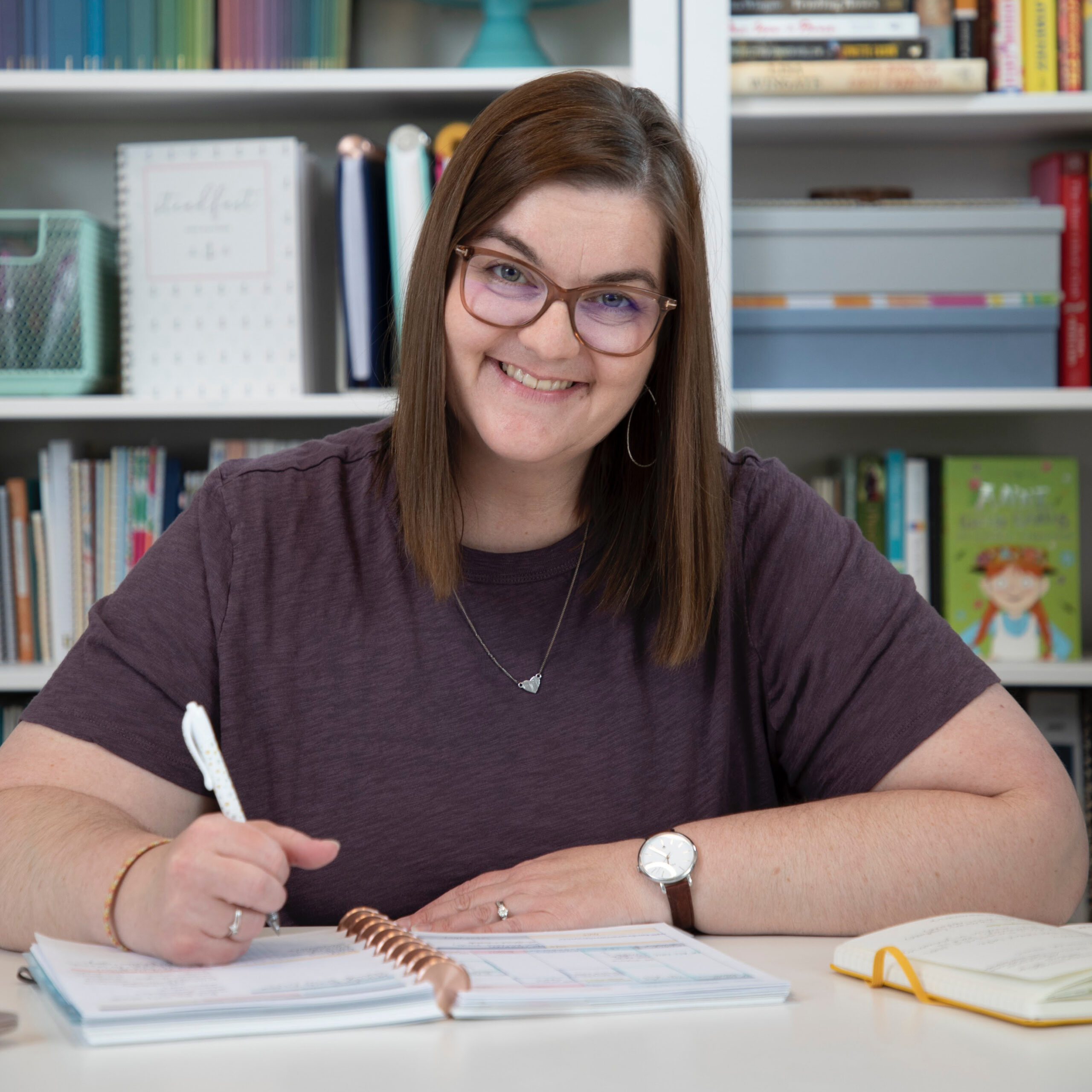 Kayse Pratt serves Christian women as a writer + designer, creating home + life management resources that help those women plan their days around what matters most. She's created the most unique planner on the market, helped over 400 women create custom home management plans, and works with hundreds of women each month inside her membership, teaching them how to plan their days around what matters most. When she's not designing printables or writing essays, you'll find Kayse homeschooling her kids, reading a cheesy novel with a giant cup of tea in hand, or watching an old show from the 90's with her husband, who is her very best friend.