What (not) to do when you're afraid.
We spent two weeks at the end of June traveling all over the southwestern United States. California, Nevada, Utah, Colorado, New Mexico, Arizona, we saw it all!
It was a trip we'd been planning for the last year, and Jon and I had been so excited about it. We love road trips, and seeing new places, and this was the first time we'd be able to take a trip like this since the kids were born. We were so excited to share it with them.
And it was great. Honestly it was.
But also? I struggled.
The plans looked great on paper, but when we actually started traveling, I quickly realized that 14 days in a minivan with 3 other people (2 of whom are quite loud) was not exactly going to be the restful, peaceful trip I'd been hoping for.
Shocking, I know.
Sometimes, the planning part of my brain and the introvert part of my brain don't always connect very well. And the plans I'd made so meticulously did not fit my personality as well as I thought they would.
I'm a whole lot more adventurous on paper.
For example, in Zion we went on a hike up a mountain to some waterfalls. On paper this sounded amazing. A simple hike! Waterfalls! How fun!
But this "easy" hike turned out to be a difficult one for me. It was pretty steep, and I have a bad knee and a serious aversion to heights. I spent the hike in pain, and also seriously worried that all 4 of us were going to fall to our untimely deaths.
Because of those things, I was slow. We kept having to step to the side so people could pass us. And those were the times when Nathan thought the edge looked really cool. I think I stopped him from going over the edge about 15 times. And not calmly.
By the time we reached the waterfalls, I was in tears. (Which, by the way, does not make hiking any easier.) I was embarrassed, exhausted, and my anxiety was at it's peak.
And that made me angry. Why were we on this hike anyways? Why didn't anyone tell me how steep it was? Why couldn't we just go somewhere relaxing on vacation?
I felt done. And I wanted to go home.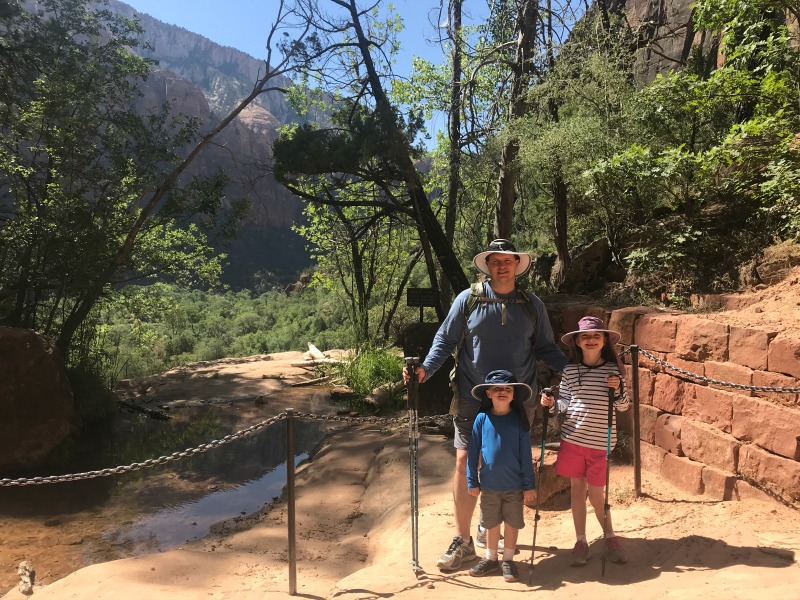 See how I'm not in this picture? It's because I didn't want to be, since I was CRYING.
But the thing about being a grown up is that you don't always get to do what you want to do. (I feel somewhat bitter about this, because this is NOT what I was told by all the grown ups when I was younger.)
We still had to hike back down.
I wish I could tell you I had a good attitude about hiking back down. That I prayed my anxiety away, or sang songs to pass the time.
I did not. Actually, I'm pretty sure I did a lot of yelling. While other people were around.
It was not my finest moment. No one was enjoying the beautiful hike at that point. Not our family, or anyone around us.
We eventually made it to the bottom and I have never been more glad to see a parking lot in my life. We trekked the short walk back to the cabin, I laid down with ice on my knee, and started thinking about all that had just happened.
I have found myself in this position a lot lately. Not icing my knee, but reflecting over what just happened.
I'll get frustrated because things are out of place at home, and didn't I just clean yesterday?!
I'll get upset with the kids because can't they just be quiet for five minutes?!
I'll lose my temper with Jon because that thing I asked for still isn't done, and how hard was it, really?!
When things get harder for me, whether it's in cleaning up the house, or hiking up a mountain, I tend to lose it a bit. I get frustrated, and feel put out, and my patience goes right out the window.
I think what it comes down to, for me, is fear.
(Isn't it always fear?)
I'm afraid we're not going to make it down the mountain.
I'm afraid the kids won't become responsible adults.
I'm afraid my husband doesn't appreciate me.
I'm afraid everyone is going to leave me with all the work, and I'm not going to be able to handle it.
But we did make it down the mountain. My husband does appreciate me. I have a choice as to whether or not I'm GOING to do all the work, whether I'm left with it or not. And the verdict is still out on the kids becoming responsible adults, but I think we'll probably be okay.
In my devotions the other morning, I read this:
"Fear lives and rules in the heart of a believer who has forgotten God's sovereignty and grace. If left to myself, I should be afraid. There are many trials, temptations, dangers, and enemies in this fallen world that are bigger and more powerful than me. I have to deal with many things that are outside my control.
But the message of the gospel is that I haven't been left to myself, that Immanuel is with me in sovereign authority and powerful grace. He rules with perfect wisdom over all the circumstances and locations that would make me afraid. In grace, he blesses me with what I need to face what he has decided to put on my plate. I am never—in anything, anywhere, at any time—by myself.
I never arrive on scene first. I never step into a situation that exists outside his control. I never move beyond the reach of his authority. He is never surprised by where I end up or by what I am facing. He never leaves me to the limited resources of my own wisdom, strength, and righteousness. He never grows weary with protecting and providing for me. He will never abandon me out of frustration. I do not need to be afraid." – New Morning Mercies, by Paul David Tripp
I do not need to be afraid.
When I chase my emotions back to one source – fear – every situation becomes more clear to me. I don't need to pray for more patience, less anger, or supernatural safety as I'm trekking down a mountain. Those things are all good to pray for, but they aren't the root of the issue.
What I need to pray for is trust.
The fact of the matter is that He is sovereign. He is with me. Nothing happens outside of His care. What happens might not always be what I want it to be, but He will work it out to help me grow in Him.
I do not need to be afraid.
The same is true for you. Whatever mountain you're facing today, whatever emotions keep coming to the surface, I wonder if you can chase down the fear that it's all stemming from. I wonder if you can lay that fear before Him and ask for trust instead.
I'm working on that very thing. And also, probably not hiking again for a while. ?
"And he is before all things, and in him all things hold together."
– Colossians 1:17 –
A Prayer Challenge For Moms!
Join us for as we spend the month praying Scripture over our families! Get each day's prayer and Scripture in your inbox, along with a set of printable prayer cards.
You'll also receive our weekly newsletter, providing you with encouragement and resources to help you make time for what matters most.
*By subscribing, you're agreeing to our privacy policy.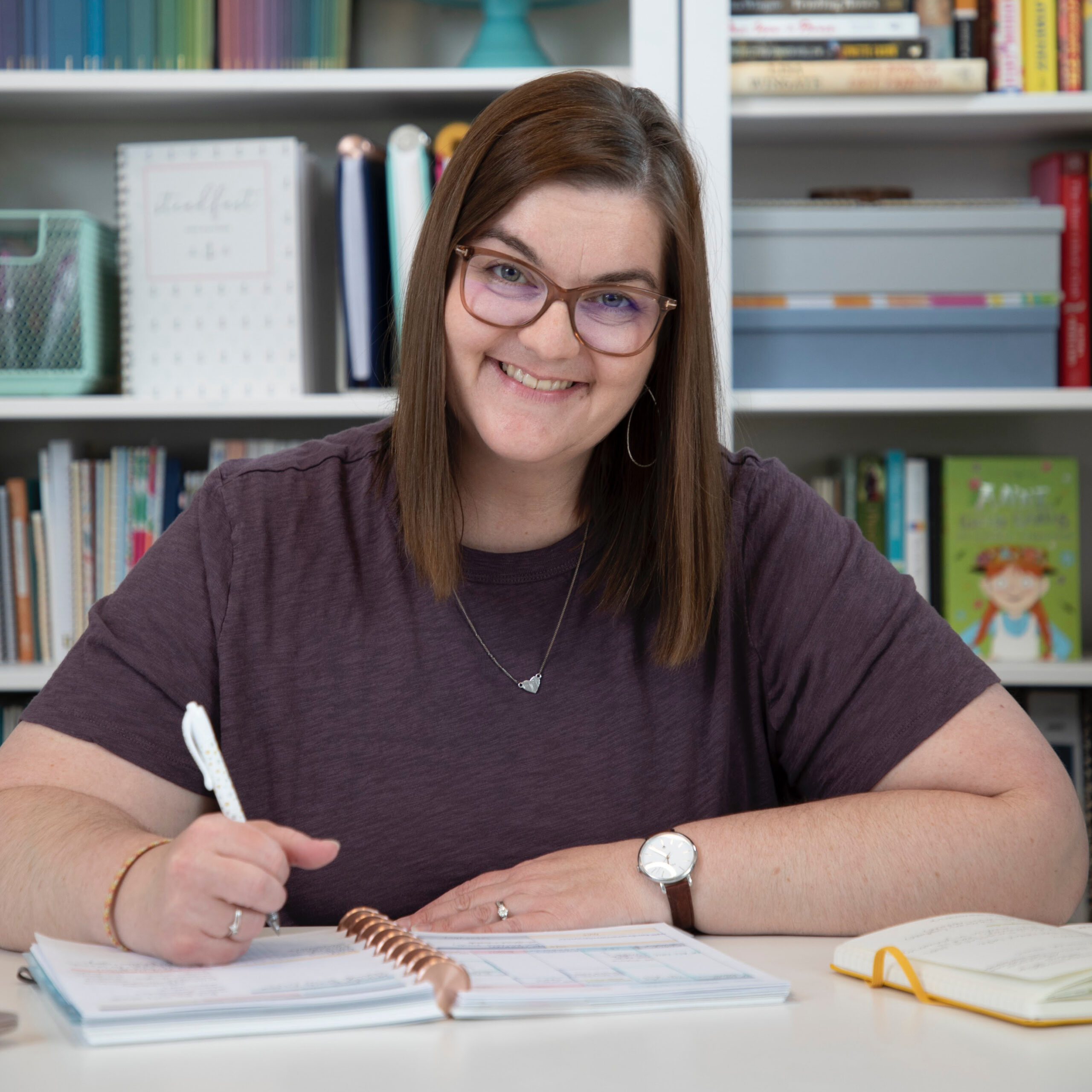 Kayse Pratt serves Christian women as a writer + designer, creating home + life management resources that help those women plan their days around what matters most. She's created the most unique planner on the market, helped over 400 women create custom home management plans, and works with hundreds of women each month inside her membership, teaching them how to plan their days around what matters most. When she's not designing printables or writing essays, you'll find Kayse homeschooling her kids, reading a cheesy novel with a giant cup of tea in hand, or watching an old show from the 90's with her husband, who is her very best friend.