…they will exhaust themselves trying to have it all–a successful career and a vibrant home life. They try to fit too many activities into their days and end up feeling that they are not successful at anything they do.


A whole generation of children, as a result, ends up feeling rushed and pushed, with little or no sense of the comfort and stability of a satisfying home life. Without a strong, supportive structure for passing down righteousness, the morals of the culture become relative to the personal fulfillment of those within the culture. When the biblical mission of motherhood is devalued and disappears from culture, the whole next generation suffers morally, emotionally, and spiritually." – Sally Clarkson, Mission Of Motherhood

---
I had other plans for a blog post today, but these words keep swirling around my mind, so I think maybe let's talk about them.
I'm reading this book right now and it's grounding me. I feel exhausted, but mostly in a good way. It's been a huge couple of weeks here on the blog–our Calm Your Chaos series took off in a big way, which brought in so many new subscribers and readers, and I'm having so much fun hearing from you guys and getting to know you better. I've got tons of new project ideas flying around in my head (printables! planners! family resources!), and I'm SO VERY excited about what's coming. ahead
Still, I read these words from Sally Clarkson, and I feel them in my gut. Checking myself and remembering that "having it all" is not a thing. That trying to fit too many things into my days ends up in me feeling like a failure at everything. That what I really want, more than anything, is to know that my children walk with the Lord. And then reassessing the ways that I spend my time and looking at whether or not my actions are lining up with my values.
My first and most important place is here at home. Raising my kids and serving my husband and keeping our home clean (or hiring a housekeeper…I can dream, right?), warm and loving. I'm the only person who can set the tone of my house, and that matters. 
I know the kind of home and family I want to have. I want family dinners around the table to be a regular thing. I want to talk to each other, to have open conversations regularly. I want to get outside and go on walks or stay inside and play board games. I want to make memories and I want us all to be in the Word and I want a strong, healthy family.
The thing is, I want all of those things, but I sometimes forget that they won't happen unless I make space for them. We won't have family dinner if we are quick to turn on the TV come 5 o'clock. We won't have open and honest conversations if my head is always buried in a phone or computer. We won't spend downtime together if we keep ourselves busy and never have any downtime. We won't be in the Word unless one of us opens it.
This isn't a guilt-trippy, "hey, you should be doing more" kind of message. It's exactly the opposite, really. Because maybe we need be doing less. Maybe there simply isn't room for ALL THE THINGS. Maybe, in our fast-paced, immediate gratification kind of world, we need to realize that there is joy to be found in slow and small and simple.
I think it starts at home. It starts with us sitting down with Jesus and asking Him what He wants for our lives, for our families. I think we listen to Him in each season and let Him dictate our schedules instead of letting our schedules dictate our lives.
(And this applies to everyone, by the way. Stay-at-home moms, working moms, and work-at-home moms alike. We are ALL sold this "have it all" ideal. We are ALL told that we can be more, do more, have more, and that we should. We are ALL just as susceptible as each other to fill our time and our hearts with things that distract us from our biblical mission of motherhood.) 
Maybe we commit to living more simply. To stop chasing down a name for ourselves and start building up His name in our homes and our neighborhoods. To take whatever time we have with our husbands and our kids and start looking for ways to intentionally and biblically build relationship and character and holiness.
Maybe it looks like getting off the computer and going on a walk while the kids ride their bikes. Maybe instead of watching cartoons during breakfast, we read something from the Bible, and then talk about it. Maybe it's taking a few extracurricular activities off the schedule so we can sit down together as a family a few more nights a week. Maybe it's leaving our phones in another room so we can focus on the actual people in front of our faces.
It's easy to buy into the cultural idea that I should also be able to have it all, all of the time. But this I know: When I let the busyness of our culture invade our home, it sucks me dry. And I don't know about you, but I cannot pour into others when I'm empty myself. And are we really okay with trading deep, abiding relationships for constant activity?
My friends, we cannot have both. We cannot have it all.
We have to choose.
Can I challenge you today to step away from the rush? To refuse to buy into the promise of happiness that's always one more project away? To sit down tonight and honestly pray for God's leading in this season, in your specific family?
It might be counter cultural, but to be honest, I'm really not that excited at the idea of being just like our culture. Are you?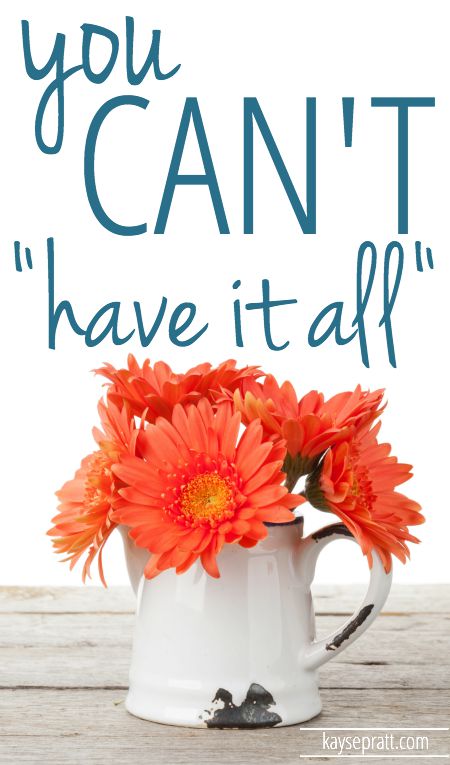 Kayse is a wife, mom, and founder of the Anchored Women community. She writes to help women fight busy, find rest, and build a life that's anchored in Christ. Kayse is also the creator of the S.O.S. Planner, the Anchored Life Kit, and other practical resources that equip women to manage their homes and families in confidence. You can find her writing and her resources at anchored-women.com!