Jon's been gone this week, so it's just been the kids and me at home.
(Send wine.)
Usually, after we put the kids to bed, Jon and I hang out. Clean the kitchen, watch NCIS on Netflix, you know, really important things. So this week, since I have so much "free" time, I thought I'd try to simultaneously catch up and get ahead on all the bloggy stuff that's on my to-do list.
With the excess of posts this week, I'm sure you can see how that's gone.
I spend my day answering questions like, "Why is it time for lunch?" and "Why can't I wear my fancy church dress to play outside in the dirt?" and "Why don't rich people like Jesus?" (After many long minutes of refuting this, I learned she thought "rich" meant "very, very bad, like punching and kicking people, which I will never do to my brudder. I will never be rich." Obviously, only the last part of that is true.) So, by 8pm, my magical get-it-all-done time, my brain is in a puddle on the floor along with ALL the water from bathtime. Needless to say, I have not gotten much done this week.
But, you know what? We made playdough today. Over flour and salt and food coloring, Emmy and I had FUN. We laughed and stirred and worked with our hands. We had fun together.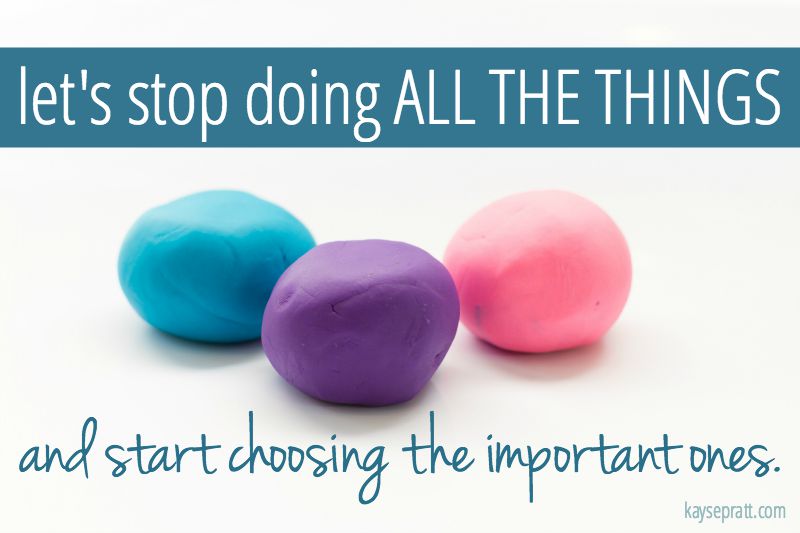 And after making playdough, I was refreshed. I was energized. I loved spending time with my girl and being silly together.
And I realized that maybe it's not my kids that exhaust me so much. Maybe it's the lack of fun in our house.
I tend to err on the side of insisting we don't have time for fun. There are THINGS TO DO and CLOTHES TO WASH and POSTS TO WRITE. And by the end of the day, I'm worn flat out.
(Maybe you get that.)
But today I saw a sign in Hobby Lobby that said "Children only get one childhood". And yeah, that's a little cheesy, or guilt-trippy, but it's also true. And I don't think I want my kids to remember that Mommy was always too busy for them.
Emmy keeps asking me lately if we can do things "just us girls?", and I know that in ten years or so she's not going to be asking for that anymore. And I read this post today and picked up this book again and I'm just reevaluating. Again.
I think it's okay for us to do this. To need a reminder, a refresher, something that brings us back to our love for motherhood. I think that being a mom simultaneously makes you want to sing for joy and run for your life, and I think it's okay that when we feel like running, we stop and remember the things that made us sing.
For our family, I think we need a little bit more fun in our house. We maybe need a little less work and a few more playdough snowmen. And really what I mean by that is that we need a little more conversation. A little more relationship. A lot more face-to-face time. And a lot less self-induced stress from trying to do ALL THE THINGS.
We can't do all the things. So let's choose the important ones.
(And now I have to go pull my son off the table he's climbed on because, let's face it, I'm never gonna be that fun.)
How do you have fun in your home?
(I really want to know because this is not my strength. I can give you a list of chores and projects to work on, if you'd like, but I need some ideas for FUN!! My idea of fun is reading a book. The preschooler and toddler disagree.)
Kayse is a wife, mom, and founder of the Anchored Women community. She writes to help women fight busy, find rest, and build a life that's anchored in Christ. Kayse is also the creator of the S.O.S. Planner, the Anchored Life Kit, and other practical resources that equip women to manage their homes and families in confidence. You can find her writing and her resources at anchored-women.com!