The idolatry of greatness & how it's ruining your life.
I'm writing this post with my thumb. On my phone. While I watch the sixth episode of Leap Frog today.
(By the way, when people hear Emmy read, they assume I am a very impressive parent. But I'm here to tell you, about 95% of the credit for her reading skills goes to Leap Frog. Let's keep it real, people.)
Anyway, the kids woke up at 5am today, so of course Nathan fell asleep on his lunch this afternoon. I mean he literally fell asleep on top of his peanut butter and honey sandwich. He then woke up in his high chair with some kind of bad dream, so here we are in the rocking chair, watching Leap Frog, while I type with my thumb.
Last week I think the whole world listened to Andy Stanley declare that deciding to attend any church other than a mega-church was selfish and therefore sinful. It was a ridiculous and unbiblical thing to say, and luckily I think the whole world also recognized that.
(He has since given an apology, so he clearly recognized his fault, too.)
Jon showed me the video a few days ago, and I shook my head in disbelief, because honestly. It was just a little absurd. Surely Christ is working and moving through churches of all sizes, pastors of all congregations. Surely size has little to no bearing on the eternal value of a church, & its effectiveness in sharing the gospel. Surely each part of the body is valuable and essential to the growth of Christ's kingdom as a whole.
But Andy Stanley didn't recognize or acknowledge the value there. No, instead, he glorified BIG and GREAT and PROGRESSIVE, and actually shamed small.
In the last few days, as his "sermon" has been on my mind, I'm realizing that I do the same thing.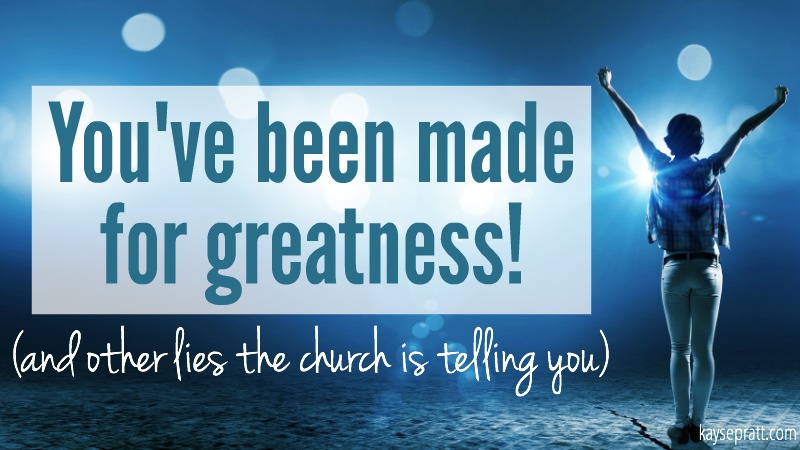 There's an epidemic running through this country. It's subtle and quiet and often cleverly disguised as "The American Dream".
It's the idolatry of greatness. And to some extent, we've all bought into it.
We, as a culture, are obsessed with becoming great. We work hard to build up a name for ourselves, a "legacy" for our families, a semblance of fame and notoriety. Nothing less is good enough. Nothing less is worth anything at all.
At least that's what we're told.
And so, we work hard and stay busy and we ignore relationships and we distance ourselves from our families, all in the name of productivity and work ethic. We inflate our own egos as we surround ourselves with our own accomplishments, and we start thinking that everyone should be a little more like us.
We begin to look down our noses at the "smaller" things. The less notable things. And we start to shame them, even unintentionally.
We say ridiculous things like "If you don't go to a mega church, you're selfish."
Honestly though, that one's a little extreme. I think this mindset actually comes through more often in subtlety. In the kind of comments that make your question your contentment, like…
"Have you figured out what God has called you to? I'm not talking about your husband and your kids, what's your REAL ministry?"

"You're such a great __fill in the blank__. Have you ever considered pursuing that as a career? It would be a shame to keep that to yourself. I bet you would be really successful at that."
Is there anything wrong with pursuing a ministry or a career? ABSOLUTELY NOT. Hear me now, there is nothing inherently wrong with pursuing a ministry or career that you are passionate about.
But I think there is a serious problem when we refuse to be satisfied with smallness. When we cannot find contentment unless we find greatness. When we are constantly after more and more and more.
This is where I find myself lately. I'm a mom and a wife, but sometimes those things seem small. I care for our home, but laundry and dishes just don't feel very great. I work hard here on the blog, but the project list is never-ending and it is easy to end up always chasing after more.
Sometimes I think the American Dream can also be the root of discontent.
This totally works for capitalism, by the way. I'm a big fan of capitalism. People try to create better products at lower prices and everyone has a chance to compete, to build a business, to climb the ladder, to be successful. That's kind of amazing, in the business world.
But the business world is where the American Dream belongs. Because when we pull the functional strategies of a capitalistic society into our faith & our families, we find ourselves in a very dangerous place.
We stop thanking God for enough and start wondering if there's more.
We stop counting our blessings and start counting our followers.
We stop serving our families and start serving ourselves.
We make compromises and let our perspectives shift, and we find ourselves pursuing a greatness that is less about who God is and what He's done, and all about who we are and what we've done.
It's an empty pursuit.
The truth is that God does not call ANYONE to greatness. There is only One who is great, and His name is Jesus Christ.
The rest of us? We're the saved ones. The rescued ones. The ones who have no business bragging about ourselves, our names, or our empires because ALL THE WORK IN THE WORLD COULD NOT SAVE US FROM HELL. There is only one who could do that and His name is Jesus Christ.
Greatness isn't up for grabs.
No mega-church, no ministry, no career, no blog, no fame, NOTHING we can do can ever compare to what He's done for us. Period.
And so what are we called to? What's this "calling" that we hear so much about?
I think we are called to the exact opposite of greatness. I think we are called to small and faithful. Right where we are. Telling HIS story instead of writing our own. Rocking our babies and attending our small churches and serving Him by loving our families and our neighbors. Trusting Him to provide instead of pursuing comfort or fame.
There is peace here. In trusting the Great One and letting go of our addiction to busyness and productivity, there is peace. Real peace.
So I might not be accomplishing much, here in my rocking chair, watching Leap Frog and typing with one thumb. But maybe I need the reminder just as much as Andy Stanley.
Greatness is an idol. And a futile one at that. God doesn't care about our accomplishments, our size, or our productivity. He cares for our hearts, our salvation, and that we truly understand the Gospel, which hinges on the saving work of Christ Jesus.
Nothing more. Nothing less.
So I'm going to rock, for now. Later I'll get up and make dinner. I might even do the dishes afterward. I'll live my small life and live it gratefully, knowing that nothing I can accomplish here will make any difference in eternity. The work has already been done on my behalf. And I'll do my very best to make sure my kids understand the same thing.
Because there is nothing, not one single thing, wrong with small. Small churches, small lives, small moments… I think Jesus can be found in every single one.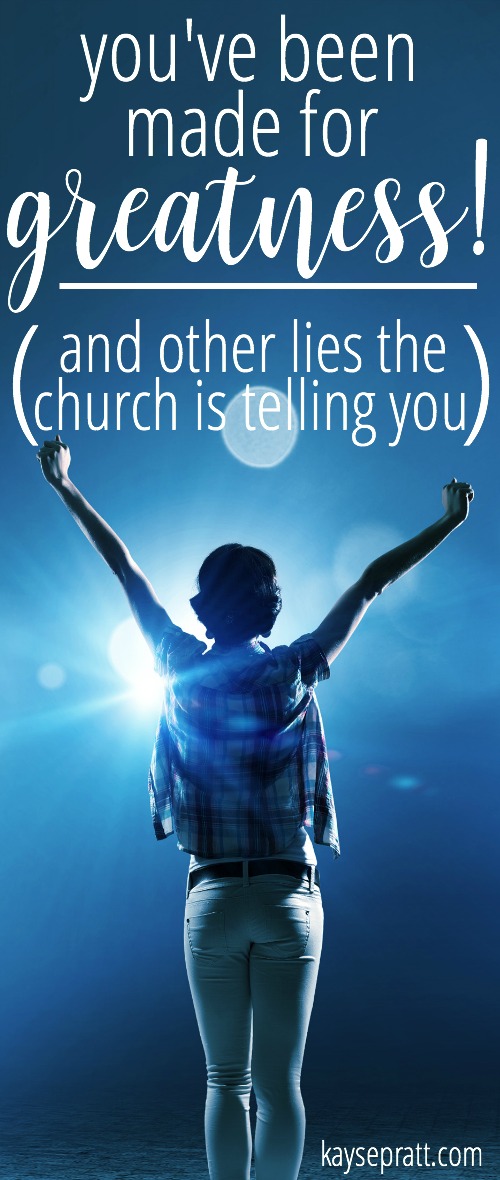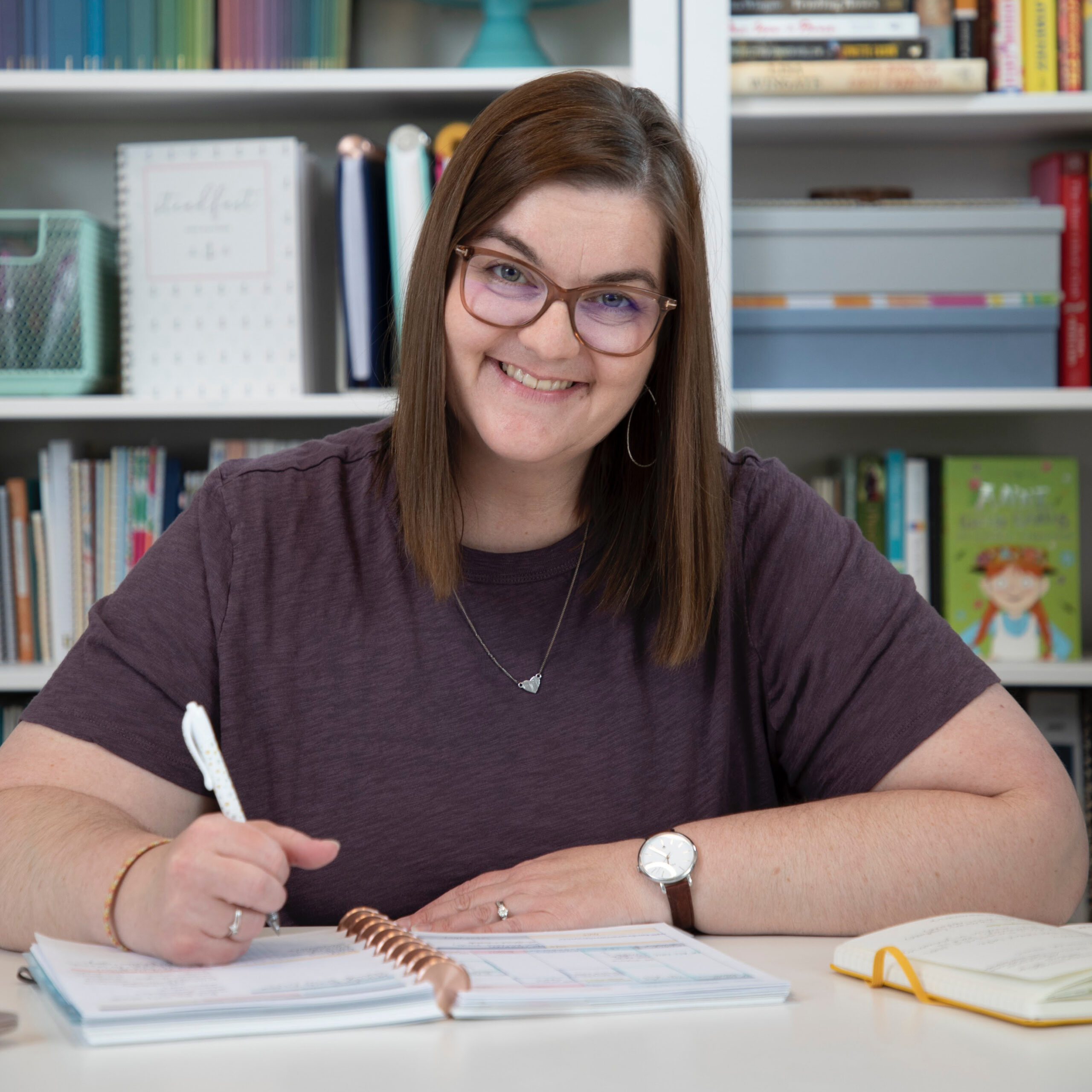 Kayse Pratt serves Christian women as a writer + designer, creating home + life management resources that help those women plan their days around what matters most. She's created the most unique planner on the market, helped over 400 women create custom home management plans, and works with hundreds of women each month inside her membership, teaching them how to plan their days around what matters most. When she's not designing printables or writing essays, you'll find Kayse homeschooling her kids, reading a cheesy novel with a giant cup of tea in hand, or watching an old show from the 90's with her husband, who is her very best friend.