Meet the Prioritized Planning Method!
Hey friend!
We live each day in a culture that pushes HUSTLE and PRODUCTIVITY as the only things that hold real value. We praise finished to-do lists, difficult achievements, and exhausted women.
Listen, I'm not saying that productivity is bad – God created work and he called it GOOD!! And I'm the first girl to make a giant to-do list, complete with perfectly square checkboxes, thankyouverymuch.
But there's a serious problem in our culture that calls productivity the only thing that holds real value.
Because…well…that's simply not true.
Rest matters, too. And relationships. Not to mention our faith lives, our physical and mental health, and more.
I think we can sum up all that REALLY matters with one word – PEACE.
I want PEACE in my days more than I want PRODUCTIVITY.
And I've found that the key to peaceful planning is truly just one thing: planning according to your PRIORITIES.
Why?
Because the most anxiety and frustration comes when our DAYS don't reflect our VALUES.
When we're spending our days busy busy busy, but we know we are really needed at home.
Or when we're spending our Sunday mornings cleaning the house instead of going to church.
Or when we're rushing around to every extracurricular activity under the sun, when we know in our gut that our family just needs some down time.
That overwhelmed, exhausted, FRUSTRATED WITH LIFE feeling pops up when our schedule doesn't reflect our real priorities.
And honestly? That's a GOOD THING – because it signals to us that something isn't right.
Something needs to change.
So today, I want to share the process I use to align my daily schedule with my true priorities – which ALWAYS infuses a little peace back into my life…
…because when we know we're doing what really matters, our days feel purposeful and fulfilling, even when they are hard.
The Prioritized Planning Method – my secret weapon!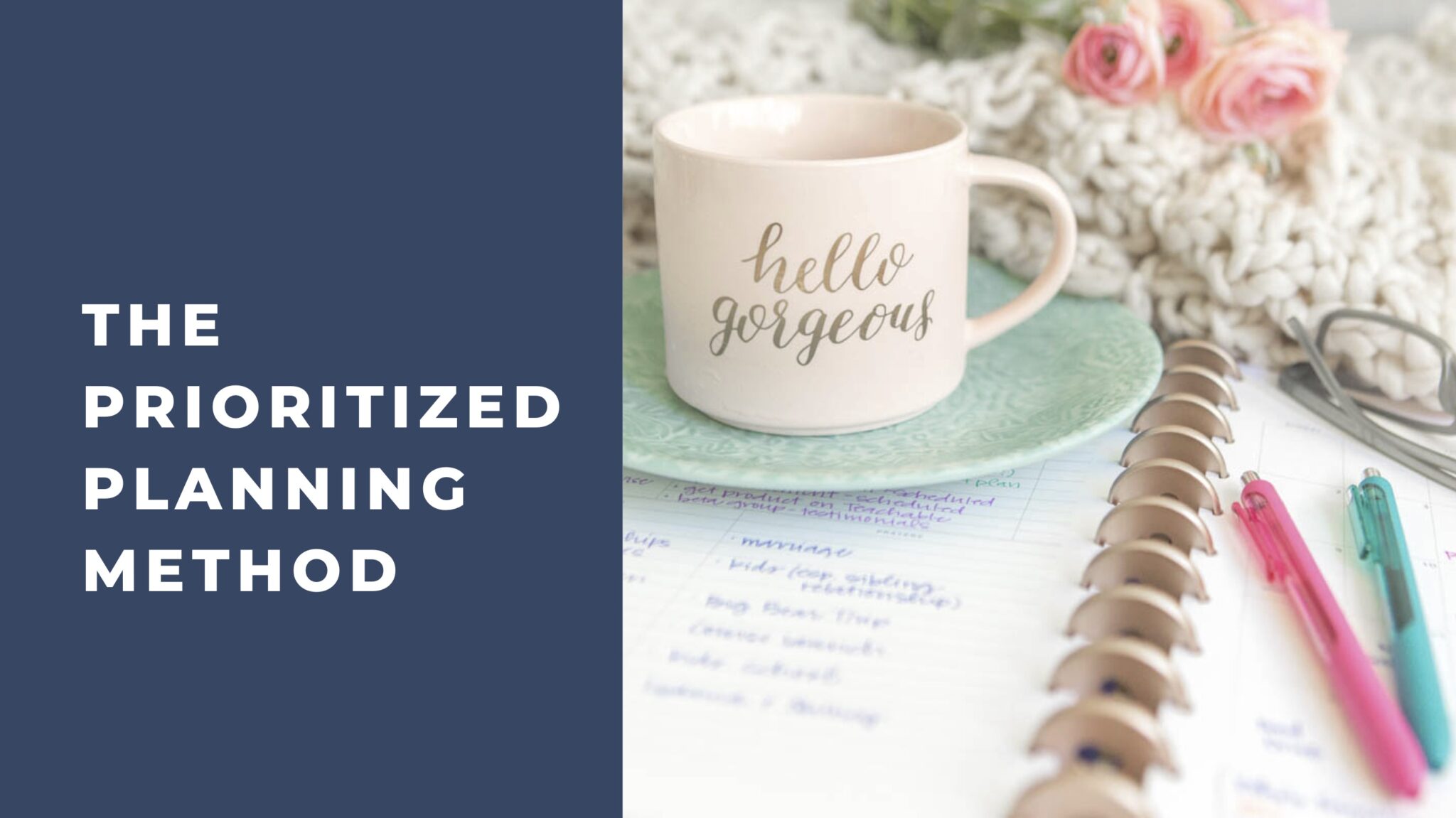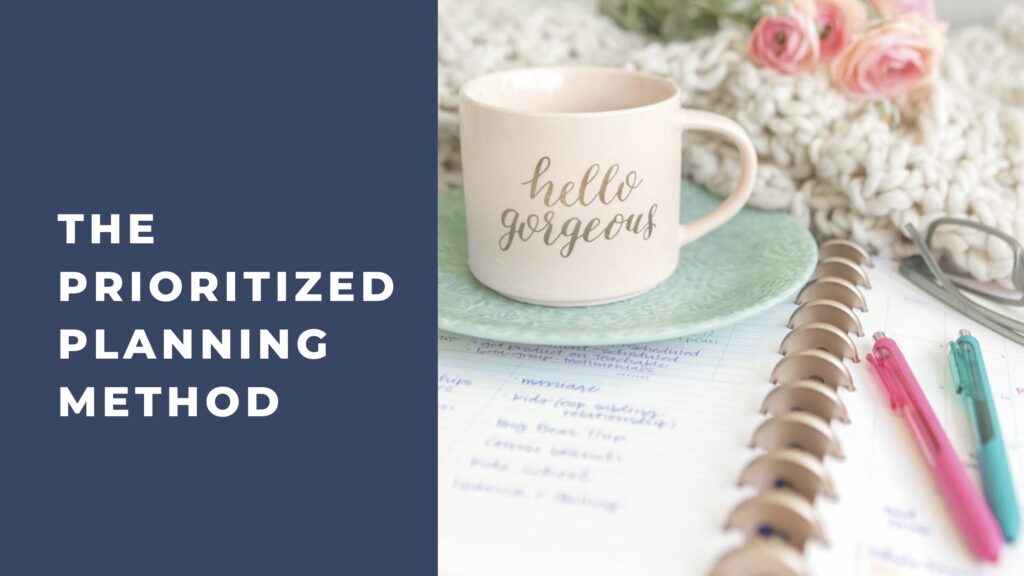 This 4-step method I've used over the years is truly simple – like most life-changing things are.
But it's not a one-and-done sort of thing. I want you to look at it not as a straight path forward, but as a circular journey – a cycle, really. And every time you go around that circle, you tighten in a little more on that target – what really matters.
Ready? Let's take a look at step 1.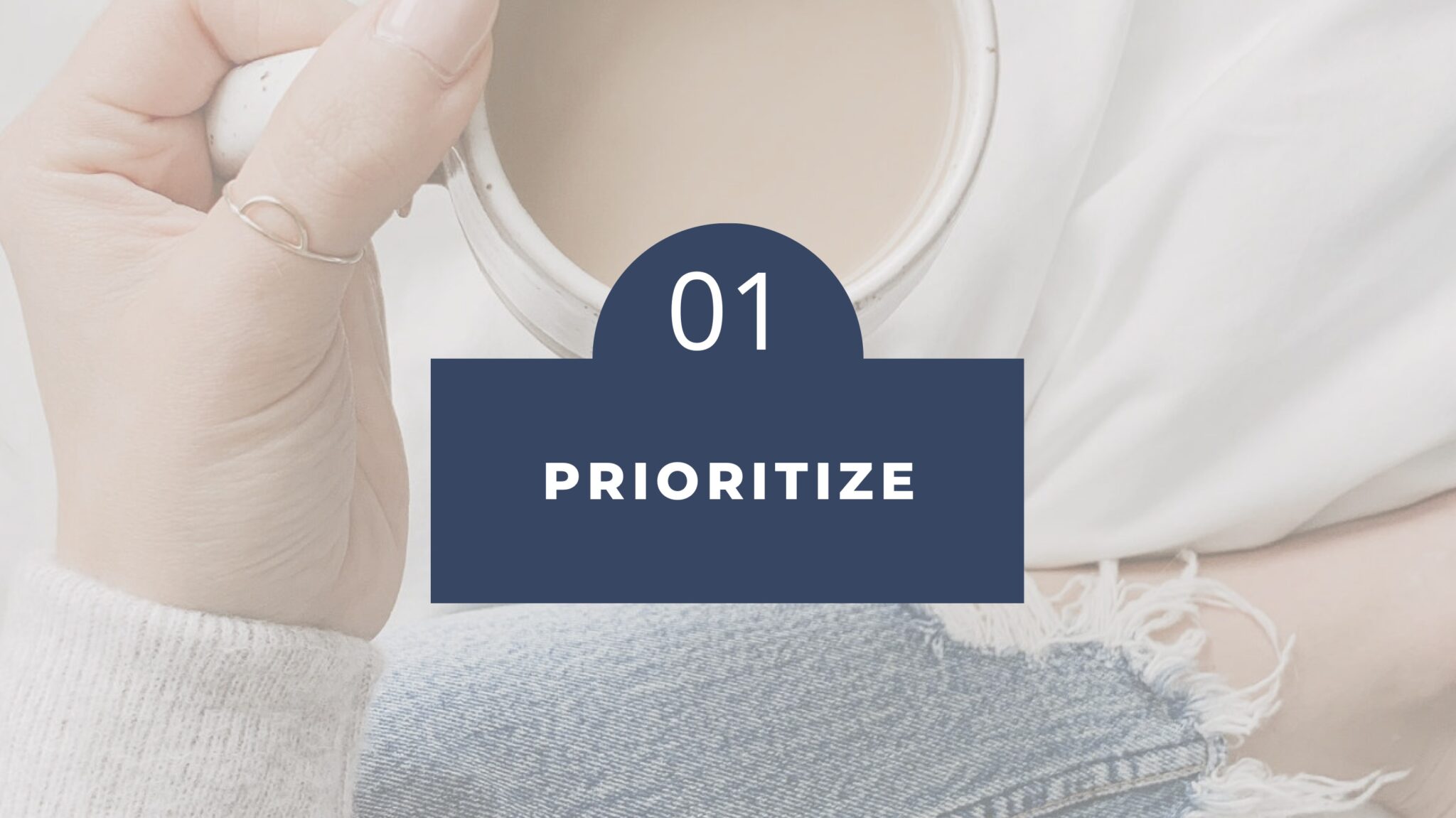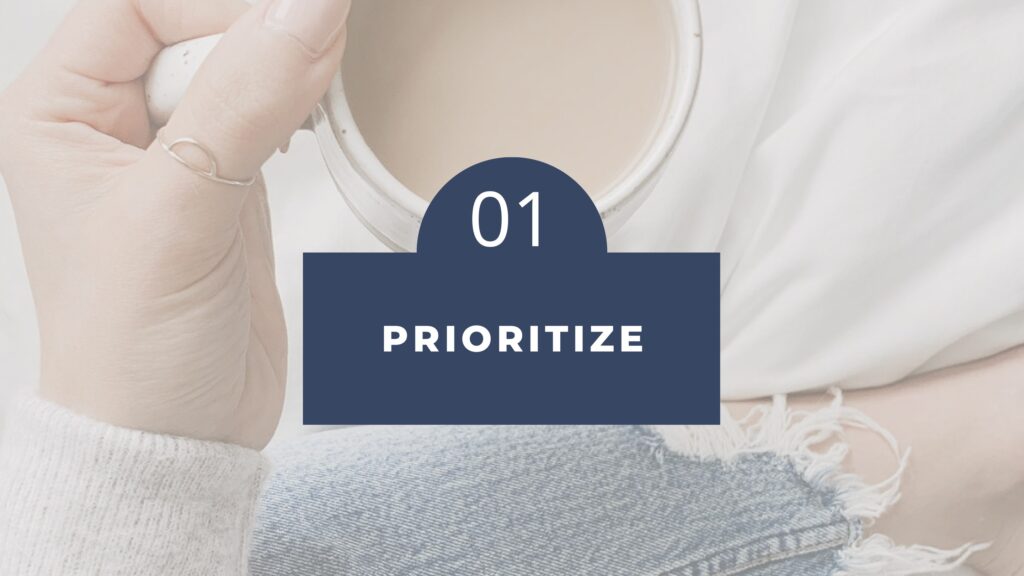 STEP 1: PRIORITIZE
Our very first step is figuring out what REALLY matters in our season.
Why "in our season"? Because seasons change – and as they do, so do our priorities.
We might be in a season where we've dealt with some big things and our family really needs some rest.
Or we might be coming out of a season of rest and are ready to take on some new projects.
Your season matters – so we start there.
When we choose what matters in our season, we give ourselves the gift of focus – instead of running in circles, like a hamster on a wheel going NOWHERE, we are able to focus in on what matters MOST and pursue just that.
Prioritizing allows us to stop feeling like we're running in circles all the time, and start focusing our energy + efforts in a single direction.
So first, we choose what really matters right now. That's our priority.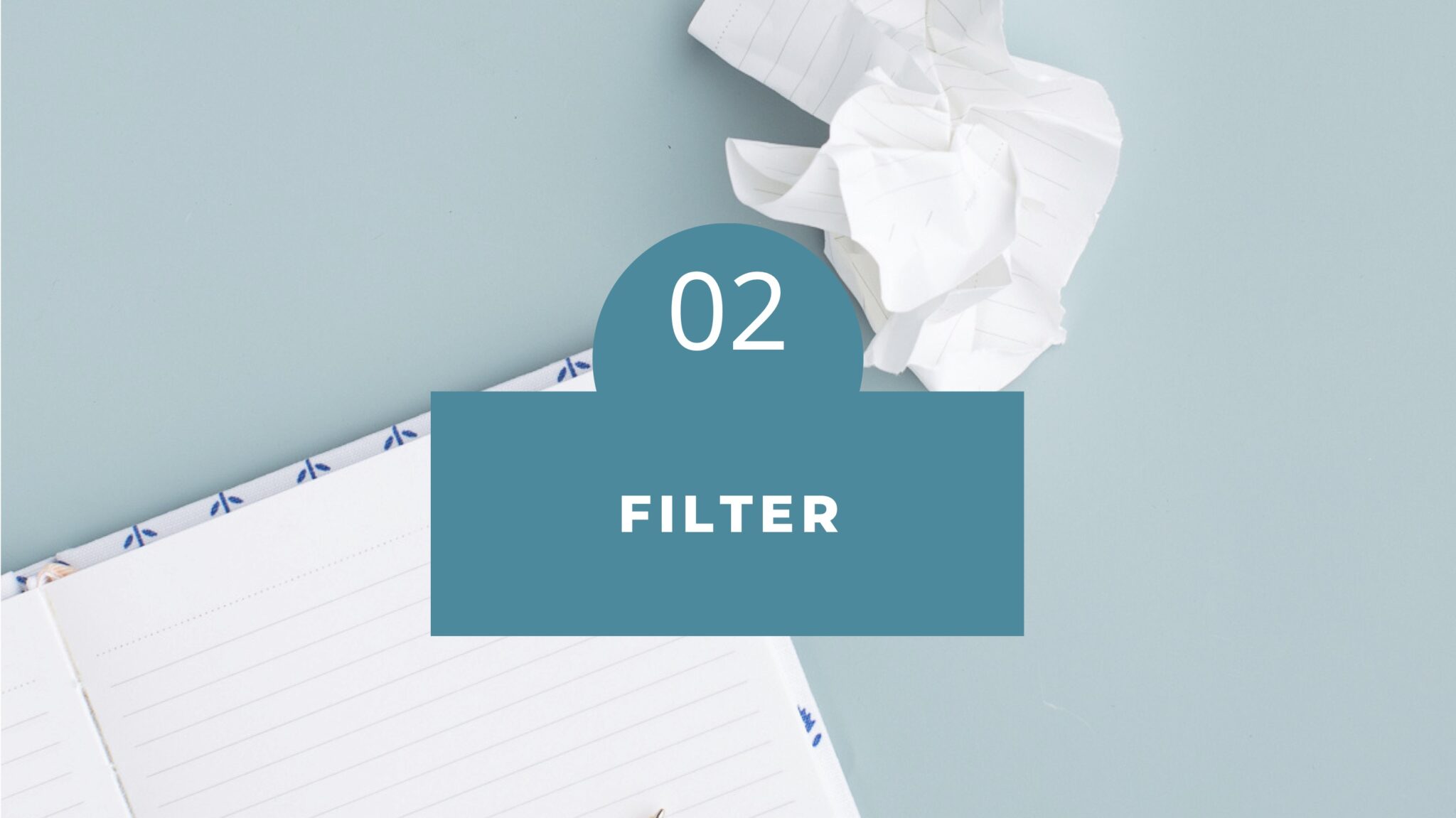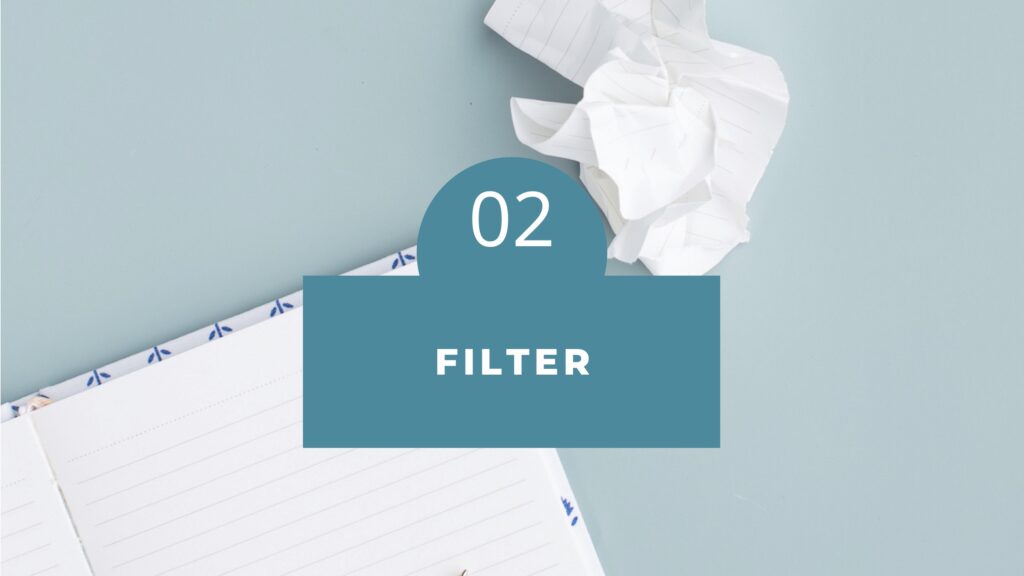 STEP 2: FILTER
When we know our priorities, we automatically have a perfect filter for all of our decisions!
Raise your hand if you're tired of making a million decisions every single day.
🙋🏼‍♀️ Yep. Been there!
What you need is a simple way to make those decisions EASY – and a filter does exactly that.
We use our priority as a filter through which we can now easily make all the decisions that are necessary.
Do we say yes to that new opportunity? Let's see if it lines up with our priority in this season.
Do we take this trip or that trip? Let's see if it lines up with our priority in this season.
What do we put on our schedules? How do we structure our days? How do we manage the responsibilities and possibilities coming our way?
We use our priority as a filter – remember we already decided that it was the MOST important!! – and weigh each decision according to whether or not it supports our priority in that season.
If it does? GREAT!! We can say a confident YES.
If it doesn't? We can also confidently answer – either with a firm NO, or a peaceful NOT RIGHT NOW.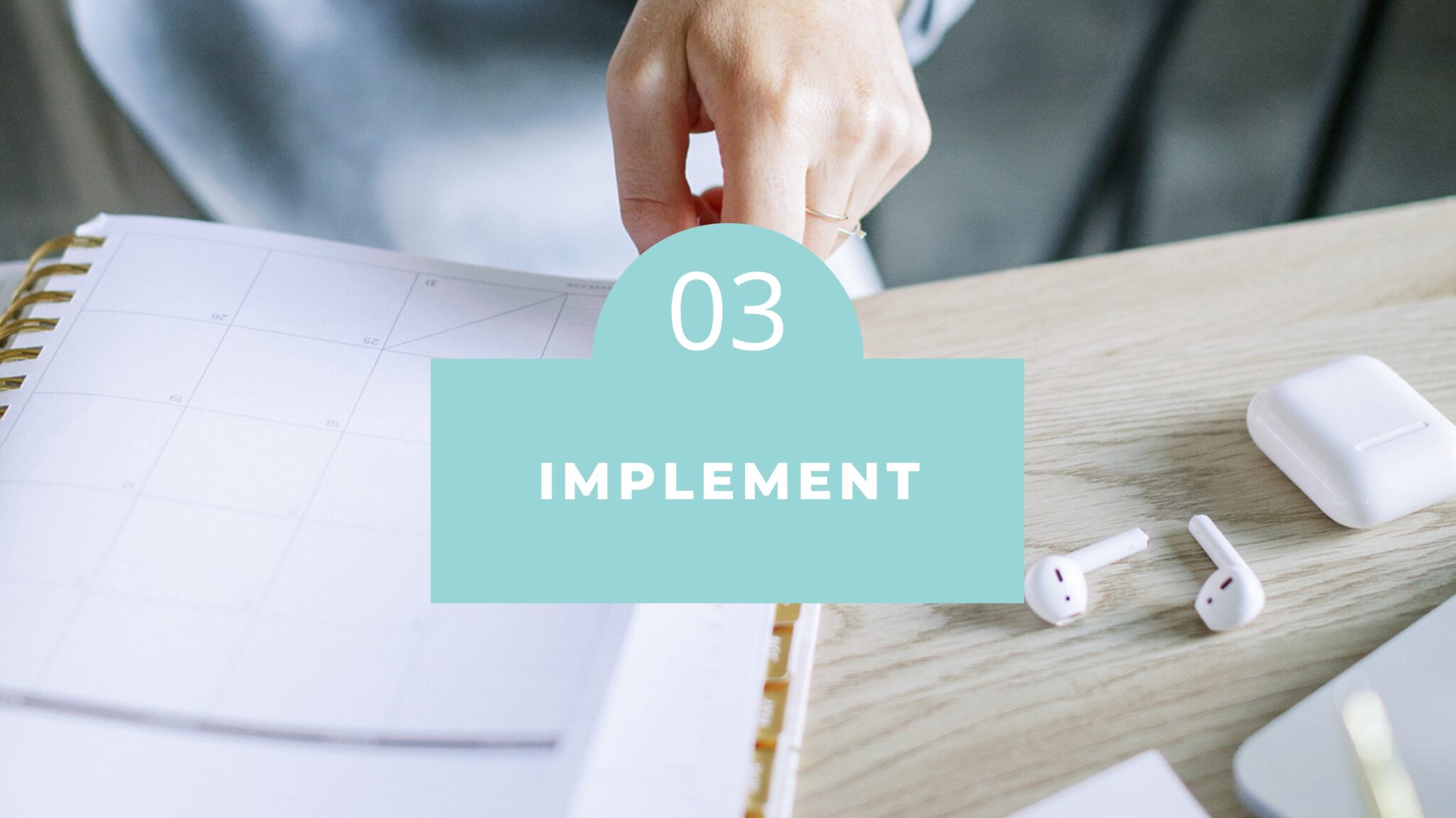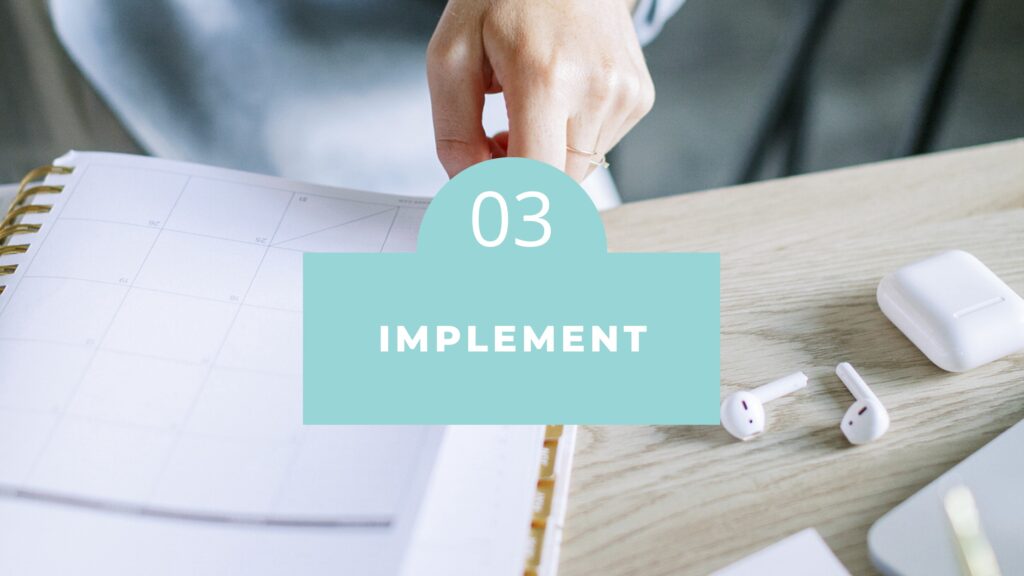 STEP 3: IMPLEMENT
This step is my favorite, because I'm a planner at heart. And once we know our priority, and know exactly what we're saying YES and NO to in this season, it's time to make a plan…
…and put that plan into action!!
We can fill our schedules with what's MOST important, create a new daily routine that reflects those true priorities, or develop a work plan that aligns with what you value most.
Whatever your new plan is – this is the step where you actually walk out the plan you've created.
THIS STEP CANNOT BE SKIPPED!!!
Why? Because a plan isn't a functional tool until you actually put it to work.
You've gotta do the thing. Try it out. And give yourself some grace as you do – plans do not always work perfectly the first time – in fact, they most often do NOT. Which exactly is why we have step 4!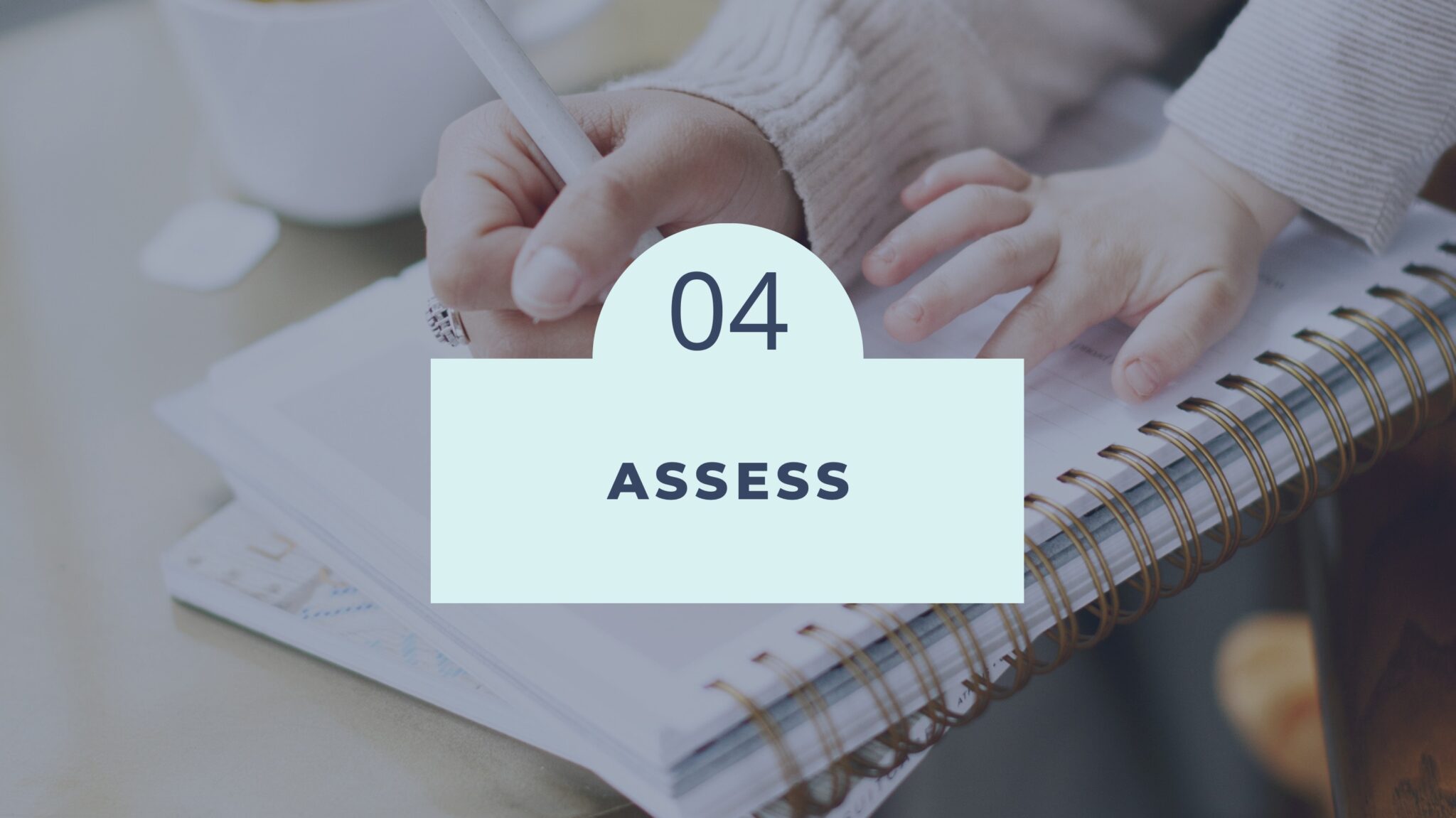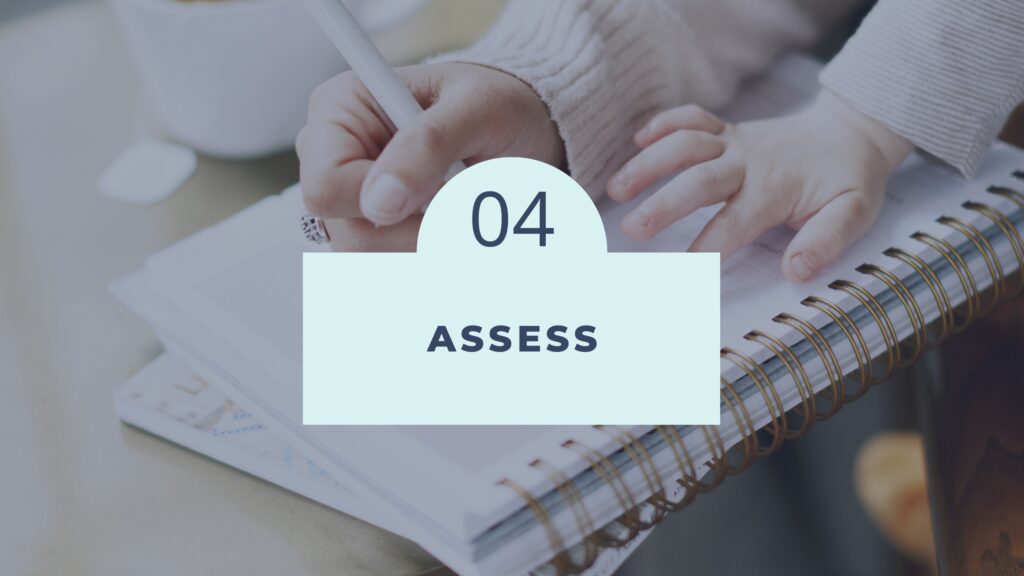 STEP 4: ASSESS!
If you thought you were done after IMPLEMENT, think again!
This is actually the step where I see people get stuck the most often – because people don't always know what to do when the plan doesn't work.
Assessment is that final step that rounds out our Prioritized Planning Method – it's where we embrace our role as the boss of the plan (remember, the plan is a tool – you are the boss!), and figure out how to fine-tune it to make it work even better.
When we assess the plan, we ask 4 things:
What's working? // We start here because it's best to identify what IS working first. Too often, when a plan isn't working, I see people throw out the baby with the bathwater, so to speak. But that's not smart because there's typically SOMETHING from your plan that IS working. We want to hold on to those things!!
What's not working? // Here's where we identify the few things that just aren't working – what obstacles are we encountering that we didn't anticipate? What just isn't playing out the way we thought it would? These are the things we want to tweak.
Does this plan still align with my priorities? // Sometimes a plan doesn't work because it's out of season – it no longer aligns with what is most important right now. If this is the case, we want to go back to identifying our priorities again!
What changes can I make to tighten this up? // Here's where you come up with those tweaks and adjustments that address what's not working!
Assessing the plan gives us the freedom to make small tweaks to the plan instead of WASTING TIME starting over again and again, the way we often do when something isn't working!
We're done throwing plans out because "they didn't work".
Instead, we're going to learn how to assess + refresh our plan like the boss that we are!
A note on assessment: This truly is a skill that grows over time. Be gracious with yourself as you develop this new muscle in your planning life!
To support you in this, we've included MANY points throughout the S.O.S. Planner, where we guide you through a complete assessment process every month + every quarter. In the planner we call this "Reflect + Refresh"!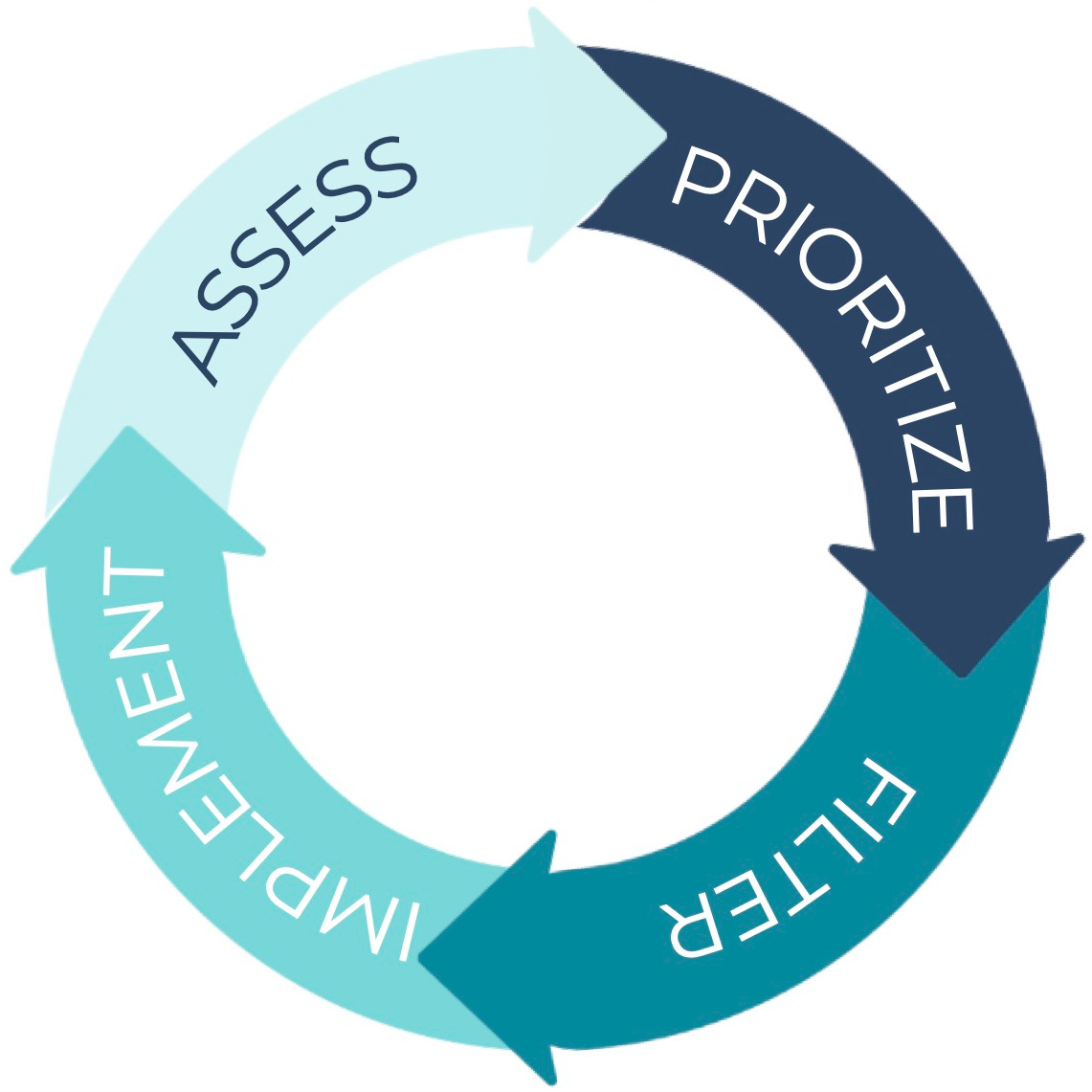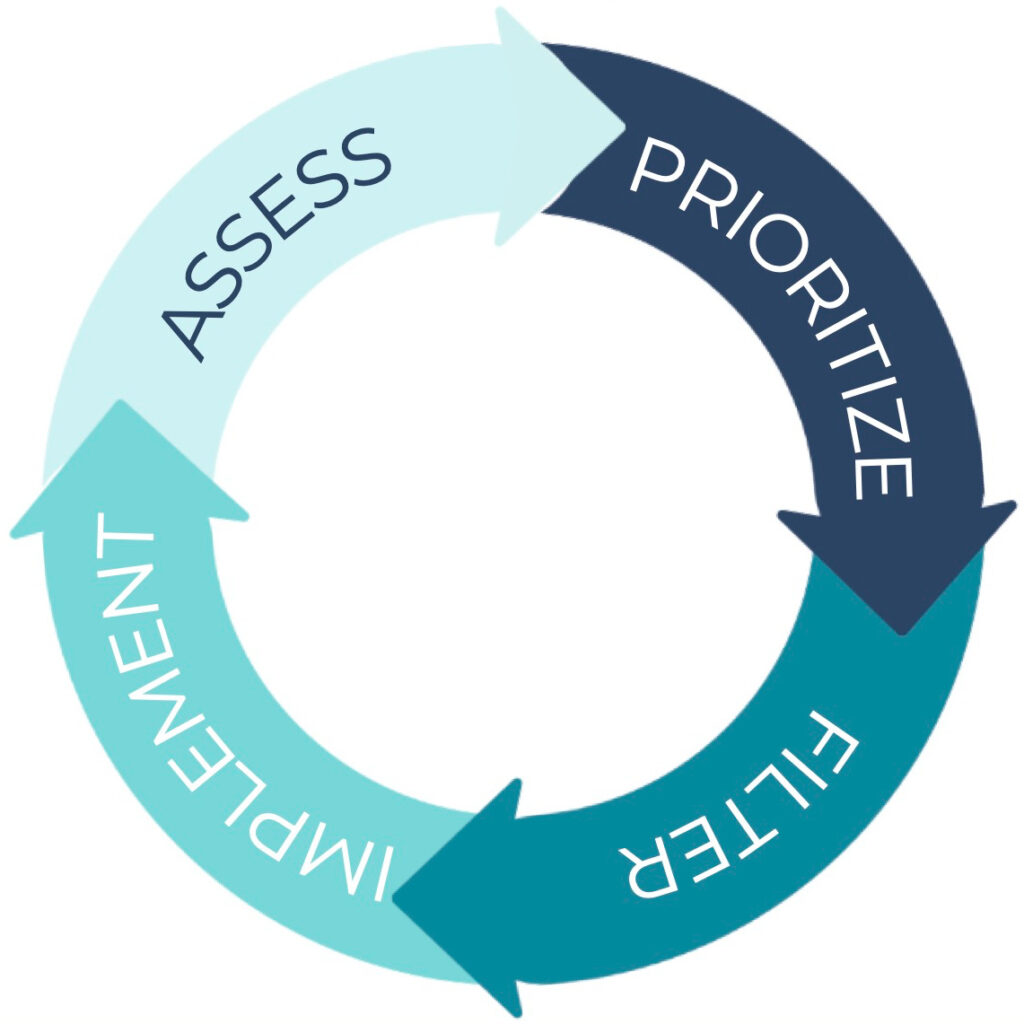 Like I mentioned earlier, I want you to look at this Prioritized Planning Method as a cycle – you're never really done with it, and that's okay!!
Because you're never really done with the changes of LIFE either – not while you're still living here on this earth. Seasons change, circumstances change, and no plan lasts forever.
That's why we continue moving through the process, identifying new priorities in each season, filtering our decisions through those priorities, creating and implementing a plan that supports those priorities, and regularly assessing how everything is going, so that you can ensure your daily life is actually lining up with what matters MOST to you.
We use this process for EVERYTHING here at Anchored Women.
It's built right there into our S.O.S. Planners:
helping you identify your priorities through an honest reflection.
keeping your priorities right in front of your face through every layout.
giving you space to try out new plans each week.
and encouraging you to stop every month + quarter for a built in assessment process!
And we also use it every month inside our Anchored Life Club – diving into one specific area of life and creating a prioritized plan around it, so we can make progress + move forward every single month!
I hope that this super-long post has actually been really helpful for you! Having a process through which I can easily identify my priorities, and create a plan based on those priorities has proven SO helpful for me.
Got a question? I'd love to hear it! Drop your Q's in the comments below and I'll answer as I'm able!!
And don't forget: our newest version of the S.O.S. Planner – built around this exact planning method – is launching TOMORROW!!! I can't wait to share it with you!
Join us tonight for our LIVE Planner Party, where I'll share all the new releases, and give away some really fun prizes!!!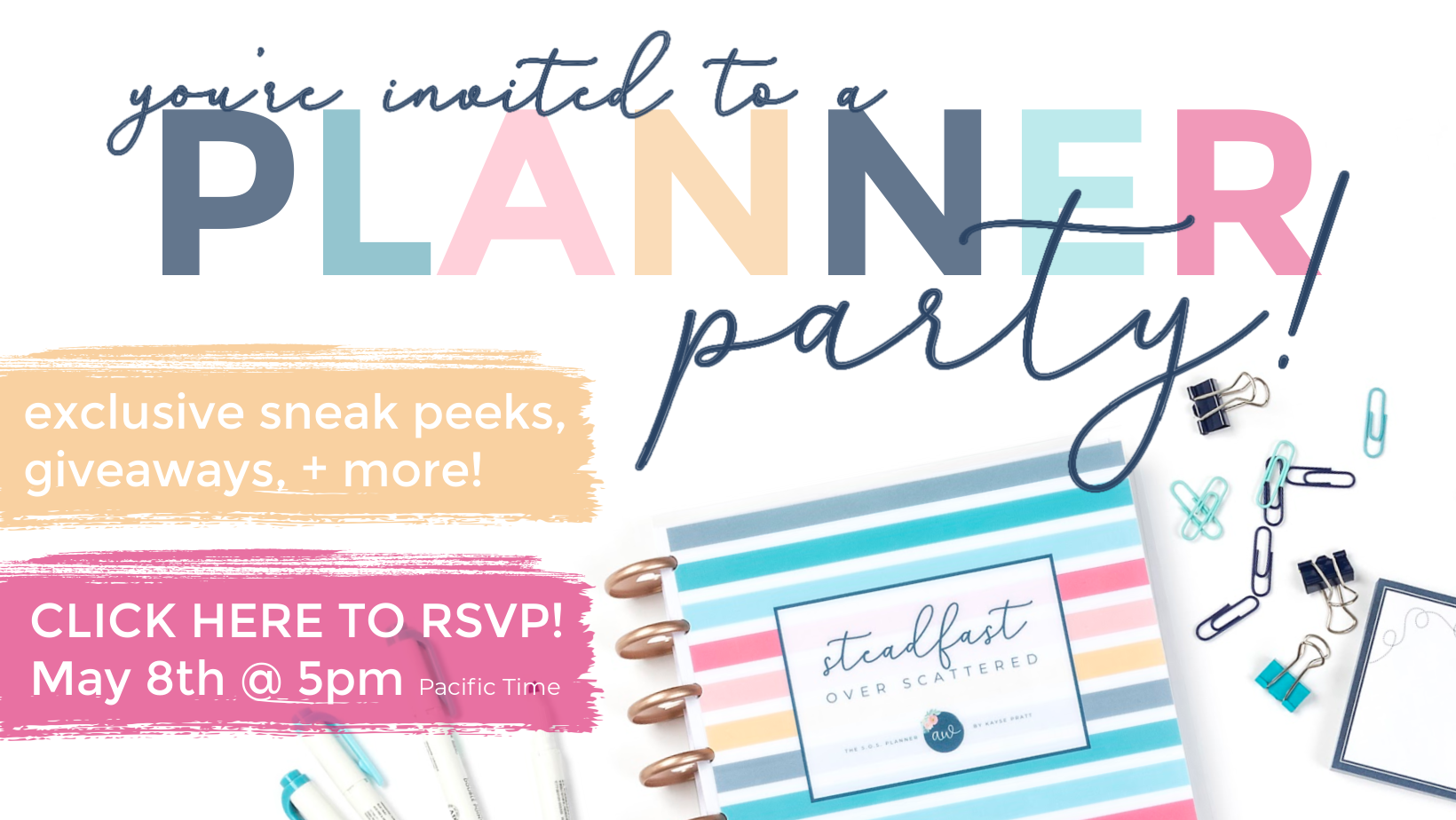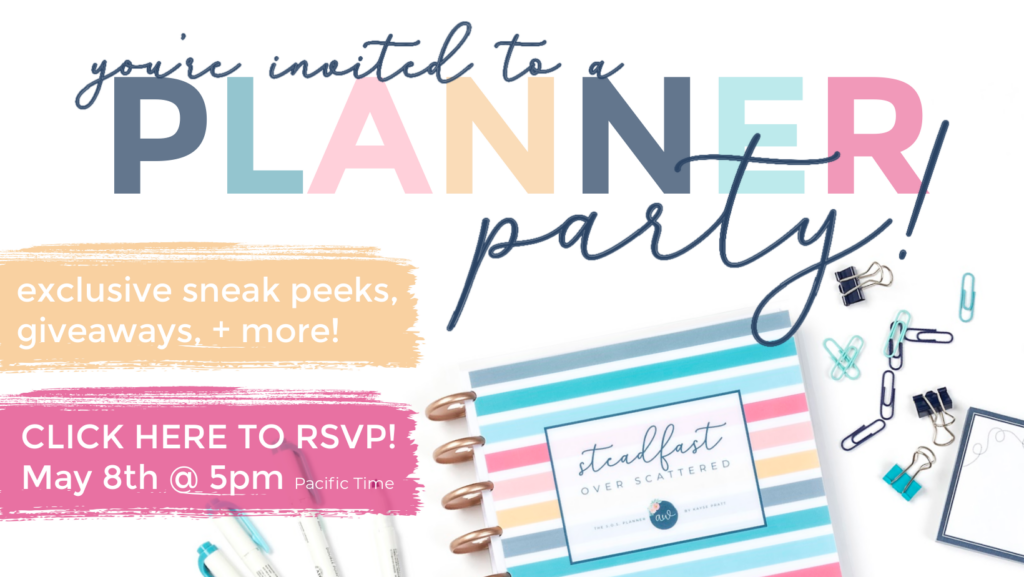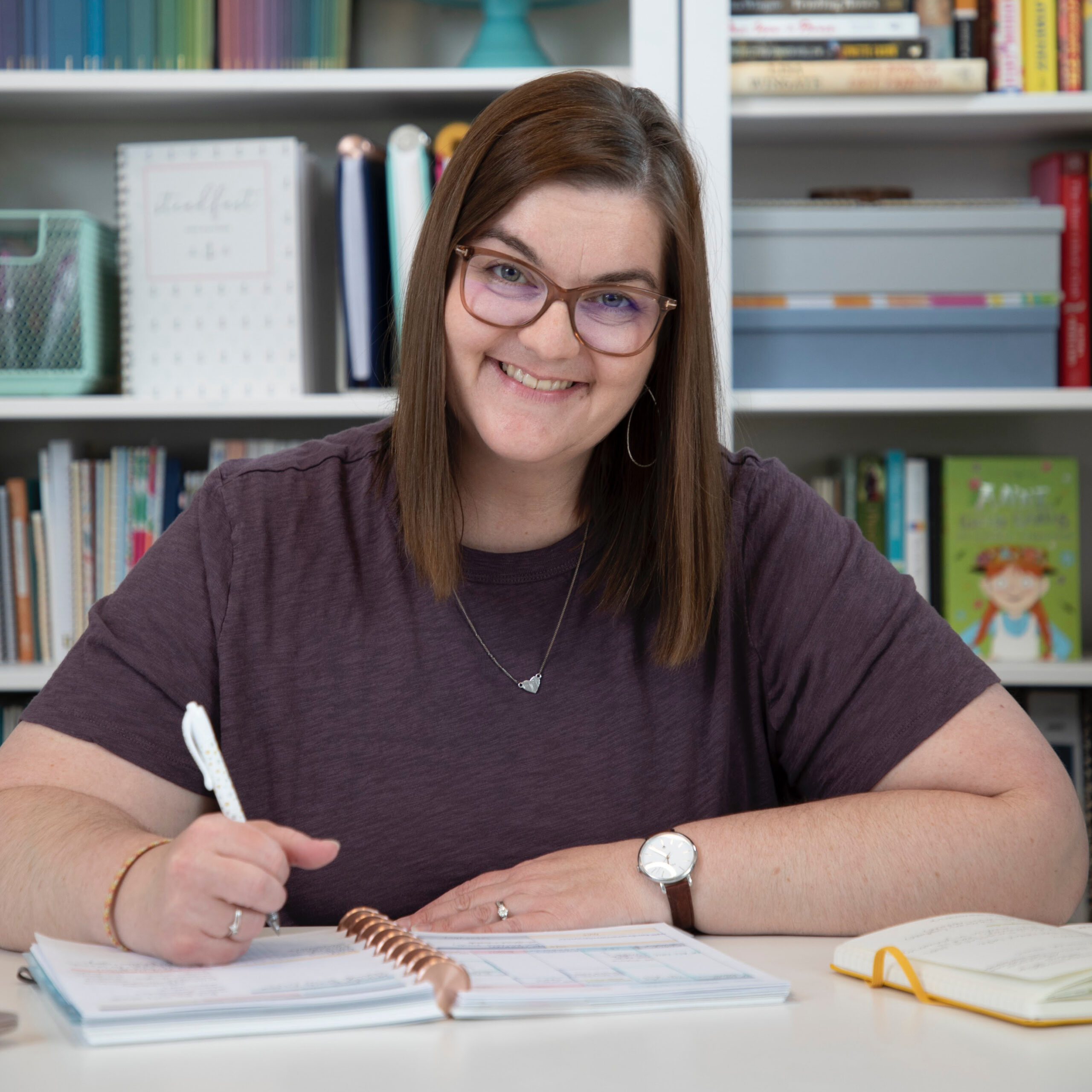 Kayse Pratt serves Christian women as a writer + designer, creating home + life management resources that help those women plan their days around what matters most. She's created the most unique planner on the market, helped over 400 women create custom home management plans, and works with hundreds of women each month inside her membership, teaching them how to plan their days around what matters most. When she's not designing printables or writing essays, you'll find Kayse homeschooling her kids, reading a cheesy novel with a giant cup of tea in hand, or watching an old show from the 90's with her husband, who is her very best friend.