Plan With Me: Weekly Planning!
Today we're diving into weekly planning – what I do, how I do it, and how to create a customized planning routine for yourself!
Let's dive right in!
You've Gotta Start With…? Monthly Planning!
I keep a pretty regular habit of monthly planning, which truly simplifies the weekly planning process. At the beginning of each month, I spend a little time planning out goals, meals, scheduling, and home plans. reflect on that yearly prep and make a narrower plan for the month ahead.
All of this gives me a pretty clear focus for the month, which helps shape my weekly planning as well.
Interested in my monthly planning process?   See my full post on monthly planning here! 
Making Weekly Planning EASY!
Honestly, once I have that monthly planning as a foundation, weekly planning is a breeze – something I look forward to every week!
Each Friday, I sit down in the afternoon and do our planning for the week. The simple act of thinking through our schedule + responsibilities gives me such a solid overview as I walk into the next week – without it, I'm winging it , and we all know that doesn't work well for long!
Here's what I cover on Fridays:
Our Calendars – I copy our appointments and events (or zoom calls right now!) from Google calendar into my paper planner. This helps me see what's going on over the entire week, as far as the things we've already committed to.
Our Meals – I pull a handful of meal ideas from my monthly meal ideas list, and schedule them out for the week. This goes super quickly, since I've already thought through meals I could make for the month! I'll schedule around 4-5 meals, and include a night or two for leftovers, and a night for eating out.
My Tasks – I spend a little time looking at what I did last week, and what tasks need to be taken care of this week. Then, I make two lists – one for home tasks and one for work tasks. I prioritize these and figure out what is most important for the week. Sometimes it's a home project, sometimes it's a work task. THIS gives me my focus for the week, and I write it down right there in my planner!
My Prayers – I also spend a little time thinking through what I need to focus on in my prayer life. How is my family doing? Are there sick or ailing people in my community that I can serve in prayer? Is there something on my mind that God wants me to bring before him? I write these out in my planner too, so that they are always in my line of sight, all week long!
It seems very simple, right? Schedule, meals, tasks, and prayers. It is simple! But even taking just a few minutes every weekend to prepare well for the week gives me such peace of mind as I start the week ahead.
I'm able to anticipate the needs of my family more, knowing what's coming up and how taxing our current schedule might be on their lives and emotions.
I'm able to schedule in margin where it's needed, so no one burns out or explodes. (Especially me!)
I can prioritize those things that I already decided really matter to me and my family – our goals, bucket list items, and even my focus for the year.
All of these things give me AND my family a leg up before we even start the week!
Your Turn!
So, how do we create a weekly planning habit that works for YOU? I've got you covered!! My own planning process isn't going to work for everyone, but it might be a good place to start! Let's talk through the things you need to decide on.
Pick A Planning Day // First, what day makes sense for you to do you weekly planning? Fridays work best for me, but it used to be Sundays! Maybe you work through the weekends, so you'd like to plan on another day of the week! There is no right day to plan! Just figure out your own best day, and carve out some time to plan this week.
Do Your Prep Work // Before that day comes, try and take about 30 minutes or so to do some weekly and monthly prep work. (Want a little help with your monthly planning? I've got a post and video for you right here! ) Even though it's APRIL, you can still think about how you want the rest of the year to go! In fact, chances are, your overarching plans for the year may have already created and burned, and you might need a new focus. That's okay! If you have our S.O.S. Planners, you can use our yearly prep pages for this, starting with the page that's titled "Reflect + Refresh"!
Attack Your Week // Once you've done this background prep, and you're able to sit down for the week, work through your big 4 – your schedule, your meals, your tasks, and your prayers!
Daily Check-Ins // Then, each day, check in with your planner and make a simple, flexible plan for the day! Keep your focus in sight, and fill in your tasks around your schedule.
Once you've done this for a few weeks, you might start to look forward to it! If you're anything like me, you will get super excited for your planning time each week! It truly helps me avoid distraction, make progress on my goals, and protect the margin that my family and I so desperately need. 
---
Looking for a planner that will work for you? Our new 2023-2024 S.O.S. Planners are launching SOON!!!!
(RSVP for our Planner Party ⬇️!)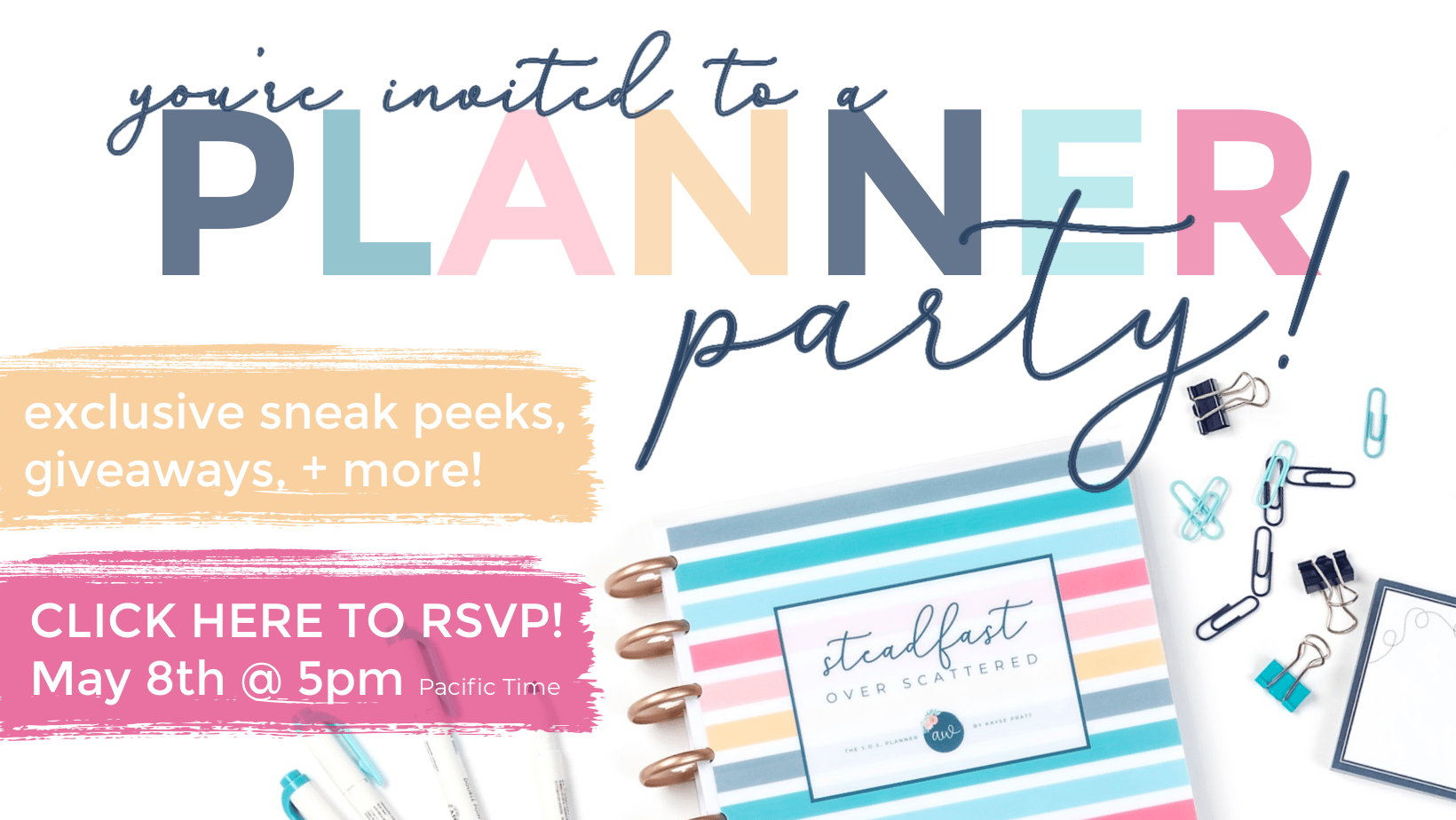 I know it's a bit early, but you're definitely going to want to SAVE THE DATE for our upcoming Planner Party! We'll hang out on zoom, share exclusive sneak peeks of our Spring Collection, and host a few incredible giveaways! PLUS, there will be a special SURPRISE for anyone who shows up live!!
👉🏼 RSVP here to save your seat: https://anchored-women.com/plannerparty
AND, while you're waiting for the party, take our planner quiz to hop on the the waitlist and be matched with your PERFECT planner layout!! 
✏️ Take the quiz here: https://anchored-women.com/quiz​
---
How about you? Do you think you might incorporate a weekly planning habit in your life? How might it help you?