The fear doesn't actually help us // Nightly Good News!
Hi friend! Welcome to today's edition of the Nightly (Good) News!
A little background for our new NGN friends:
If you've been feeling worn down by the news lately, like I have been, you're in the right place. I found that nighttime was when I was feeling especially worried and sad, and after talking to many of you, I realized I wasn't alone.
So, I put together a brief nightly email that gives you something encouraging to read before bed. Instead of getting sucked into the spiral of terrible news, we can all focus on something positive and sleep a little better. You can click here to get these delivered to your inbox each night! I'll also post them here on the blog the next morning.
Each letter will include a Bible verse and a few thoughts on it, plus something that's helpful, happy, beautiful, or fun. Delivered to your inbox each weeknight!

"God is our refuge and strength,
a very present help in trouble.
Therefore we will not fear though the earth gives way,
though the mountains be moved into the heart of the sea,
though its waters roar and foam,
though the mountains tremble at its swelling.
…
"Be still, and know that I am God.
I will be exalted among the nations,
I will be exalted in the earth!"
The Lord of hosts is with us;
the God of Jacob is our fortress."
– Psalm 46:1-3, 10-11
A very present help in trouble. That's what our God is.
I've sat with that this afternoon and tried to think about what it means, and I keep landing on this – He is with us.
Depending on whether or not you watch/listen to/read the news, your level of fear might be different right now. Me, I'm mostly staying away from it – because when I hear about the numbers, the locations, etc., it's easy for me to slip into fear.
But the fear doesn't actually help us. When the earth gives way, when the mountains tremble, when the waters roar – it is GOD who is our fortress. And He is still God. Unchanged by our circumstances, still Lord over it all.
Not from far away, either – from right here, with us, in the middle of it. He is present.
And because He is present, we can be still.
When my little ones have a disappointment, an injury, or a nightmare, they run to me. And as their parent, I comfort them, console them, and stay with them until the dark time has passed. When I am there, by their side, my presence comforts them. They know they will be well taken care of because mom is there.
How much more will our perfectly loving Heavenly Father comfort us?
He will not leave. He will not change. His presence can be our greatest comfort, if we let it.
This takes time. And quiet. And stillness. It takes us intentionally reading words out of the Bible and reminding ourselves that THIS is what is true, no matter what. We have to use the time we've been given to anchor ourselves in the Word of God right now – it is the only thing that will give us true peace.
Lord, thank you for being our fortress, our refuge, and our strength. Help us to be still and remember who you are and that you are in control of every outcome – and that we are not. Help us to relax our need to control things and learn to retrain our brain to depend on you, instead.
---
A little something encouraging…
I've got a couple of books for you tonight. First, the book, This Is Our Time, by Trevin Wax. Full disclosure: I haven't read this whole book yet. But I just started it last night, because it's what we're reading for April's Anchored Women Book Club, and I already really like it. I think it might be incredibly timely right now.
Here's the description from Amazon:
Uncertain. Confused. Overwhelmed.
Many Christians feel bombarded by the messages they hear and the trends they see in our rapidly changing world.
How can we resist being conformed to the pattern of this world? What will faithfulness to Christ look like in these tumultuous times? How can we be true to the gospel in a world where myths and false visions of the world so often prevail?
In This is Our Time, Trevin Wax provides snapshots of twenty-first-century American Life in order to help Christians understand the times. By analyzing our common beliefs and practices (smartphone habits, entertainment intake, and our views of shopping, sex, marriage, politics, and life's purpose), Trevin helps us see through the myths of society to the hope of the gospel.
As faithful witnesses to Christ, Trevin writes, we must identify the longing behind society's most cherished myths (what is good, true, beautiful), expose the lie at the heart of these myths (what is false and damaging), and show how the gospel tells a better story – one that exposes the lie but satisfies the deeper longing.
And speaking of timely books, we've also been reading through The Life Giving Home in book club too! This book we're reading all year long – one chapter a month. And April's chapter focuses on Faith. Again, I think it's going to be an incredibly timely read.
I'd love for you to join us in the Anchored Women Book Club, and read along with us! You can get more info on our (totally free) book club here: https://anchored-women.com/the-anchored-women-book-club/ Reading has been SUCH a wonderful way to relax my mind and focus on the things that matter – especially right now. I hope it's the same for you, too!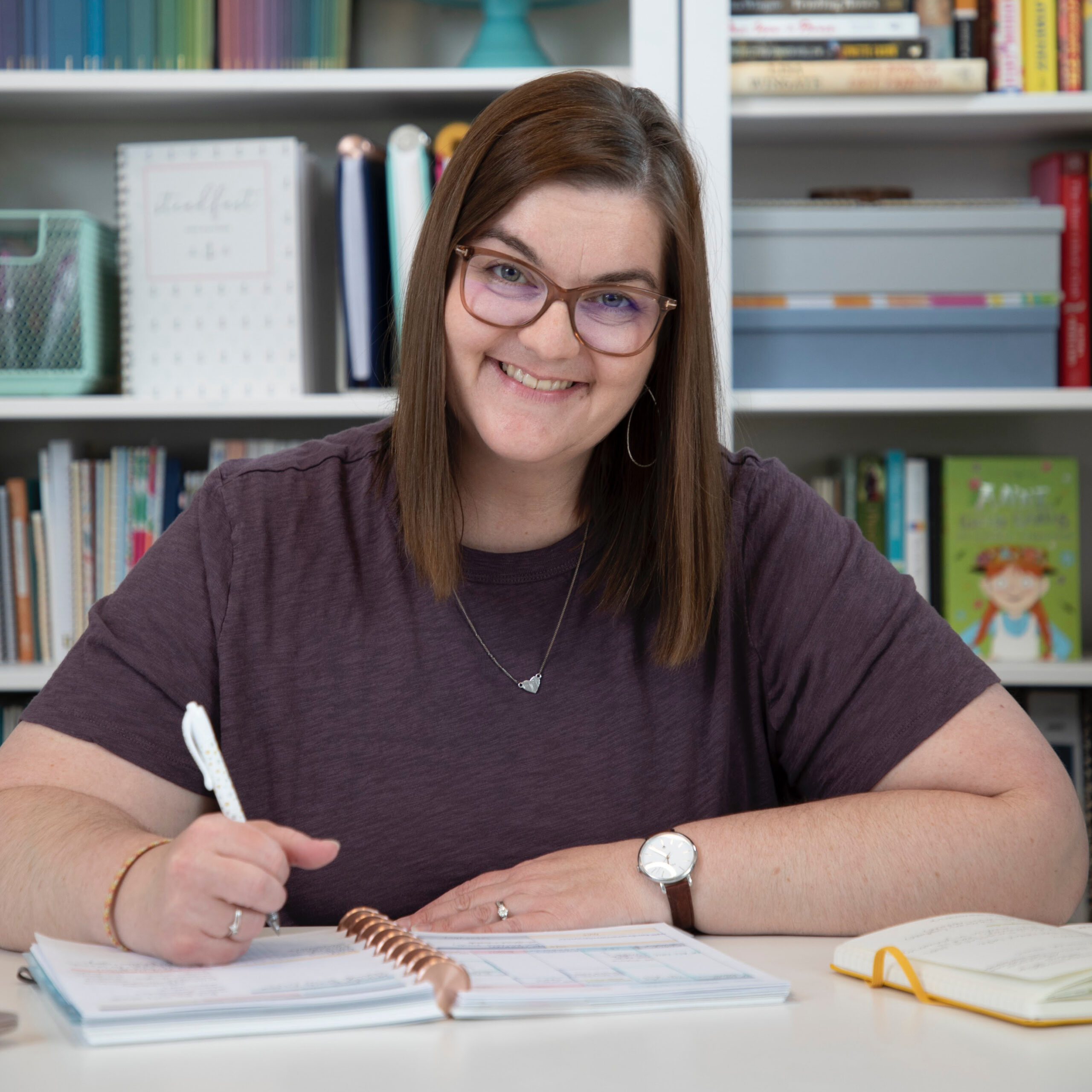 Kayse Pratt serves Christian women as a writer + designer, creating home + life management resources that help those women plan their days around what matters most. She's created the most unique planner on the market, helped over 400 women create custom home management plans, and works with hundreds of women each month inside her membership, teaching them how to plan their days around what matters most. When she's not designing printables or writing essays, you'll find Kayse homeschooling her kids, reading a cheesy novel with a giant cup of tea in hand, or watching an old show from the 90's with her husband, who is her very best friend.