The opportunity to pause // Nightly Good News!
Hi friend! Welcome to today's edition of the Nightly (Good) News!
A little background for our new NGN friends:
If you've been feeling worn down by the news lately, like I have been, you're in the right place. I found that nighttime was when I was feeling especially worried and sad, and after talking to many of you, I realized I wasn't alone.
So, I put together a brief nightly email that gives you something encouraging to read before bed. Instead of getting sucked into the spiral of terrible news, we can all focus on something positive and sleep a little better. You can click here to get these delivered to your inbox each night! I'll also post them here on the blog the next morning.
Each letter will include a Bible verse and a few thoughts on it, plus something that's helpful, happy, beautiful, or fun. Delivered to your inbox each weeknight!

"So teach us to number our days that we may get a heart of wisdom."
– Psalm 90:12
In a very real sense, right now our days are numbered. I don't mean the days of our lives – only God knows that. But the days of this stay-at-home order.
We are here until April 30th. (At least for now.)
So in the last few days, I've been thinking about how to use that time.
When we know that our lives are going to look a certain way for a period of time, we have an opportunity to pause. In that pause, I think we are given this gift of perspective – there are some things we don't have control over (like the number of days of this order), but there are also things we DO have control over.
These are the things I'm asking myself about – the things we CAN control, at least in part.
I'm asking:
How do we use wisdom to make this time meaningful – both for myself and my family?
What are routines and traditions we can put in place that will help us look back on this time with contentment?
What kinds of things might we put into place now that we can carry with us once this season is over?
How do I use this time to work on the most important aspects of my life – my spiritual, physical, mental, and emotional health?
I started a journal this week just for this stay-at-home period, and I'm writing out my own answers to these questions. I'm making lists (because lists help me prioritize things and put them in perspective), and also writing down whatever I'm thinking – my plan for the day, my prayers, any good news I find. This is helping me have a plan for this time, and it also serves as a way to keep memories of this time. We're living through history right now in a way that most of us never have before – I want to keep a record of it.
I think that one of the greatest gifts of this unexpected pandemic is time. Time to re-evaluate the way we'd been living, time to form new habits (maybe less busy ones) now, and time to look ahead at what changes we want to make for the future.
Time to pray for God's wisdom in all of it.
I'd love to know what you're doing – how are you forging new paths and exercising wisdom during this time?
Lord, we know that all wisdom comes from you. Help us to use this time for our good and for your glory. Show us how our lives, before this, might have needed to change. And help us see how we can make those changes in the future. God, even though this time is also scary and unsettling, help us to use it with purpose and intention where we can, prioritizing those two greatest commandments you gave us – loving You and loving others.
---
A little something helpful…
After sharing some grown-up books with you yesterday, I got a few questions about how your kids can read right now while the libraries are closed – and I wanted to share what I'm doing that's working SO WELL!
Last week, I gave each of my kids one of my old Kindle Paperwhites. (I currently use and love the Oasis, and had these older Paperwhites in my desk drawer, thankfully.) Paperwhites are my favorite for the kids because all they can do on them is read books – there's no games or web browsers or anything. It's JUST for reading.
I deleted all of my books off of them, and set the parental controls so that they had no access to the internet, the cloud, or anything else. They cannot purchase or download books. ALL they can see and access are the books that I have put on there for them.
I created a "collection" for each of them, and put Emily's collection on her Paperwhite, and Nathan's collection on his Paperwhite. These are books I've bought for them over the years. (Emily has actually had her Paperwhite for a year or so, so I've purchased quite a few books for her on there.)
Emily is reading larger chapter books now, so they take longer to read through. But Nathan is reading beginner chapter books, and those take him a couple hours, maybe. He read through all 8 books I'd downloaded for him in 3 days.
Now friends, I am not about to go buy all of the Magic Tree House Books on Kindle for $5 each, BUT I realized we could just use the library for this!
So, I visited our library's website, and was able to check out a handful of MTH books for Nathan, plus some other books on superheroes. Obviously. I put a hold on a few more, so we'll get a notification when they are ready! I'll do the same for Emily when she works through the books she already has.
(And I created a new "collection" on each of their Kindles called "Library Books". Sophisticated, I know.)
I LOVE this method – borrowing books on our Kindles – because it gives the kids new things to read without having to pay a cent, AND I DON'T GET FINES FOR TURNING BOOKS IN LATE!
So, I hope this gives you a new idea. Maybe grab your kid a Kindle Paperwhite (if you're screen-free like we are, you will instantly become THE COOLEST PARENT EVER, even though they are just reading books a different way!), and load them up with library books!
(They even have Kindle Paperwhites specifically for kids now – and they are cheaper than the regular ones and come with a case! You can see them here.)
Maybe you already know all this, but it's new to me, and it's working SO well. The kids are reading constantly, and even reading the same books as each other and talking about them. Every morning they get up and go into Nathan's room for "Reading Club", where they sit together and read on their kindles. IT IS THE CUTEST THING EVER.
Okay that's enough about the kindles. But seriously – so great.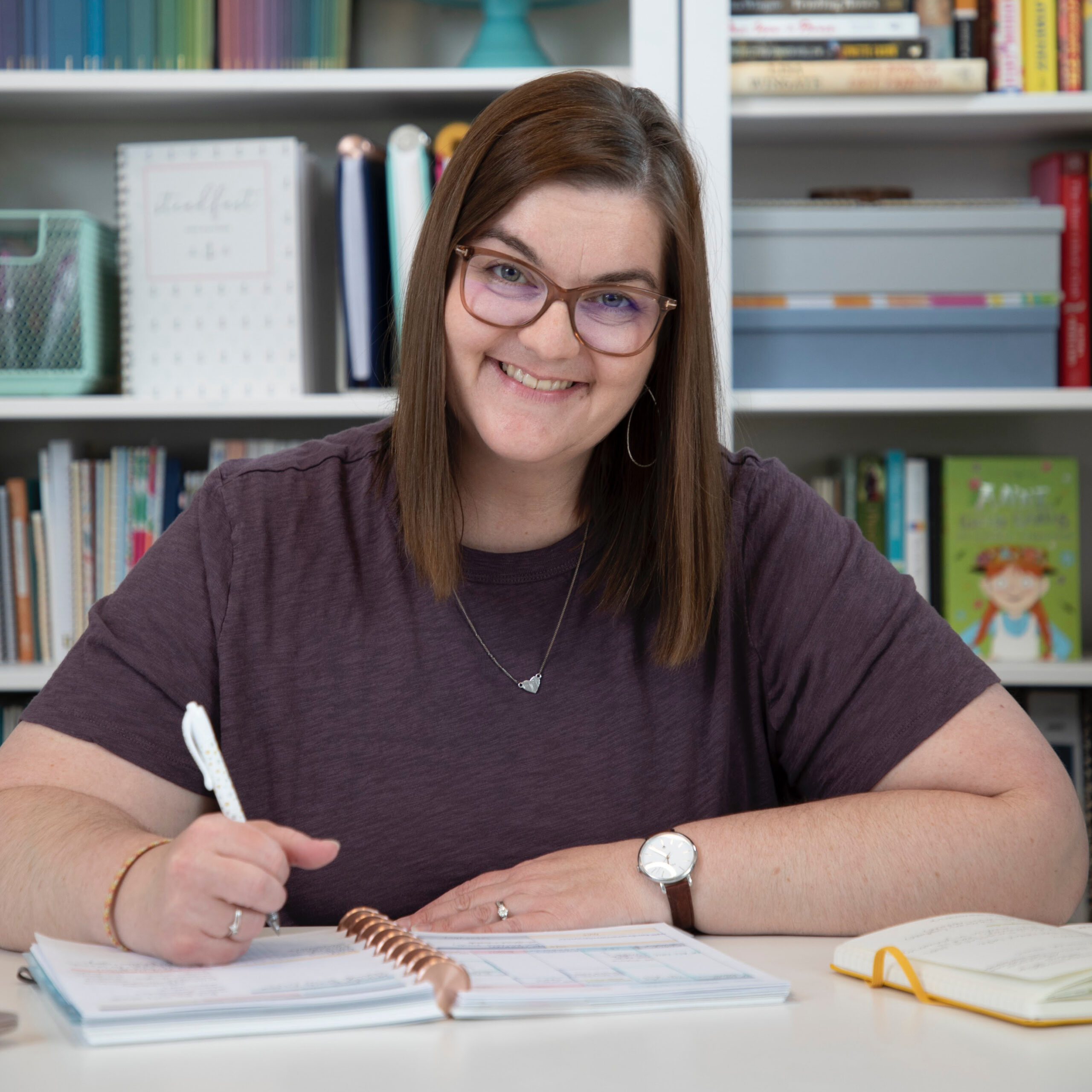 Kayse Pratt serves Christian women as a writer + designer, creating home + life management resources that help those women plan their days around what matters most. She's created the most unique planner on the market, helped over 400 women create custom home management plans, and works with hundreds of women each month inside her membership, teaching them how to plan their days around what matters most. When she's not designing printables or writing essays, you'll find Kayse homeschooling her kids, reading a cheesy novel with a giant cup of tea in hand, or watching an old show from the 90's with her husband, who is her very best friend.