We have this hope // Nightly Good News!
Hi friend! Welcome to today's edition of the Nightly (Good) News!
A little background for our new NGN friends:
If you've been feeling worn down by the news lately, like I have been, you're in the right place. I found that nighttime was when I was feeling especially worried and sad, and after talking to many of you, I realized I wasn't alone.
So, I put together a brief nightly email that gives you something encouraging to read before bed. Instead of getting sucked into the spiral of terrible news, we can all focus on something positive and sleep a little better. You can click here to get these delivered to your inbox each night! I'll also post them here on the blog the next morning.
Each letter will include a Bible verse and a few thoughts on it, plus something that's helpful, happy, beautiful, or fun. Delivered to your inbox each weeknight!

"And I am sure of this, that he who began a good work in you will bring it to completion at the day of Jesus Christ."
– Philippians 1:6
Tonight I just want to share my favorite verse with you. It's my favorite always, but I also see how important it is right now.
Amidst all the uncertainty that this new season of life has brought us, this verse in the first chapter of Philippians gives us something we can be certain about:
God has BEGUN a good work in us, as His children. We are His, and He is working in our lives – even today!
He will not abandon us or the work He is doing in us. Instead, he will bring it to completion, finish it! We have this promise.
The day of Jesus Christ is coming – when He will return, end Satan's earthly reign, and create a new heaven and a new earth for those who are in Christ. A new home – without sin or death or sadness.
What an incredible promise! What an incredible hope! We might be uncertain about what tomorrow holds for us and our loved ones right now, but we can be certain of God and His incredible, unending work in our lives. We can be confident in Him!
Lord, thank you for promising that you will complete the work you are doing in our lives. Thank you for the hope of Christ. As we walk into Holy Week, help us to keep our eyes firmly on you, instead of on the media. You are our hope of eternal life – nothing else even comes close!
---
A little something helpful…
In our house, we're trying to do a little simple preparation for Holy Week next week. We are planning to read a little of the story of Holy Week each day with the kids, using this Bible. This is my very favorite storybook Bible, because it's simple enough for my little guy to understand, but also complex enough (and includes great questions) for my nine-year-old. The pictures keep their attention, and each story is the perfect length. Plus, each one includes a pray for you to pray with your kids. We love it, and in the vein of keeping things extremely simple (but focused) next week, we'll just be reading out of this Bible. (They also have a Kindle version here, which I've loaded onto my kids kindles.
Along those same lines, just a reminder for you – next week does not require massive art projects and deep discussions. Easter is about moving from darkness to light – death to life. You don't have to make it complicated. Share the tru story of Christ's sacrifice and resurrection with your kids, and celebrate the joy of Easter morning!! You need a Bible. And a little time. And I'm guessing you likely already have both. ?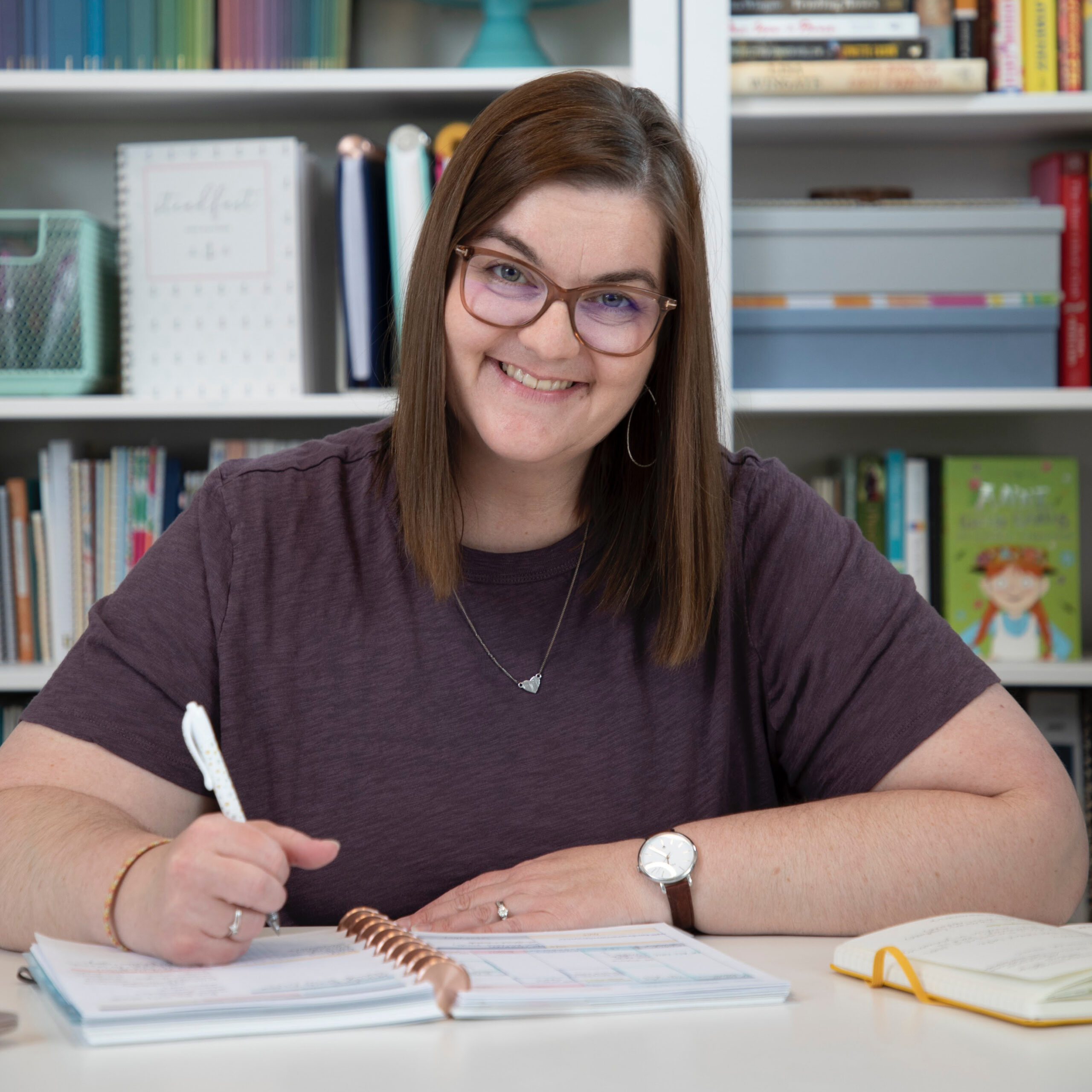 Kayse Pratt serves Christian women as a writer + designer, creating home + life management resources that help those women plan their days around what matters most. She's created the most unique planner on the market, helped over 400 women create custom home management plans, and works with hundreds of women each month inside her membership, teaching them how to plan their days around what matters most. When she's not designing printables or writing essays, you'll find Kayse homeschooling her kids, reading a cheesy novel with a giant cup of tea in hand, or watching an old show from the 90's with her husband, who is her very best friend.