"Good things come to those who hustle" (and other flat-out lies we keep hearing)
I believe we are a generation of exhausted women.
I believe we exhausted women still feel like we're not doing enough. Not working hard enough.
I believe this is a problem. And I'd like to talk about it.
Poisoned by Pinterest

Lately, I've noticed something. I can't open a single social media outlet without seeing something about how "Good things come to those who hustle".
Or, "Dreams don't work unless you do."
Or, "You rest, you rust." (This one makes me laugh. It's still a lie, though.)
There are whole businesses built around this #hustle movement, urging women everywhere to get in the race, start making more money, and build "a life you're obsessed with".
But it's not just on social media. It's in our churches, too. I'm hearing buzzwords thrown around like #holyhustle, and "God, Goals, & Grind", as if the Lord Himself endorsed these phrases.
I've read advice that I should get on my knees and pray, and then get up and get to work.
And my very favorite? "God never gives you a dream that matches your budget. He is not checking your bank account. He's checking your faith."
I'm sorry, WHAT?? What does that even mean, that God gave you a dream you can't afford, so you should pursue it anyway, however financially unstable, just to prove how much faith you have?
Are you kidding me?
That's it, friends. I cannot hold my tongue anymore. This idea of glorifying the hustle is absolute poison.
Yes, poison.
Do you know what the word hustle actually means? I consulted our good friend Webster to get an accurate answer for us:
Hustle :: "to convey forcibly or hurriedly, to shove or push, to sell or promote energetically and aggressively, to make strenuous efforts to obtain especially money or business"
(It can also be used to describe prostitution, but I'm fairly certain that's not what the #bossbabes are talking about…)*
Do you see those words? Forcibly. Aggressively. Shove. Push. Make strenuous efforts.
Which of those words sound like something we want to build into our lives? Do we see any of those characteristics held up in Scripture as desirable qualities we should be striving to emulate? Does God ask me to be forcible? Aggressive? Pushy?
No, no He does not.
Friends, these are not qualities that we should be glorifying. These are the characteristics of a busy, materialistic, shallow society focused on getting ahead, building a name for themselves, and doing whatever it takes to get what they want.
Hustle is not for us – we are women who value God's Word and want to pursue the life He has for us. Do we want to work hard, be responsible, and contribute to our families? Of course we do.
But hard work is not the same as hustle.
Hard work is humble, quiet, small. It is serving faithfully, right where we are, doing the things we need to do, even things that might go unnoticed. Hard work is focused on building character and caring for others.
Hustle is aggressive, by definition. It's chasing something we want at the expense of everything & everyone else. Hustle is focused on building our own empires, and caring for ourselves.
The "hustle" is neither holy, nor sustainable.
Because do you know what else I see? I see moms who started businesses a year ago, dropping like flies right and left. I see women who were sucked into this #hustle movement (myself included), weary and exhausted and in desperate need of rest. They are quitting their businesses and abandoning their teams and walking away from their blogs because they have emptied themselves chasing after what they thought would eventually bring them rest.
Spoiler alert: It didn't.
It's not just in the business world, either. I see it in stay-at-home moms just as clearly – this absolute exhaustion that comes from trying to do all the things, all the time, because hustling is what we are supposed to be doing, right?
Wrong. Wrong, wrong, wrong.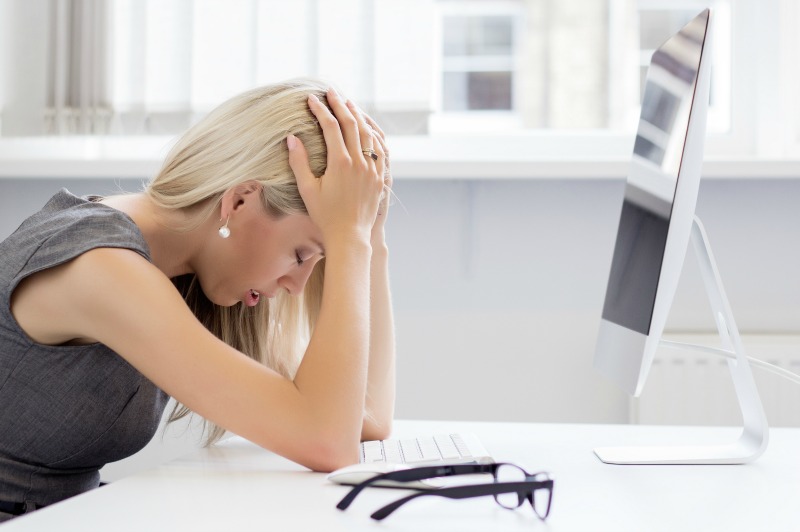 So what's the solution? If we aren't supposed to hustle, but we still have to work, then what are we to do?
If we take our eyes off social media, and search Scripture for what God actually requires of us, the answer couldn't be more clear.
"But the fruit of the Spirit is love, joy, peace, patience, kindness, goodness, faithfulness, gentleness, self-control; against such things there is no law." Galatians 5:22-23 
I think it's fair to say that THESE are the characteristics that God asks us to cultivate in our lives. Not busyness, distraction, or a laser-focus on achieving "the American dream".
"…urge the younger women to love their husbands and children, to be self-controlled and pure, to be busy at home, to be kind, and to be subject to their husbands, so that no one will malign the word of God." Titus 2:4-5
If you read my post on big dreams, small business, and motherhood, you know that I don't believe it's wrong to work – either from home or outside of the home. I do it, and many of my friends and mentors do as well. It's expensive to live in America and raise a family, and one income is often impossible to live on. I get it, I really do.However, as women we also need to remember that even when we do work, our primary focus needs to be our home and family. This is what we can always be certain that God has called us to, because it is right where we have been placed. We don't have to wonder about it. God gave us our families, and we are to care for them.And this does not require hustle. Look at the slow pace of life reflected in these verses. Love each other. Be self-controlled, kind, pure. These things encourage a singular focus – living with our minds set on God's Word, so that we can faithfully live out the Gospel in our homes and relationships.
"Devote yourselves to prayer, being watchful and thankful… Let your conversation be always full of grace, seasoned with salt, so that you may know how to answer everyone." Colossians 4:2,6
Let's be honest – this is virtually impossible to do when you're leading a busy, distracted, aggressive life. We cannot hope to both "hustle" and also be devoted to prayer, full of grace, with time to answer everyone.
So how do we do it? How do we break away from the hustle?
"Whatever you do, work heartily, as for the Lord and not for men, knowing that from the Lord you will receive the inheritance as your reward. You are serving the Lord Christ." Colossians 3:23-24
We do not work to make a name for ourselves, to pad our bank accounts, or to build a brand. We work as for the Lord. We serve Him. Keeping this as our main focus will stand as a guard against the empty promises of the hustle.
"Trust in the Lord with all your heart, and do not lean on your own understanding. In all your ways acknowledge him, and he will make straight your paths." Proverbs 3:5-6
We trust the Lord to provide. We seek His Word & His wisdom before listening to the world. And we have faith that He will lead us where we need to go.This is SO HARD for me. Is it hard for you? The hustle draws me in because I feel like maybe I can make everything work out for us – like maybe I can bring in enough money to provide comfort and security, and then I will feel taken care of.But that is a lie, pure and simple. Security and comfort don't come with money – they come from knowing that you're loved and cared for, even when life doesn't feel safe. The truth is that I am not called to make things happen for myself or my family – I am called to serve where the Lord has placed me, and trust Him to provide. That's so hard for me. But it works. He does provide. And stepping back to watch Him work things out for my family builds my faith as well as the faith of my kids.
"Every good gift and every perfect gift is from above, coming down from the Father of lights, with whom there is no variation or shadow due to change." James 1:17
We remember that everything comes from the Lord. Our God who cares for us, who is unchanging and constant – He loves and provides for us, and He always will. He is the giver of good gifts!! He WILL provide for us and our families.
When we hustle, we make every aspect of our lives dependent on ourselves – how hard we work, how much we get done, how much sleep we miss, how much money we make. Hustling is all about us and what we can do for ourselves. And while, yes, it might bring more money, more stuff, or more excitement for a time, it will never bring you the things your soul actually needs.
When we work faithfully, right where we are, we remember that God is the One in control, and we are dependent on Him. We trust Him to provide for our needs, and continue to serve in the capacities He's given us.
Society tells us that brave women take risks, chase their dreams, and build the life they want.
But I think it might actually be braver to step away from the hustle, than to buy into it.
You might not have the ability to stay at home without working. I'm in that same boat. Or maybe you do stay at home, but you feel the pressure of Pinterest perfection. No matter where you spend your days, it's easy to listen to the mantras of the world and feel like you better start hustling if you're ever going to be anybody.
But I'm here to tell you the truth.
God never called you to hustle – He calls you to REST.
God asks you to bring your burdens to Him, so that He can carry them. He says that He leads us by quiet waters, that a quiet, faithful life is what He values. He never meant for the world to rest on your shoulders – and He never meant for the future of your family to rest on your shoulders, either.
You couldn't carry it, anyway.
HE is the one who holds the world. HE is the one who holds your family. HE is the one who holds YOU.
And He does not require you to "hustle" for any of it.
Be brave, my friend. Step away from the hustle and into His rest. It might be countercultural, but I think it might also be the best thing any of us ever do.
*Source: https://www.merriam-webster.com/dictionary/hustle
Kayse is a wife, mom, and founder of the Anchored Women community. She writes to help women fight busy, find rest, and build a life that's anchored in Christ. Kayse is also the creator of the S.O.S. Planner, the Anchored Life Kit, and other practical resources that equip women to manage their homes and families in confidence. You can find her writing and her resources at anchored-women.com!