To The Woman At Target Who Tried To Parent My Child
Hi.
I don't know you and you don't know me. But that didn't seem to matter yesterday when you stepped in between me and my child and told her that her mommy was wrong. So I think maybe I need to back up a bit and help you see the full picture.
I'm a stay-at-home mom. I have two beautiful and wild children who both drive me to insanity and split open my heart with love. They are my everything. My husband and I are trying to teach them how to be responsible, how to respect authority, that you don't always get what you want in life, and that Jesus loves them more than anything. We are not perfect, by any means, but we are doing our very best.
So yesterday, when we were walking through Target, I was still doing my best. We'd piled in the car and headed to Target because we just needed to get out of the house and because Target has popcorn that will keep my kids quiet for 20 seconds at a time.
We ended up in the doll aisle because my daughter's friend has a birthday coming up and her mom and I are trying to decide whether we should bite the bullet and get our girls American Girl dolls we never had (because WE really want them, let's be honest), or if we should do the smart thing budget-wise and get the knock-off ones from Target. As we turned into the aisle, you were there too, but you didn't look up when I smiled your way. You were busy with your own shopping, and that's okay by me. I remember what it was like to shop without kids. (Kind of.)
The first thing you see when you walk into this particular aisle of Target is a life-sized Elsa doll. Some brilliant mind at a toy company thought this was a good idea, but really it is every parent's worst nightmare. (I do not need an extra child-sized body in my home that will get played with for 15 minutes and then just take up space, thankyouverymuch.) So when my daughter suggested, and not quietly, that THIS was THE PERFECT GIFT for her little friend, I answered honestly.
"Not gonna happen sweetie. If I bought that for her, her mommy would kill me."
Emmy tipped her head in confusion and asked, "Why would she kill you, mommy? That's mean."
And that's where you stepped in.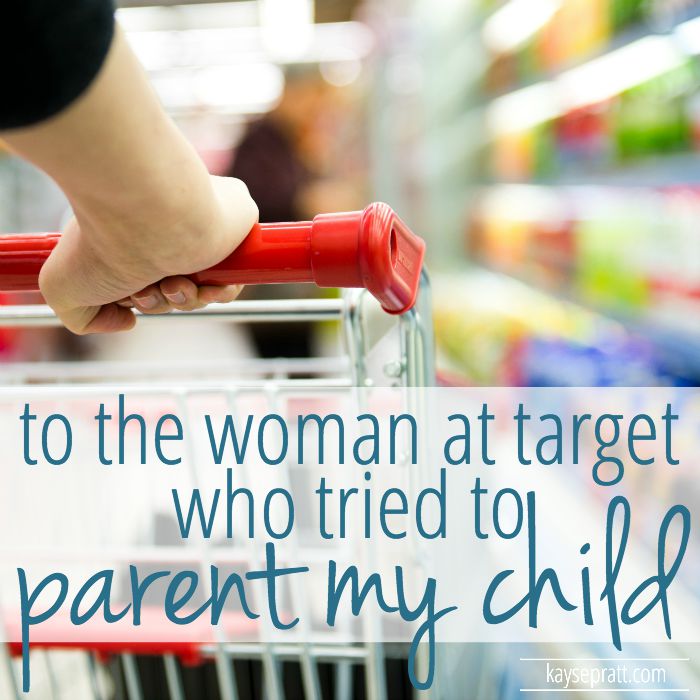 Before I even had a chance to answer my smart & inquisitive little girl (who would have understood the figure of speech if I had been able to explain it to her), you took it upon yourself to "fix" the situation. You looked up from your shopping, gave me a look that fully communicated what you thought of me, and said, "Wrong word choice, mom."
You're entitled to your opinion, and it would have been fine to leave it at that, but you didn't. You then physically intervened, placing your body between me and my child, and decided that you knew enough about our situation to parent better than I could.
"Your mommy was wrong. She was talking about being upset. She shouldn't have used those words, that wasn't right."
And if that wasn't enough, you then turned to my son, and said, "Well, you're a cute little guy, aren't you? Are you okay here?"
I wish I was one of those people who could think quickly on my feet, but I'm not. I stood there shocked that you would steal a teachable moment from me, that you felt entitled to interject as if you knew us. I could not believe that another grown woman would undermine my parenting and belittle me in front of my children. I could not believe that you'd just insinuated that my children were not safe with me.
After looking at you in disbelief, I just walked off with my children, and said, "Have a good day." Which I didn't really mean, but I didn't know what else to say to you.
And you left me with a look that scared me, because I honestly wasn't sure if you were going to leave that aisle and call CPS to report my shoddy parenting.
I've been thinking about you since yesterday, and I think I'm still in shock. These days it feels like half of our country is completely checked out from parenting their own kids, much less someone else's. And the other half thinks they have the right to police everyone else's families. Where have all the normal parents gone?
I don't know what exactly you were trying to do, but I just want to suggest something to you. Maybe, instead of carrying around an air of superiority and entitlement, we moms could start carrying each other. Maybe, instead of using our words to break down and correct and wound, we could use them to build up and edify.
Here's the thing. I don't know one single mom out there who thinks she's doing a good job. We are all our own worst critics. We feel like failures on a daily basis, we know there's always more we could be doing, and we constantly wonder if we are screwing up our kids.
We don't need someone else to come along and confirm those unfounded fears.
We need grace.
Because I also don't know one single mom out there who isn't trying her very best to get this right. I don't know one single mom who doesn't need encouragement and grace. I don't know one single mom who doesn't need Jesus, and people to speak the words of Jesus to her.
So maybe next time you see a mom in a Target aisle, you'll think twice before you speak. Maybe you'll give her a chance to speak to her own children before you do. And maybe you'll simply nod your head in encouragement, instead of breaking her down with your words.
As for me, I spoke with my daughter and we're good. Not that it's any of your business, but you seemed interested, so I thought you might want to know. She's got a good grasp of the English language and she'll be able to use hyperbole with the best of them. She also knows how important it is to be kind to others, and that Mommy doesn't speak rudely to people when they offend and upset her.
I hope you have people in your life that will speak grace to you. It seems like maybe you don't, so we prayed for you. Everybody needs grace, don't you think?
Enjoy your shopping,
Kayse
P.S. If I see you at Target again, I might buy you a life-sized Elsa doll, just for fun. Sound good?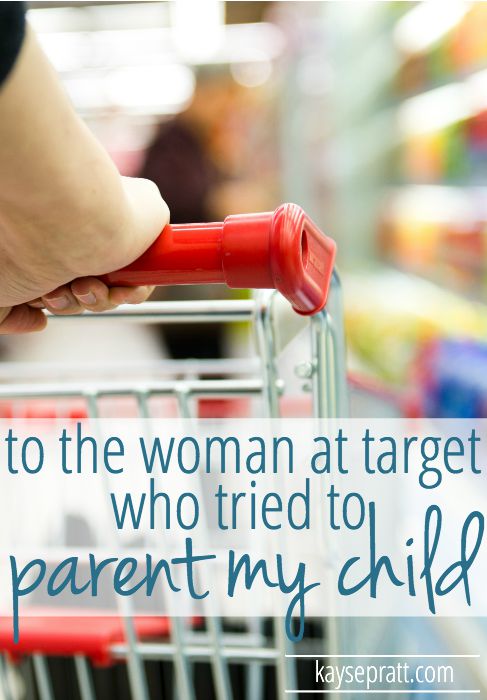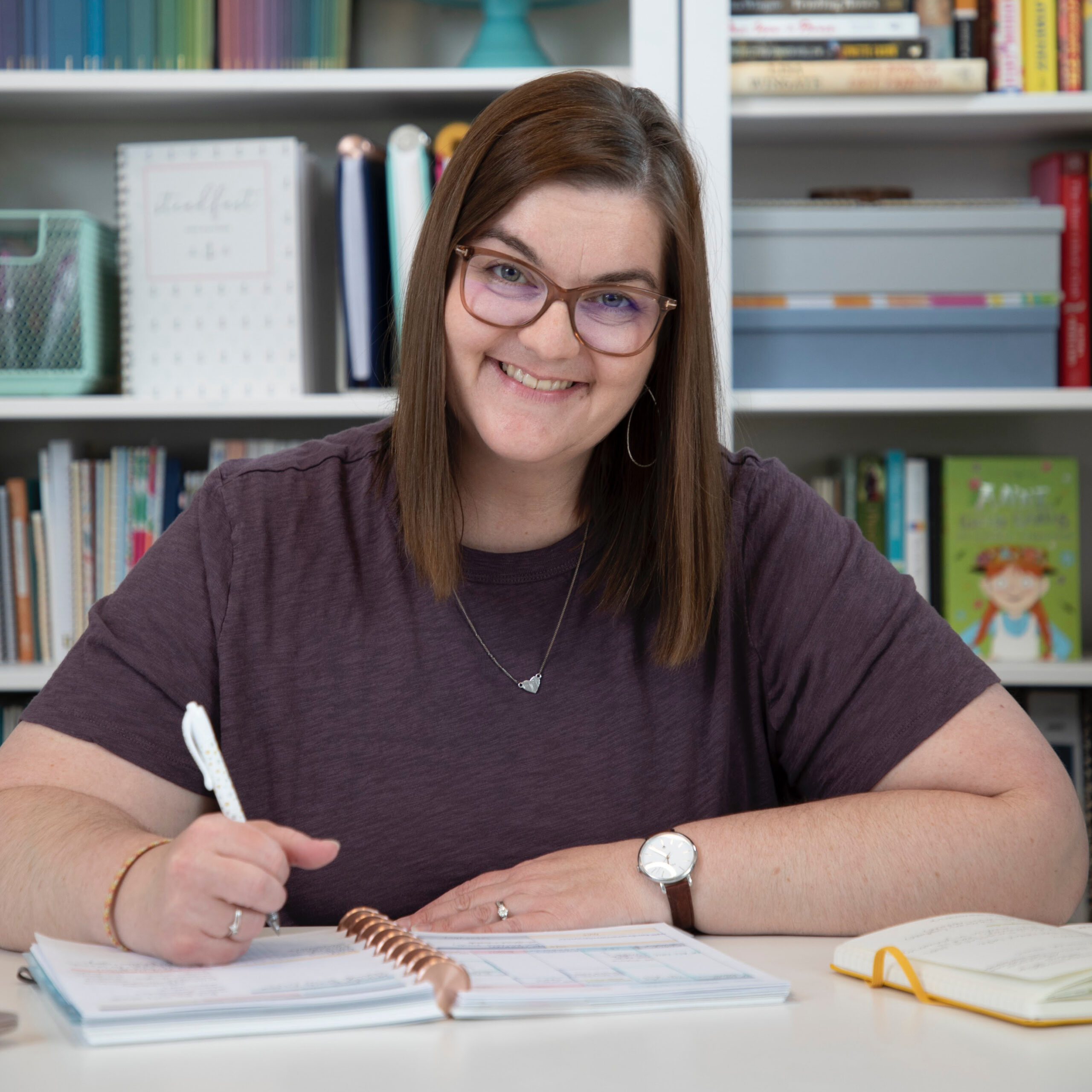 Kayse Pratt serves Christian women as a writer + designer, creating home + life management resources that help those women plan their days around what matters most. She's created the most unique planner on the market, helped over 400 women create custom home management plans, and works with hundreds of women each month inside her membership, teaching them how to plan their days around what matters most. When she's not designing printables or writing essays, you'll find Kayse homeschooling her kids, reading a cheesy novel with a giant cup of tea in hand, or watching an old show from the 90's with her husband, who is her very best friend.